Orange-Glazed Meatballs And Veggies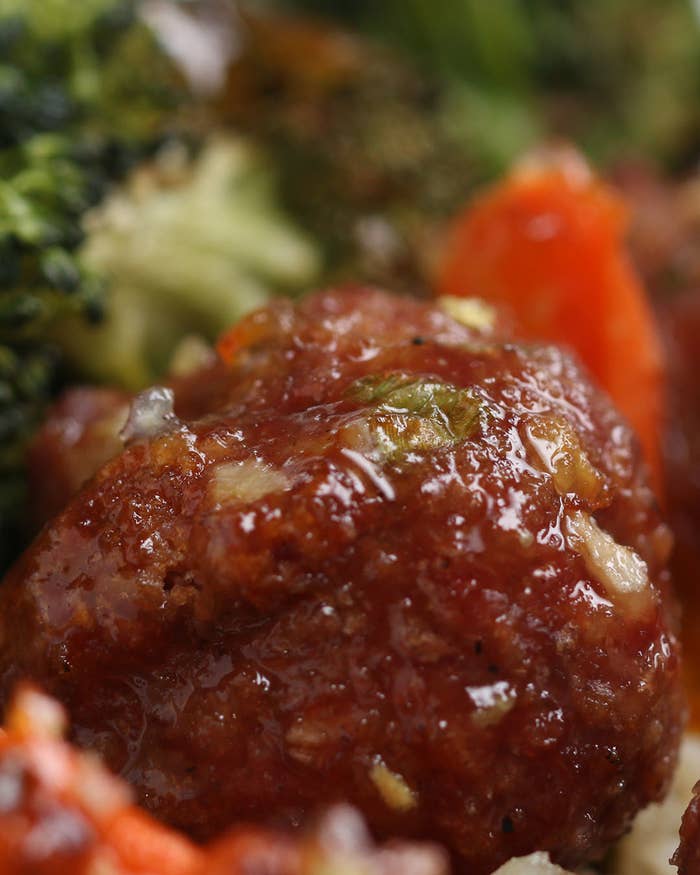 INGREDIENTS
Meatballs:
1 pound ground turkey (or chicken)
1 egg
¼ cup panko bread crumbs
2 garlic cloves, minced
2 teaspoon ginger, grated
2 tablespoon green onions
2 tablespoon soy sauce
Salt, to taste
Pepper, to taste
Sauce:
¾ cup orange marmalade
¼ cup rice vinegar
1 teaspoon sesame oil
1 garlic clove, minced
1 teaspoon ginger, minced
1 teaspoon salt
½ teaspoon pepper
½ cup broccoli
1 carrot
¼ onion
Olive oil
Salt, to taste
Pepper, to taste
PREPARATION
Preheat oven to 475°F/240°C.
In a bowl, combine all ingredients for the meatballs. Mix until all ingredients are incorporated.
Using your hands or a spoon, roll a bit of the meat mixture in between your hands until a meatball is formed. Place on a baking sheet lined with parchment paper.
Next to the meatballs, spread assorted veggies and lightly with drizzle oil, salt, and pepper.
Bake at for 15 minutes, or until meatballs are cooked through and vegetables are soft.
In a microwave-safe bowl, add all the ingredients for the orange sauce.
Microwave for 1 minute, stirring at 30 seconds.
Put veggies and meatballs over a bowl of rice and pour the sauce as desired.