SPOILERS as to who is A on Pretty Little Liars.
Full disclosure: I do not watch Pretty Little Liars. However, much of the free world and I learned that the person behind all the heinous acts of "A" was in fact a transgender woman. Did it seem familiar to see a transgender character as a criminal on a TV show? Probably, because 25% of all fictional transgender characters on TV are committing a crime.
Popular culture and media are hugely important to how we form opinions, particularly on polarizing social issues. This is part of why representation of minorities is so important; people make both positive and negative choices about how they treat other people based off of how they feel about these characters. So I wanted to take a critical look at how transgender individuals were portrayed on television, and how that actually looked in relation to the reality. To do so, I analyzed 51 characters from 49 TV shows. Anyone who transitioned from the gender they were assigned at birth to their identified gender was counted in my research, including two gender fluid characters.
Disclaimer: I'm sure there are characters I missed. I did my best to find all the ones I could and represent them accurately. Unfortunately, I cannot watch every TV show ever, mostly because I am in grad school and don't have a life. Also if you're thinking that Laverne Cox doesn't fit into the argument, it's because she's usually the notable exception and also a straight up boss.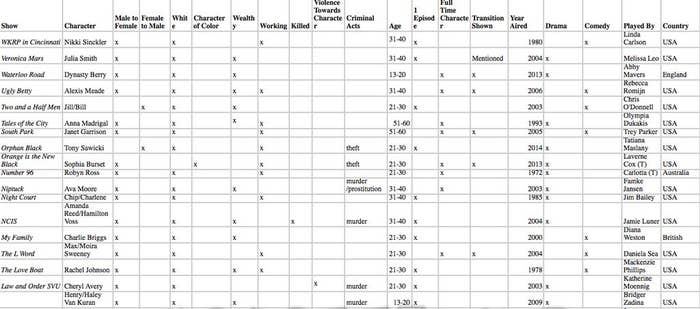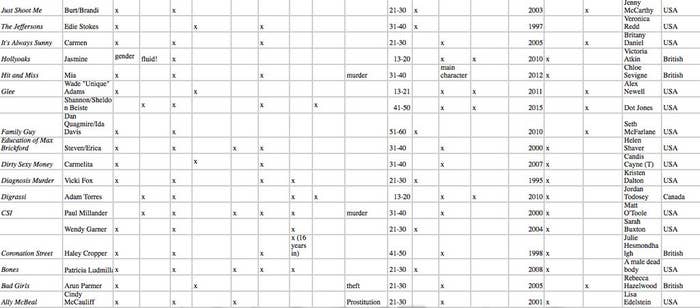 Female to Male and Male to Female Characters
In general, transgender issues are extremely underrepresented in television. The 51 characters I found were out of virtually every character that has ever been written in a fictional show. Already, these topics are at a huge disadvantage because they're not coming up at all.
Those whose transition was from male to female made up 82% of all characters, while female to male transitions were 14%, and 4% of characters were gender fluid. It should be noted that many of the transgender women were very attractive and in the early twenties.
It's very hard to study a marginalized population, but one study suggested that the ratio of transgender women to men was 1.4:1. Transgender men are extremely underrepresented, as are gender fluid individuals, who don't identify in the binary.
Race, Crime, and Violence
There's been an emphasis recently on including more racial minorities on television shows. Transgender characters have historically mostly been White, so this is no exception. An astonishing 88% of characters were White. 6% were Black, 4% were Hispanic, and 2% were biracial.
While all transgender people are at an elevated risk of being victims of violence and hate crimes, it is especially true of individuals of color. However, more than half of the characters who were a racial minority were portrayed as criminals. 6% of all transgender characters were prostitutes, 10% were thieves, and a whopping 10% of all characters committed murder. So while A and Paul Millander from CSI are trying to killing people left and right, there's only been one serial killer ever suspected of being transgender in history.
It's also pretty dangerous to be a transgender character on TV. Half of them died, the majority murdered. In addition, there was violence against seven other characters, including sexual assault. These deaths were never portrayed as the result of hate crimes. In fact, most of them were in an episode where the character was only shown once, and was usually killed because of their sexuality.
Who are these characters?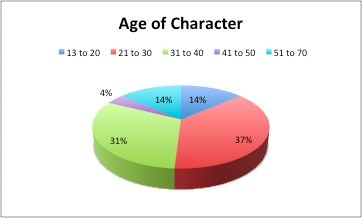 Most of the characters were in their 20s and 30s. Many of the transitions that were shown were of those characters who were teenagers, although the medical process was not shown, and one such teenager on The Fosters took illegal hormones.
39 characters were portrayed as wealthy or working. In reality transgender workers are at a higher risk of being fired or harassed at work. Unemployment rates are four times the national average. Many live in poverty.
Of all the series, only Transparent and Hit and Miss featured main characters who were transgender. Over a third of of the characters were only seen in one episode. 27% of characters were only there because of their sexuality, and it was the only thing about them that was discussed.
Five of the actors were trans women. Alexandra Billings even played three of the characters! 23 cisgender actresses and 11 actors played transgender women, with the majority of men playing older characters. 3 actresses played trans men, while the other four male characters were played by actors.
What kinds of shows feature transgender characters?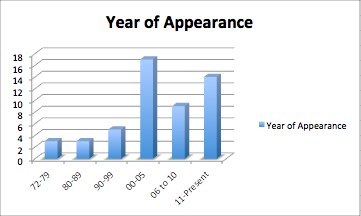 American ones, mostly. 40 of the shows were made in the US. Seven were British, and Australia and Canada had one a piece. It's interesting to note that international shows were much more likely to be soap operas. The only American one was All My Children.
29% of the shows were comedies, and usually jokes were made at the expense of the transgender character or those who found that character attractive.
The first show to feature a transgender character was an Australian soap opera named Number 96 that aired in 1972. It was additionally exceptional because the actress herself was transgender. The first American show was All That Glitters. Apparently it was not great, and was canceled before the whole season even aired.
Surprisingly, the majority of shows with transgender characters aired between 2000-2005. Most of these featured a transgender character for one episode, and many were crime shows.
Transgender characters can't be caricatures anymore.
The under-representation of transgender characters on TV, especially men and people of color, is detrimental to trans rights. The victimization of these characters, or painting them as criminal or psychopathic, leads to fear of the transgender community. As transgender rights come into the public discourse with more frequency and ease, we have to hope transgender characters can become more multifaceted and complex. We can only hope they will accurately reflect the unique struggles and perspective of the community.
This post was created by a member of BuzzFeed Community, where anyone can post awesome lists and creations.
Learn more
or
post your buzz!