1.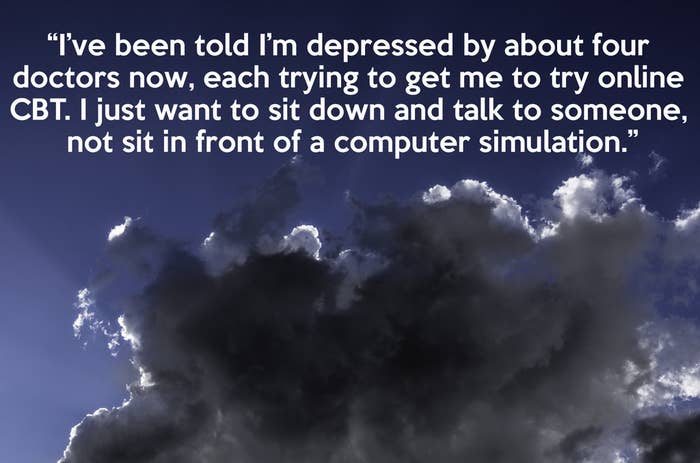 2. "My GP was extremely sympathetic; she gave me websites that I could use for self-help. I was then referred to counselling but the waiting list was around 6-8 months long and that was only for group sessions, which I didn't want because at the time I felt uncomfortable discussing my feelings with multiple people. I was then given a list of therapists in my area who could offer me one-to-one counselling, but they were all so expensive and I couldn't afford it."
Submitted by Cheyenne via Facebook
3. "It's been a nightmare. My doctor didn't even look at my medical records, he just palmed me off with some Prozac, which I had a bad reaction to. I asked him to refer me to my local mental health team last year. After six months of waiting, I made an appointment and spoke to a locum doctor who then said that my GP hadn't referred me at all. I feel like I'm stuck on the wrong medication, in a system that doesn't really care."
Submitted by Jess via Facebook
4. "Last year I had massive downward spiral to the dark twisty place that leaves you feeling numb, helpless, paralysed, and just generally fucked up. I went to my new GP and as soon as I told her she looked at me with complete seriousness and empathy and told me that she was going to help me. I immediately felt that she was investing herself in me, that I mattered. She booked me in to see her weekly until a treatment plan could be processed."
Submitted by Zara via Facebook
5.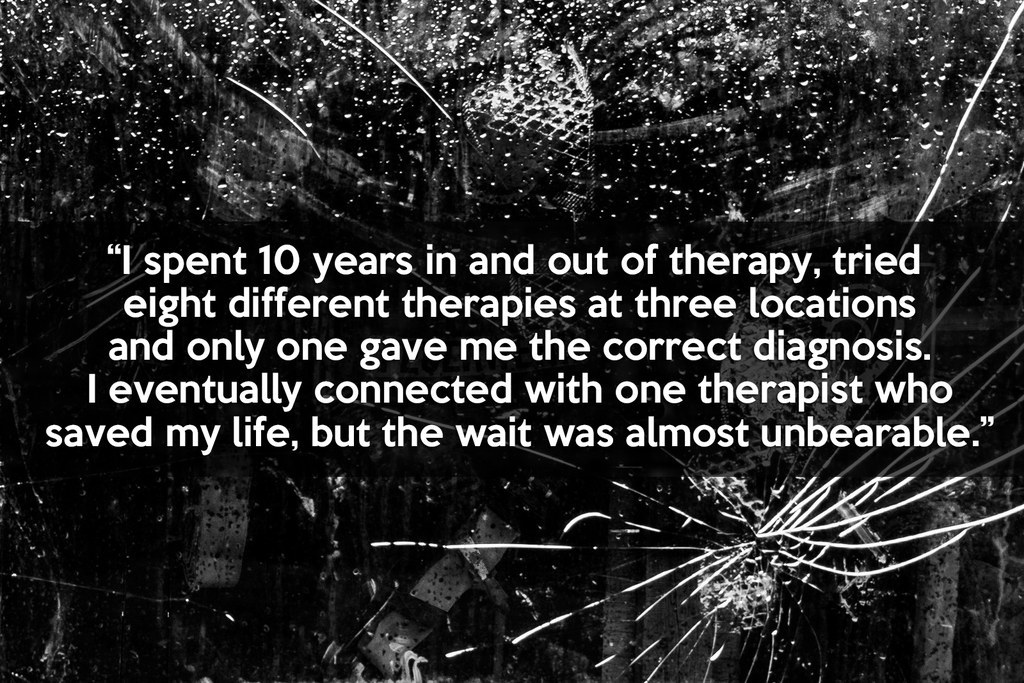 6. "When I feel really bad I'm not in any position to help myself, so having to beg and plead for someone to acknowledge me is ridiculous. The Complex Needs Service has little funding and it's in a constant state of flux. People with mental problems need consistency and to know what is going on. The service is failing us all, but users don't have any other options as there's nothing else for us. For a long time I didn't ask for help but was constantly told I should. Now that I have, no one is listening."
Submitted by Lisa via Facebook
7. "My doctor's surgery seems to think that pills are the answer. They recently upped my dosage, and my anxiety is at an all-time high now. The most understanding GP is leaving the practice in a few months, leaving the ones that aren't very understanding of mental health issues. On the plus side, the understanding doctor sat and looked at cat pictures with me during my appointment to help me relax."
Submitted by Sofi via Facebook
8. "My husband and I both suffer from bipolar disorder and have been treated well for a long period of time now. During my pregnancy, I received special treatment from a perinatal mental health team, and it made a huge difference in treatment and attitudes. They took my own concerns about my mental health seriously, and any time we have had worrying symptoms our GPs have been helpful and referral times for mental health appointments haven't been too long for us."
Submitted by Wendy via Facebook
9. "My doctor has been really helpful with my anxiety, but getting help elsewhere hasn't been as easy. You either have to wait at least 12 weeks for counselling, or pay £50 a week for an hour's session. It's not simple at all."
Submitted by Kymberley via Facebook
10.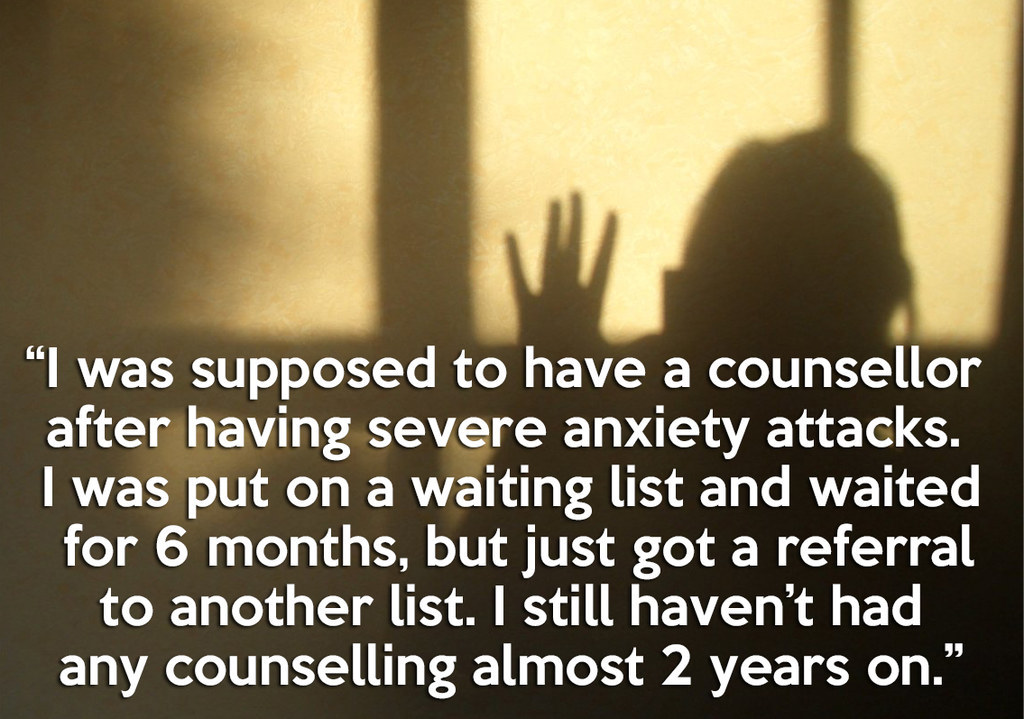 11. "The failure of the NHS to diagnose my condition for 10 years led to it worsening. I went to them with run-of-the-mill depression; 10 years of inadequate help later I have borderline personality disorder, diagnosed by a doctor who left me with the parting words "It's untreatable, and I'm going home because it's five o'clock." BPD can be treated, the NHS just doesn't offer the correct form of therapy for it."
Submitted by coffincupcake
12. "I was diagnosed with severe anxiety disorder by my GP, who was incredibly supportive and put me on medication. She also gave me the details for self-referral to my local mental health team who were in contact by telephone within three days. I can't fault the service I've received, especially since it is free at the point of use. My GP is always happy to meet with me too."
Submitted by MamaOwi
13. "Don't get me wrong, the NHS is a wonderful thing, but the mental health services provided by them are well below par. It took me a long time to work up the courage to go to the doctor regarding my mental health. When I did, I was prescribed pills and sent for a mental health screening. Since then I've been waiting for months to hear back about whether I'm going to get counselling or psychotherapy, but there's been nothing. I feel like my life's been put on hold because I don't know how to deal with my illnesses and I don't have any help for them."
Submitted by Sara via Facebook

14. "It seems that no matter what symptoms you present with or how unwell you are you can wind up being forgotten about as the poor mental health workers are so overwhelmed and unable to look after everyone. There just aren't enough resources for them to do their jobs properly. I've been in inpatient care, under the home treatment team, seen several psychiatrists, and yet seem to be getting nowhere because of poor communication between teams and long wait times for referrals."
Submitted by whelanhannah93
15.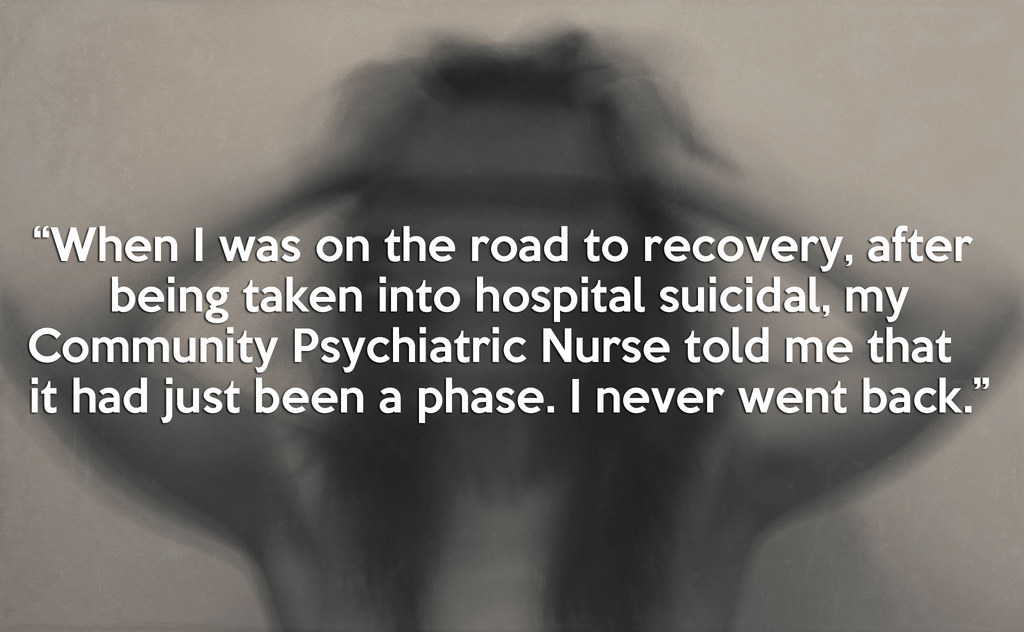 16. "I have panic disorder. I was given a prescription for anti-anxiety meds, but no therapy referral, no help or tips on how the fuck to cope with the crippling agoraphobia that comes along with PD. If you get a GP with an understanding or interest in mental health, then you're golden. If you don't, then you fall at the first hurdle. Going back and forth to a surgery just to get someone to listen to you is the last thing you want to do when you feel like everyone is staring at you and judging you and you are being crushed by the weight of it all."
Submitted by alih26
17. "I was diagnosed with depression and anxiety three years ago, and was given a list of charities to contact for counselling as well as antidepressants. None of the charities would help me as I was 'too suicidal'. I ended up getting online counselling, which really wasn't what I needed. I have recently developed anorexia and am on a six-month waiting list for treatment."
Submitted by r4ec80f478
18. "I'm a trainee deck officer in the Merchant Navy, and after a particularly bad year found myself not being able to cope onboard ship. My GP was very unsympathetic but she still referred me to the local counselling service and within two weeks I had an initial assessment and a plan of action. My counsellor was absolutely fantastic. Unfortunately, I hadn't improved as much as I had hoped and had a relapse. Back to my GP who told me (and I quote) 'Well, what do you expect? You're always going to have this.'"
Submitted by seanwoodcraft
19.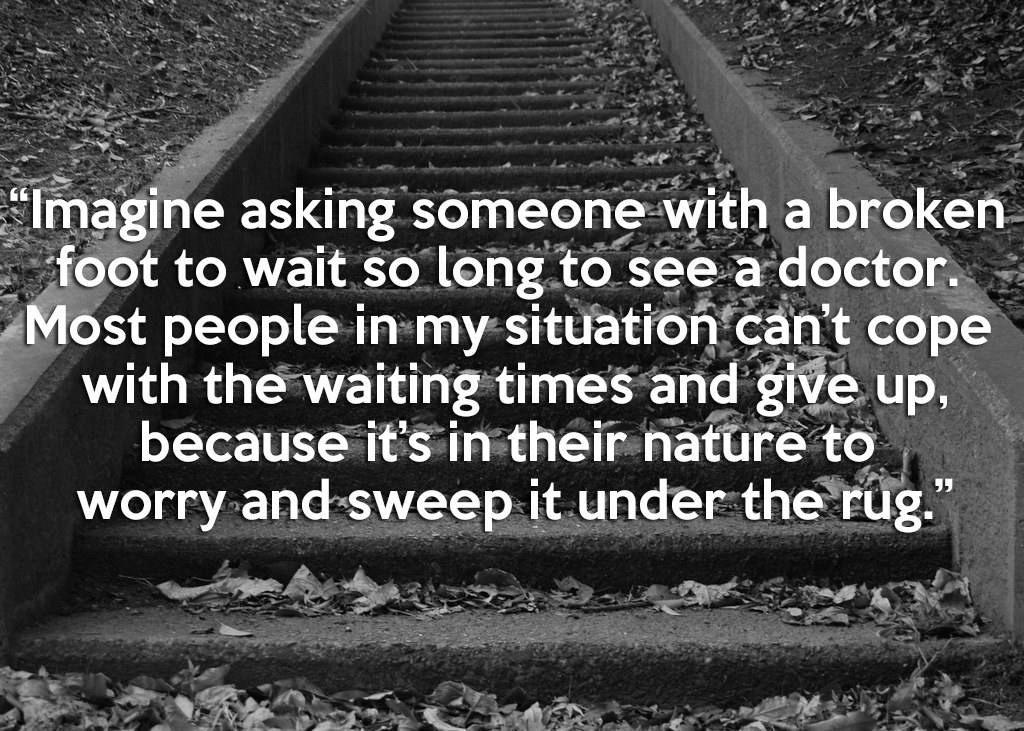 20. "Getting help for my mental illness was almost as stressful as the illness itself. Often a trip to the doctors would make my anxiety 10,000% worse. It's difficult to express just how awful my doctors at the time were. One of the worst appointments involved me crying and begging for their help whilst the GP sighed and wrote out a prescription. The GP in question said the pills 'should help' and when I asked what I should do on a really bad day (which I'd explained meant suicidal feelings) I was simply told: 'Everyone has bad days, you just need to get over them.' I wish I was joking."
Submitted by c4a8364b44

21. "I first went to my GP for help for severe depression in January 2015. After 12 months of waiting due to an admin mix-up which delayed things by six months, I finally thought that I had begun my therapy. However, after a few sessions I was told that it was simply another assessment to put me on another list, with an estimated waiting time of 12 months. So maybe by March 2017, I'll finally get the help I begged for back in January 2015."

Submitted by Emma via Facebook

22. "I am a mental health nurse. Services in this country are often lacking and service users are not always getting the help they need. A family member of mine took his own life a few years back after not being recognised as being as unwell as he was. However, I love my profession and the attitudes of health professionals are thankfully changing. I spent a month nursing overseas and it made me so grateful for what we have in this country and the dignity with which we treat our service users. The NHS will never be perfect but I do feel that improvements need to be made."

Submitted by limegreentangerine
Contributions have been edited for length and clarity.

If you need information and practical advice on depression, you can call the Rethink advice and information service on 0300 5000 927 (10am–2pm), if you're in the UK.

You can call the Samaritans for confidential support if you're experiencing feelings of distress or despair on 08457 90 90 90 (24-hour helpline).

And you can call the Crisis Call Center at 1-800-273-8255 at any time of the day if you're based in the US.