Meet Cola, a 1-year-old crossbreed dog from Thailand.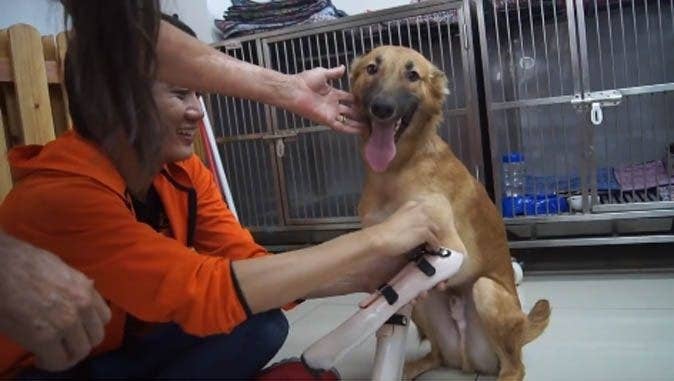 Cola was recently fitted with prosthetic legs by Thai animal welfare charity the Soi Dog Foundation and, as you can see, he was incredibly pleased about it.
The first challenge that the vet clinic staff face in the video is getting Cola to sit down, because he's so excited about the attention he's getting.
Finally, the staff manage to strap his new legs into place.
As soon as they're safely attached, Cola gets to his feet.
He even manages a little jump or two.
Cola lost his forelimbs in May 2016 when he was still a puppy.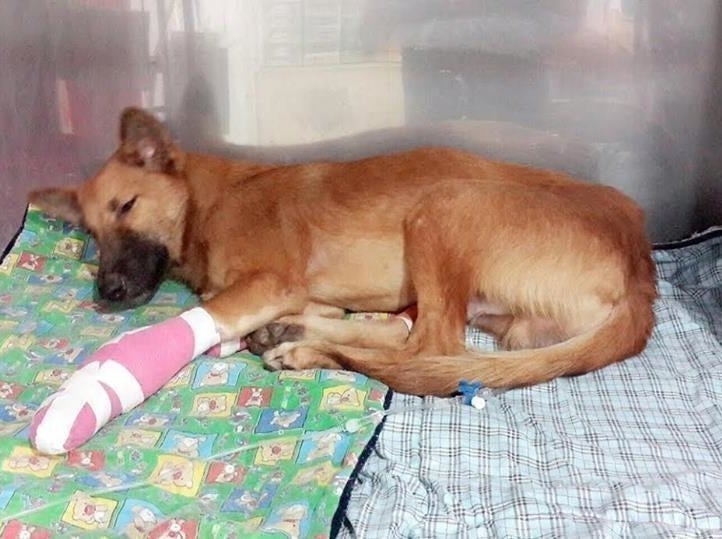 Cola escaped from his owner's home, wandered into her 36-year-old neighbour Theprachen Srisoda's house, and chewed one of his shoes. Cola's owner offered Srisoda $40 compensation for the shoes. He accepted the money, but then hacked at the 9-month-old dog's front legs with a machete. Srisoda was sentenced to one month in prison under Thailand's 2014 Animal Welfare Law.
After the attack, Cola was collected by Soi Dog Rescue's emergency response team, which is funded by donations from the public, and taken to a specialist clinic in Bangkok.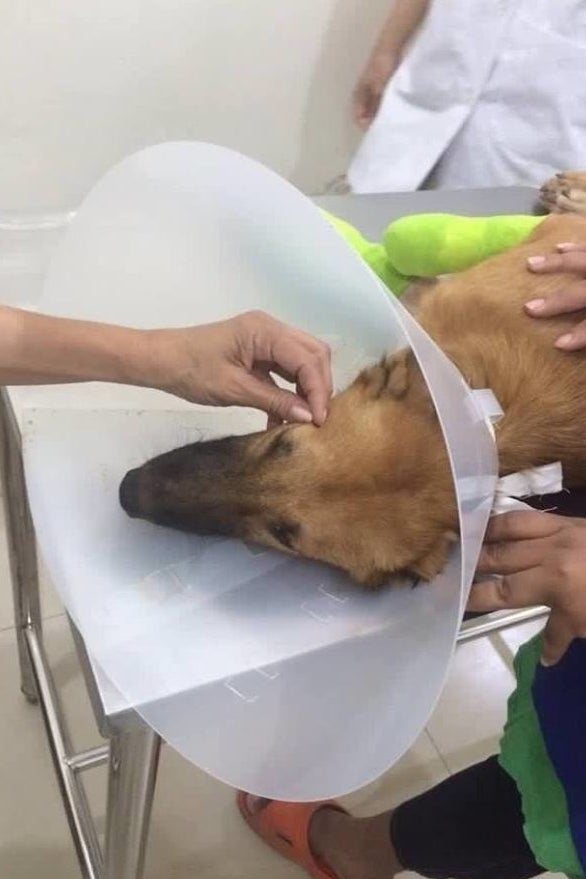 Cola's owner was unable to afford the treatment costs, so the Soi Dog Foundation paid his vet bills. Once Cola's condition stabilised, the charity's co-founder Gill Dalley flew from Phuket to Bangkok, collected Cola, and transported him back to the Soi Dog Foundation headquarters in Phuket to continue his rehabilitation, and fit prosthetics.
Cola now lives with Dalley and her husband John in Phuket.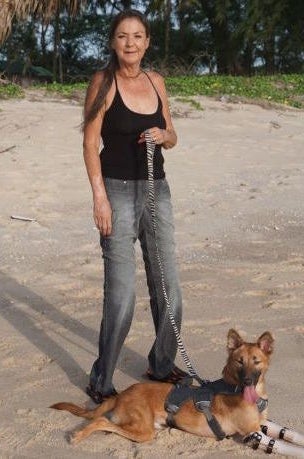 Dalley, who also uses prosthetics after having both legs amputated after contracting septicaemia while rescuing a dog from a flooded buffalo field in 2004, reportedly fell in love with Cola and has since adopted him. Her husband John told ABC: "Dogs – and Cola is a good example – never cease to amaze me. Despite often enduring terrible cruelty, they readily forgive and make wonderful pets."
Cola, you're a very lucky dog.
Love dogs? Sign up for our "Dog a Day" newsletter and we'll send you an adorable pup every day!