Magazine editor Lisa Lynch was just 28 when she was diagnosed with breast cancer.
Instead of letting the disease (which she called "The Bullshit") beat her, she turned her experiences into a witty and moving blog.
Lisa passed away at Trinity Hospice in south west London on 11 March 2013.
Before she died Lisa published this book based on her blog, which has just been adapted into a BBC film of the same name starring Sheridan Smith.
The C-Word aired on BBC One last night, and needless to say it was a bit of a tearjerker.
A lot of people watching knew Lisa personally.
Viewers also expressed their admiration for Sheridan Smith's performance.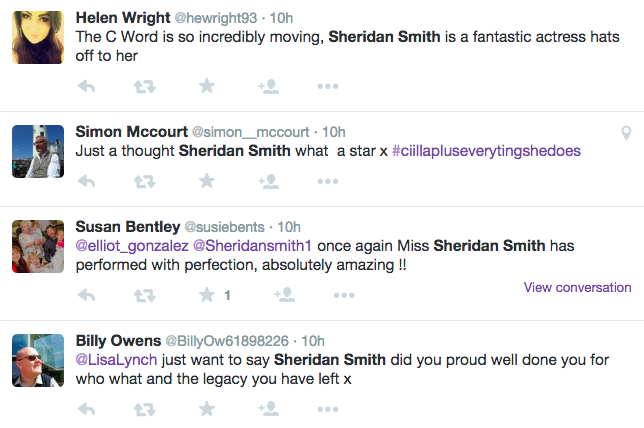 However, the film seemed to resonate most strongly with people who had first hand experience of cancer.
The C-Word also acted as a vital reminder to check your boobs, no matter how old you are.
Most importantly of all, Lisa's brother said that he thinks the film will save lives.
He told The Mirror: "We've always said as a family that if it gets one more person checking a lump or talking to someone that it has worked and done its job."
One thing's for sure: Lisa would have been thrilled – and moved by – the huge response.