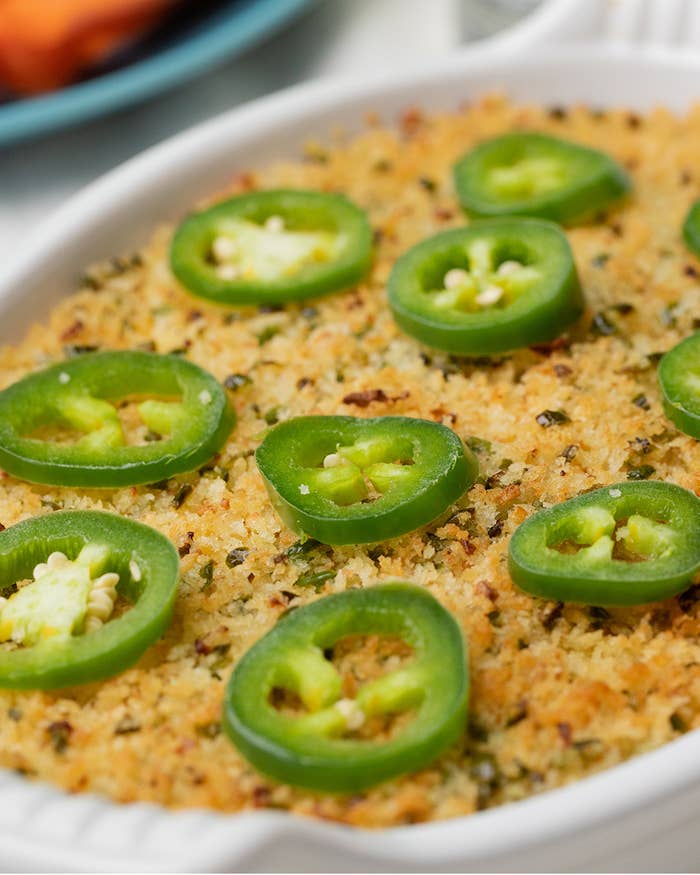 INGREDIENTS
5 jalapeño peppers
8 ounces cream cheese, softened
8 ounces sour cream
1 packet Hidden Valley® Original Ranch® Dips Mix
2 cups shredded cheddar cheese
Zest of 1 lemon
1 tablespoon lemon juice
2 tablespoons butter
3 garlic cloves, minced
½ cup panko bread crumbs
½ teaspoon kosher salt
Tortilla chips, for serving
PREPARATION
1. Preheat oven to 350ºF (325ºF for convection ovens).
2. Wearing gloves to protect hands, slice stems off jalapeño peppers. Cut 4 of the peppers in half and remove the seeds and membranes. Dice these into small pieces. Slice the last jalapeño into thin slices and reserve for garnish.
3. Place half of the diced jalapeños in a bowl with cream cheese, sour cream, Hidden Valley® Original Ranch® Dips Mix, cheddar cheese, and lemon zest and juice. Mix to combine. Transfer dip to an oven-safe dish and set aside.
4. Melt butter in a small pan. Add the rest of the diced jalapeños and the garlic, then sizzle for 2 minutes. Stir in panko bread crumbs and kosher salt. Remove from heat and evenly spread bread crumbs over the dip.
5. Bake dip for 20 minutes or until bread crumbs are golden brown. Garnish with sliced jalapeños. Serve with tortilla chips.