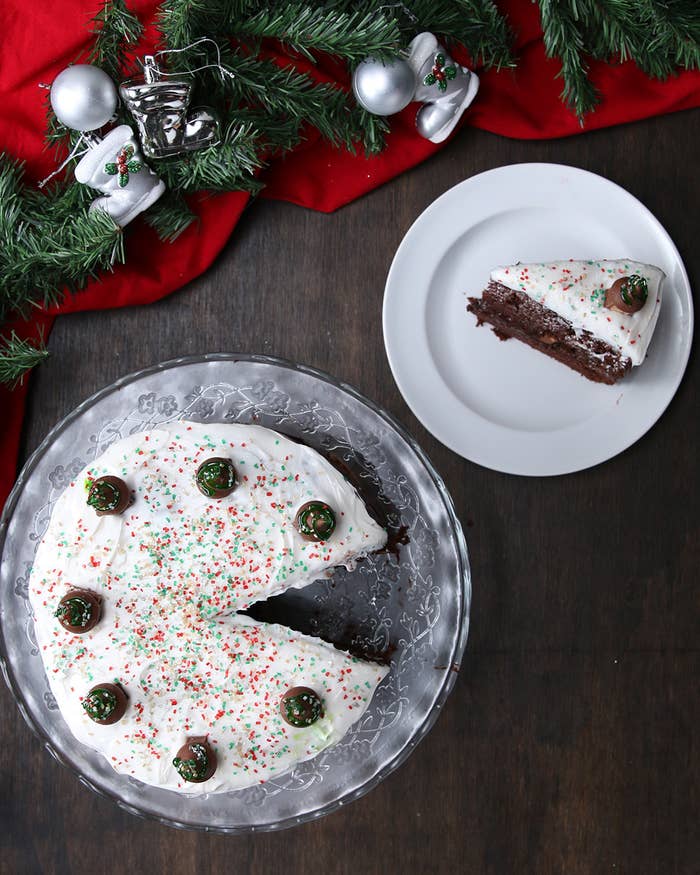 INGREDIENTS
1 box of chocolate cake mix
Per back of box, the needed eggs, plus 2 yolks
Per back of box, swap out water for milk
Per back of box, oil
1 box of chocolate pudding
12-16 KIT KAT Mini Candies
¾ cup Hershey's chocolate syrup
1- 12 oz. container of White frosting
Decorate with KISSES Chocolates
PREPARATION
1. Preheat oven to 350°F/180°C.
2. Prepare cake by adding additional egg yolks and substituting the water with milk. Add 1 small box of chocolate pudding.
3. Pour batter into a baking pan. Arrange and lightly press in several KIT KAT Mini Candies.
4. Bake per instructions on the back of the box.
5. Remove from oven and let cool.
6. Using the end of a chopstick or wooden spoon, poke holes around the cake.
7. Drizzle Hershey's chocolate over the holes.
8. Refrigerate for 2 hours.
9. Remove from refrigerator, frost, and enjoy!