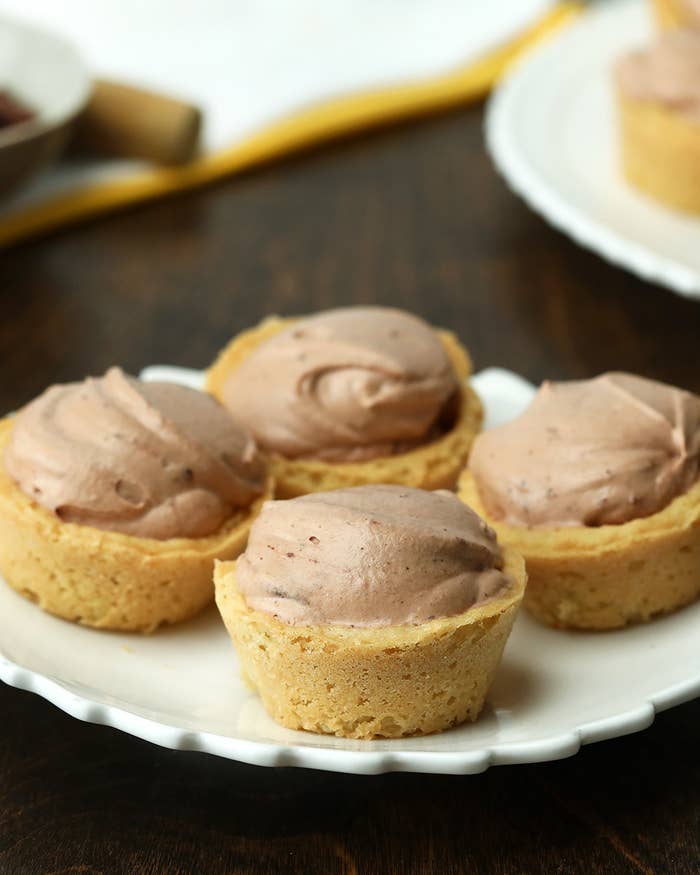 Ingredients
1 tube sugar cookie dough
1 cup heavy whipping cream
Preparation
1. Preheat oven to 350ºF (180ºC).
2. Cut log of cookie dough into 12 pieces. Using a greased muffin tin, press each piece into the tin to form a cup, pressing the dough only halfway up the tin.
3. Bake for 10–12 minutes. Remove from oven and press down the puffed-up cookie to keep the cup shape. Bake for another 3–5 minutes, until edges are light brown. Remove from oven and let cool for 10 minutes before removing the cups from the tin.
4. To make the mousse, whip the whipping cream to stiff peaks and set aside.
5. Melt the HERSHEY'S Milk Chocolate Chips in 30-second intervals until melted, stirring after each time.
6. Take ⅓ of the whipping cream and fold into melted HERSHEY'S Milk Chocolate Chips, then continue adding whipped cream in thirds until a silky mousse forms.
7. Take the cooled cookie and spoon or pipe mousse into the cup. Chill until ready to serve.