Chocolate Biscotti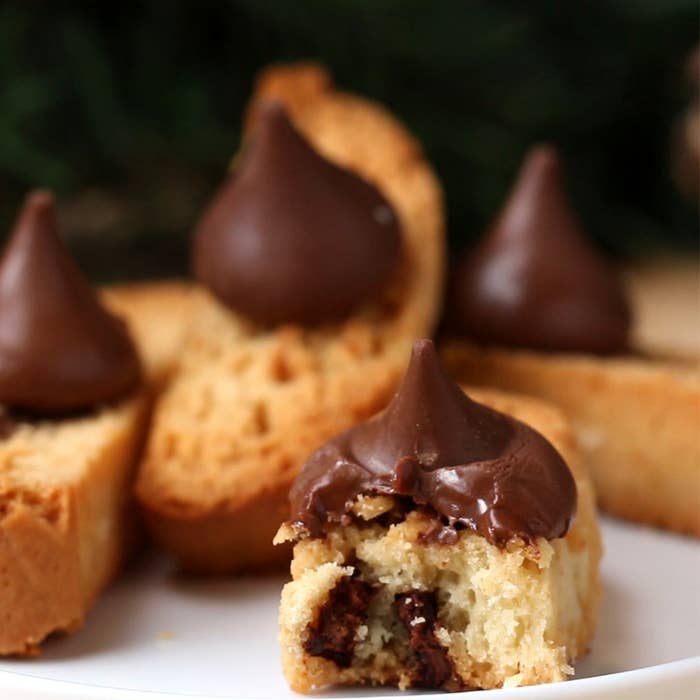 INGREDIENTS
Servings: 4 dozen
¾ cup sugar
6 tablespoons unsalted butter, softened
1½ teaspoons vanilla
1 teaspoon orange zest
2 eggs
1½ teaspoons baking powder
¼ teaspoon salt
2 cups flour
1 cup (1 bar) HERSHEY'S Milk Chocolate, broken into pieces
HERSHEY'S KISSES
PREPARATION
1. Preheat oven to 325℉/160℃.

2. Add butter and sugar to a mixing bowl and blend with a hand mixer. Add the vanilla and orange zest. Add the eggs one at a time and blend until combined.
3. Add the baking powder and salt. Then add the flour, a little bit at a time while mixing. Fold in the HERSHEY'S Milk Chocolate. 

4. Chill the dough 30 minutes. Cut into 2 pieces. 

5. Shape each half of dough into a log,12 x 1½ inches. 

6. Bake the log about 25 minutes on a parchment-lined baking sheet. Let cool for 5 minutes.

7. Using a serrated knife, cut the log into ½-inch pieces. Bake an additional 7-10 minutes or until crispy.

8. As soon as the biscotti come out of the oven, top with a HERSHEY'S KISSES Chocolate. Cool completely.

9. Enjoy!