So, it's Tuesday at 5:35 a.m. ... What are you usually doing?

Jen shared the most accurate thought ever at that time of morning: "WHY?!"
Henry was ready, per usual, to get his dance on.
While Henry was ready to go, Ryan was questioning his sanity.
Before long, the wait was over and it was time to enter the Daybreaker rave, get painted up, and get dancin'...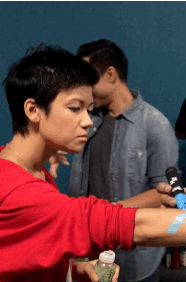 The high intensity action of the rave paid off and surprisingly, no one hated it.
And Jen said it all with supreme accuracy, once again.
So next time at 5:35 a.m... just think, you could be dancing your ass off and feeling just as FABULOUS as these folks felt.