Ferrero Rocher Cake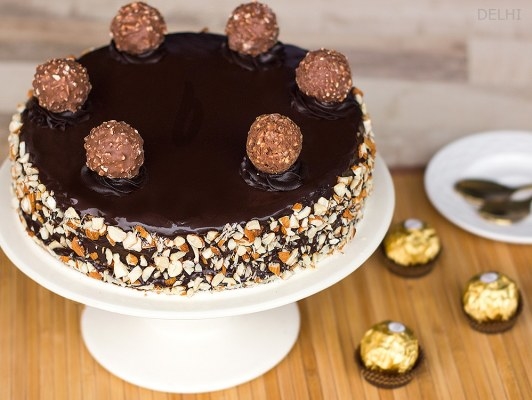 If Ferrero Rocher is something you or your loved ones crave for, then this cake is just right for you. Down below is the recipe to make this fantastic tasting cake to add a perfect dose of happiness to your special occasions. Bake on!
Ingredients:
3 cups cake flour
1/2 cup boiling water
1 teaspoon baking soda
1 cup buttermilk, room temperature
2 teaspoons baking powder
2 cups packed light brown sugar
1/2 teaspoon salt
3/4 cup processed cocoa powder
3 sticks unsalted butter, softened
4 large eggs, room temperature
1 tablespoon vanilla extract
Nutella Butter cream Frosting
1/2 cup Nutella
2 cups powdered sugar, sifted
1 cup cocoa powder
4 sticks unsalted butter, soften
Others
6 pieces Ferrero Rocher
4 pieces Ferrero Rocher, roughly chopped
2 cups hazelnut, lightly toasted and roughly chopped
Directions
1. Preheat the oven at 350◦F. Grease three 8 inches cake pans and place the parchment paper at the bottom.
2. Take a bowl and mix flour, baking powder, baking soda and salt. Whisk well.
3.Take another bowl and whisk boiling water and cocoa powder until a smooth mixture is formed.
4. Add butter and sugar in another bowl and beat them on medium speed until the mixture becomes light and fluffy. Beat in eggs, one at a time. Next, beat in vanilla and buttermilk extract.
5. Now turn the speed to Low and beat in 1/3 of the flour mixture. Add half of the chocolate mixture. Repeat the process with another 1/3 flour mixture followed by remaining chocolate mixture. Beat the mixture well.
6. Divide the batter into the three pans and smooth the surface. Bake them for 20 to 25 minutes. Check the doneness of the cake by inserting the toothpick. If it comes out clean, your cake is done. Let the cake cool completely before frosting.
7. Now, prepare the frosting. Beat Nutella and butter on a medium speed for few minutes. Add cocoa powder and powdered sugar and continue beating the mixture until you get the right consistency.
8. Now, it's time to assemble the cake. Over one layer of the cake, spread 1/3 of the frosting prepared. Sprinkle half of the chopped Ferrero Rocher and 1 tablespoon of chopped hazelnut. On top of it, place another layer of the cake and press it down. Repeat the process of sprinkling the Rocher and the hazelnuts. Put another layer on top of this and sprinkle the rest of Rocher and hazelnut on the top and press on as well as the sides.
9. Now pipe a decorative border on the top edge of the cake. Place the whole Ferrero Rocher on top and sprinkle some more hazelnuts.
Refrigerate it with a cover. Remove from refrigerator an hour before serving. Your Ferrero Rocher cake is ready. Savour this delicious cake with your loved ones.
If you are in hurry and willing to serve your guest this delicious cake then you can also Order a Ferrero Rocher Cake in Delhi and Gurgaon by Bakingo - a trusted online bakery.
This post was created by a member of BuzzFeed Community, where anyone can post awesome lists and creations.
Learn more
or
post your buzz!
Looks like there are no comments yet.
Be the first to comment!