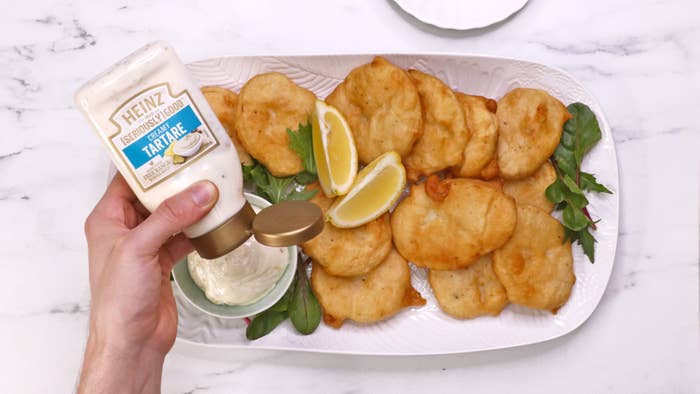 Ingredients:
295ml Heinz Seriously Good Creamy Tartare Sauce (available at Woolworths or Coles)
1 ½ cups plain flour
1 tsp baking powder
1 tsp onion powder
½ tsp garlic powder
Salt and pepper
1 ½ cups soda water
650g boiled potatoes, cut into 1cm slices
Vegetable oil, to deep fry
To garnish:
½ lemon, cut into wedges
Method:
STEP 1: To a large mixing bowl, add flour, baking powder, onion powder, garlic powder, salt and pepper. Make a well in the center and pour in soda. Whisk until smooth.
STEP 2: Heat oil in a large deep pot to 180°C.
STEP 3: Individually dip potato slices into batter, lift out and allow excess batter to drip off. Immediately deep fry potatoes for 3 minutes or until crispy and lightly golden.
STEP 4: Place on a paper towel lined board to blot-dry. Season generously with salt flakes.
STEP 5: Serve with Heinz Creamy Tartare Sauce and lemon wedges.
STEP 6: Enjoy!