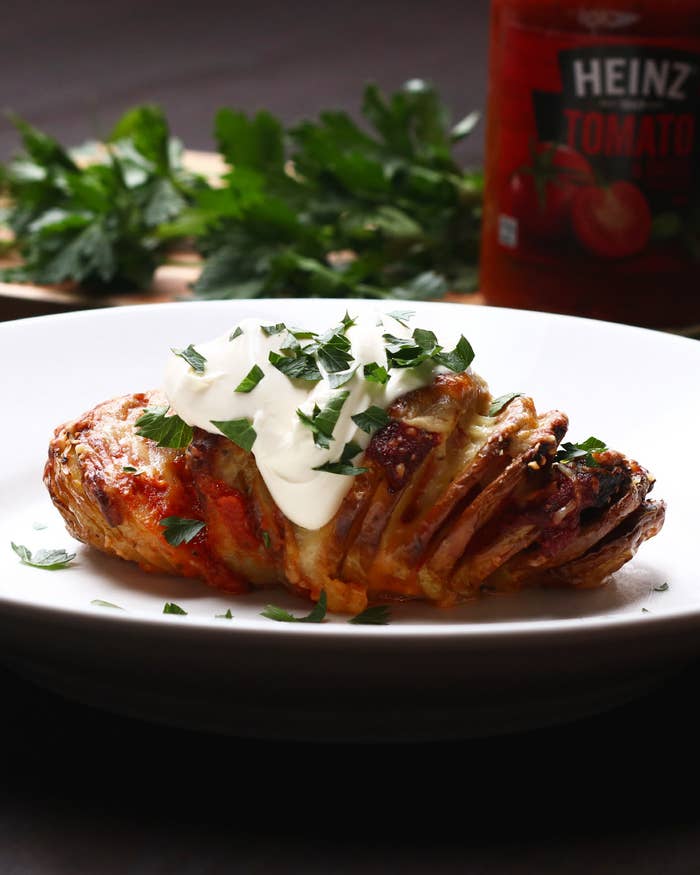 Ingredients:
* Large white potatoes x 6
* Milk - 500ml
* Butter - 80g
* Plain flour - 2 Tbsp
* Mozzarella - 200g
* Parmesan - 100g
* Parsley - 3 Tbsp
* Heinz Tomato and Basil Pasta Sauce - 525ml jar
* Olive Oil – 3 Tbsp
* Sour Cream – 3 Tbsp
* Salt - To taste
* Pepper - To taste
Method:
STEP 1. Lay potato flat with a pair of chopsticks either side acting as a barrier. With a sharp knife cut thin slices in each potato without cutting all the way through so that it's connected through the bottom, then lay on a baking tray.
STEP 2. Drizzle olive oil over each potato then season generously with salt and pepper, and bake in the oven at 180°C for 1 hour.
STEP 3. To make béchamel sauce add butter to a saucepan and melt until it bubbles. Add flour and whisk until it pulls away from the side.
STEP 4. Add milk and whisk continuously until the mix starts to thicken. At this point add Mozzarella, salt and pepper to taste, and stir until it's combined and mixture stretches.
STEP 5. Generously coat each potato with Heinz Pasta Sauce, ensuring it goes between each slice. Add a layer of béchamel sauce, and top with parmesan cheese. Place back in the oven for 15 minutes until the cheese is golden and crunchy on top.
STEP 6. Serve and garnish with a dollop of sour cream and fresh parsley.
STEP 7. Enjoy!