Scotland Yard faces a major corruption scandal, with police officers under suspicion of taking bribes from security firms working for bars and strip clubs across the West End, BuzzFeed News can reveal.

Sergeant Frank Partridge, dubbed "the Sheriff" of Soho, and Constable Jim Sollars, nicknamed "the Gruffalo" for accepting so many free dinners, have both been arrested for conspiracy to commit misconduct in public office.
Anti-corruption detectives have also swooped on three security bosses at two firms – one of which promotes itself as official partner of the Metropolitan police in delivering London's key anti-terrorism strategy.
The two arrested officers work in Scotland Yard's Westminster licensing unit, which holds vast power over the borough's clubs and bars because it controls their ability to open late, serve alcohol, and play music.
They are suspected of forming corrupt relationships with two security firms, TSS Security and Profile Protection, and are being investigated over allegations that they accepted improper inducements ranging from free dinners, drinks, and club entries to bundles of cash.
In return, the officers face allegations of putting pressure on Soho's nightspots to use the firms to supply their bouncers and security. Sources say club owners feared that they could lose their licences if they did not comply, and believed that by hiring TSS or Profile they would get protection from police interference at their venues.
TSS Security, which sits on the steering committee of Project Griffin, the Met's anti-terror initiative, is central London's biggest door security firm, holding a near monopoly on the hundreds of venues across the West End. Its managing director, Terry Neil, and its head of operations, Douglas Thompson, himself a former Westminster police officer, were arrested on suspicion of being part of the alleged conspiracy. Hassan Serdoud, owner of Profile Protection, which has emerged as the biggest rival to TSS in the past two years, was also arrested.
All five arrested men deny any wrongdoing. They have not been charged and the allegations against them remain unproven while the investigation is ongoing. They are due to answer police bail at the end of the month.
Anti-corruption detectives raided the offices of the Westminster police licensing unit, both firms, and the home addresses of the men they arrested in June this year. They announced the move as the culmination of a "long running intelligence operation led by our anti-corruption command". But whistleblowers have raised fears that even if the corruption is proved, the true scale of the problem could be swept under the carpet and only junior officers "hung out to dry".
Security industry insiders aggrieved at having lost lucrative contracts to TSS and Profile say they suspect the alleged corruption may have reached higher echelons of Scotland Yard and that other public officials could also be involved.
The rival security industry boss who initiated the corruption complaint compiled a document for detectives setting out the allegations that has been seen by BuzzFeed News. It claims that improper relationships exist between public officials and security firms in Camden and Croydon as well as Westminster.
"The licensing teams of the above boroughs have created their preferred security company and those companies dominate ... and the rest of us suffer in terms of gaining a market share," the letter, drafted by Tony Clarke of the rival firm UK Security Facilities, said. "The Licensing Police of Boroughs are very powerful individuals, because they can ruin people's businesses."
BuzzFeed News has investigated the biggest alleged police corruption scandal to sweep Soho since the '70s and uncovered secret details of the two-year covert operation that culminated in the recent arrests. Extensive interviews with security industry insiders, sources within Westminster council and the Met's licensing unit, current and former employees of TSS Security, and West End club owners have revealed how a bitter battle for control of Soho's nightspots has plunged Scotland Yard into crisis.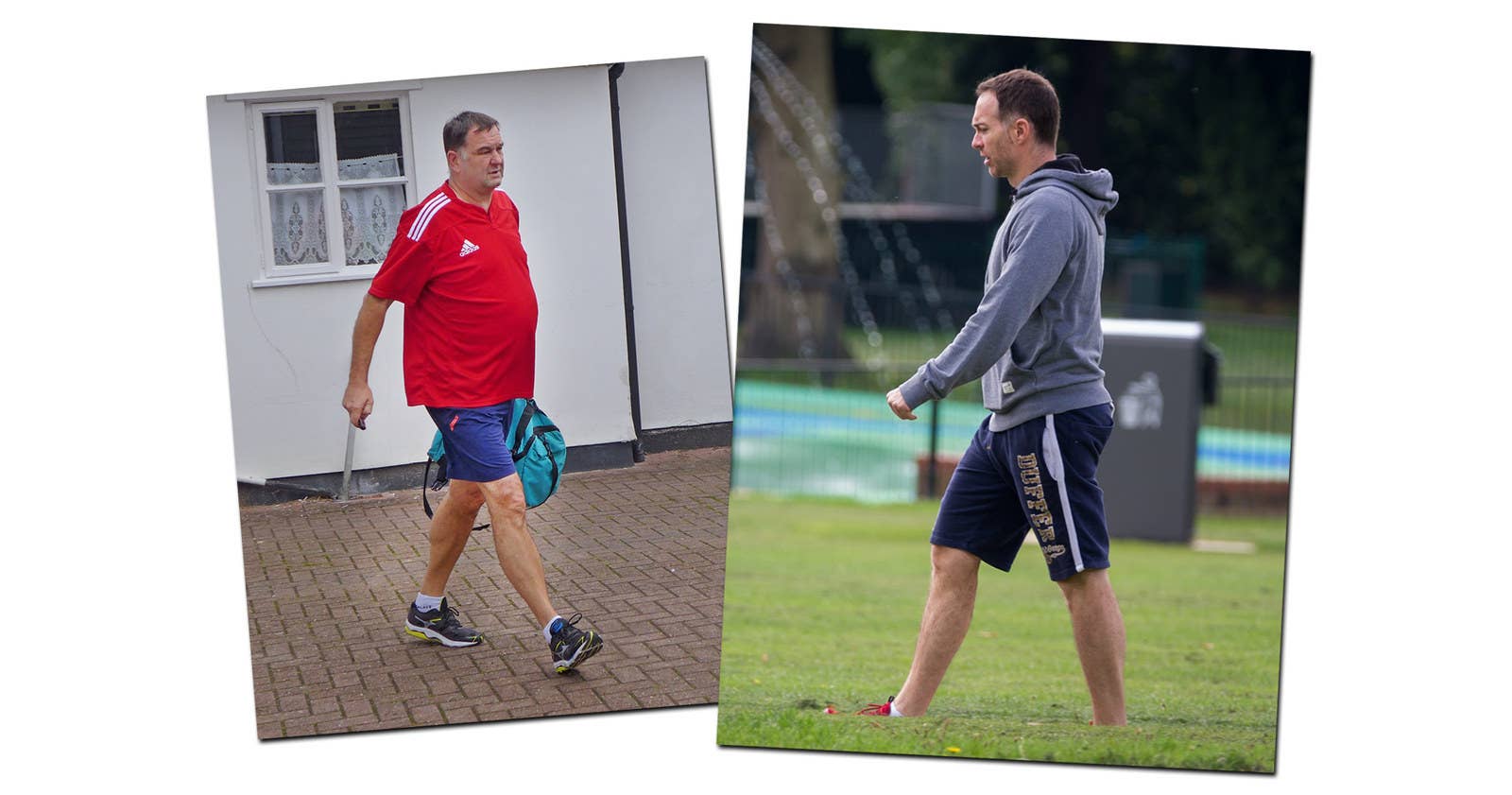 Sergeant Frank Partridge and Constable Jim Sollars made an odd couple patrolling the streets of Soho under the neon lights of its clubs and bars, but they were as inseparable as they were unmissable.

Partridge, a trim 42-year-old sporting long, thin sideburns, was dwarfed by Sollars, a decade older and a giant of a man at 6'8" and 18 stone. The pair quickly hit it off when Partridge joined the Westminster licensing unit from a senior role in the borough's gangs division in 2012, and a friend said they were soon spending so much time off-duty eating and drinking on their patch that their partners at home began to joke that they must be having affairs.
The two men were the public face of the licensing unit and spent much of their time out in Soho meeting restaurateurs, nightclub owners, and bar managers with issues about their late-night drink and music licences.
Soho has been a den of vice and entertainment since its days as the hub of London's sex industry, and the neighbourhood has more restaurants, clubs, pubs, and bars than almost anywhere else in London. Partridge and Sollars held sway over the lifeblood of those venues: their ability to serve drinks and play music late into the night. If there was any sort of disorder, from a drunken punch-up to a drug overdose, the cops could refer the venue's licence to the sub-committee at Westminster council for review. Millions of pounds are at stake when a licence comes into jeopardy, so club owners rely heavily on security companies to maintain order.
Sollars has spent all his 35 years in the police working in Soho and central London, and he was already a well-known face in the area in 2009 when he moved to the licensing unit to deal with applications. Friends said he had never wanted to rise up the ranks, cherishing the opportunity his patch provided to indulge a love of haute cuisine and fine wines. The image of his hulking frame eating and drinking his way through Soho's many establishments for free had earned him the affectionate nickname "the Gruffalo" among some locals. Sollars also loved jazz, according to his friends, and was allowed free entry to Ronnie Scott's, where he liked to prop up the bar.
Partridge was more ambitious: He told colleagues that he had worked undercover in a vice unit and had also served on the Territorial Support Group, the Met's public order division. He carried the air of a seasoned street cop who knew how the system worked as he took on his new role as a licensing crime prevention and enforcement sergeant in 2012.
But he was not immune to the allure of the Soho club scene. Like his new partner, insiders say Partridge quickly took to staying out late with new friends he was making in the nocturnal world of nightclubs and security. A well-placed source on the Westminster police licensing unit said Partridge had told him he visited strip clubs on his beat when his shift had ended.
The businesses in the area were naturally keen to make sure they stayed in the officers' good books, and industry sources claim the two cops were happy to accept the hospitality on offer at the venues they visited.

Scotland Yard's gifts and hospitality policy says officers must "politely decline" any freebies they are offered, unless doing so would seriously damage working relationships, in which case gifts should where possible be donated to charity. The policy covers "beverages and light refreshment", "offers of free meals", "entry to clubs", and even stationery. But there is a grey area: Officers are allowed to make an exception to attend working lunches and dinners that will benefit the Metropolitan police. They must use their discretion, and the stakes are high: The policy notes that "even a small gift to a sole or key decision maker may fall within the scope of the Bribery Act 2010 if it could be perceived to elicit the improper performance of that function". All gifts, whether accepted or declined, must be recorded on the Met's hospitality register.
The licensing police insider told BuzzFeed News that Partridge in particular considered socialising with business owners in Soho a key part of his intelligence-gathering duties. "I think what Frank was doing was having drinks with people. Some he was more friendly with than others," the source said. "He would give people a drink to find out what was going on, the gossip. If he had proper intelligence he would know how to register people as informants."
Intelligence-gathering is an important part of the duties of the licensing police, but one security industry insider said the hospitality on offer in London's biggest entertainment district had become "a great source of indulgence" to Partridge and Sollars.
It wasn't just the bar and restaurant owners extending the hands of friendship to the two officers. One of the most significant relationships they formed was with Terry Neil, the boss of the dominant local security firm, TSS.
Neil was a former bouncer who ran TSS with his then wife, Soraya. The company was formed in 2001 by Michael Hall, a millionaire property developer and the son-in-law of the actor Michael Caine, but he resigned as a director in 2005, leaving the Neils at the helm. The pair have recently separated but continue to work together. The firm grew rapidly and by 2012, when Partridge arrived at the licensing unit, it was the dominant security company in the borough of Westminster, believed to control up to 80% of the doors in the area.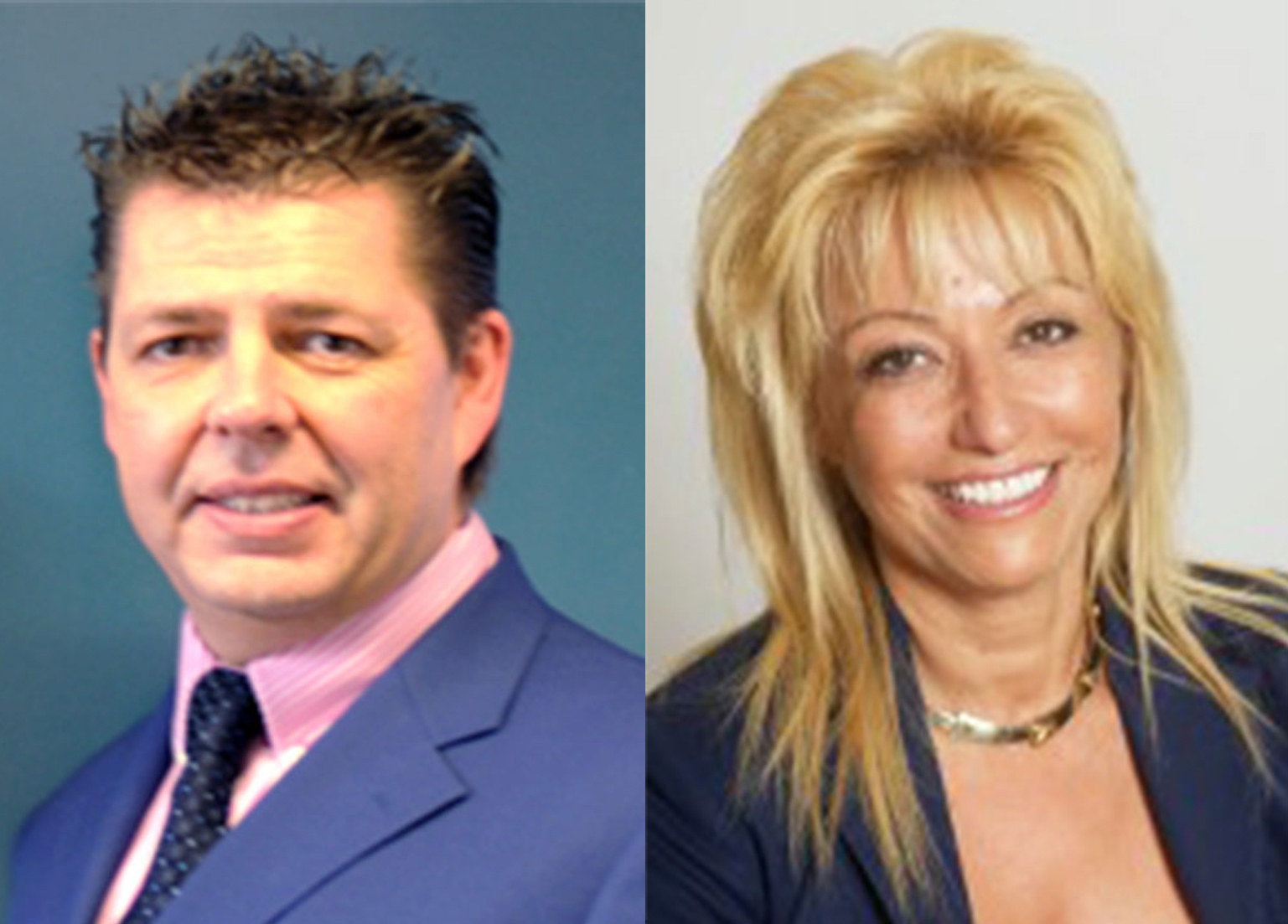 Terry Neil was considered a smooth operator who drove a Porsche and had a taste for Premier Cru Chablis. His operations manager, Douglas Thompson, was another giant of a man, a former Westminster cop who was said to be reluctantly medically retired because he suffered from bad knees following years as an amateur wrestler.
Neil quickly formed a friendship with the two officers, and they could be found drinking late at night together and enjoying meals at expensive restaurants such as Bocca di Lupo in Soho, where a police friend said they took it in turns to pay. Sometimes they would be joined on nights out by Thompson or Soraya, a glamorous multilinguist from Amsterdam who worked as the firm's finance director.
By the time Partridge and Sollars were forming their friendship with Neil, concerns were already spreading that the firm had become far too close to the police unit that held sway over the licences of the area's clubs and bars.
A TSS insider had walked away from the company following an acrimonious commercial dispute several years before, and towards the end of 2013 he approached one of the authors of this article with a series of explosive allegations about the firm. He alleged that Terry Neil had formed inappropriate relationships with police officers within the Westminster licensing unit. The insider said Neil was entertaining groups of officers at strip clubs as far back as 2007 – before Partridge and Sollars arrived on the scene – and inducing them to put pressure on club owners to use his firm to supply their bouncers. The insider recalled: "I've been up to one of Terry's bars where there have been licensing police surrounded by strippers and off their heads." He later elaborated: "I walked into the Red Rooms and saw this copper with this huge [stripper] on his lap with her tits in his face."
It was, he said, pointless to report his concerns: "If I went to the police and made a complaint about Terry Neil … we'd have no chance of a fair hearing." When contacted by BuzzFeed News this month about the anti-corruption investigation into Neil's relationship with Partridge and Sollars, the former insider said: "I think it's a lot larger than just the people who have been arrested and I think it goes back a lot longer. I've been told that it went ... incredibly high."

TSS strongly denied all the allegations made by the former insider and said the firm was the "victim" of a smear campaign by people who had "motives to lie". Soraya Neil, who is not the subject of any criminal complaint, represented the company at an 80-minute meeting with BuzzFeed News at the TSS offices in North Acton last week. Though she repeatedly refused, on legal advice, to comment on the police investigation, she strenuously denied that any bribes had been paid to police officers and insisted that the firm had won so many contracts in Soho because of its excellent customer service. The firm's website – which boasts of its "exemplary relationships" with the Westminster police – was quickly taken down after the meeting but can still be viewed in Google's cache of old webpages.

By midway through 2013, rival security firms were starting to become enraged by their suspicions that TSS was using its police connections to take over so many doors in the borough and starving them of business.
The most vocal was Tony Clarke, a former Met detective who left the police in 1986 after five years as a surveillance officer and built a business specialising in undercover operations for pub companies experiencing stock and till theft. He later moved into door security and set up UK Security Facilities, which vied with TSS for lucrative contracts in Westminster and London's other entertainment hubs.
Clarke said he fears no one and sees himself as a crusader standing up for fair play in the security business and policing – though Neil branded him a "narcissist" and a liar who was jealous of his rival's success. By mid-2013, Clarke said he had fallen out with the Westminster police licensing unit after hearing from potential clients that Partridge and Sollars were telling club managers to use TSS instead of his own firm. Other security bosses confirmed that they had experienced similar problems.
BuzzFeed News has spoken to four security industry rivals who claim Partridge was applying pressure on club owners to use TSS. Most asked to remain anonymous because they feared their businesses could fall foul of the licensing department if they spoke out.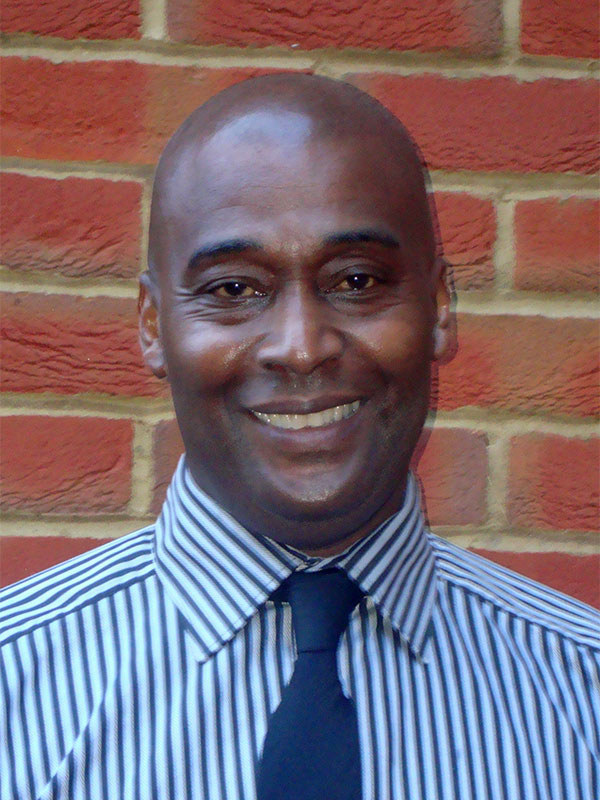 "Tony was the only one who stuck his head above the parapet and he's right to do it," one said.
Clarke said: "Frank thinks he is the sheriff of London, that he can push his weight around. Whatever Frank does, whatever Frank says goes. I've had a ding-dong with Frank over the phone. I rang him up and told him ... I was coming after him."
A source inside the licensing unit said the two officers were irritated by Clarke's allegations and had begun "winding him up" by bad-mouthing him in Soho.

Clarke caught wind of this. He said he then decided to notify the Met's anti-corruption squad. He prepared a letter summarising the allegations in the summer of 2013 that claimed "massive corruption between TSS and the Metropolitan Police" had allowed the security company to control a "monopoly" of door contracts in Soho and central London. He alleged that the police licensing unit was recommending TSS to club owners as the Met's preferred security provider and that "money is changing hands for this assistance".
Clarke wrote that he suspected the corruption had been going on for years before Partridge and Sollars arrived on the scene, and that now they too were acting improperly by telling club owners that their licences would only be secure if they used TSS.
He told BuzzFeed News that detectives from the Met's directorate of professional standards came to see him in the autumn of 2013 and that he repeated the allegations and handed them two tape recordings of conversations he'd had with club owners about Partridge allegedly pushing TSS.
He followed up after the meeting with a second letter complaining further about the relationships between TSS and the licensing police. "We believe those relationships are either corrupt or not compatible with policies, procedures for teams or individuals who holds a position in a public office," he wrote. "Whilst we cannot prove that the relationships exist for financial or other rewards, we know that it is a barrier to competition and fair play."
BuzzFeed News interviewed the owner of the Avalon nightclub – one of the venues Clarke claimed had been pressured into using TSS. Saeed Azimi, a 29-year-old Afghan businessman, said he met Partridge in 2014 and the officer had advised him that he would be more likely to keep his licence after a shooting at his nightclub if he employed TSS instead of Clarke's firm. "Frank ... alluded that they were good. He said ... it would look better if I was using TSS," said Azimi. He added: "Everyone knows in Westminster that if you want to run a club or a bar you need to use [TSS] in order to get more protection." Azimi's licence was ultimately withdrawn by Westminster council.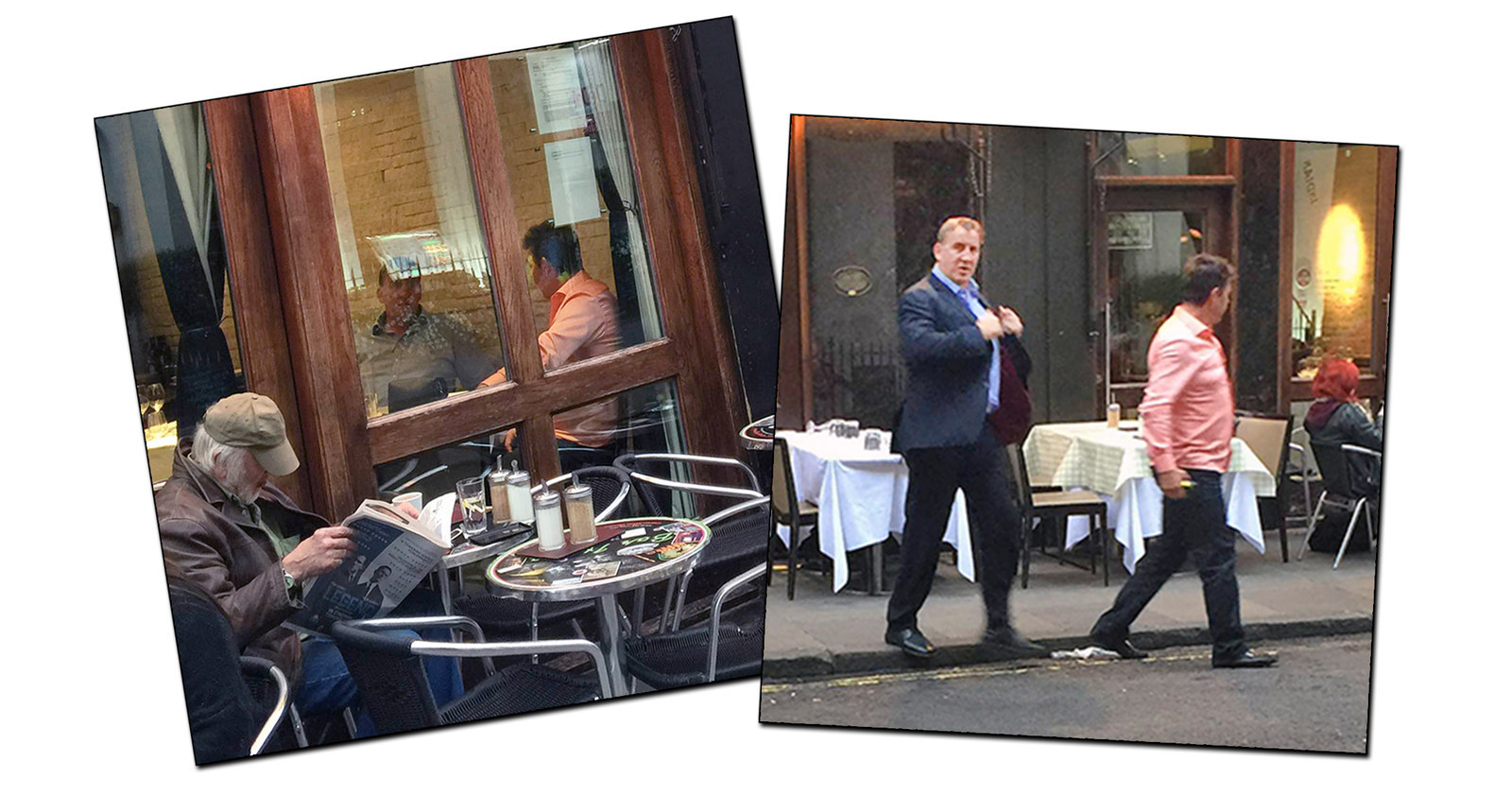 By the autumn of 2013, detectives from the Met's anti-corruption unit, nicknamed "the Untouchables", were taking a secret interest in the Westminster police licensing unit and had placed Sollars and Partridge under surveillance. Undercover officers followed them on- and off-duty as they frequented Soho's many restaurants and bars. They were photographed eating free pizza at a restaurant on Shaftesbury Avenue, Sollars was snapped dining at a noodle restaurant on Charing Cross Road, and both were observed having afternoon tea at a plush hotel in Mayfair. According to a source close to Partridge, he was followed on the evening he attended Elton John's birthday party.

Out of the blue, Clarke received an email from Neil in November 2013 expressing "disappointment" that he was making "ludicrous allegations" and trying to damage the "working partnerships" TSS had with the police. Neil said he suspected that Clarke was jealous of TSS's success and was looking for a reason to excuse his own poor performance. "I am now saddened by your behaviour, threats, obsessional approach to delivering what can only be described as poor service combined with a narcissistic tendency to portray yourself as some crime boss," he wrote.
Meanwhile, Sollars was making plans for his retirement and was lining up a new job as a consultant with a leading London licensing lawyer. Partridge, on the other hand, was said to have been offered a job working for a rival security firm called Profile Protection, run by a Moroccan businessman called Hassan Serdoud. Both men declined to comment on this.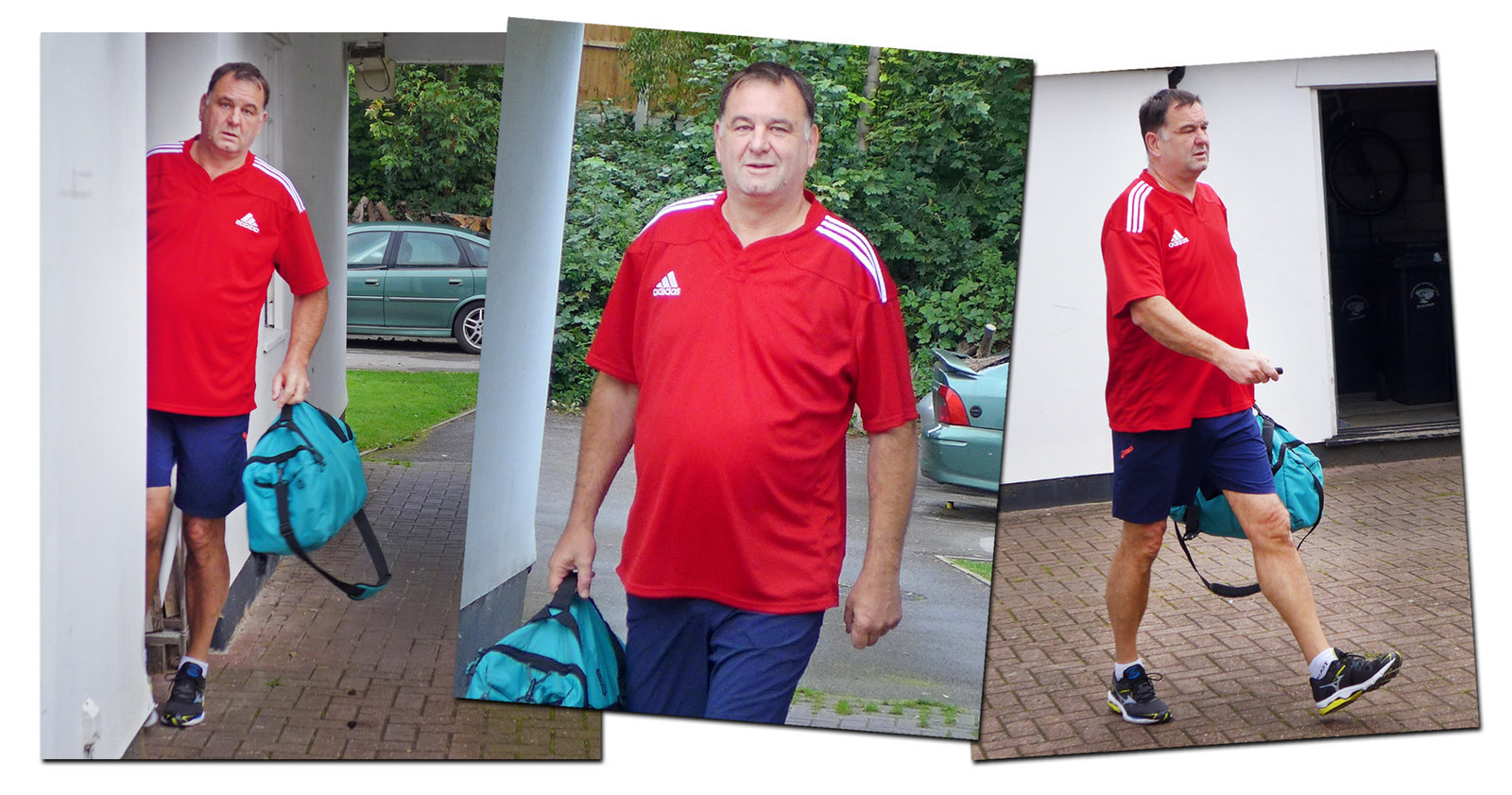 Security industry sources soon began to hear claims that Partridge was now favouring Profile over TSS, and was said to be socialising with Serdoud, who is a martial arts specialist. A police friend said the officer had cultivated good relationships with both TSS and Profile for intelligence-gathering reasons. "Like a good copper Frank played one off against the other," the source said.
Clarke began to hear that Serdoud was now encroaching on the relationships Neil had carefully built with Partridge and Sollars and speculated that a rift was beginning to develop. "I think what Frank did, he tried to sideline Terry [Neil] and align himself with Hassan, partly because when he retired he was going to go and work with Hassan," he said. "He was going around Terry's doors and blatantly telling the manager to get rid of TSS and put Hassan in there." Serdoud denied all the allegations relating to his firm.
Speaking at the TSS office, Soraya Neil complained that the firm's contracts in Westminster had decreased "dramatically" in the past two years through no fault of its own. But she declined to comment on whether this was because Partridge had begun favouring Profile and said she could not speak about anything related to the ongoing corruption investigation.
The undercover probe by the anti-corruption squad culminated on June 24 this year, when Sollars, Partridge, Serdoud, Neil, and Thompson were arrested for conspiracy to commit misconduct in public office. Sollars was held in a early morning raid on his home near Stansted, and Partridge was detained at Scotland Yard when he turned up to a morning meeting – according to a police insider, after having been out drinking until the early hours of the morning with a friend who owned a local nightclub.
The pair were released on police bail and suspended from work. They were banned from entering Westminster borough and contacting the others who had been arrested and those regarded as possible witnesses. Sollars is said by friends to have lost two stone since being shut out of Soho — partly due to a new fitness regime. Detectives also seized their work computers and have asked Westminster council to provide all communications with the pair going back six years. All the arrested men are due to answer police bail at the end of September.

Anti-corruption investigators will have to grapple with the Met's notoriously fuzzy rules governing gifts and hospitality as they investigate whether two licensing offers accepted any inducements that could have compromised the performance of their duties. They will also need to examine any management failings within the licensing unit and the wider issue of a well-lubricated revolving door between the Metropolitan police and the security and entertainment industries.
Sollars denied any corruption and told BuzzFeed News: "I have a professional working relationship with everybody I work with. My job is to promote the licensing objectives and that's all I've been doing. I'm frustrated that the people investigating this don't seem to understand the role of a licensing officer." Partridge did not respond to questions. TSS denied any wrongdoing and threatened to sue BuzzFeed News if the allegations against the firm were published, saying it was the"victim" of a smear campaign by people who "may have motives to lie". Hassan Serdoud said the allegations against him were false and also threatened to sue if they were published.

A spokeperson for Scotland Yard said: "The Met's Directorate of Professional Standards Anti-Corruption Command continue to examine allegations of corruption by Westminster Licensing Officers and inappropriate relationships between police officers and people running local businesses. Should any individual have information that may assist an investigation, it should be handed to police."
Concerns remain among Soho businesses and elected leaders that if the corruption allegations are proved to be true, the Met's internal investigation may not follow the chain of evidence to find out whether more senior police officers are involved. A senior member of Westminster council said: "You do have to ask whether those who were responsible for line management and professional setting of standards were asleep at the wheel or ignoring it. If they didn't hear about it one must question what they were doing in that role."
Another security industry insider said Partridge should not be scapegoated if the alleged corruption within the licensing unit is proven. "It's no good Frank taking the fall," he said. "He's the one arrested, but your boss is responsible for what you do. The licensing department, they've got their wagons in a circle and they are hanging Frank out to dry. It's absolute nonsense."
He insisted that if the allegations are proved, "The Old Bill should hang its head in shame."