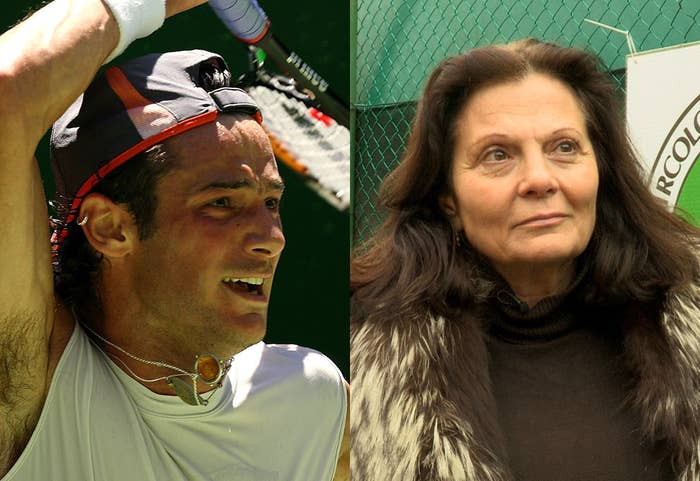 The mother of one of five Italian tennis players suspended for gambling on their own sport has come forward to accuse world tennis authorities of covering up evidence against 95 other, higher-ranking players, including one global star.
Federico Luzzi and the four others — including Daniele Bracciali and Potito Starace, who are now accused of match-fixing by Italian prosecutors — were suspended after the online bookmaker Interwetten handed details of their account activity to the sport's governing bodies in 2007.
Luzzi has since died of leukaemia and his mother, Paola Cesaroni, has come forward to claim her son was unfairly scapegoated. She says the full Interwetten list contained the names of 100 players, but claims that instead of taking action against the others an official at the Association of Tennis Professionals (ATP) took steps to protect them, warning them to shut down their accounts.
Her claim comes as BuzzFeed News and the BBC today reveal that the sport's authorities were given evidence seized from a confessed match-fixer's gambling ring that named more than two dozen high-ranking international tennis players just months ago, but prosecutors say they ignored it.
Now Cesaroni says the list of 100 players caught gambling on tennis, and subsequent warning letters sent to 95 of them by the authorities, were disclosed during the discovery phase of a lawsuit that the five suspended players brought against the ATP in Florida.
The players' claim said the association had violated its "fiduciary duty" to them by, among other things, "discriminately targeting them as low-ranked, less prominent professional tennis players". The suit also said that the ATP had ignored "more serious violations" committed "by high-ranked, more prominent professional tennis players in order to avoid negatively impacting its revenue and reputation."
During the case, the ATP filed 31 documents relating to the gambling evidence. Those documents – which included depositions by Gayle Bradshaw, the ATP's administrator of rules and competition, Mark Young, the CEO of its American operations, and Jeff Rees, the then head of its Tennis Integrity Unit – were under seal and deemed for "professional eyes only". The players' lawyers filed a motion to unseal them, arguing that they went "to the heart of their case". But the motion failed, and the court ultimately upheld the players' suspensions in a sealed judgment that prevented any details of the case becoming public.
Cesaroni says those documents contained the proof of a cover-up.
"Among these hundred people there was one or two big names to protect, so someone high up in the ATP alerted … all the 95 people," she said.
Cesaroni said that only the five "silly" Italians had bet on tennis using accounts in their own names, but that the remaining accounts had been linked to the other 95 tennis players through credit card details and addresses.
She said it was "normal" for players to bet on tennis for entertainment on rainy days but categorically denied that her son was ever involved in fixing and said he had fought tirelessly to climb as high as he could in the rankings right up until his death. "It was an injustice, a great injustice, to point the finger at those five," Cesaroni said.
"We think that it was very hard … for ATP to have so many players involved and so someone took a decision to protect important names and the five Italian players were sacrificed."
The ATP, the players' former lawyers, and former managers at Interwetten all refused to comment on the contents of the disclosed documents.
The gambling site said in a statement: "It is our policy not to comment on whether any information may or may not have been, was or was not shared by Interwetten with any sports governing body or law enforcement agency."
Read the latest instalment of the #TennisRacket investigation: Here's The Evidence Of "Worldwide" Match-Fixing That Prosecutors Say Tennis Ignored