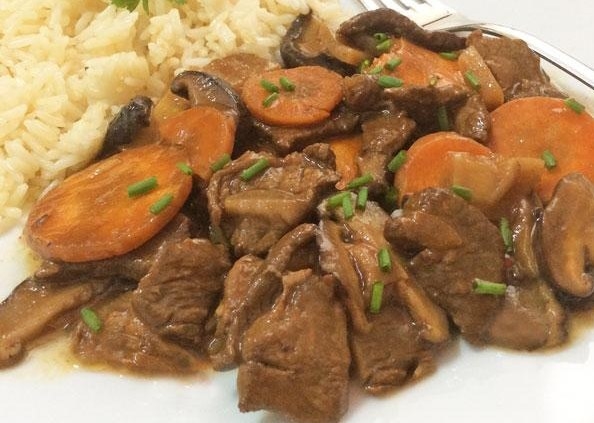 Modo de empleo
1• Precaliente el horno a 160°C. Seque la carne con papel de cocina. Caliente la mitad del aceite en una cazuela de 2,5 litros de capacidad. Dore la mitad de la carne a fuego fuerte; repita la operación con el resto del aceite y de la carne.
2• Funda la mantequilla en la cazuela y fría los ajos picados durante 2 ó 3 minutos. Incorpore la harina y rehogue 1 minuto. Vierta el vino y remueva para rascar los fondos de la cazuela. Cueza removiendo hasta que la mezcla hierva y se espese. Añada los tomates picados junto a al concentrado de tomate, la corteza y el tomillo.
3• Devuelva la carne a la cazuela y hornee, tapado durante 1 hora y media. Caliente la mantequilla adicional en una sartén, saltee los champiñones y agréguelos a la cazuela. Deje cocer 15 minutos, o hasta que la carne esté tierna. Retire la corteza.
4• Ponga la cazuela en el fuego, añada la harina de maíz mezclada con el vino y remueva hasta que se espese. Adorne con tomillo.
5• Caliente 1 cm de aceite en un cazo. Corte el pan en triángulos y fríalos por ambos lados en el aceite, en tandas, hasta que se doren, añadiendo más aceite si fuese necesario. Escúrralos en papel de cocina y sírvalos enseguida junto con la carne.
Ingredientes
1 kg de pierna o espalda de ternera cortada en dados
20 ml de aceite oliva
20 g de mantequilla + 30 g adicionales
2 cebollas grandes
2 dientes de ajo picados
1 cucharada de harina
375 ml de vino blanco + 1 cucharada adicional
500 mg de tomates pelados, sin semillas y picados
2 cucharadas de concentrado de tomate
1 trozo de 5 cm de corteza de naranja
2 cucharaditas de harina de maiz (vale tipo maicena)
Ramitas de tomillo fresco
3 rebanadas de pan blanco sin la corteza
NOTA Esta receta tiene un valor nutricional de: proteínas 60 g; grasas 35 g; hidratos de carbono 18 g; fibra de 4 g; colesterol 235 mg; 717 Kcal.
También puede añadirle pimientos asados ó en vez de arroz, puré de papas. También puede servirlo sólo.
This post was created by a member of BuzzFeed Community, where anyone can post awesome lists and creations.
Learn more
or
post your buzz!