Mini Corn Dogs
These are the perfect little snack for a hungry kiddo after school.
by
,
Mini Corn Dogs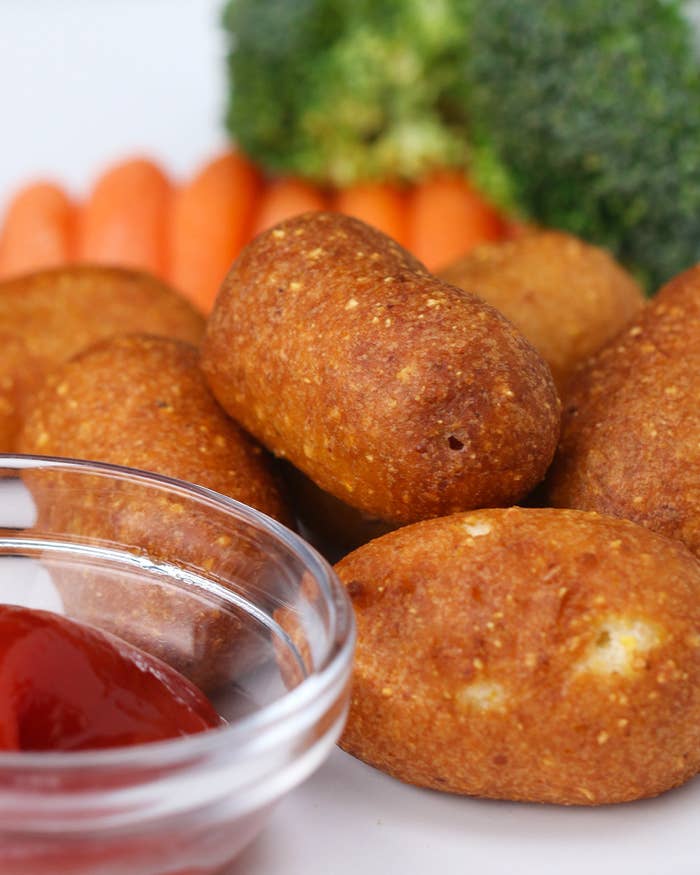 INGREDIENTS
Makes - 15 corn dogs
1 cup cornmeal
1 cup flour
¼ cup sugar
4 teaspoons baking powder
¼ teaspoon salt
⅛ teaspoon pepper
1 egg
1 cup milk
5 hotdogs
1 tablespoon flour
1 quart vegetable oil for frying
PREPARATION
1. In a medium sized mixing bowl, whisk together dry ingredients. Then add the egg and milk. Stir until batter is smooth with no lumps and chill in refrigerator for 25 minutes.
2. Cut the hot dogs into ⅓ pieces and coat in flour to help batter to stick to the dogs.
3. Preheat oil to 350ºF/180ºC.
4. Dunk flour battered hot dogs into corn dog batter by using a fork. Make sure to fully coat the dogs before frying in the oil.
5. Fry at 350ºF/180ºC for 3-4 minutes or until golden brown. For even cooking use a slotted steel spoon or a pair of tongs to rotate the floating corn dogs.
6. Dry off excess oil with paper towels.
7. Serve with side of veggies or fruit.
8. Enjoy!