Lemon Ricotta Pancakes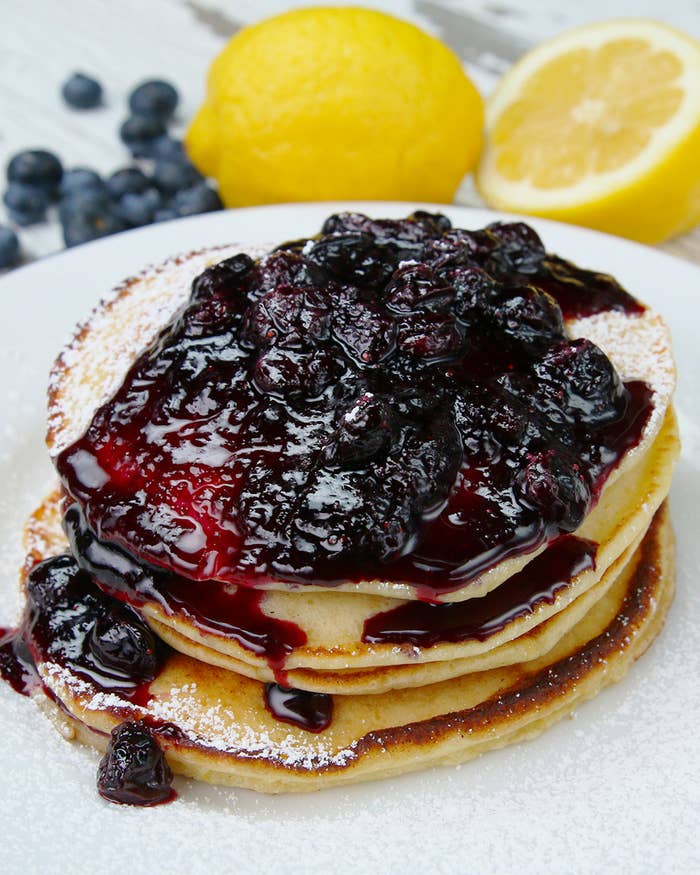 INGREDIENTS
Makes: 6 pancakes
Pancakes
1 cup ricotta cheese
2 egg yolks
¾ cup milk
½ teaspoon vanilla extract
2 tablespoons lemon zest
1 cup flour
1½ teaspoons baking powder
Blueberry Compote
2 cups blueberries
½ cup sugar
½ cup water
1 tablespoon lemon juice
PREPARATION
1. In a large mixing bowl, whisk together ricotta cheese, egg yolk, milk, vanilla extract, and lemon zest. Whisk until smooth, then add flour and baking powder. Mix this until fully combined.
2. In a separate mixing bowl, beat the egg whites on high speed with an electric mixer until very white and foamy, then gradually add sugar. Continue beating on high speed until hard peaks form.
3. Gently fold ¼ of the egg whites into the lemon ricotta mixture. Gently fold in the remaining egg whites. Be careful not to deflate the eggs!
4. Butter up a nonstick pan and pour in about ¼ cup worth of batter for each pancake.
5. Cook for 2-3 minutes on each side or until golden brown on the edges.
6. In a pot or pan, cook blueberries, sugar, water, and lemon juice. Stir occasionally to prevent sticking and cook for about 8-10 minutes or until the compote reaches a thick consistency. (Compote will thicken once it cools, so to loosen it up just add a touch of hot water.)
7. Serve hot compote over stack of pancakes and dust with powdered sugar.
8. Enjoy!