1.
Exfoliating washcloths that'll make removing dead skin (or unwanted tanner!) a breeze. The set comes with eight, so when your partner inevitably asks if they can borrow yours you can give them one of their own without hesitation (which is SUPER nice of you, IMO). You can both keep a *tiny* semblance of a skincare routine going even if you're far too tired to do anything else.

It's worth noting these are not supposed to be used to exfoliate your face.

Promising review: "It does what it says it does. Seeing and feeling all the dead skin sloughing off is pretty gross, and my skin is beautifully soft afterwards. If you have very sensitive skin, test this out on your leg before going to town on the rest of your body. For me it feels satisfying, like scratching an itch I didn't know I had. The instructions are minimal so I did have to do a little research to make sure I was using them correctly. Just like any other scrubby exfoliator, using it every day will irritate your skin. It's easy to use in the shower or bath after your skin has had time to soak/soften, and it works best when both skin and towel are damp and not dripping wet. For maximum effectiveness, apply a good moisturizer while your skin is still a little damp." —G.G. Brigman
Get them from Amazon for $7.70.
2.
A Saucemoto dip clip, so when you're "nap trapped" in your car because your little one prefers to sleep in your running vehicle instead of their cozy crib (sigh) you'll be able to, at least, indulge in your favorite fast food fries and your dipping sauce of choice.
Promising review: "How did I go so long without one of these??? The Saucemoto was my first 'TikTok Made Me Buy It' purchase and I have no regrets. It clips easily to my car's vent and the sauce cups clip in easily so I can dip and drive. No more trying not to dump the sauce by accident while steering with the same hand that's holding the dip cup. It even comes with a dip cup for those places that do the pouches for their sauces rather than the cups. (I'm looking at you, Arby's.) Ya know, you end up squeezing the sauce onto the wrapper that's balanced on your lap and you end up getting some sauce on your steering wheel. OR you try the whole 'wrapper and sauce on the passenger seat and try to dip while watching the road,' which usually doesn't turn out so great." —Pleasure Pamela
Get set of two from Amazon for $11.99+ (available in four colors and sets of four, six, and 10).
3.
An eyelash curler that'll help bring some va-va-voom to your lashes (and hopefully make you appear *a touch* more awake) without having to apply falsies. Get ready to bat those eyes, honeyyyyy!

Promising review: "When you really want to have those Bette Davis eyes without having to put on falsies, this is a great way to accentuate your lashes. Using in conjunction with mascara, these curlers really enhance the lashes. I found that they were very easy to hold onto with the scissor like clamp. The curve of the actual curler was perfect for going around my eye. The length spanned from the bridge of my nose to the corner of my eye. The silicone pad provided not only a soft cushion that didn't leave a big crimp mark, but it also kept the crawler from sticking to my mascara covered lashes. It does come with extra silicone pads so that you can replace them as needed and extend the life of this Curler." —Will-Review4u

Get it from Amazon for $9.95+ (available in three colors).
4.
Crayola Globbles, a fun lil' gadget you can use when you just need a quick mental break. Don't worry, they won't leave residue on your walls.

Check them out on TikTok!
Promising review: "I waited over two months to write my review! My daughter is 4 and plays with these DAILY! YES they do attract dirt and hair HOWEVER they are so easy to rinse off, it's not a big deal! We took these to a family gathering and ended up giving two away because they were SO loved! The two we gave away went to a 12-year-old and my 19-year-old brother. They discovered throwing them at the ceiling fan and watching them shoot across the room which was pretty entertaining! None of these have busted or ripped and they are definitely NOT gentle with them! I will definitely be buying more!" —Kindle Customer
Get a pack of six from Amazon for $9.99.
5.
A shaker of edible cocktail glitter, so just like Taylor Swift, you and your drinks can make the whole room ✨shiiiiiimmmerrrr✨...even if the only person around you is a cute little blob of a baby that most certainly won't appreciate the aesthetic.

Bakel is a small business that specializes in edible glitters for food and drink (fun!).

Promising review: "Don't think any further and just buy it. This was so cool, and everyone loved it! I got the clear one because it will go with any drink. I will be the one to put this in all my friends' drinks. Also had no taste, so it was just the look. Sooooooo cool!" —gigi
Get it from Amazon for $10.95 (available in 18 colors). 
6.
Retro-inspired smiley face slippers you simply won't be able to talk yourself out of adding to your cart — I mean, look at them! They're just so HAPPY! Added bonus? They'll protect your feet from the ice-like tiled floors in your home when you're trudging to your little one's nursery to change their diaper at 2 a.m. 🙃.

Promising review: "So comfy, so worth it. I have been eyeing these slippers for some time and finally ordered them. When they arrived, they were in a vacuum sealed bag and I was concerned and confused because they felt so hard. As soon as I removed them from the packaging, they fluffed up and felt sooo comfortable. They're soft and feel great especially with the rubber sole!" —Natasha

Get it from Amazon for $19.99 (available in women's sizes 5–12 and five colors). 
7.
A seamless set featuring a ribbed material that reviewers love for its supportive but comfortable material. Pair with an oversized dress shirt for a chic style option or wear it as is while getting things done around the house.
Promising review: "The material is a good balance of thick and stretchy which allows for great compression without limiting mobility. I wore it while doing cardio and strength training and the waist doesn't slide and the legs don't roll up. Definitely getting more colors." –Amazon Customer
Get it from Amazon for $29.99+ (available in sizes S–L and in 32 colors).
Psst: This is included in Prime Wardrobe, so you can give it a trial run if you're a member!

8.
A flower dish brush that'll put a *~spring~* in your step on your way to clean all the dirty dishes you've let pile up while you were too busy trying to get your life in order after being up with your baby all night..oops.
Depending on what model you get, it can come with a vase to keep the brush in.
Promising review: "I hate putting my hands near any caked-on foods when rinsing for the dishwasher and I hate touching washcloths or sponges so this was exactly what I needed. The flower design is super cute. Sometimes I wish the bristles were a little bit tougher but it still works pretty well." —Taylor Lewis
Get it from Amazon for $11.99+ (available in two styles).
9.
Crystal ball sun catchers you can hang in the most sunny spot in your home to bring rainbows into your life. 🌈✨

Promising review: "I love prisms, and was surprised to find a set online for such a good price. I ordered one as a Christmas gift for my daughter, and was delighted to see it arrive beautifully packaged with fishline for hanging and a microfiber cloth for cleaning. Since then I have ordered three more sets as gifts! My infant granddaughter loves to chase the rainbows the prisms make across the room." —Maggie W. Rowe
Get a set of two from Amazon for $7.97.
10.
Glimmer Glow Stick lipstick will ensure your pout can showcase the *perfect* shade of pink at all times thanks to its fancy pH technology. It'll magically leave a rosy, subtle glittery shade on your lips. Perfect for the new mom who would love to show off a lil' color on their lips but simply doesn't have the time to carefully apply a lipstick.

Check out a TikTok of the Glimmer Glow lipstick in action. 
Promising review: "This is such a pretty pH color lipstick, viral for a reason — it's very pretty to look at, it's not sticky at all, and the more you layer it, the darker the pink shows up. The only thing I don't like is the scent in it, I can almost taste it a bit. It's nice to have in my purse if I need a quick color while I'm out in case of sudden dinner plans or a meeting, because you can control the color saturation to how light or bold it is." —Kristina Bumbelow

Get it from Amazon for $3.99. 
11.
A set of five petite glass vases for scattering around your room (your nightstand, window sill, dresser, etc.) — fill them with faux flowers to usher in a new season of life (literally).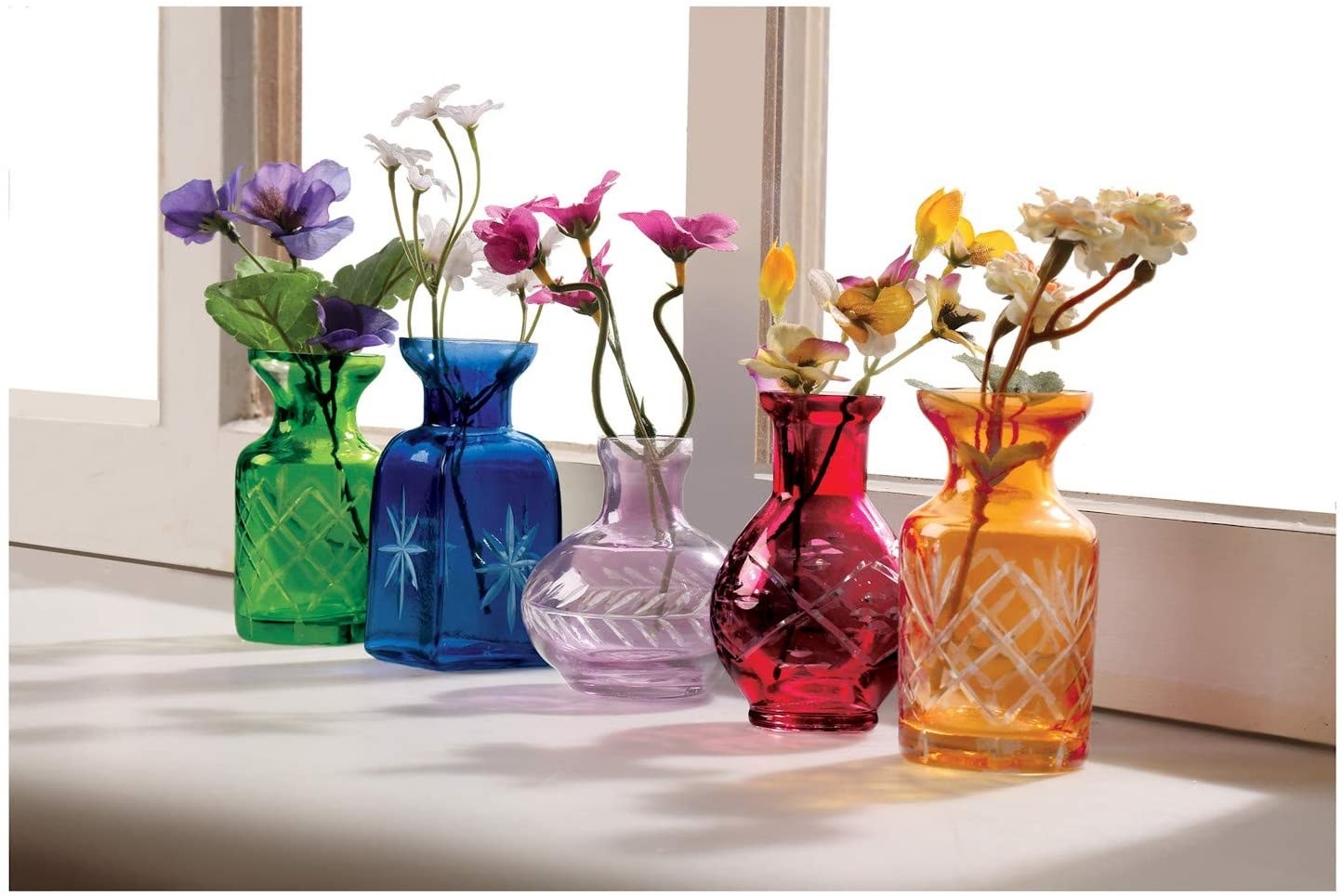 12.
A mini retro-inspired Bluetooth speaker that'll look darling regardless of where you display it. Hope everyone else in your life is ready for an endless slew of oldies to play throughout the house.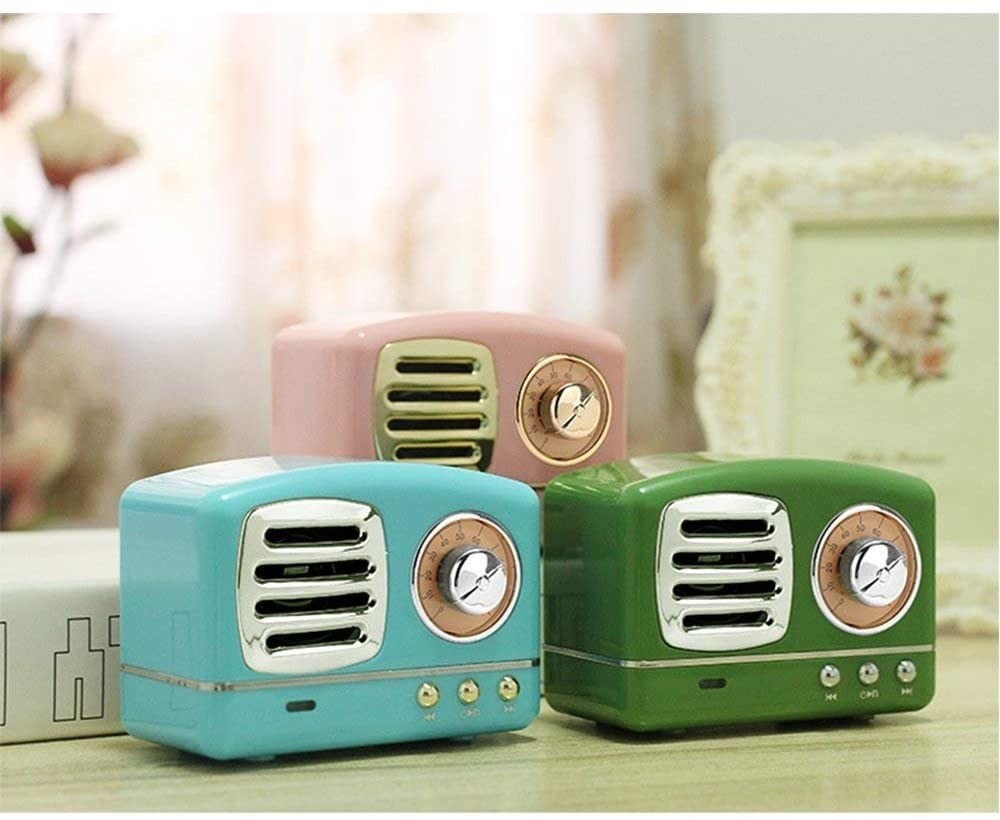 Promising review: "It's so cute! I got it in flamingo pink, which my little one loves. It's a shiny glossy finish, beautifully and elegantly made! It's compact, small, and portable. Very pleasant and satisfying shape aesthetically! Large power-on, volume, and pairing up buttons on the right underside and adorable blue indicator light on the left. It's easy to pair with a phone and a laptop by bluetooth. The sound is incredible for such a small device! Plus the built-in mic is great for using at home or in the car. It's very convenient to charge by using a micro usb. I'm pleased with my purchase and would recommend to my friends." —Olivia
Get it from Amazon for $16.99 (available in five colors).