1.
A waterproof light-up palm tree featuring glorious LED lights from top to bottom that'll bring the tropics to your patio even if you've literally never set foot on a beach. 

Lightshare is a small business! Reviewer's note that while the palm tree withstands weather well, it is not wind-proof and should be weighed down.

Promising review: "We love our new tree, it's sitting on our porch over looking real palm trees in our yard. We live in the Florida Keys and it fits right in here. We'll keep it up the entire year. Not too expensive either, looks just like the picture when lit up." —Donald S,
Get it from Amazon for $79.99+ (available in five heights).
2.
A three-piece rocking chair set you'll want to add to your cart right this second so by next weekend you can have it set up and ready to go. It'll be waiting for you to unwind with at the end of every work day — doesn't that sound amazing?
Promising review: "This set is beautiful, good quality — especially for the price, and so sleek and bold looking! I ordered this twice because I was so thrilled with the first set I ordered!" —Amazon Customer 
Get it from Amazon for $141+ (available with three cushion colors).
3.
A stylish cedar privacy screen that'll make your deck look a touch more put together without you having to empty your savings account or call upon The Property Brothers for a pricey renovation.

Promising review: "My husband and I purchased two of these for our backyard patio so we can have some privacy from our neighbors. The height is perfect. If you're looking for a privacy wall, I would suggest purchasing two. We added river rocks inside each of the planter boxes to support our privacy wall in the strong winds. We also painted these with two coats of spar urethane to protect the wood in all weather environments just as a precaution. 
***Update*** It's been over a year since I purchased this product, and this held up throughout Northeast Ohio windy lake effect snow storms without any problem! I am so happy my river rocks worked, and I also tied this down to my deck railings during the winter as an extra precaution. As long as you weigh it down and secure it properly, you won't have any issues." —Kristina Marie

Get it from Amazon for $341.85.
4.
An adjustable umbrella with lights inside of it that'll make it an asset to your patio's decor both during the day and at night.
Promising review: "I am quite happy with this umbrella. It's lightweight, making it easy to open and close. Very attractive. Water resistant. Provides great shade for my deck. The solar feature is awesome I especially like the fact that there's an on/off switch for the lights so that the lights won't be on when the umbrella is down. It charges even when in the off position. The lights are not too bright and provide just the right amount of lighting without looking gaudy." —Kathy
Get it from Amazon for $71.99 (available in 11 colors).
5.
A row of colorful flower pots with draining holes and hooks that'll brighten up your deck with very minimal effort.
6.
A retro-ish fringe umbrella that'll provide you with shade and the perfect background for your BeReal (if they ever play nice and sound out the notification when you actually look good/are doing something photo-worthy).

Beach State is a small business specializing in premium, high-quality beach umbrellas. 
Check out a TikTok of the umbrella in action. 

Promising review: "This umbrella is exactly what my family was looking for as our everyday beach umbrella — large diameter, high quality, and cute retro design. It is a higher end umbrella but still slightly less expensive than the other big name designer beach gear company that we were considering. It is easy to pop up and stays standing, and we've had many compliments from other people at the beach asking where we got it. The customer service from the company was excellent. Would definitely recommend these umbrellas!" —Taryn
Get it from Amazon for $165 (available in seven colors). 
7.
A high-voltage bug zapper to help you fight the good fight against the seemingly endless population of insects that insist on trying to hang with you anytime you step onto your patio.
It helps cut down the amount of bugs found in an area of up to 1,500 square feet.
Promising review: "I just moved out to the country and have been working out in the garage late at night. I've had the garage doors opened and mosquitos, gnats, and everything else have been finding there way into my garage, so I had to do something about it. I bought this and hung it next to my garage door opener because there's an outlet there and it is way better than expected. I have dead bees, stink bugs, gnats, mosquitoes, and other bugs that I do not know what they are. My 8-year-old son keeps asking me to remove the bottom tray so he can see all of the dead bugs that got zapped. Again, you will not be disappointed, I'm extremely happy I bought this!" —Chris & Jenny
Get it from Amazon for $33.99.
8.
Or a delicious-smelling candle that'll keep bugs at bay while you watch the sunset with your roomies (or your dog...or alone... whatever you're into). It has a wood wick that'll provide you with the sweet sound of a crackling fire while also protecting you from insects.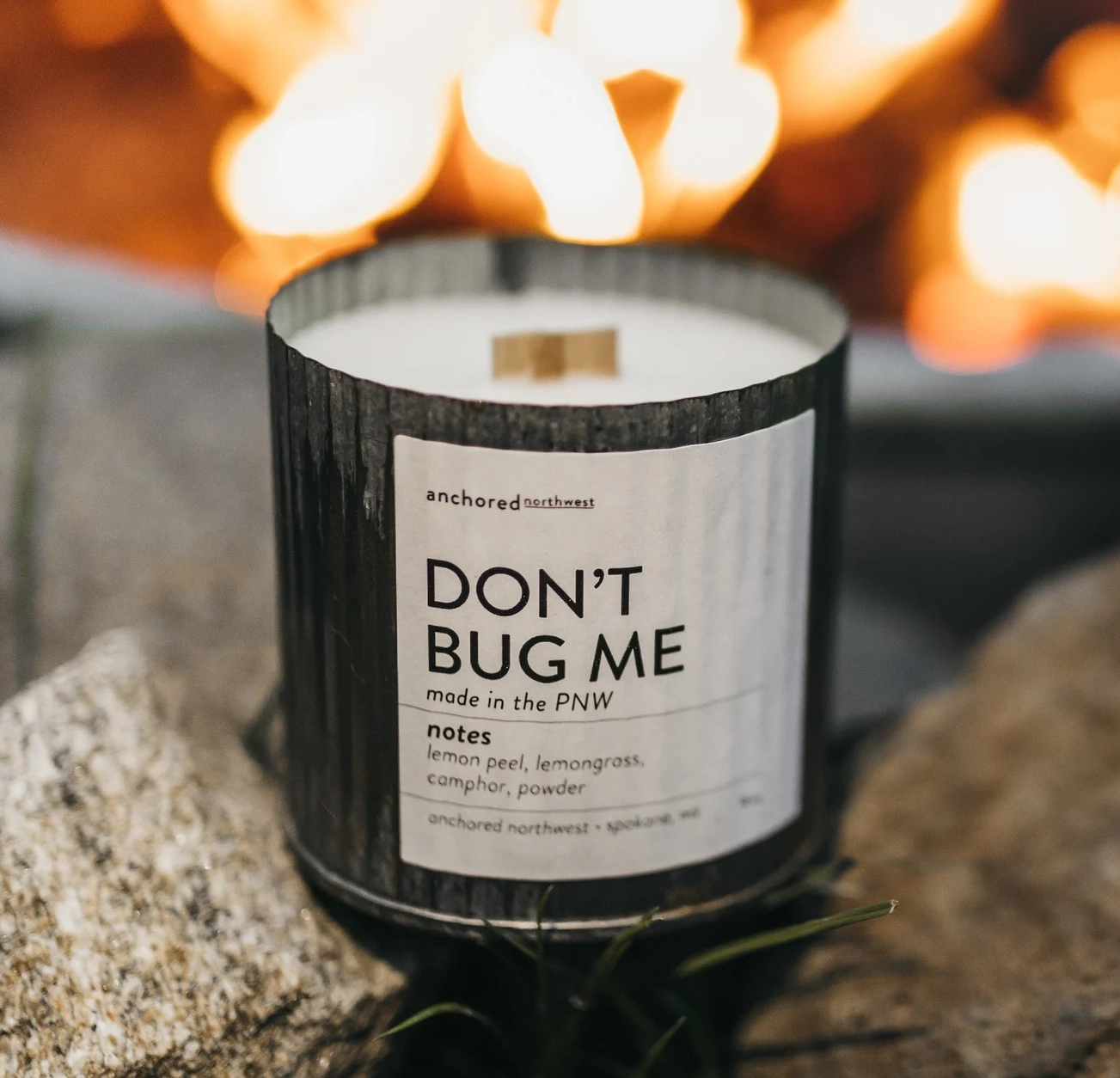 Anchored Northwest / Etsy
Anchored Northwest is a husband-and-wife–founded small biz based in Spokane, Washington making the most delicious-smelling candles and room sprays,
Promising review: "Haven't lit it yet but the candle smells great! The smell alone is so potent even without lighting it yet, we've seen a decrease in mosquitoes just leaving it out!" —Michelle Gulino
Get it from Anchored Northwest on Etsy for $12.76.

9.
Or a scent-free mosquito repellent to keep those lil' bloodsucking buggers away while you're trying to water the lovely tomato plant you have growing in a pot on your deck.
This device uses scent-free repellent mats using naturally occurring repellents found in plants to rid of mosquitoes.
Promising review: "It doesn't smell. It doesn't make noise. It doesn't get hot. It just clears the mosquitos and only mosquitoes! I am the person a mosquito will find from miles away even in my house. The only one they find in a room full of people. I live in a tropical climate and never have a moment's peace in my garden. I've used sprays, foggers, candles, torches, the list goes on. This is the first time I've been able to sit on my patio in peace, even the cat was safe. Already ordered another for a friend and put the refills on subscribe and save." —J&J
Get it from Amazon for $17.98.
10.
A canopy swing with the ability to soothingly rock you to sleep for a nice midday outdoor nap or make you feel like you're on vacation when you climb into it with a book in hand.
Promising review: "We love this lounge chair!!! The price was fabulous!! (And just a note... If you take care of your things — i.e. cover up the swing with a tarp and bring the cushions in when not using it — It will stay like new. Sun and rain can age anything! Easy-peasy!!) This lounge swing is so comfortable, and made very well!! And it only took my hubby and I only 25–30 minutes to put together. Take my word for it... you are not going to find a nicer lounge swing at this price!!" —Marash
Get it from Amazon for $219.99 (available in eight colors).
11.
An inflatable lounge pool even adults can enjoy, so you can pretend you're on vacation in the Hamptons instead of your apartment's tiny patio.

It's also got a bench and cup holders!
Promising review: "I have had this pool for about two weeks now and I LOVE IT!!! Was simple to set up, I got a little electric pump and it took about 10 minutes to inflate, then about half an hour to fill with water. Pay attention to making sure you set it up on level ground or it will be lopsided. It is probably good for two adults, maybe one adult and a couple of kids. The built-in seat and headrest are really quite comfy and relaxing. I will definitely buy this same pool again if it springs a leak and can't be fixed, if I could give it a 10 stars I would. LOVE, LOVE, LOVE it!!!" —kathryn j.
Get it from Amazon for $44.48.
12.
A pair of zero-gravity lounge chairs you'd easily find poolside at a resort in Hawaii. Kick back (literally) and relaaax.
Promising review: "Just opened them and love them!! I was expecting cheap material since they're much less expensive than any other zero gravity chair I've seen. But they look and feel like very nice quality!! Very comfortable reclined position and the headrest is easy to adjust. Also, the locking mechanism is very easy to use. Not to mention they fold down flat and are light to carry!! We'll be packing these in our car for beach vacations. I will order more of these as gifts for friends and family. Oh and I really liked that they were 100% ready when they arrived in the mail. Not a single bit of assembling required." —Miranda
Get them from Amazon for $39.99+ (available in four colors).
13.
A gazebo with curtains to provide shade for you and your friends while you ~throw shade~ about the other people in your lives.
Promising review: "This gazebo went together beautifully. My husband was VERY impressed with the quality and ease of assembly. He likes things that go together smoothly! Yes, there are many pieces but just follow the directions and you shouldn't have any trouble. Two of us put it together in a leisurely and relaxed six hours. All the bits and pieces lined up perfectly making the assembly a fun experience. The color is lovely and the roof is opaque so lighting gets through and the roof also has UV protection." —MW
Get it from Amazon for $699.99+ (available in seven sizes).
14.
A patio furniture set featuring a table and two chairs that'll add a pop of color to your yard while also motivating you and your partner to eat more meals outside.
The set comes with two chairs and a table, and folds up flat and compact to save space! I have a similar set under a big tree in my yard and get compliments on it all the time — it's super cute. 
Promising review: "This is the greatest bistro set ever. I ordered the mint green and it came exactly as photographed. All three pieces are heavy, stable, and sturdy. Highly recommend!" —Maria Previs
Get it from Amazon for $109.99+ (available in nine colors and with or without cushions).