1.
Melissa & Doug My First Daily Magnetic Activities Calendar to teach little ones about the day, month, year, season, and more! It comes with 80 magnets you can easily store on the hinged dry erase board when they're not in use.
Promising review: "Loved this product! Super easy to use, especially with little fingers. Has tons of holidays and activities. My son is learning so much! He loves changing the date and weather every day. So kid friendly. If I could give this more than 5 stars I would. So helpful with teaching my son in a fun and creative way. Definitely high quality, will last forever! Thanks again! A+++!!!" —Candace H.

Get it from Amazon for $15.97.
2.
A light-up fountain bath toy you can count on to keep your kiddos entertained for a whale-y long time in the tub.

Promising review: "This toy is super cute. Once charged, it starts working immediately when you put it in the water. The light changes color and it spouts out water. It comes with various different parts that allow for different types of water sprinkles. And one even levitates the ball that's included. Super cute and very exciting during first time use. Our 3-year-old loves it!" —JMiff

Get it from Amazon for $14.98+ (available in three colors and in a rechargeable version).
3.
An activity pad to show little ones how to correctly use scissors — a skill we *all* could likely work on, TBH. It comes with safety scissors (obviously) and a book filled with mazes, puzzles, animal art, sequencing activities, and more!

Promising review: "My daughter's been really into cutting up her coloring books lately so when I saw this I knew she'd love it. The concepts of the different pages are very cute, some are slices of pizza, some are ice cream cones with scoops of ice cream, a windy snake, all very cute and she really has fun with this." —Emrogers

Get it from Amazon for $7.99.
4.
Custom crayons that spell out their name, a gift guaranteed to bring a smile to their face *especially* if their moniker is unique and typically never found on items in stores.

Art2theextreme is a small business based in Indiana that sells customized rainbow crayons.
My coworker Tasia Bass bought these for herself and loves them, 
"OMG, so I bought these for myself and I LOVE them. They are so cute and super reasonably priced. They come in this adorable box, in which the seller also stamps your name on it. The crayons are melted down and mixed randomly, so it does give this lovely rainbow effect when you do use them. Or you can be like me and keep them on your art desk as a form of decor. I think this is great for any artists or those who like unique gifts."
Get them from Art2theextreme on Etsy for $19.95+ (available in 1–13 letters).
5.
Taco Cat Goat Cheese Pizza  — a card game they can play together as a family on cold winter nights or even at the beach when the weather (eventually) warms up again. Hope their little ones are ready for endless giggles!
You deal all the cards out to your two to four players, and everyone keeps their mini-deck face down. Everyone takes a turn putting a card down in the middle of the table, saying one of the words "taco," "cat," "goat," "cheese," and "pizza," in that order. If the picture on your card matches the word that's said, everyone slaps their hand on the card in a pile as quickly as possible. The last person on the pile has to take the stack and add 'em to their cards, and whoever runs out of cards first wins!
Promising review: "This game is so fun! My kids, 8 and 6, love to play and they caught on quickly. It always makes us laugh and we also get competitive. Its a great game to teach kids to be gracious winners and losers because its so fun and silly. Quickly became the one they ask to play the most often (and one I don't hate saying yes to)." —Sarah
Get it from Amazon for $9.84.
6.
Silly Poopy's Hide and Seek — which is pretty much exactly what you'd think it is. It's a rainbow, light-up poop-shaped toy littles can take turns hiding throughout the house. It'll shout out clues and play a song when it's finally found!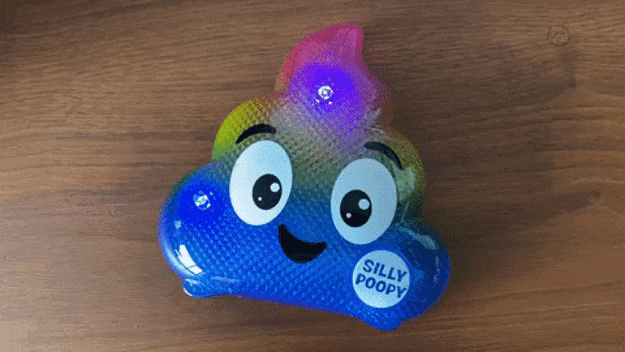 What Do You Meme? is a small business that sells card games/toys, plushies, and pool floats.
Promising review: "This game is HILARIOUS. My kids love playing with it and taking turns hiding it (8, 6, and 3 years). They all think poop is funny and run around yelling 'Silly Poopy, where are you?' It keeps them busy for at least half an hour at a time and they leave me alone. Also? It's pretty durable. I found it outside in my garden in the 20-degree winter weather. I guess my 8-year-old left it out there for a few days. It also gets thrown down the stairs and Silly Poopy just keeps on giggling and having fun." —Adele
Get it from Amazon for $20.38.
7.
Crayola Globbles, a fun lil' toy they can use to burn off some steam when they need a quick mental break from their homework. Don't worry, they won't leave residue on your walls.
Promising review: "I waited over two months to write my review! My daughter is 4 and plays with these DAILY! YES they do attract dirt and hair HOWEVER they are so easy to rinse off, it's not a big deal! We took these to a family gathering and ended up giving two away because they were SO loved! The two we gave away went to a 12-year-old and my 19-year-old brother. They discovered throwing them at the ceiling fan and watching them shoot across the room which was pretty entertaining! None of these have busted or ripped and they are definitely NOT gentle with them! I will definitely be buying more!" —Kindle Customer
Get a pack of six from Amazon for $10.69.
8.
GeoSafari kid binoculars they'll love using to get *up close and personal* with nature without actually getting all that close — a must-have for littles who are curious but a bit skittish about bugs and whatnot.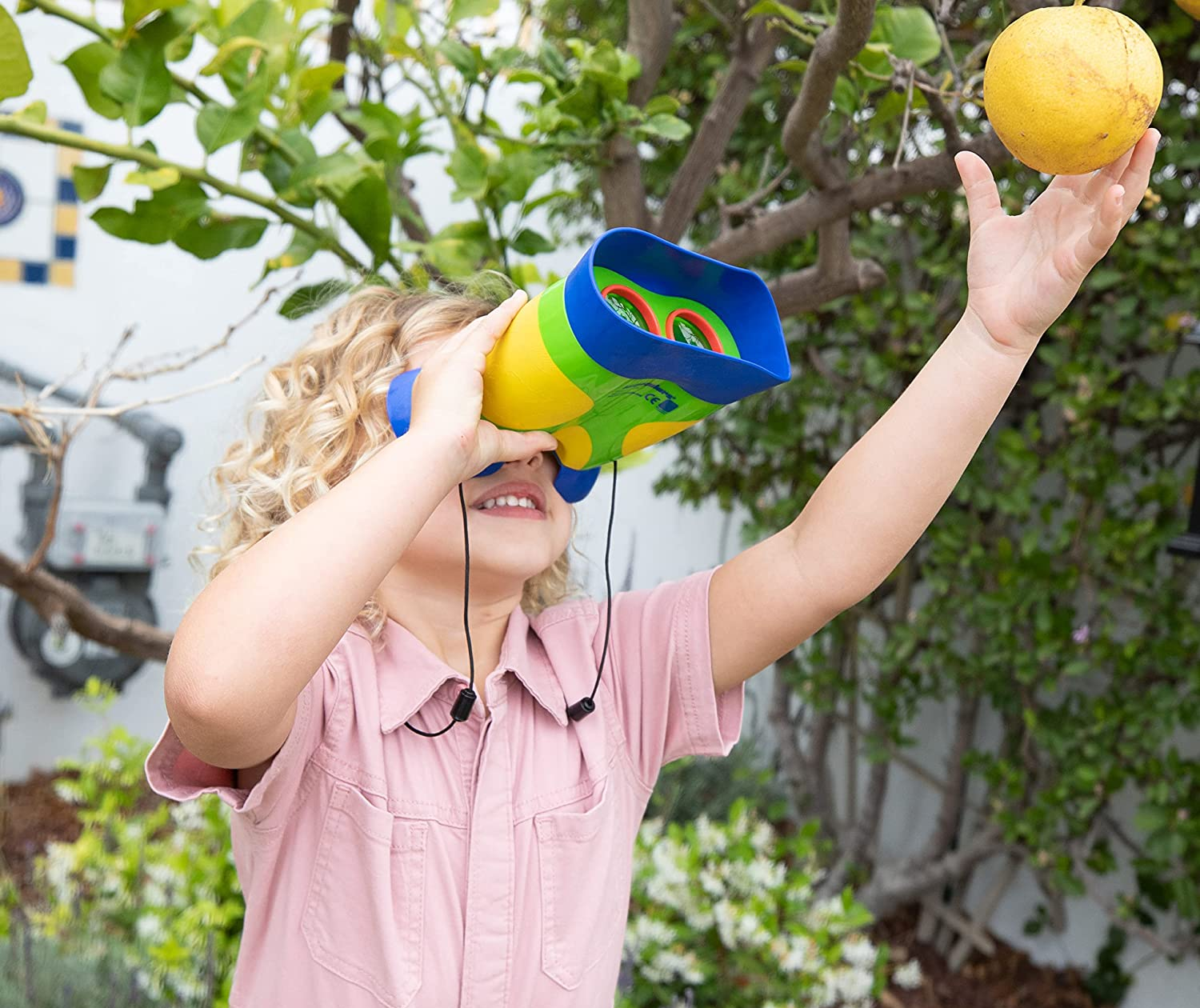 Promising review: "I bought two of these as gifts. If you're child likes the outdoors or looking for bugs anything like that. Then these are a must buy. The children I gifted these to loved them and used them right away. They're a nice color, durable, and easy for little hands to hold." —melissa

Get them from Amazon for $14.99.
9.
A set of 500+ puffy stickers the crafty kiddo in your life will squeal happily over — too bad for your friend who's about to have an array of sea creatures, dinosaurs, fruits (and more) decorating their furniture (but fear not, they actually don't leave any residue and unstick very easily!!!).

Promising review: "Gave to my grandson when I babysit him. Got a sticker book to put them in. He loves them. Liked them so much bought another set for my granddaughter as one of her birthday presents." —J. Reulet

Get them from Amazon for $7.99.
10.
A splurge-worthy Disney Princess castle set featuring Belle, Cinderella, Aurora and a train that runs through the castle — it even includes a slide! Talk about *~magic~*.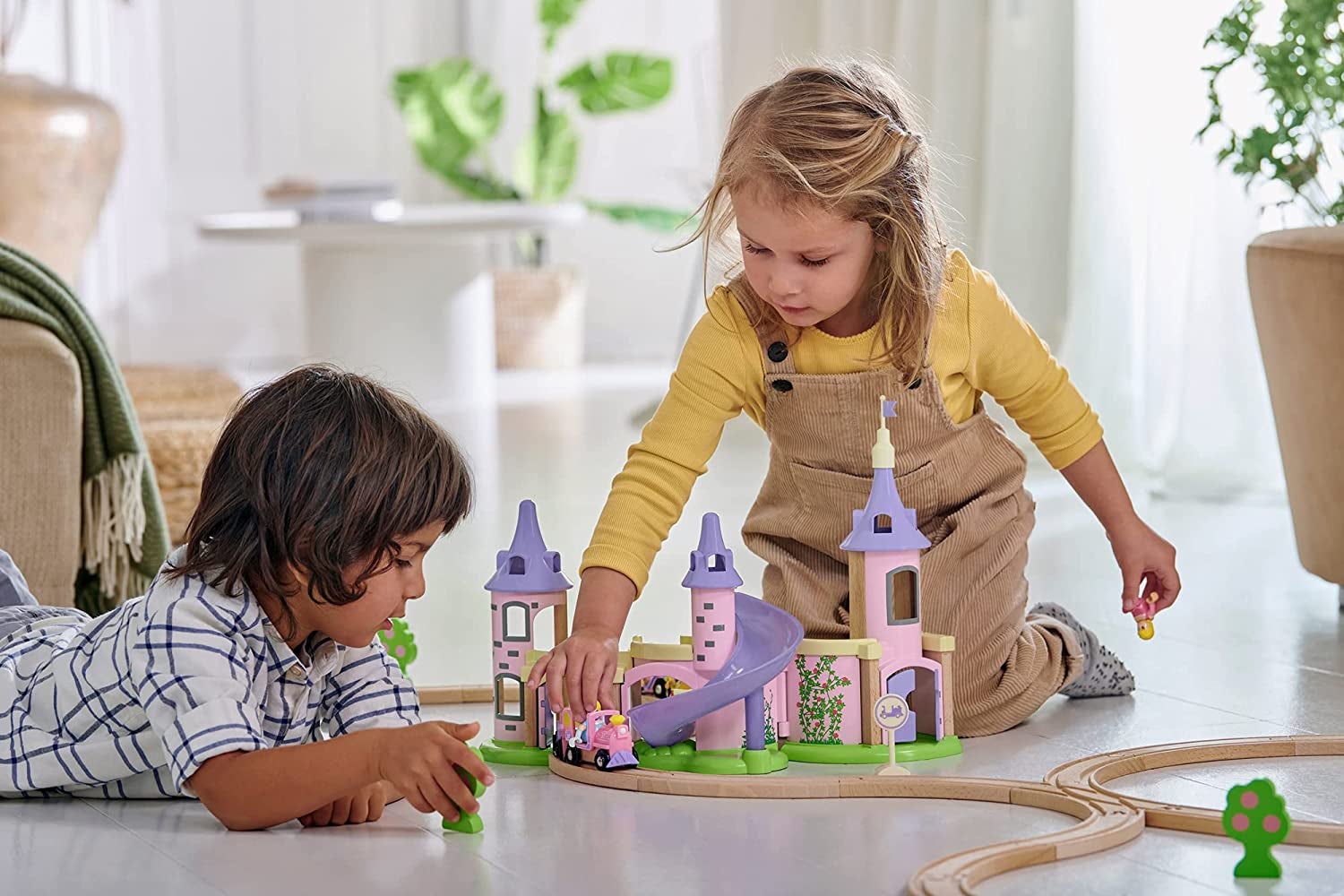 I gifted this adorable castle set to my best friend's daughter for Christmas and she was SO excited when she opened it! I love that it has the old school wooden train tracks I used to play with as a kid but with a modern, Disney twist to it! She's almost 2, so you can imagine she's a bit *hard* on her toys. That being said, this train has held up beautifully thus far. There's been no peeling, no chipping, and zero-breakage, so you can splurge on this knowing your money will be well spent.
Get it from Amazon for $126.14.
11.
Talking Bingo and Bluey plush dolls — if you can't decide which Heeler sister to invest in, save yourself the trouble and buy them both. You won't regret it.
Promising review: "I bought this for my grandson because he loves Bluey. The minute the Bluey song played he just lit up and smiled. It was well worth the purchase to see the smile on his face." —Lille Bowler
Get it from Amazon for $19.99 (available in Bingo or Bluey).
12.
Or a set of the entire Heeler family so they can live out their favorite moments of the show right from their own play room.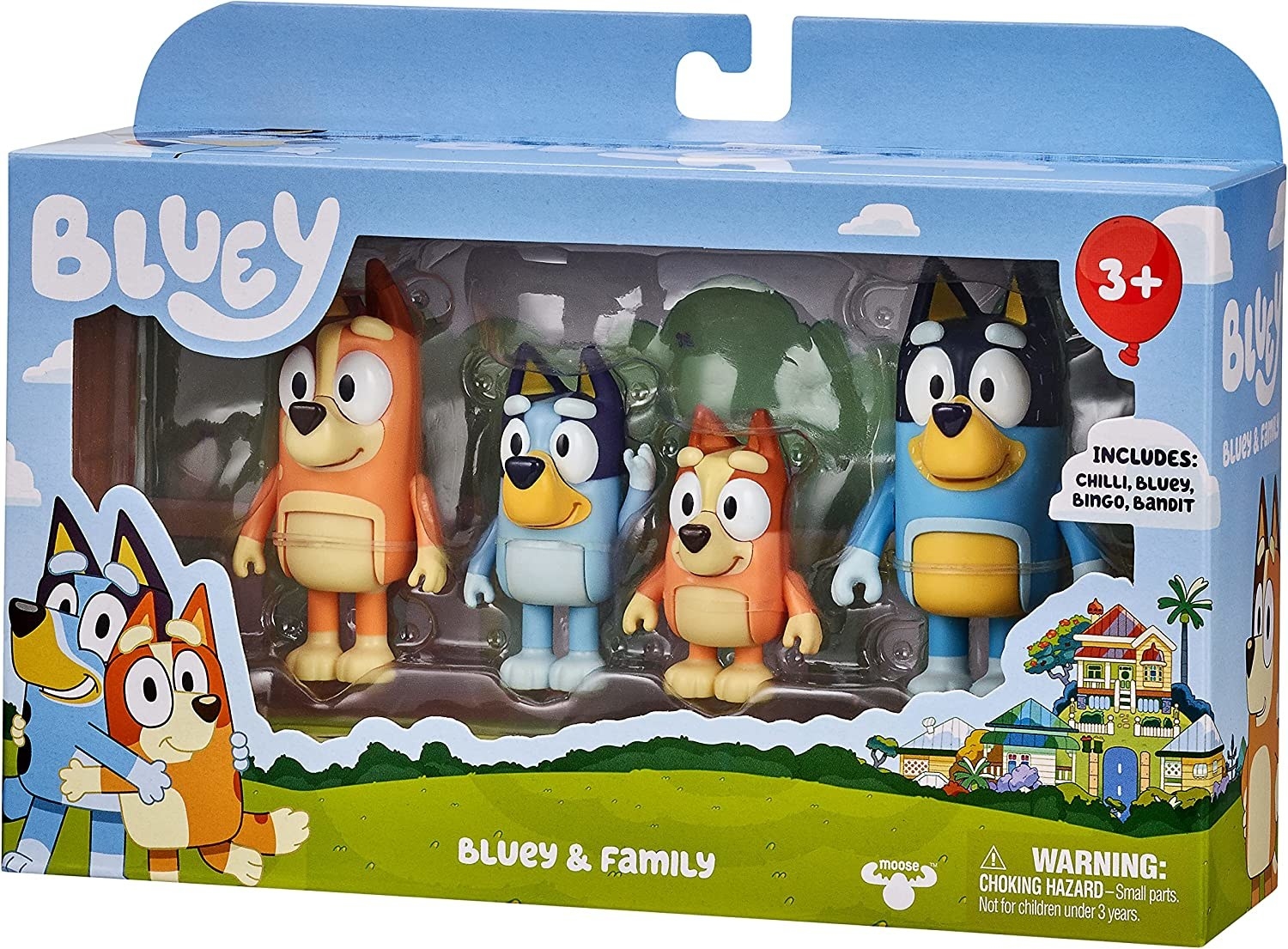 Promising review: "POV: It's 2022 — Bluey has taken the world by storm. Moms and children alike swear by Bluey, abide by Bluey, worship Bluey. It's your child's birthday in two business days. You buy them these figurines. The child is satisfied- finally a physical component to their idol worship. All is well." —Orcheez
Get it from Amazon for $14.88.
13.
A Fisher-Price Laugh & Learn Sports Baby Activity Center that'll quickly become any kiddo's favorite toy — it has basketball, baseball, a score board, and a snack stand all in one!
I got my son this for the holidays and he loooooves it! He has a blast spinning the scoreboard numbers and clicking the buttons to make sounds. He's a big fan of the concession stand items (oddly enough, the credit card is his go-to). As he grows a bit I'm sure he'll be shooting hoops and playing with the soccer net as well.
Promising review: "My 1.5 year old LOVES this! He knows what buttons to push on it to get to certain songs. The score numbers play songs and sounds. The shape buttons play sounds. He learned to shoot hoops and kick a ball into a goal in less than a day with this game center. His older siblings love playing with the cafeteria portion. So far there isn't much interest with the baseball bat but we have only had this a couple of days. Great purchase!" —Irene Estrada
Get it for Amazon for $29.99.