1.
A must-have "Pumpkin Carving" candle, because what kind of person would I be if I didn't kick off this post without a fall scent from fan-favorite Bath & Body Works??? This one is sweet, spicy, and will make you feel like every night is a spooktacular one.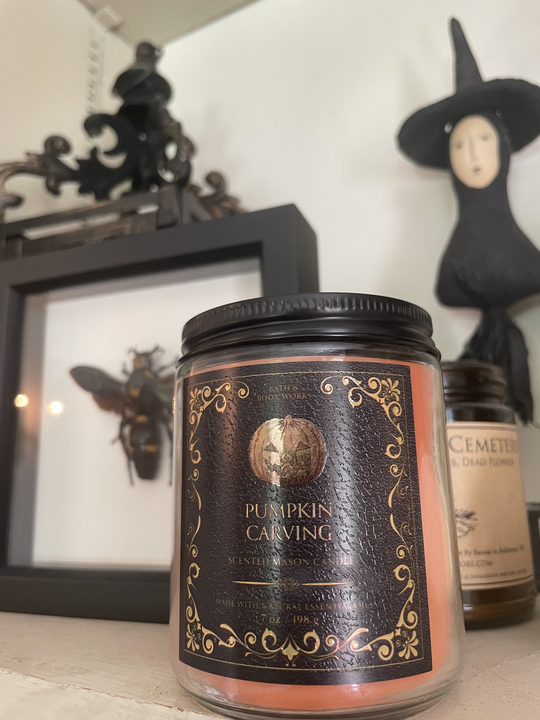 I have this candle in the three-wick size and it is the epitome of fall. I'm one of those people who would happily live in autumn all year long, so I'd have zero issue keeping this scent out at all times. My colleague Mallory Mower *also* has and enjoys this candle, she said:

"I *love* this candle! I had to get it in both sizes so that my husband and I could smell it at the same time, despite working in different parts of the house. We were fighting over who got to use it during work. It's that delicious. The style of the mason jar version (pictured above) is so classically creepy and a great match with traditional Halloween decor!"
Scent notes: freshly carved pumpkin, spiced pumpkin seeds and smooth brown sugar.
Get it from Bath & Body Works for $15.95.
2.
A bat suncatcher featuring elegant stained glass wings you'll want on display all year instead of just during the fall months.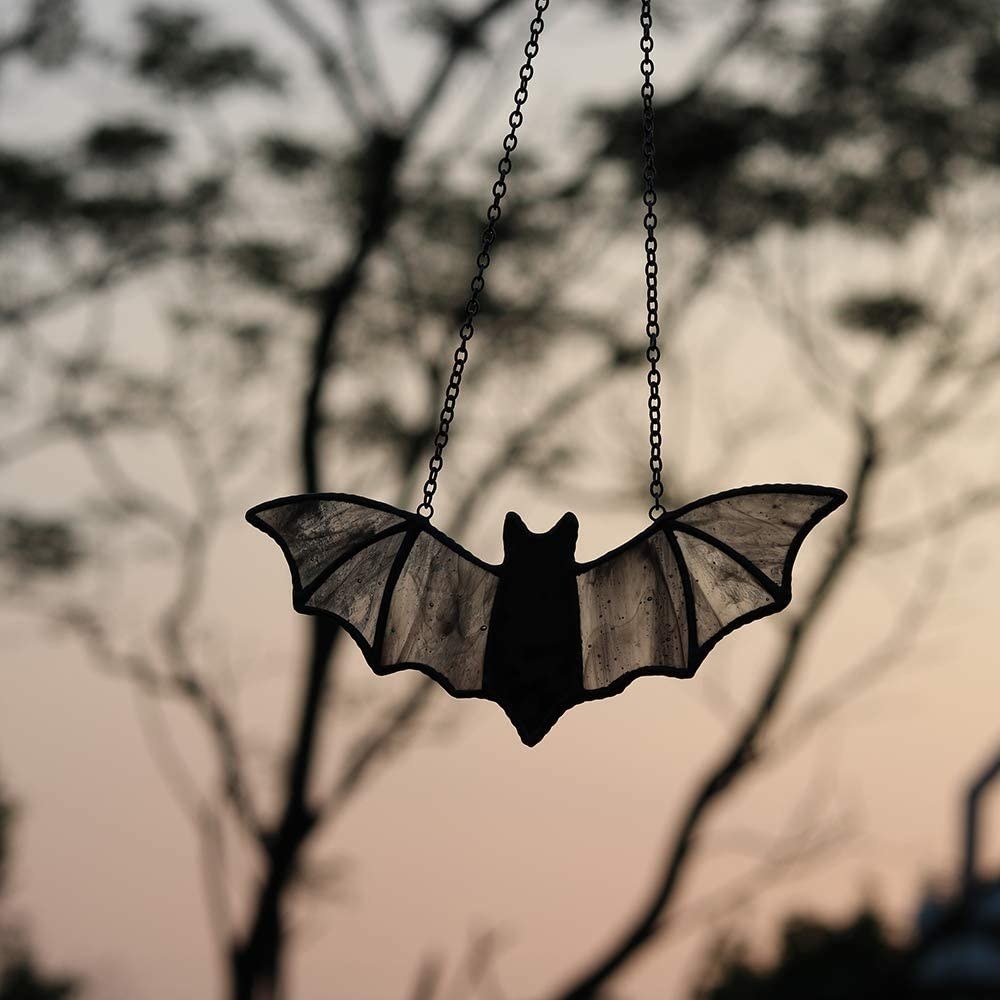 Promising review: "I love it! My house is spooky all year around and this looks perfect! It comes with a hanger like shown. It has stayed on my door for a month now." —Eddie Trevino 
Get it from Amazon for $22.99+ (available in four styles). 
3.
Hand pie presses shaped like an acorn, a pumpkin, and an apple to take your favorite recipes to the next level — even summer lovers will have to cave and autumn is awesome after biting into one of these.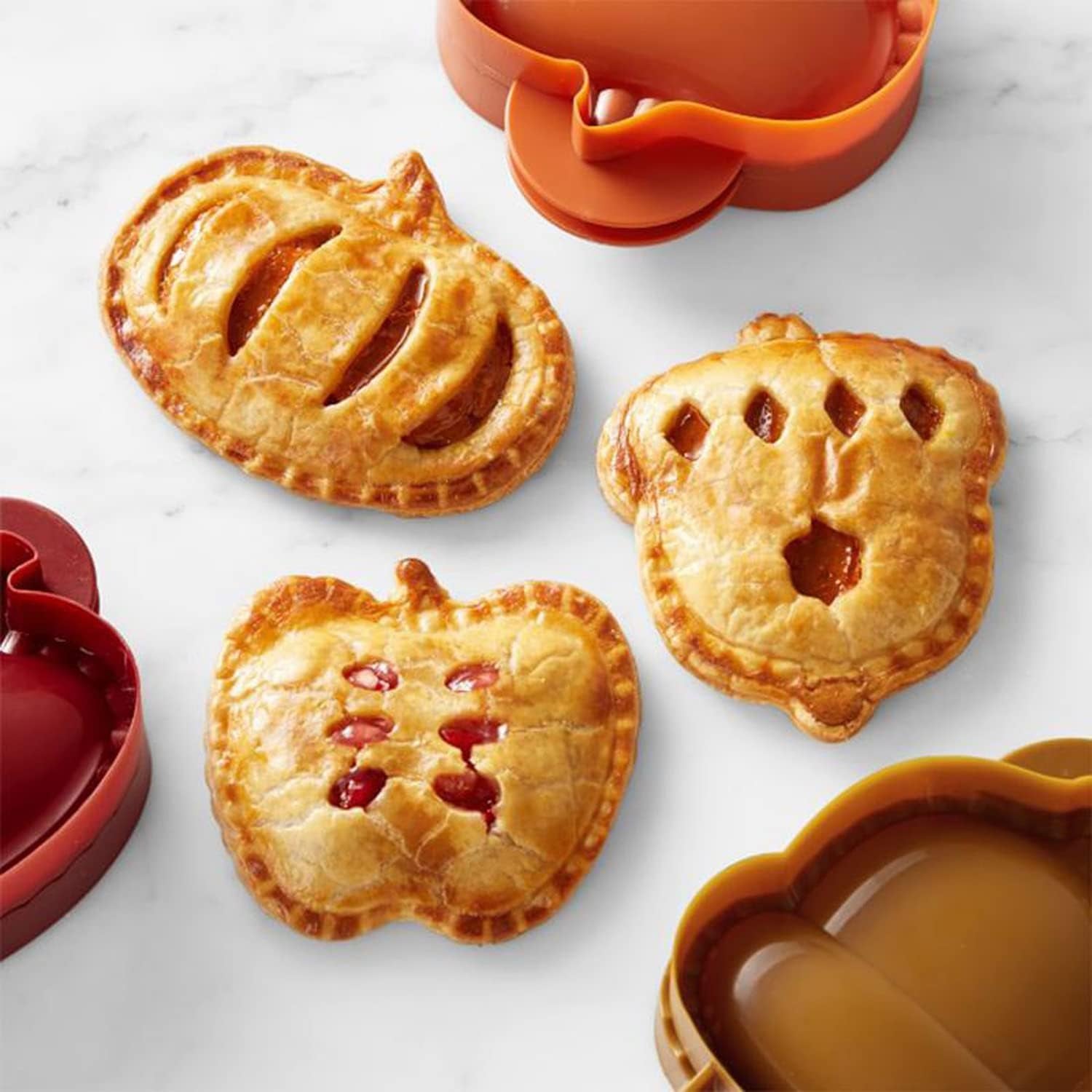 Promising review: "I used them today and I absolutely love them! My pies turned out perfect!" —Meagan Floyd

Get a set of three from Amazon for $14.98.
4.
A 7-quart Crock-Pot slow cooker you can use to make your favorite cozy-weather foods (soups, chili, stews, etc.) without having to hover around your oven. While your dinner is cooking you can continue to hunker down and get through a few more chapters of your novel.

Promising review: "This works amazing! I was surprised with it being so cheap but I use this so much especially during the fall and winter when I'm able to just throw everything in for a soup. Love this Crock-Pot!" —Olivia Adams

Get it from Amazon for $39.99.
Be sure to add some slow cooker liners to your cart as well — less clean up!
5.
A set of three flameless flickering candles you can control with a remote, perfect for any reader who is prone to dozing off while turning pages. Cozy ambiance? Check. Zero chance of setting your curtains a flame? Check, check.

Check out a TikTok of the flameless candles in action. 
Promising review: "I bought the gold glass candle set. It's almost iridescent gold and looks very elegant. The flame actually moves back and forth. I have mine set to come on in the evening and go off after four hours. The remote allows you to control the brightness of the candle, set a timer for auto on and off, and you can control how bright you want the actual candle inside the glass. I love them and plan to buy the gray glass set for my bedroom. Buy them, you will love them!" —Tammy B.
Get them from Amazon for $20.49+ (available in six styles).
6.
A curtain of twinkle lights to help you transform your space into a cozy nook where you can sip on a cup of tea, crack open a book, or simply daydream about all the gorgeous foliage that'll be here before you know it.
Promising review: "I saw a few pictures online of fairy lights with sheer curtains and loved the look. These lights in particular are perfect for what I was looking for. It gives off a warm cozy glow, and really adds a nice touch of oomph to the room." —NG

Get it from Amazon for $19.99+ (available in seven colors).

7.
Or festive string lights that'll give you ample opportunities to scream-sing "autumn leaves falling down like pieces into plaaace" a la Taylor Swift's "All Too Well." 

These lights are waterproof and battery operated — each pack takes three AA batteries.

Promising review: "The lights and leaves on this are so beautiful. They are excellent quality — I have had no leaves fall off like another reviewer stated. I feel like this lighted garland took my fall decor to the next level! My kids and I love sitting under the glow of our fall lights while we read together." —achri07

Get a pack of five from Amazon for $17.99.
Don't forget to click the 20% off coupon before checking out!
8.
A 3-in-1 convertible "reading chair" you've likely seen bubble up on your FYP — it has a spot to charge your phone/Kindle, a cup holder, a side pocket to keep your current read in, and pulls out into a full sleeper bed.  There's even hidden storage at the bottom you can fill with MORE books (or, you know, sheets/pillows).

Check out a TikTok of the reading chair in action. 

Promising review: "Amazing reading chair/lounger. If you're one of those people who needs to change positions often while reading, this chair is the bomb. I leave a charging cord in the arm for my phone and headphones, slide out the foot, and grab whatever book I chucked under there. I can lay down, recline, sit straight, etc. with ease. The foot stool part, being collapsible and held up with thin bars, did kind of sink a little after awhile but nothing that makes the chair feel broken or look lopsided. It's a solid little guy and I plan on picking another one up eventually for another room I like to read in." —Calvin Andrews
Get it from Amazon for $269.99+ (clip the $20 off coupon on the product page for this price; available in four colors). 
9.
A color-shifting mushroom light because you're a ~fun guy~ and will totally appreciate the cozy lil' cottagecore aesthetic these bring to any room.
Promising review: "I LOVE this night-light. It's in my bathroom and is a lovely addition. It turns off the second the lights go on, which is nice because I don't have to worry about accidentally leaving it on. Super cute and the little itty-bitty lighting element does a good job lighting, just enough so I don't have to turn the main lights on in the middle of the night." —1Thand

Get it from Amazon for $5.97. 
10.
Throw pillow covers to bring an autumn color palette to your couch without the stress of shopping around for perfectly coordinated pillows — this set has already done the work for you.
You can snag a set of two 18"x18" pillow inserts here.
Promising review: "I have been searching for the perfect ochre colored pillow. These are absolutely stunning. Such a deep rich color! Exactly what I was looking for. To top it off, they are also extremely soft. Perfect!" —Lillie Marshall
Get a set of two from Amazon for $15.99+ (available in 5 sizes and 18 colors).
11.
Or set of four linen throw covers with a spookier retro vibe, in case you really want to transform your home into a Halloween haven.

Grab pillow inserts if you don't already have some lying around! 
Promising review: "These pillow covers were EXACTLY what I was looking for! There is nothing I love more than a creepy vintage/retro look in my home for the fall/Halloween season. These are the perfect accent for all of my 1960s blow molds sitting around! I do wish the zippers were a bit more reinforced, but I am overall thrilled with my purchase! I love changing pillow covers seasonally rather than purchasing new pillows as it makes storage and washing a breeze. Buy them!!!" —mamaJen

Get them from Amazon for $17.88+ (available in six sizes).
12.
A bread-making machine that'll fill your home with the aroma of freshly baked bread — is there any better smell than that on a chilly autumn day? I think not.
Promising review: "I didn't want to spend a lot of money in case it turned out that we didn't like it. Well, we love it. We consume a fresh loaf every three days and it only takes me 10 minutes to measure the ingredients, add them to the pot and set it to go. Much faster. For reference, I have only made the basic 1.5-lb loaf set to light crust. I follow the instructions exactly except I substitute the water with warm milk. I made this modification after the first couple of loaves. They were good but just a little dry for our liking. Using warm milk, instead of water, turns out a softer loaf. I'm sure I will try other recipes down the road but for now, this is what I needed it for and it works wonderfully." —Amazon Customer
Get it from Amazon for $139.25.
13.
And a gorgeous woven bread basket to display your latest creations, now that you're channeling your I-wish-it-was-autumn-forever feelings into crafting the perfect carb.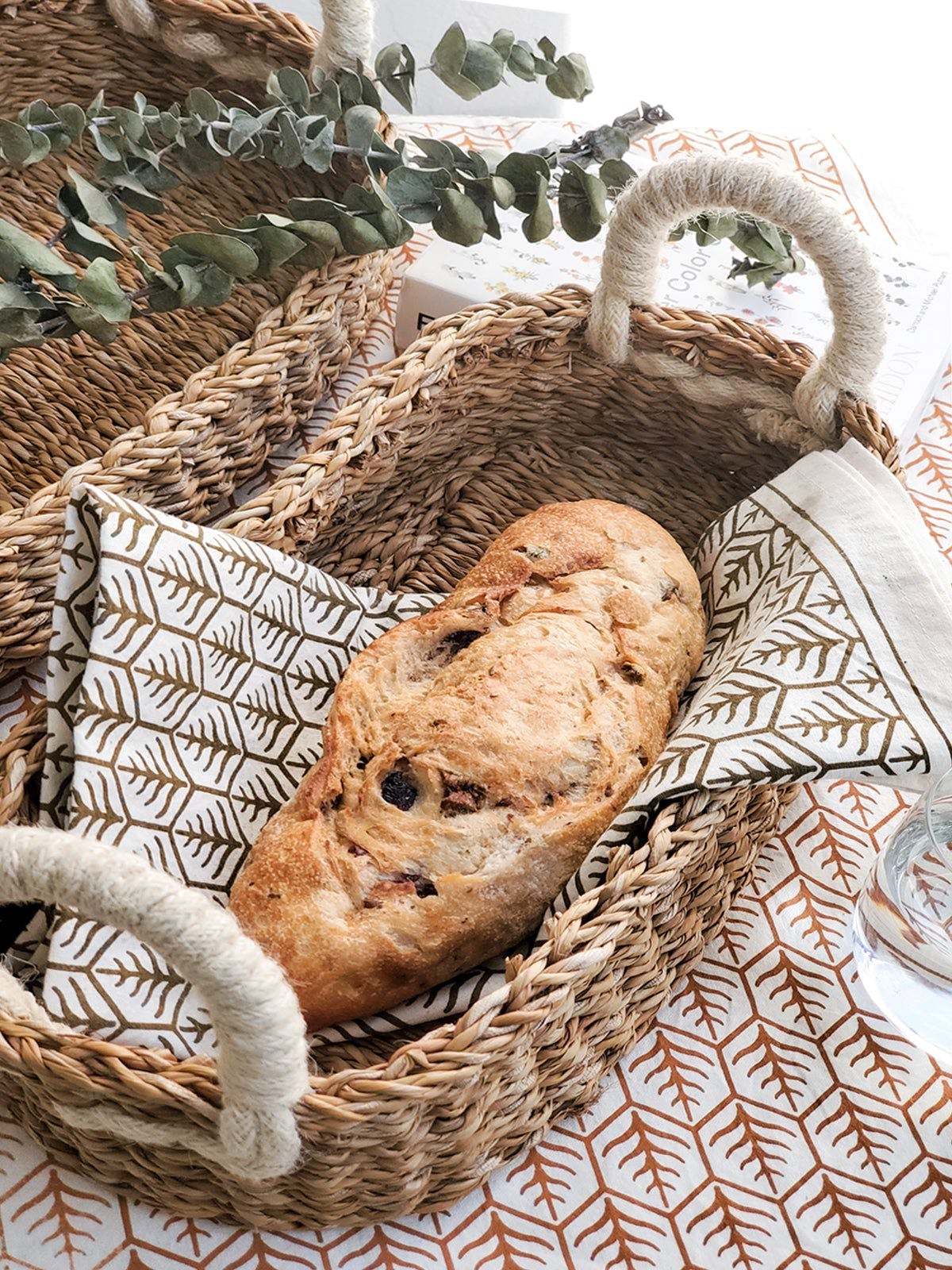 Get it from our Goodful shop for $32.

14.
A trio of adorable ceramic ghosts you can count on to look spectre-cular wherever you decide they should live in your home.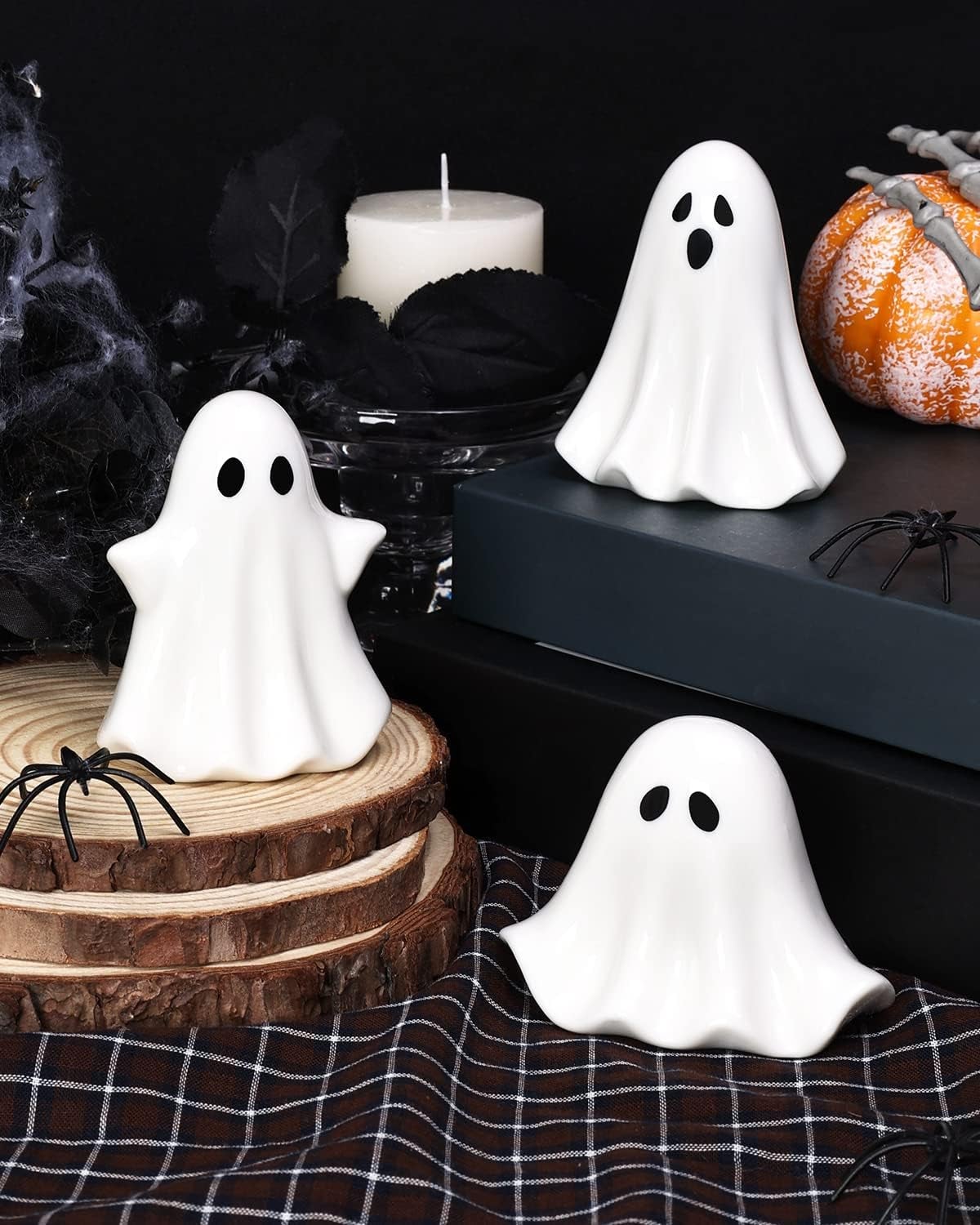 Promising review: "My little guys came in absolutely perfect condition, and were packaged with a lot of foam padding inside their box so they were safe and snug!!! I adore them to bits. Perfect for the spooky mood. You can't go wrong. I promise, you will adore these guys. Adopt some little ghosts and give them a loving home, it is 10000% worth it." —RCG1105

Get them from Amazon for $19.99.
15.
A hot cider reed diffuser that'll ensure your the moment someone walks into your home they think to themselves "it smells like autumn in here."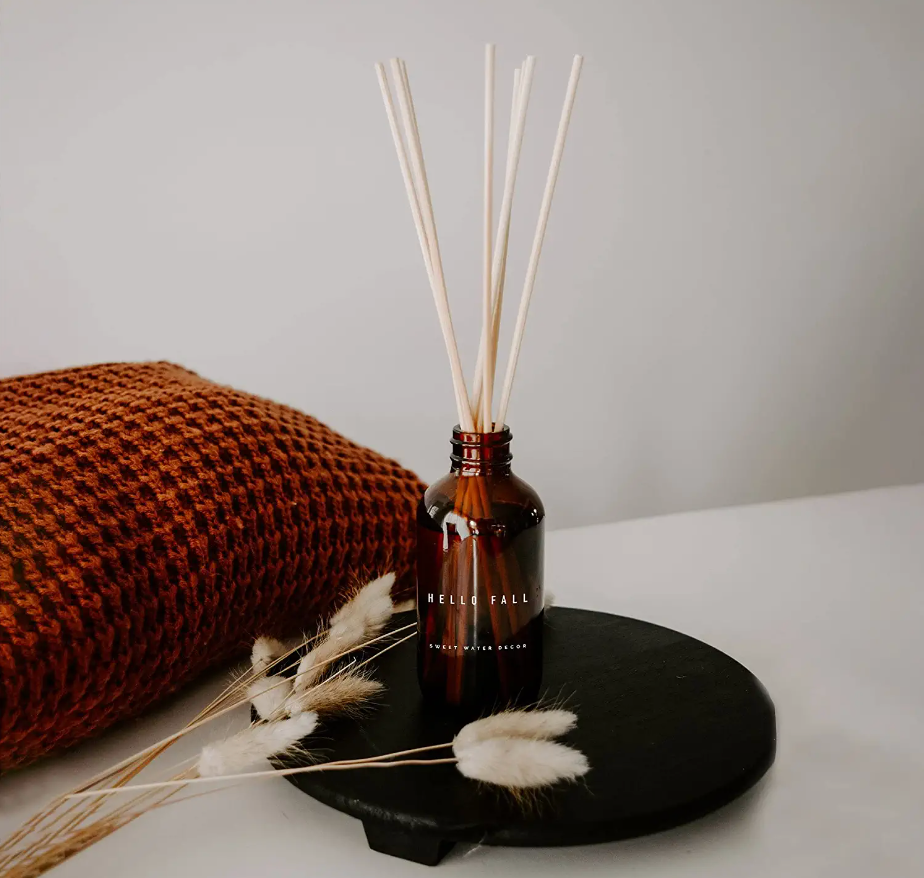 Sweet Water Decor is a woman-owned, Pittsburgh, Pennsylvania–based small business that specializes in home decor and hit gifts. 
Promising review: "I love the scent — soft and subtle without being overpowering. I ordered another for my bathroom!" —Amanda
Get it from Amazon for $23.99+ (available in seven scents).