1.
An engagement ring and band set you'll pat yourself on the back for buying when you realize you won't have to *also* shop for a wedding band. You're welcome!
Promising review: "I was waiting a while before I reviewed this ring, to see if the ring would wear off, but to my greatest surprise, this ring is as true as its description. It is still very shiny and solid. The stones are still intact. I still get a lot of compliments on this ring. It's been a year now, and the ring is still as I bought it. I wash my hands with soap, and take a shower with it. Soap hasn't faded it. Go for it, you won't regret it. I love my wedding ring. You don't have to break the bank to wear a beautiful ring." —Missy
Get it from Amazon for $345+ (available in sizes 4–11 and three styles).
2.
An Art Deco-inspired piece starring a lab-grown emerald and a sunburst of crystals you'd expect to see the likes of a royal family member sporting to a glamorous event.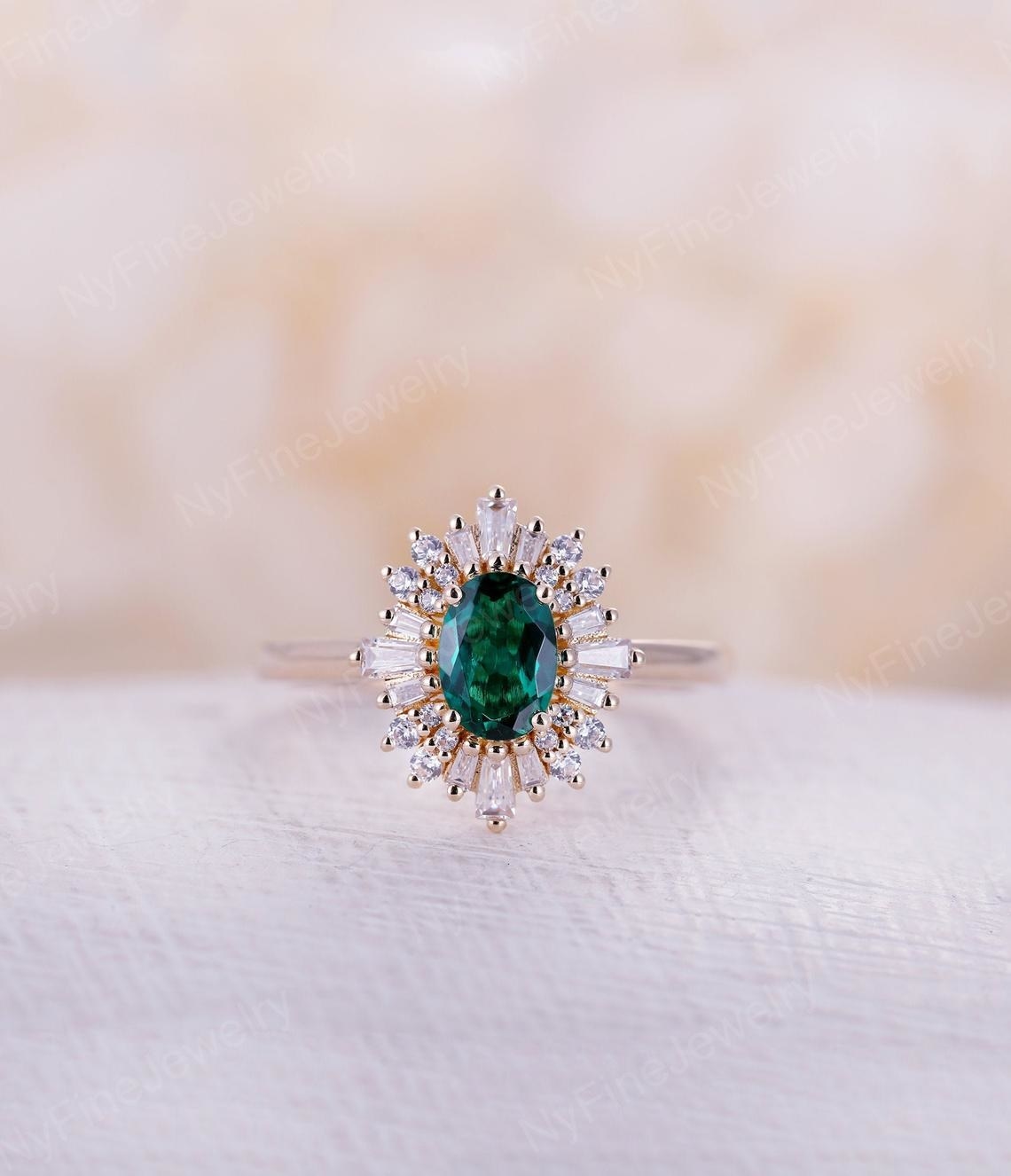 You can choose to have the main stone surrounded by real diamonds or cubic zirconia. NyFineJewelry is a small business based in New York that, obviously, sells gorgeous jewelry.
Promising review: "I am in love with my ring! I am telling everyone I know, who is in search for a ring, to buy from this amazing shop. I had my ring in two weeks, and it has exceeded all expectations! The ring is even more beautiful in person. I have only been wearing it for a day and have received so many compliments! I will be forever grateful that I came across this shop!" —Alyssa Curry
Get it from NyFineJewelry on Etsy for $432.60+ (available in sizes 3–9, three stone types, and four metals).
3.
A solitaire number featuring cubic zirconia stones no one will be the wiser about — they're sparkly, dazzling, and will certainly do the trick if you're all about the bling but *not* about the earth-shattering price diamonds can be.
Promising review: "Gorgeous temporary replacement. I lost my engagement ring years ago, but approaching 18 years of marriage, I wanted something classy to go with my band, which really brings it out more in my opinion. Our anniversary is in March, but with the pandemic it feels silly to spend hundreds of dollars on a ring. I highly recommend this ring and, after everything returns to normal, consider the higher price. Love it!" —Kalua Lauber
Get it from Amazon for $16.99 (available in sizes 3.5–9.5).
4.
A memorable ring with a dainty band made to look like Princess Diana's (and now Kate Middleton's) engagement ring. Any fan of the Royal Family will looooove showing this sparkler off to their family and friends after you pop the question.
Promising review: "I love this ring! It's a lookalike of my engagement ring, but I wear this for work instead, and I still get so many compliments, and I have to tell people it's from Amazon haha. I shower with it, I wash my hands 1,000 times a day with it, and it hasn't changed color or changed my skin color! I am really impressed!" —Amazon Customer
Get it from Amazon for $21.99 (available in sizes 4–12 and 30 styles).
5.
A delicate band with a twinkling diamond and recycled pure gold you'd likely find next to the definition of "dainty engagement ring" in the dictionary.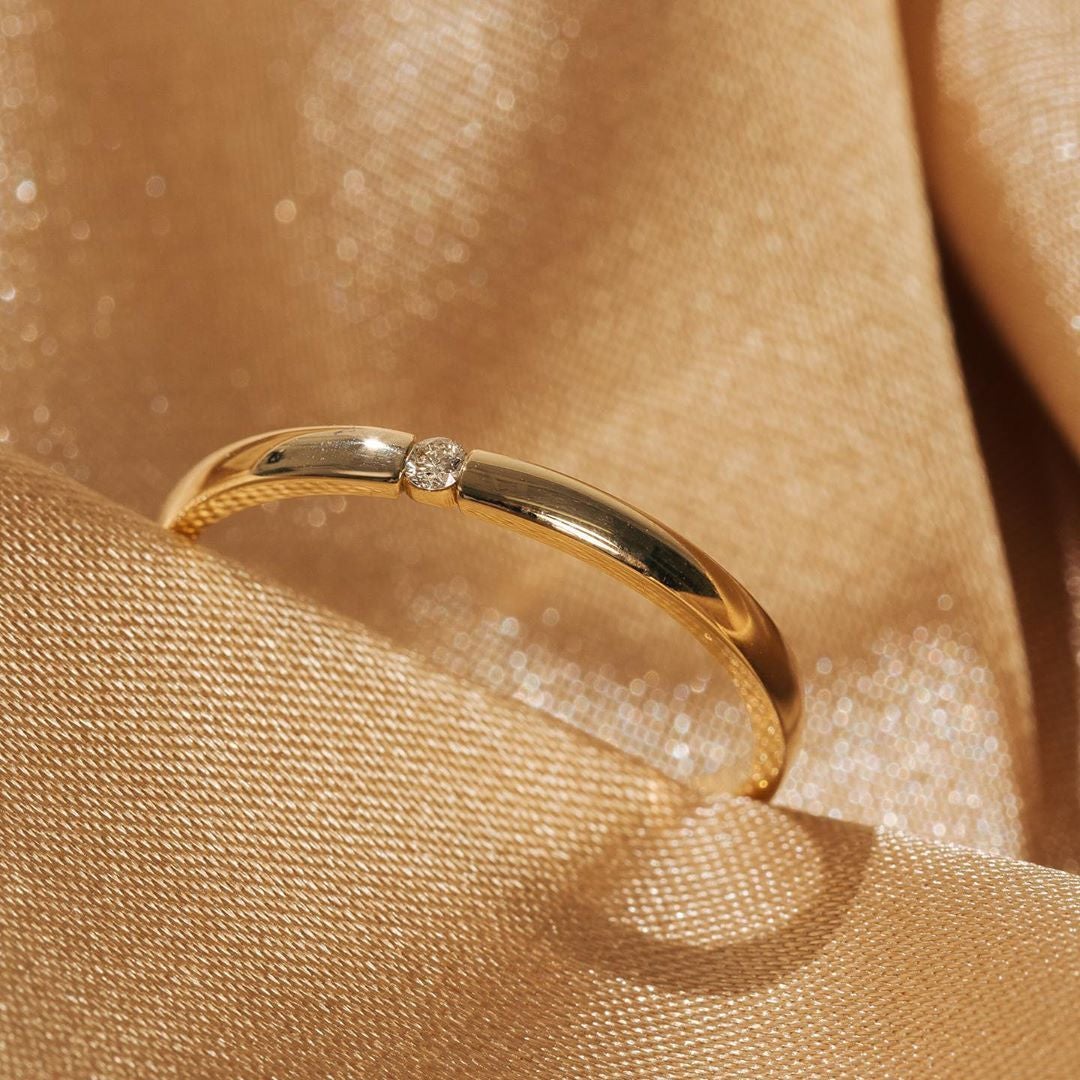 This beauty is simply stunning and perfect for anyone who is 1. on a budget — rings can be SO expensive and/or 2. in the market for something clean, simple, and sentimental. It comes with a lifetime warranty (wahoo!), and every ring is made to order. Aurate is a woman-owned business based in New York.
Promising review: "Totally in love with this ring... Sooo dainty and shiny...looks better in person. Worth every penny — you won't regret it. A+." —Julia A.
Get it from Aurate New York for $280 (available in sizes 3–10, two rates, and three colors).
6.
An elongated cushion cut cubic zirconia beauty you'll never want to take your eyes off — and for good reason! Just think of how dazzling it'll look when you show it off in the sunlight. Ugh, gorgeous. 

Promising review: "This ring is absolutely beautiful. I can't stop staring at it. My girlfriends couldn't tell it wasn't a real diamond. It sparkles so beautifully. Sizing is on point. I'm in love, and I don't ever want to take it off." —Paulina
Get it from Amazon for $35.62+ (available in sizes 4–10).
7.
An opal piece with diamonds around it in an asymmetrical design to add the *perfect* amount of sparkle to your finger.
This ring is made by a husband-and-wife team who run a small business called Sirciam based in Los Angeles. You can check out all of their pieces on their shop's site!
Get it from BHLDN for $2,145 (available in sizes 4–8).
8.
A sparkling beauty you might find yourself getting a bit choked up over —  imagine how you might feel upon being surprised by your partner offering you this ring and a life together forever.
9.
A ring filled with peach and champagne-colored stones that'll make a serious first impression on anyone who is lucky enough to lay eyes on it. My gosh, it's just so freakin' beautiful.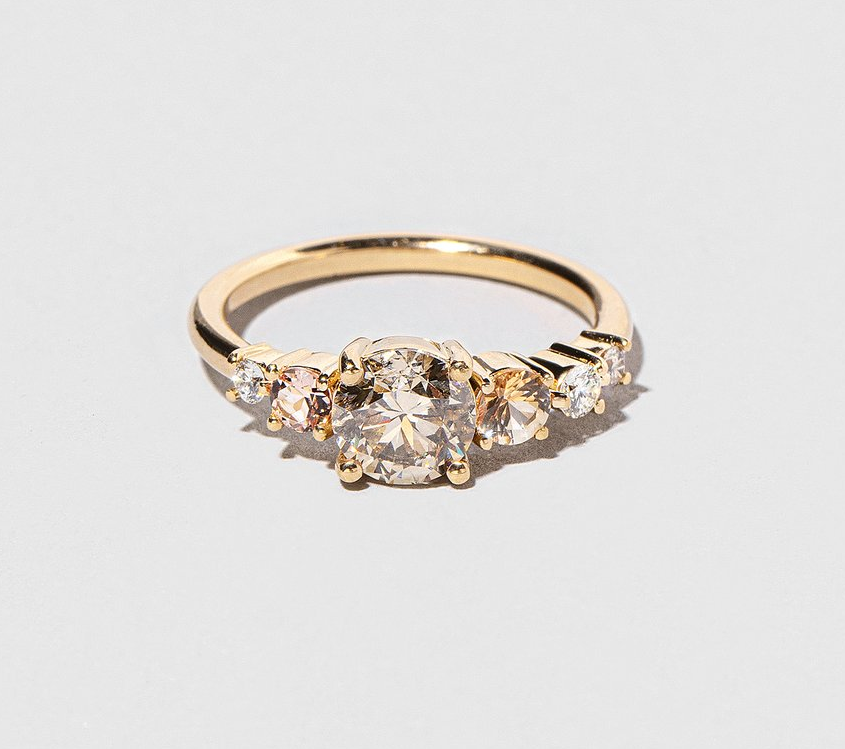 Get it from Mociun for $6,800 (available in sizes 3–10).

10.
A solitaire ring you've likely always dreamt of rocking on *that* finger — it has four prongs to keep it safely in place and features a stunning minimalist design that'll never go out of style.
Get it from Frank Darling for $800+ (available in sizes 4–13, four metals, and optional free engraving).

11.
A moss agate and tourmaline ring for anyone who often scowls at standard diamond rings — this three-stoned beauty will blow your fiancé away, no question.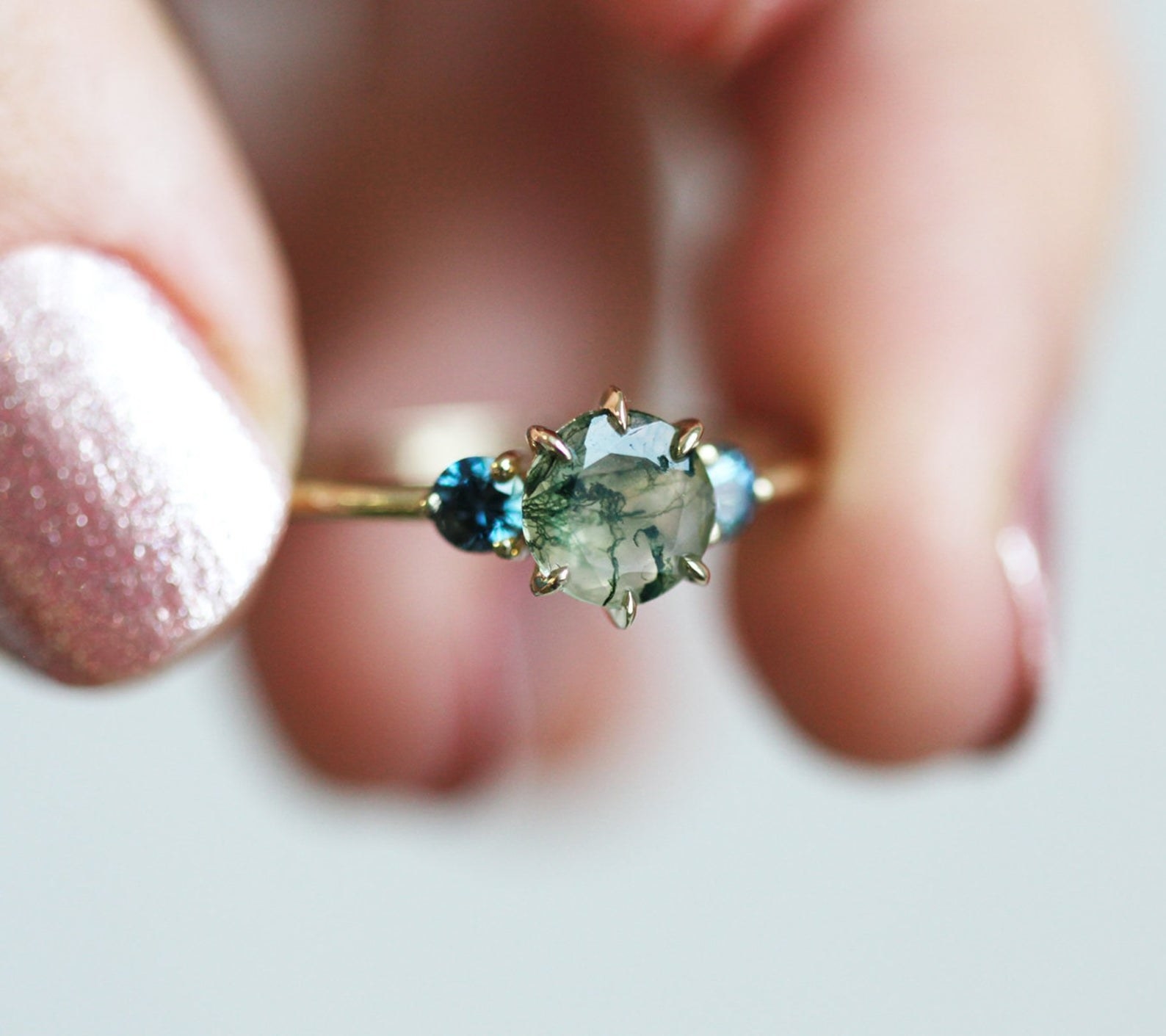 Capucinne is a small business based in Slovenia that sells fine jewelry.
Promising review: "My lady absolutely loves her ring! There is a care and quality to this ring that you know an artist made it. Thanks so much for the beautiful piece of art, and I know we will cherish it forever!" —Shae Smith
Get it from Capucinne on Etsy for $870+ (available in sizes 2–8 and six styles).
12.
A blue sandstone ring with galactic vibes that'll remind you your love is *~out of this world~* each time you look down at it glistening on your finger. Added bonus? You can buy it as a set and check "wedding band shopping" off your to-do list right away.
The blue sandstone stone is surrounded by moissanite diamonds.
LX Diamond is a small business that creates traditional and nontraditional styles by mixing colorful, stunning gemstones with classic settings.
Get it from LX Diamond on Etsy for $55.13+ (also available as a two-piece set and 11 band options).
13.
A moonstone ring, for anyone who has always longed for a nontraditional ring that'll still make a statement and garner tons of compliments — this is it!
BlackTree Lab is a family-owned small business based in Bali, Indonesia, that sells handcrafted jewelry pieces. Their jewels are inspired by the heritage of ancient cultures and natural elements from around the world.

Promising review: "I got this as an engagement ring, and it is so pretty, it shines blue in the light, and you can see pretty little lines throughout the stone. It's well made and feels like it will last forever." —Curtis
Get it from BlackTree Lab on Amazon Handmade for $160 (available in sizes 3–13).