1.
A nature-inspired engagement ring and wedding band set that'll impress anyone who would describe their aesthetic as "cottagecore." The bands around each ring have been made to look like branches woven around delicate moissanite diamonds.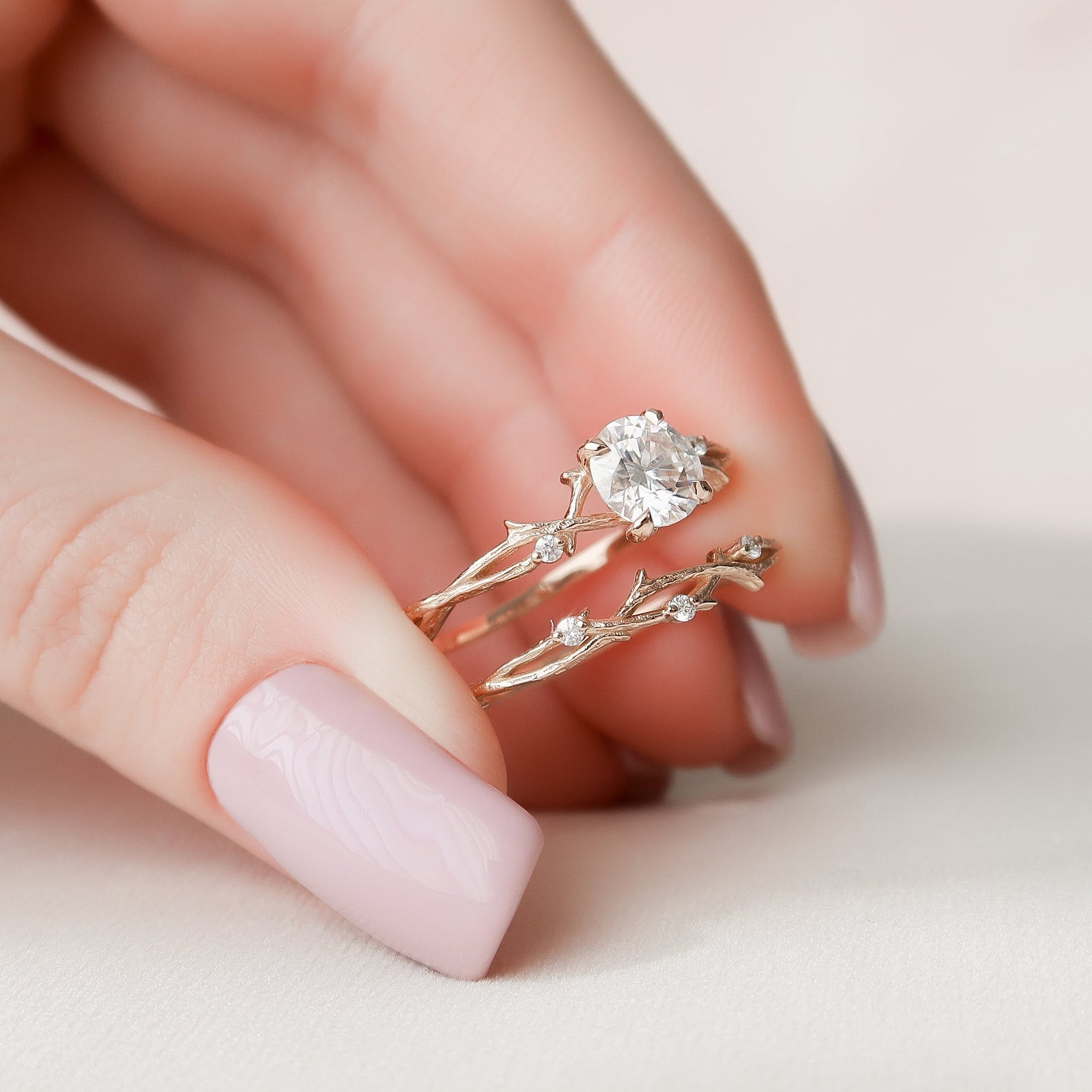 Moissanite diamonds are lab-grown rather than harvested out in mines — I've experienced quite a few first hand and can attest to how stunning they truly are. Additionally, Keyzar is a small business based in Tel Aviv that sells handmade jewelry.

Promising review: "Okay. I am gonna just say WOW. Everything about these guys is stellar. The ring is stunningly gorgeous with SO much fire. Beautifully executed and the ring and setting quality is amazing. The service is exemplary and the shipping was lightning fast. My soon-to-be-fiancé (hopefully) is going to have her mind blown with how beautiful this ring is. Thank you guys! Anyone who is considering this set you will NOT be disappointed. Moissanite has SO much fire and sparkle and it is literally blindingly gorgeous. You can't go wrong with this set!" —Adam Days
Get the set from Keyzar on Etsy for $1,845+ (available in any size, seven stone types, and two finishes)
2.
A memorable ring with a dainty band made to look like Princess Diana's (and now Kate Middleton's) engagement ring. Any fan of the Royal Family will looooove showing this sparkler off to their family and friends after you pop the question.
Promising review: "I love this ring! It's a lookalike of my engagement ring but I wear this for work instead and I still get so many compliments and I have to tell people it's from Amazon haha. I shower with it, I wash my hands 1,000 times a day with it and it hasn't changed color or changed my skin color! I am really impressed!" —Amazon Customer
Get it from Amazon for $22.99 (available in sizes 4–12 and two colors).
3.
An elongated cushion cut cubic zirconia beauty you'll never want to take your eyes off — and for good reason! Just think of how dazzling it'll look when you show it off in the sunlight. Ugh, gorgeous. 

Promising review: "This ring is absolutely beautiful. I can't stop staring at it. My girlfriends couldn't tell it wasn't a real diamond. It sparkles so beautifully. Sizing is on point. I'm in love and I don't ever want to take it off." —Paulina
Get it from Amazon for $35.62 (available in sizes 4–10).
4.
A delicate band with a twinkling diamond and recycled pure gold you'd likely find next to the definition of "dainty engagement ring" in the dictionary.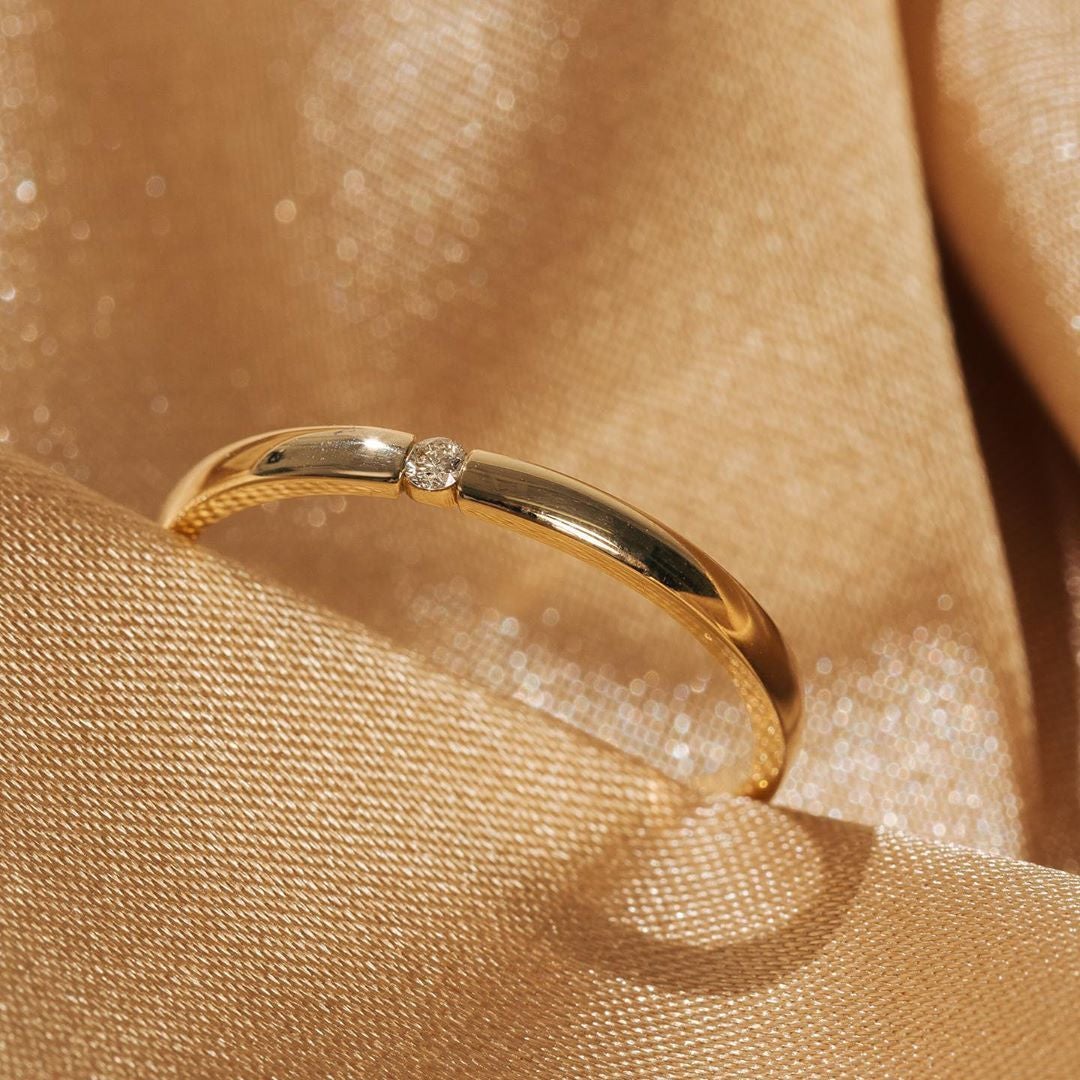 This beauty is simply stunning and perfect for anyone who is 1. on a budget — rings can be SO expensive and/or 2. in the market for something clean, simple, and sentimental. It comes with a lifetime warranty (wahoo!) and every ring is made-to-order. Aurate is a women-owned business based in New York.
Promising review: "Totally in love with this ring... sooo dainty and shiny.. looks better in person.. worth every penny, you won't regret it... A+." —Julia A.
Get it from Aurate New York for $280 (available in sizes 3–10, two rates, and three colors).
5.
A solitaire number featuring cubic zirconia stones no one will be the wiser about — they're sparkly, dazzling, and will certainly do the trick if you're all about the bling but *not* about the earth-shattering price diamonds can be.
Promising review: "Gorgeous temporary replacement. I lost my engagement ring years ago but approaching 18 years of marriage, I wanted something classy to go with my band, which really brings it out more in my opinion. Our anniversary is in March but with the pandemic it feels silly to spend hundreds of dollars on a ring. I highly recommend this ring and after everything returns to normal, consider the higher price. Love it!" —Kalua Lauber
Get it from Amazon for $26.99 (available in sizes 3.5–9.5).
6.
A sparkling beauty I'm honestly feeling myself getting a bit choked up over. I can't even begin to imagine how someone might feel upon being surprised by their partner offering them this ring and a life together forever.
7.
A moss agate and tourmaline ring for anyone who often scowls at standard diamond rings — this three-stoned beauty will blow your your fiancé away, no question.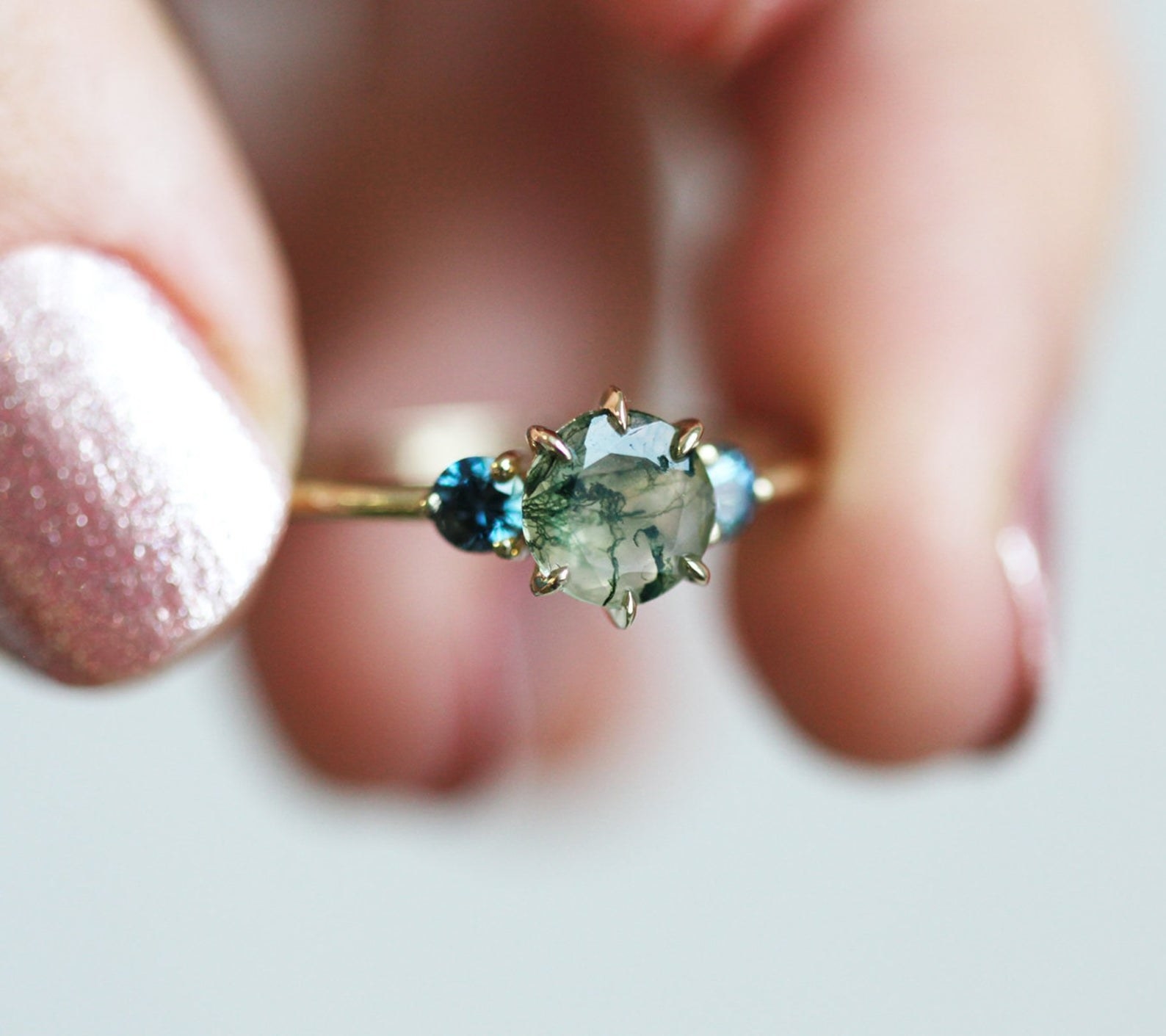 Cappucine is a small business based out of Slovenia that sells fine jewelry.
Promising review: "My lady absolutely loves her ring! There is a care and quality to this ring that you know an artist made it. Thanks so much for the beautiful piece of art and I know we will cherish it forever!" —Shae Smith
Get it from Capuccine on Etsy for $870+ (available in sizes 2–8 and six styles).
8.
A solitaire ring you've likely always dreamt of rocking on *that* finger — it has four prongs to keep it safely in place and features a stunning minimalist design that'll never go out of style.
Get it from Frank Darling for $850+ (available in sizes 4–13, four metals, and optional free engraving).
9.
A ring filled with peach and champagne—colored stones that'll make a serious first impression on anyone who is lucky enough to lay eyes on it. My gosh, it's just so freakin' beautiful.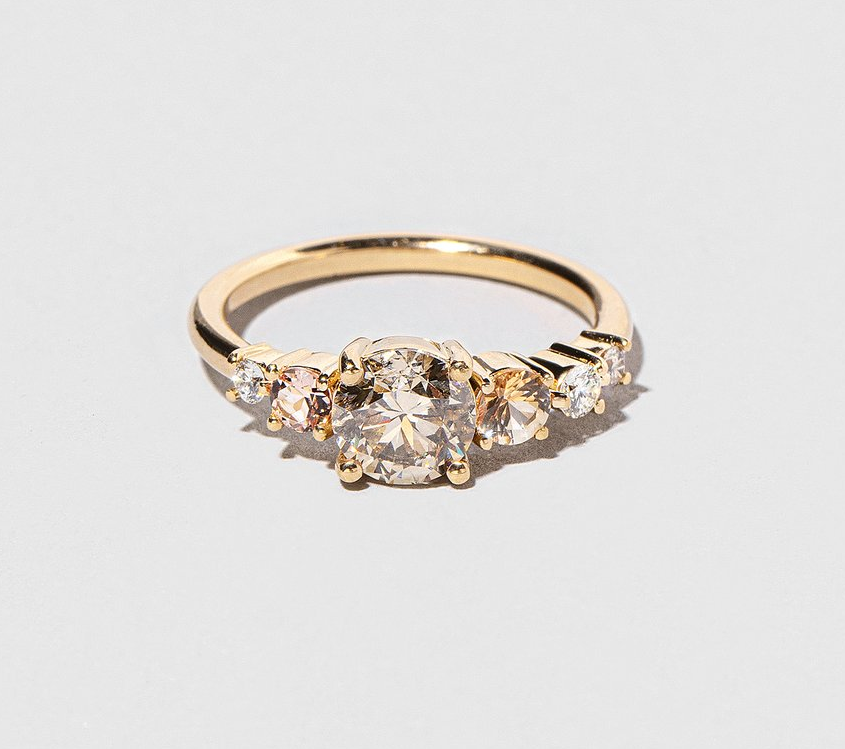 10.
A ring featuring both an emerald cut and stone you don't have to be a May baby to appreciate — I don't see any scenario in which you wouldn't absolutely find yourself ugly crying after being proposed to with this lil' beauty.
Local Eclectic is a Latinx female-owned small business with jewelry you won't be able to help but drool over. This ring is stunning, as are the many other items in their store. 
Get it from Local Eclectic for $310 (available in sizes 4–10).
11.
A delicate diamond band, perfect for someone who works with their hands and worries about a raised stone snagging on something but would still appreciate a little *sparkle*.
Promising review: "LOVE it!!! It matches my engagement ring PERFECTLY! It's shiny, and sparkly, and seems to be well made. I've worn it 24/7 for a week now and it's still shiny and sparkly and seems quite durable (I'm hard on jewelry). It's gorgeous and you will NOT be disappointed!" —Renay
Get it from Amazon for $115.39+ (available in sizes 4–10 and three metals).
12.
An emerald pavé ring crafted from sustainably sourced diamonds you won't want to stop staring at — not now, not after 10 years of marriage, not ever.
13.
A round diamond ring made with ethically sourced diamonds, recycled precious metals, and everything you need to make a lasting memory when proposing to the love of your life.
(Psst, here are 34 more pieces of dazzling jewelry to treat your loved one, your BFF, or even yourself to!)
Get it from Ring Concierge for $1,798+ (available in sizes 3–9, three metals, multiple diamond sizes).