1.
Essence Lash Princess Mascara might just leave people wondering if you recently got eyelash extensions (which it feels like everyone and anyone has been raving about). Joke's on them!
BuzzFeed writer Emma Lord is a BIG fan of this mascara. She said:
"Hello, that is my face above, because I bought into the hype of over 35,000 positive reviews and now I will never look back!! Putting it on is like giving my eyelashes butterfly wings. It doesn't get clumpy, it stays put ALL the live long day (I spent all of this ridiculously hot pandemic summer wearing it, so I can speak to that), and you can apply it on very lightly if you don't want it to look so dramatic, or continue applying for longer lashes each time."
Promising review: "I have to be honest, for a 'cheap' three-pack mascara, I did NOT have high expectations. These, however, exceeded my expectations and went MUCH MUCH farther. I had been buying a certain $25/tube brand (rhymes with truepique) and I like these just as much!! I'm saving a TON of money and like my lashes just as much." —Liz
Get it from Amazon for $4.99.
2.
Elizavecca Hair Treatment, an affordable but oh-so-effective hair mask that'll help restore your hair and reduce shedding (shout out to the collagen and protein extracts its infused with). It'll be a game changer for your beauty routine.
This is designed to work on all hair types, with reviewers with 2b–4c curls mentioning it worked for them! 
Promising review: "I have tried everything on the market to fix my damaged, bleached hair that keeps breaking off. I stumbled across this hair treatment on TikTok. I had never heard of it before but decided to give it a try. I used it for the first time yesterday and I couldn't believe how amazing it made my hair feel and look. It's sooo soft, shiny, bouncy and nourished. My bleached rat's nest now looks and feels like hair again. Even my boyfriend noticed a huge difference in my hair. I'm going to buy a lot more of this product. I've been really frustrated about my hair for years now because of all the damage. Now I can finally relax and enjoy my new hair." —Eline
Check out BuzzFeed's full review of the Elizavecca hair treatment for more deets!
Get a bottle from Amazon for $7.50.
3.
Mouthwatchers' flossing toothbrush has two layers of bristles designed to *really* deep clean your teeth and in between your gums. Your pearly whites will feel as fresh as they do after the dentist but without the whole...ugh-I'm-going-to-the-dentist ordeal.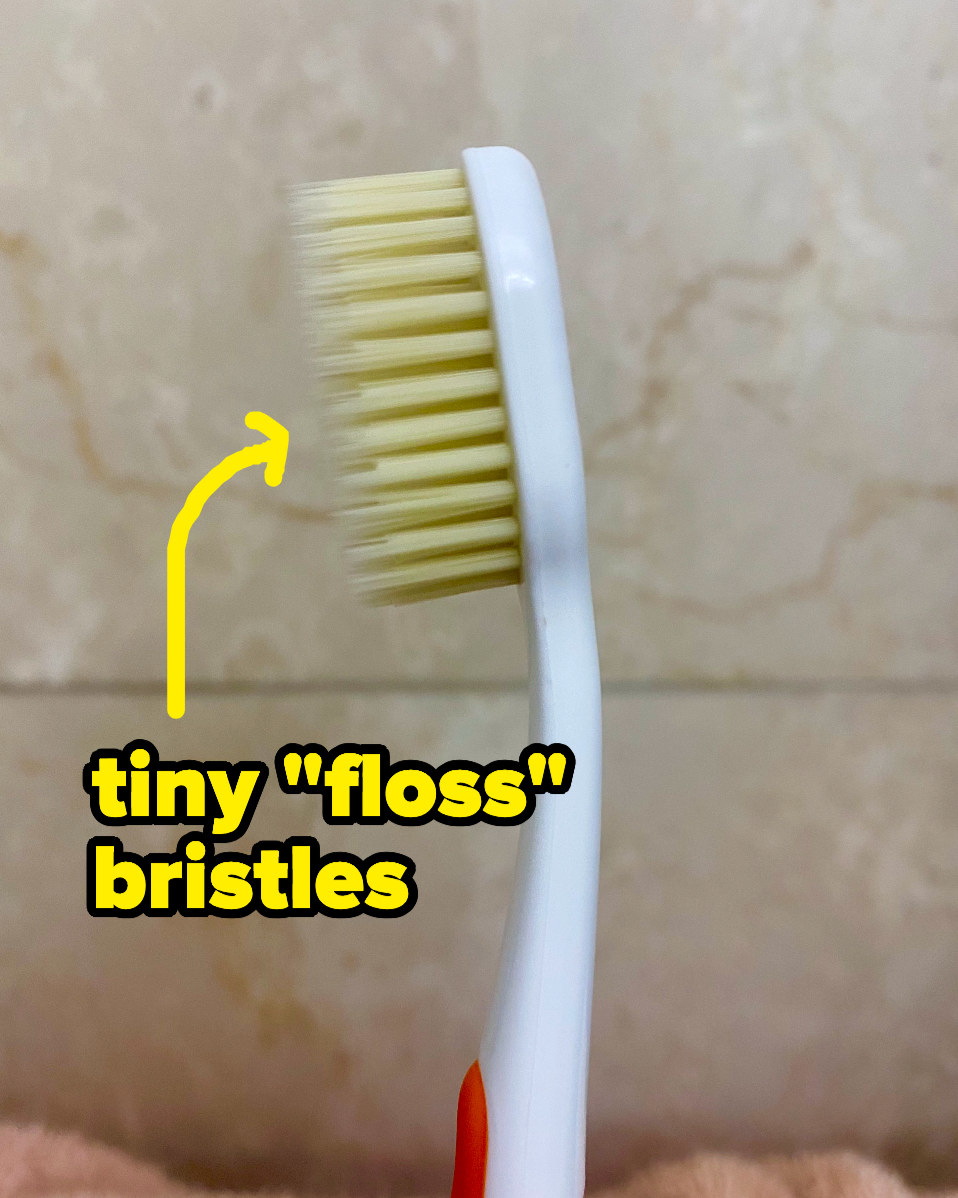 Mouthwatchers is a small business established by Ronald Plotka, DDS, that specializes in antimicrobial toothbrushes designed to get deeper cleans even patients with "great" dental hygiene might miss with traditional brush and floss routines. 
BuzzFeed writer Emma Lord couldn't help but sing the praises of this toothbrush:

"I personally bought this a few months ago and love it! I use an electric toothbrush usually, but I feel like I'm getting a much more satisfying clean from these?? Especially because I tend to get yellow stains between my teeth no matter *how* much I floss, and these bristles seem to actually target that a lot more effectively. I've switched to using this in the morning and the electric one at night and definitely see a difference in that area in particular."
Promising review: "This was another one of my TikTok purchases! I was skeptical but my kids hate flossing their teeth so thought this might help in between making them floss. They work amazing! My kids said they could see and feel a different on the first use and I agree! They are definitely with a try! I would suggest not pushing too hard, those tiny bristles really get in there and if you push too hard you nights be sore like I was. It felt like after going to a dental cleaning." —Amy N.
Get a two-pack from Amazon for $9.90. 

4.
 Glimmer Glow Stick lipstick will ensure your pout can showcase the *perfect* shade of pink at all times thanks to its fancy pH technology. It'll magically leave a rosy, subtle glittery shade on your lips.

Check out a TikTok of the Glimmer Glow lipstick in action. 
Promising review: "This is such a pretty pH color lipstick, viral for a reason — it's very pretty to look at, it's not sticky at all, and the more you layer it, the darker the pink shows up. The only thing I don't like is the scent in it, I can almost taste it a bit. It's nice to have in my purse if I need a quick color while I'm out in case of sudden dinner plans or a meeting, because you can control the color saturation to how light or bold it is." —Kristina Bumbelow

Get it from Amazon for $3.99. 
5.
E.l.f.'s Poreless Putty Primer reviewers adore because of its lightweight texture and how wonderfully it works to reduce the appearance of pores. You can also count on it to help you apply your makeup smoothly and evenly.
I, like many others (it has over 35K positive reviews on Amazon) have this primer and also agree that it's fantastic! It really does go on my skin so smoothly I can barely even feel that I've put any primer on at all. My makeup stays on so nicely when I take the time to apply it over it. And at a price like this? Ya can't beat it.
Promising review: "I saw this on TikTok and thought I'd take a chance. I have sensitive skin and have to watch what I use. I LOVE this product! Goes on smooth and you don't need to use a lot. I put it on before I put on my foundation. Makes a huge difference. Highly recommend and will buy again!!" —Brooks Crim
Get it from Amazon for $9.99.
6.
Exfoliating skincare mitts designed to lift away dead skin (and remove a spray tan that's seen better days) — an excellent way for you to kickstart your spa-like experience at home.
Promising review: "If you're trying to find something for body exfoliation...this is it. Just this glove, water, and some time. I soaked in the bathtub for about 10 minutes, then got to exfoliating." —Kari Shawhan
Get it from Amazon for $6.99.
7.
Schick Hydro Silk Touch-Up Dermaplaning Tools to help you remove the pesky peach fuzz from your cheeks or those fine eyebrow hairs you simply can't seem to grab with a tweezer.
This tool also helps soften skin by gently exfoliating as you use it!
Promising review: "I saw these on TikTok and was skeptical but they work so well. I use them for any facial peach fuzz and to shape my eyebrows and they're perfect." —Megan Kopicko
Get a set of three from Amazon for $5.67.
8.
Avarelle Pimple Patches that'll blend in with any skin tone and are gentle enough for any skin type, so you can go about your day without worrying that it looks like you're growing a second head on your face.
Avarelle's pimple patches are formulated with tea tree oil and calendula, which is said to heal and shrink zits overnight. A single pack comes with 40 patches in a variety of sizes to fit any pimple you've got. I personally reach for these ALL the time. I'm lucky enough to really only get one major pimple before getting my period. When that bad boy shows up I simply put one of these patches on overnight and am always amazed by how much it's shrunk down by the morning.
Promising review: "I've tried so many brands of pimple spots, and these are hands-down the best on the market. I'm a performer at Walt Disney World, and a clear complexion is required. Last night, I put these on a few acne problems (a small cyst, a whitehead, and a pimple I shouldn't have picked and has been a bump for about three weeks now.) I just woke up and am writing this review in disbelief. THEY'RE FLAT! Gone! All of them! I could cry I'm so happy. The packaging is also ideal, because it allows you to conveniently and easily peel the stickers off without stretching them out or folding them back on themselves. Do yourself and your complexion a huge favor! Have these on hand for a stubborn zit when you really need help. Make sure you apply them to completely clean and dry skin." —Caitlyn
Get it from Amazon for $8.49.
9.
A shampoo scalp massager so even if you only have the time and energy for a quick rinse you'll still be able to indulge in a relaxing scalp massage. 

BuzzFeed writer Emma Lord is a big fan of this product:
"I have one of these and WOWZA, it really helps you get extra mileage out of your shampoo. I have a whole lot of hair on my head so sometimes it's a struggle to feel like I've soaped up my whole scalp thorough, but this is a very effective way to spread out the suds and really get them to the roots. I was worried it might tangle in my hair, but it was totally fine on that front, too. I've noticed that my hair has been a little less greasy at the roots since I started using it. And I'm echoing a ton of reviewers here when I say it just feels reeeeeally, really nice."
Promising review: "I can't say enough about this product. I have long hair and I do not wash my hair more than every four to five days. My hair is dry and it doesn't get dirty until nearly a week goes by. However, my scalp is another story. If I have been sweating due to weather or working out, my scalp is going to be accruing dirt. This has been a godsend. This brush does an amazing job of getting my scalp squeaky clean and I don't have to be concerned about that buildup not coming off. I always loved going to the salon for a good scrub of my scalp but it can be expensive to do all the time. This makes it so much easier and I can do it every time I wash my hair. I was having some hair loss and couldn't figure out what was going on other than just stress. Since I started using this, the hair loss has stopped and I actually think my hair is growing better. I wrote an earlier review but I have been using this now for awhile and wanted to update what I said then so this is it. I am buying several more of these for stocking stuffers at Christmas. I know once they use this, they will be thanking me until next Christmas! LOL! ;-)" —KGB
Get it from Amazon for $6.98+ (available in three colors).
10.
Lovoir Flick Stick Winged Eyeliner Stamp, if you obsess over makeup tutorials but haven't been able to nail liquid eyeliner just yet.
Promising review: "Let me start by saying this isn't my first cat-eye rodeo. I've tried the taping method, normal liquid liner, plastic winged stamping devices, stencils, all of it! Well, this gem arrived and I immediately had to try it out, all while laughing at how terrible this would probably turn out...but to my surprise I put the left cat-eye on first and it was perfect. I thought this was a fluke and did the right eye...again, it came out clean and perfect! I HAVE NEVER IN MY LIFE BEEN ABLE TO DO A CAT-EYE IN UNDER 10 MINUTES, LET ALONE THE TWO MINUTES THIS TOOK TO DO! There were no sloppy streaks that I had to touch up or anything you would expect. Just a clean crisp line. I can now do a cat-eye EVERY day and look/feel like a badass. Everyone can think I spend hours doing my makeup in the morning." —LadyMeow
Get it from Amazon for $14.97 (available in three sizes).
11.
Elizavecca Milky Piggy Carbonated Bubble Clay Mask that starts to bubble once it's applied — get one for you and each of your roomies and prepare for a fun night of selfies (all the while banishing your blackheads).
Promising review: "Wow! I purchased this on a whim after seeing one of my favorite YouTubers try it out. I didn't expect a lot from it. I tried it out and was shocked!!! The mask was simple (and fun) to use. I wasn't sure I felt a lot happening while it was on, but it was pretty cool how the bubbles started to grow off of my face. Upon inspection after using this mask I was completely amazed. My face felt cleaner than it has in a very long time AND my pores looked amazing! I don't remember a time when I felt like my pores looked great before using this mask. I would highly recommend this mask to anyone. It's also so much cheaper than the GlamGlow ones I have been using (and didn't see near these results from)." —Phil Textor
Get it from Amazon for $10.98.
12.
A heatless curling rod headband — wrap your hair into it before hitting the hay, remove it when you wake up, then stare at yourself and your luscious locks. It's as easy as that — no heat neeeded!

Each set comes with a curling rod, two hair scrunchies, a claw hair clip, and two duckbill hair clips to set it in place. These are designed to work with all hair types, but work best if you roll them with damp hair! 
Promising review: "Before purchasing, I'd seen a lot of reviews and tutorials on TikTok showing the results. My hair is thick, coarse, and naturally wavy, so I figured this might be a good alternative to rollers that are time-consuming to put in, difficult to sleep in, and ultimately not worth it. And MAN was I right to be hopeful. Wrap pieces of damp hair around it before bed, the tighter the wrap, the tighter the curl. Easy to sleep in since there's nothing on the back of your head, and my curls are BOUNCY the next morning. My only complaint is that it doesn't help give any top-volume, but nothing some teasing can't fix. 10/10. I'll never go back to a curling iron." —Mariah
Get it from Amazon for $9.99 (available in six colors).