Downing Street Is Hinting That Theresa May Would Step Down Before The Next Election Even If She Wins Confidence Vote
The suggestion from the PM's official spokesperson came as May was desperately trying to persuade Conservative MPs to back her in Wednesday night's vote.
by
,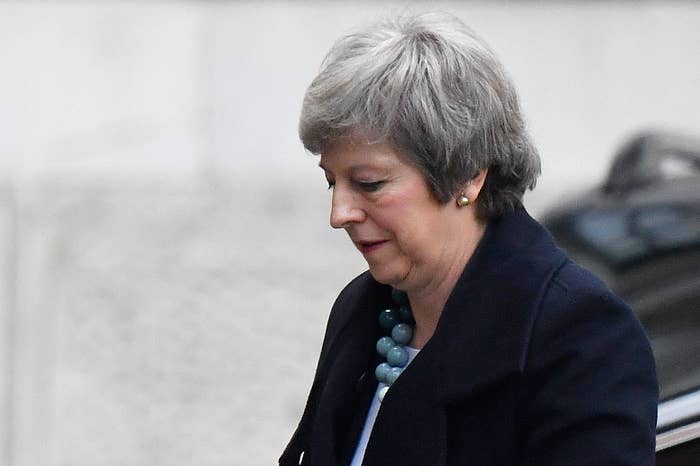 Downing Street has dropped a heavy hint that Theresa May will promise to step down as prime minister before the next general election as she fought for her political life ahead of a vote of confidence in her leadership by Conservative MPs on Wednesday night.
On an extraordinarily febrile day at Westminster — even by recent standards — the PM's official spokesperson told reporters at lunchtime that May does not believe the confidence vote "is about who leads the party into a general election, it's about whether it's sensible to change leader at this particular point in the Brexit negotiations".
But the spokesperson denied that May would offer the 1922 Committee of backbench Tory MPs a departure date when she addresses them at 5pm today.
On Wednesday morning, Sir Graham Brady, the chair of the 1922 committee, announced that he had received at least 48 letters from Conservative MPs calling for a vote on May's leadership.
"The threshold of 15% of the parliamentary party seeking a vote of confidence in the leader of the Conservative Party has been exceeded," he wrote.
The ballot will be held between 6pm and 8pm, with the result announced around 9pm.
May gave a defiant statement outside the door to 10 Downing Street shortly before 9am.

"I will contest that vote with everything I've got," she said. "I have been a member of the Conservative party for over 40 years... I stood to be leader because I believed in the Conservative vision for a better future.
"At this crucial moment in our history, that means securing a Brexit deal that delivers on the result of the EU referendum.
"Through good times and bad over the last two years my passionate belief that such a deal is attainable ... has not wavered."
She said that a new leader would not be in place by the Jan. 21 deadline for the UK and the EU to reach a Brexit agreement, and a leadership election would risk "handing control of the process" to opposition MPs. One of their first acts, she added, would have to be "delaying or even stopping Brexit".
"Weeks spent tearing ourselves apart will only create more division," she said.
"None of that would be in the national interest. The only people whose interests would be served ... would be Jeremy Corbyn and John McDonnell.
"We must, and we shall, deliver on the referendum vote and seize the opportunities that lie ahead."
Shortly after Brady's announcement, Tory MP Jacob Rees-Mogg, the leader of the hardline Brexit European Research Group, said in a joint statement with fellow Brexiteer Steve Baker that replacing the prime minister was "in the national interest".

Other MPs, however, expressed their support for May on Twitter. Home secretary Sajid Javid, foreign secretary Jeremy Hunt, and environment secretary Michael Gove all said they would back her on Wednesday evening.
Javid said a Tory leadership election is "the last thing our country needs right now".
Tory party chair Brandon Lewis said the prime minister was "the right leader".

Ed Vaizey, a former culture minister, told the BBC's Today programme that he would be backing May and that calling for a vote was "self-indulgence".
"We're a week away from [parliament] rising, we're a few months away from leaving the European Union, we've still got to sort out the terms on which we're leaving — and now the Tory party is going to indulge in this massive bout of introspection, potentially leading to immense instability if she doesn't win tonight, a leadership election."

He added that most of the MPs who wrote to Brady "are the traditional Brexiteers who seem to be playing this bizarre game of hardball without any thought for the consequences for our country".
Bernard Jenkin, who was among the MPs to submit letters of no confidence, told the programme: "The reason why Theresa May will probably lose this ballot is because so many in the parliamentary party can't see how she can command the confidence of the House of Commons."
Speaking on the BBC's Politics Live, international trade secretary Liam Fox said it was unclear whether May's deal would be put to Parliament with the current backstop arrangement.
"It is very difficult to support the deal if we don't get changes to the backstop. I don't think it will get through. I'm not even sure the Cabinet will agree to put it before the Commons," he said.

The prime minister was keen for the confidence vote in her leadership to be conducted as soon as possible once she was informed that the threshold of 48 letters had been reached, Brady told reporters on Wednesday morning.
He informed May, who had been travelling, that the threshold had been passed in a telephone call at around 9:30pm on Tuesday night, he said.
Brady said that May will address Conservative MPs at around 5pm, with the result due to be released at around 9pm. The exact number of votes that will constitute a majority has not yet been confirmed, Brady said, as it was still not clear whether the whip would be restored to suspended MPs Charlie Elphicke and Andrew Griffiths ahead of the vote.
The chair of the 1922 Committee told reporters that "during the course of yesterday we reached a point where it became clear the threshold had been passed," adding that there had been "an element of traffic in both directions" on Tuesday with letters being withdrawn and submitted.
This is a developing story. Check back for updates and follow BuzzFeed News on Twitter.‏