Police Have Raided Three Addresses In The Midlands After The Suspected Westminster Terror Attack
The suspect, a 29-year-old British citizen, has not been formally identified but has been named in reports as Salih Khater from Birmingham.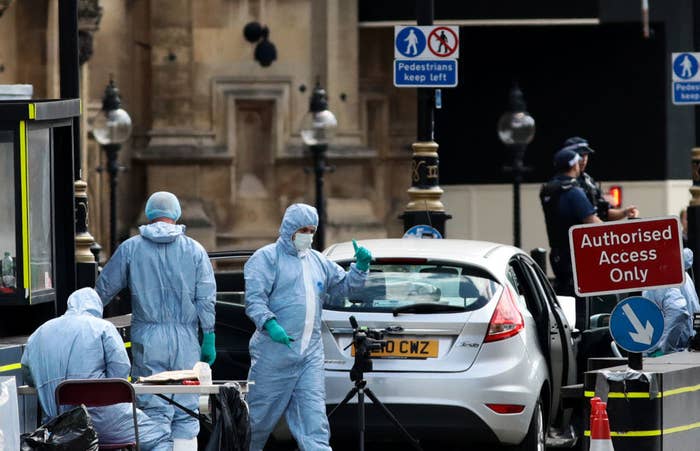 Counterterror police carried out raids at three separate addresses in the Midlands on Tuesday evening, hours after a man crashed a car into the barriers outside the Houses of Parliament, injuring three people as he collided with pedestrians and cyclists in what is being treated as a terrorist incident.
The suspect, who is being held at a south London police station on suspicion of carrying out terrorist offences, was identified as a 29-year-old British citizen by police.

While he has not been formally identified, government sources cited by the BBC named him as Salih Khater. According to a Facebook page that bears the same name, Khater described himself as a "shop manager" and studied at Sudan University of Science and Technology.
Security minister Ben Wallace confirmed that the suspect "came from another country originally," but gave no further details.

Roger Godsiff, Labour MP for Birmingham Hall Green, confirmed that he is understood to have been a resident in the city, where two addresses were searched on Tuesday.

"Today's attack at Westminster was carried out by an individual who is believed to have been living in my constituency in Birmingham. My deepest sympathies to the cyclists and pedestrians who were injured in the attack," Godsiff tweeted.

A man and a woman have been discharged from hospital after sustaining "non-life-threatening injuries", police said. Another man was treated at the scene.
The silver Ford Fiesta involved in the incident, which took place at 7:37am on Tuesday as commuters made their way to work, had travelled from Birmingham to London the night before, arriving just after midnight, according to the Metropolitan Police.
The car stayed around Tottenham Court Road, in central London, from about 1:25am until 5:55am, before the driver headed to Westminster.

One of the two properties searched in Birmingham was in Sparkhill, in the southeast of the city, according to local reporters.

An address in Nottingham, about 50 miles northeast of Birmingham, was also searched on Tuesday. No other arrests have been made.

The police said there is "no intelligence of further danger to Londoners or the rest of the UK" but deployed officers trained to recognise signs of anxiety in Westminster, to "identify anyone who may be in the area for terrorist or other criminal purposes".
This is a developing story. Check back for updates and follow BuzzFeed News on Twitter.‏