A Man Has Been Arrested For Suspected Terrorist Offences After A Car Crashed Outside Parliament
Police said they are not looking for anyone else in connection with the crash, which they said "appears to be a deliberate act."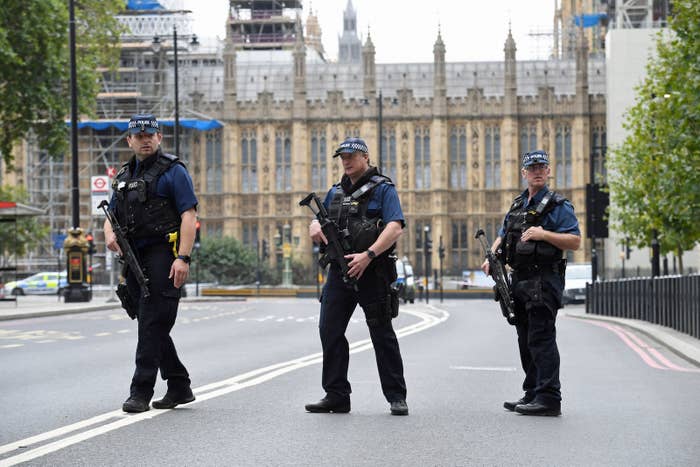 A man has been arrested for alleged terrorist offences after a car crashed into a number of people outside the Houses of Parliament early Tuesday morning.
The unnamed man, in his late 20s, is in custody in a south London police station as police work to establish his identity and his motive for an act police said "appears to be a deliberate act."
No weapons were found in the car and police are not looking for anyone else in connection with the incident. Police said the suspect was not known to MI5 or counter-terror police.
The Met Police confirmed that the crash, which took place around 7.40am and can be seen in footage obtained by the BBC, is being treated as a terrorist incident.

The London Ambulance Service said two patients were treated at the scene and taken to hospital. One of them, a man, has already been discharged from hospital, while a woman was still in hospital Tuesday afternoon being treated for what police described as serious but non-life-threatening injuries. A third victim with "minor injuries" was assessed at the site of the crash.
In press conference at Scotland Yard, Met Police assistant commissioner for specialist operations, Neil Basu, said: "Given that this appears to be a deliberate act, the method, and this being an iconic site, we are treating it as a terrorist incident and the investigation is being led by officers from the counter-terrorism command.

"At this early stage of the invitation no other suspects at the scene have been identified or uprooted to police. There is no intelligence at this time of further danger to Londoners or the rest of the UK related to this incident.
"Our priority now is to formally set the identity of the suspect and his motivation if we can. He is not currently cooperating."
Basu, answering a reporter's question, said the suspect was not known to either MI5 or to counter-terror police.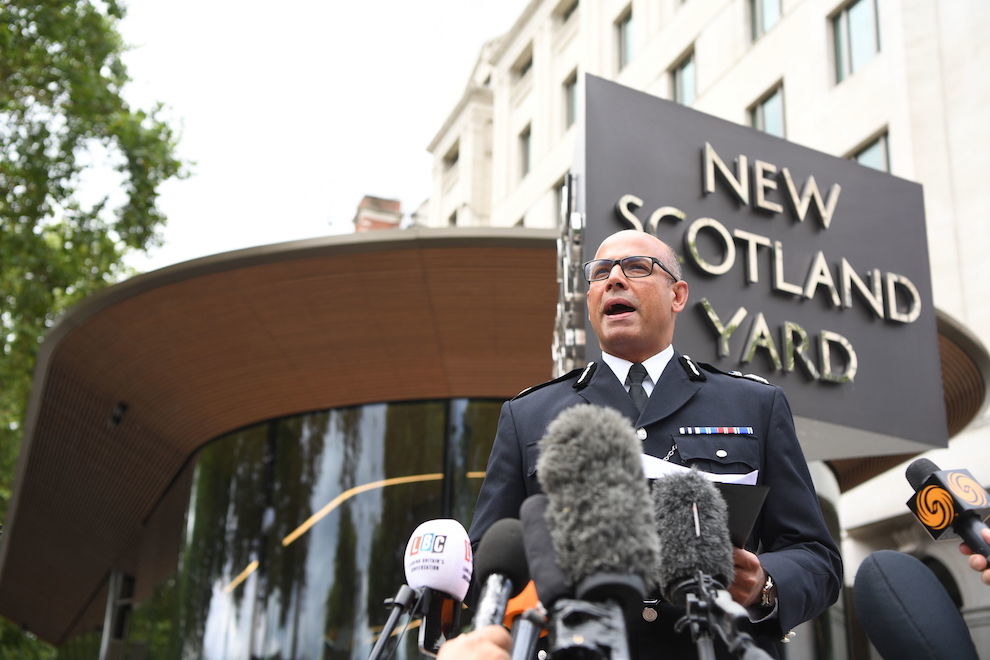 Prime Minister Theresa May said in a statement:
Today's suspected attack outside the Houses of Parliament is shocking. For the second time in as many years the home of our democracy, which is a potent symbol of our precious values of tolerance and freedom, has witnessed terrible scenes just yards from its door.

My thoughts are with the innocent members of the public who were hurt in this appalling incident. I wish them a speedy recovery and we must be thankful that nobody suffered life-threatening injuries.

I also wish to praise the formidable courage of our emergency services, who were on the scene immediately and in significant numbers.

Once again, they did not flinch and ran towards a dangerous situation in order to protect the public. The country is hugely grateful for their calmness and professionalism.

The threat to the United Kingdom from terrorism remains severe. I would encourage the public to remain vigilant - but also to come together and carry on as normal, as they did after the sickening attacks in Manchester and London last year.

The twisted aim of the extremists is to use violence and terror to divide us. They will never succeed.
After a meeting of the government's Cobra emergency response committee, the prime minister's spokesperson confirmed that since March 2017, UK police have foiled 13 Islamist and four far-right terrorist plots, without including Tuesday's incident.
As of June 2018, counter-terror forces had 676 open terror-related investigations m the last time the government published figures, in March, the number was "over 500".
May is currently out of the country on holiday, but has been in constant conversations since she was informed at 8am, the spokesperson said. Chancellor Philip Hammond is the ranking minister in the country, while home secretary Sajid Javid cancelled a family holiday to return to the UK.
A large police presence and series of cordons remain in place after the attack, which took place as commuters made their way to work. Cordons are expected to be in place for much of Tuesday.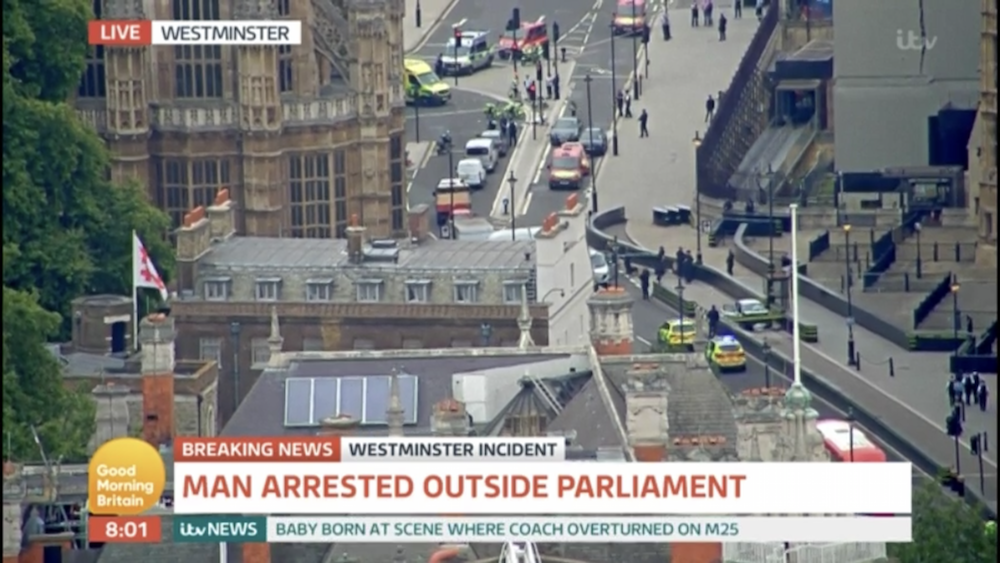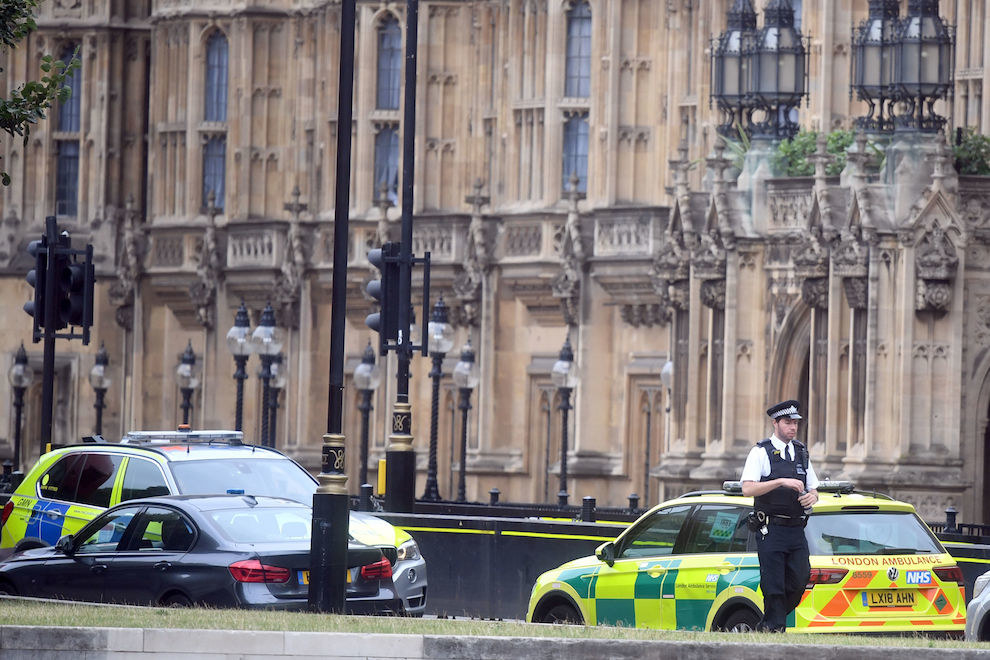 Alastair Swaine, 22, was walking to work on a construction site opposite parliament when the incident unfolded.

"I was terrified," he told BuzzFeed News. "I've never seen anything like it."
He described what he had seen: "I was on the other side of the road walking next to the palace when I saw a car driving through ... people on bikes. I couldn't see if it was a man or a woman — then he drove past me, but luckily I was on the side of the barriers.
"I saw them hit a barrier. I saw the airbag go boom," said the construction worker. "I saw loads of armed guards running up to me and past me but I was running as fast as I could."
As he glanced back shortly after he saw the vehicle hit the barrier, Swaine said he remembered roughly "six or seven of them [police officers] came running past me, with guns".
Adam, 28, who was commuting to the City on a scooter and was at the traffic lights when the crash happened, told BuzzFeed News: "It was a silver hatchback car. It suddenly veered off the roundabout and came down the wrong side of the road. I'm pretty sure it hit a pedestrian first then it sped up into cyclists.

"Fortunately it was pretty early so there were only ten or half a dozen cyclists. Most were able to get back to their feet. One was down and being put in braces. I didn't see her move. It went back onto the right side of the road and then headed straight to the barriers on the entrance to the Houses of Parliament."

Steven, a builder working on a construction site at Westminster Abbey, told BuzzFeed News he saw a cyclist lying on the floor at the scene after he was evacuated following the incident. He and his team have been told that they may not be able to return to their vans to retrieve belongings — including house keys and mobile phones — for the rest of the day.

The incident caused serious disruption as workers made their way to offices during London's busy rush hour. Members of the House were among those stopped by police cordons.

Westminster underground station was closed as British Transport Police assisted the Met with the incident, but reopened on Tuesday afternoon.

The House of Commons is currently not sitting and most MPs have left Westminster for the summer recess.