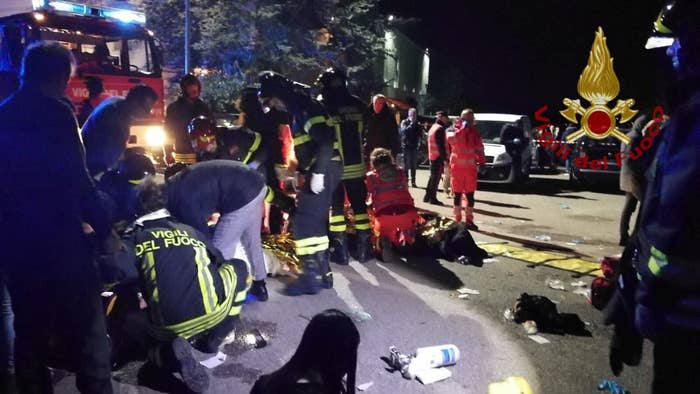 Five young teenagers and an adult woman were killed after panic caused a stampede at a nightclub in a central Italian town in the early hours of Saturday morning.
More than 100 others were reportedly injured, some seriously, when people fled the Lanterna Azzurra club in Corinaldo, a town close to the costal city of Ancona, before 1am local time.

Many of them are understood to be teenagers who had gone to see a concert by Italian rapper Sfera Ebbasta.

Footage taken as they rushed out of the exit appeared to show a barrier giving way as people climbed over it.
Five of the victims were aged between 14 and 16, according to a post from Italian Deputy Prime Minister Luigi Di Maio on Facebook. A sixth victim was a 39-year-old woman who had accompanied her daughter to the concert.
He confirmed their names were Asia Nasoni, 14; Daniele Pongetti, 16; Benedetta Vitali, 15; Mattia Orlandi, 15; Emma Fabini, 14; and Eleonora Girolimini, 39.
"It's absurd to die like this," he wrote, confirming that the government will work to establish what happened.
Officials have not confirmed what caused the stampede, but Interior Minister Matteo Salvini told Italian news site RAI that a sprayed substance could have sparked panic. Reports have claimed it was similar to pepper spray.
In addition to the obstacle of the barrier by the exit, the club is thought to have been over capacity, with around 1,000 people inside.
Salvini said it was probably that there were "more people inside than was permissible".
Italian President Sergio Mattarella demanded that "full light be shone on what happened, ascertaining any responsibility and negligence".
"Citizens have the right to safety wherever they are, in workplaces as well as places of entertainment," he said in a statement.
"Safety must be assured with special commitment in places where crowds gather, through rigorous inspection and checks. One cannot die this way."
Prime Minister Giuseppe Conte said on Facebook that "what was supposed to be a joyful event, a concert, turned into tragedy, an unacceptable tragedy."
"Now it is time for relief and grief, but it is clear that there are numerous questions about the responsibility of this tragedy, [with respect to] the safety standards, which will have to find a clear, rapid, and unambiguous response. We demand it," he wrote.
In an Instagram post on Saturday morning, rapper Sfera Ebbasta wrote: "It is difficult to find the right words to express the regret and pain of these tragedies."