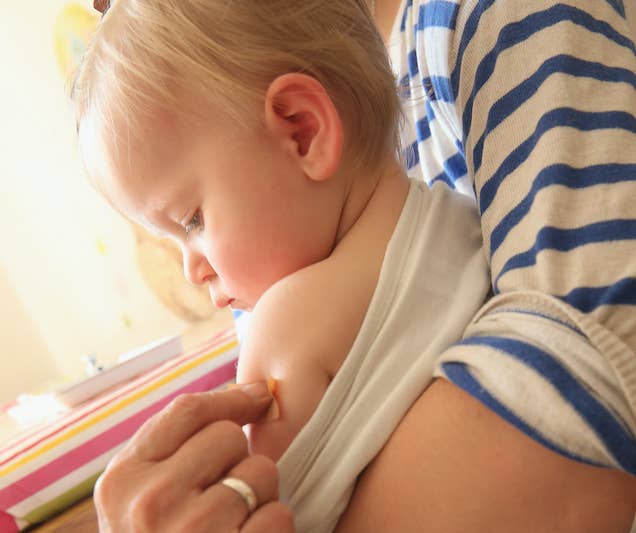 The government has chosen the anti-vax movement to be one of its first targets in a broad online offensive to tackle the spread of disinformation amid concerns about a sustained fall in young children receiving essential jabs.

The first wave of this campaign — focused on ads shown to users of Facebook, Instagram, Twitter, Snapchat, and Spotify — targets "misleading information about vaccines" that leaves "the most vulnerable at risk".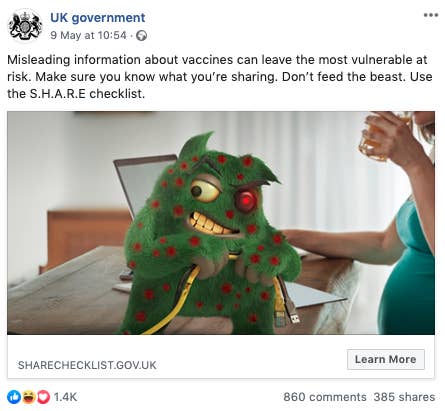 The trial comes as the percentage of children in England who had received their measles, mumps, and rubella (MMR) jab by their second birthday fell for a fourth year in a row to 91.2% — well below the World Health Organization's 95% target.

Health authorities have made a clear link between the decline and the spread of disinformation in recent months. The UK's chief medical officer, Dame Sally Davies, said the fall was caused, in part, by the spread of myths online, while health secretary Matt Hancock took aim at social media companies over the issue.
"We need to tackle this rise in people not vaccinating," he said, adding that companies like Facebook and Twitter need to "do more to take down lies, essentially, that are promoted on social media about the impact of vaccination".
Such messages are not hard to find. Despite efforts by Instagram to crack down on the spread of dangerous messages, typing "vaccines" into the search bar immediately returns a list of US anti-vaccine groups rife with disinformation.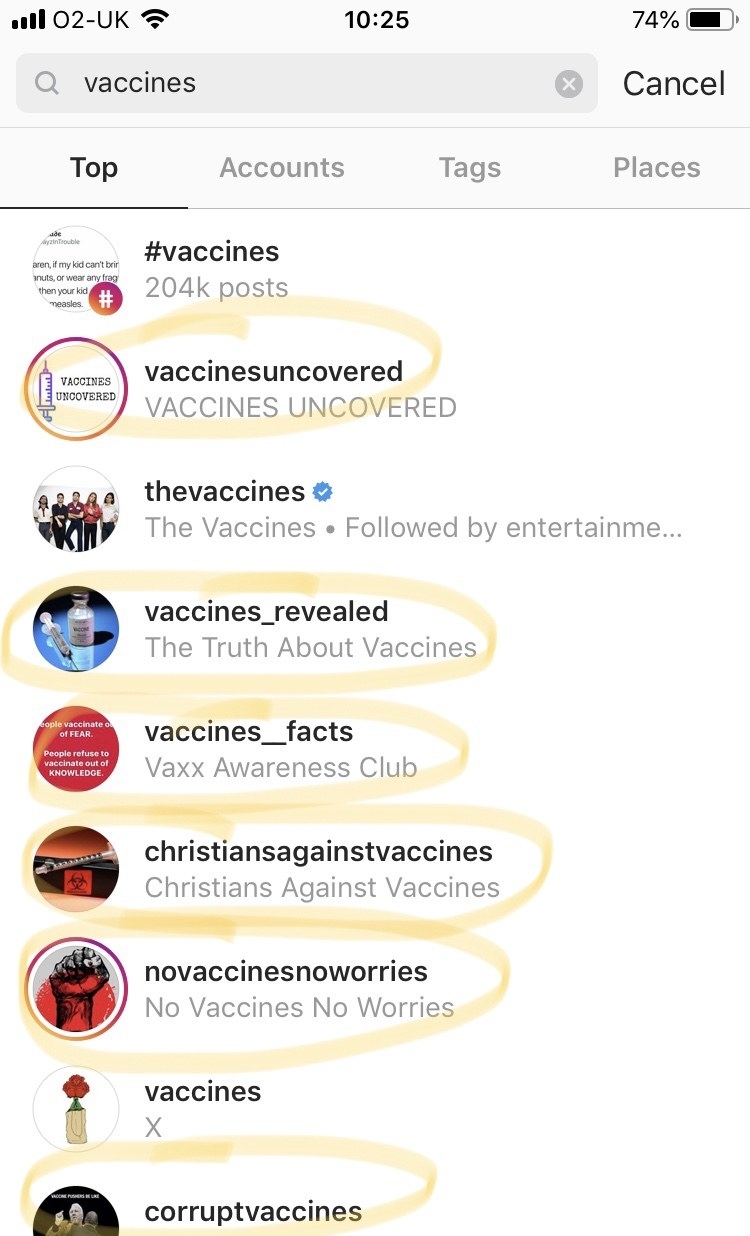 The "Don't Feed the Beast" campaign directs Britain's most active social media users to the government's SHARE checklist, which lists the tell-tale signs of fake news and disinformation.
A government spokesperson told BuzzFeed News that it aims to provide people with "the means to evaluate the information they're seeing online".
"Anti-vaccination is an example of how disinformation and misinformation have contributed to a serious real-world public health issue," they added. "We chose to include it in the campaign to highlight why it is important that people take simple steps to ensure they're not themselves contributing to the spread of harmful content."
The government's concern also comes as the number of confirmed measles cases in England rose to 913 between January and October 2018, up from just 259 cases in the whole of 2017.

It is part of a global outbreak. According to Public Health England, the disease has been imported from Europe, where 29 countries reported measles cases in January. US authorities recorded more than 1,000 cases in the first six months of 2019 — the highest number since 1992.

However, there are key distinctions between the US and the UK: First, whereas British officials have linked the fall in vaccination rates to disinformation, they have not linked the rise in measles cases to such disinformation.
That is because the majority of outbreaks in the UK are not among young children who have fallen through the gaps in recent years. Rather, they occur among teenagers and young people, many of whom were not vaccinated in the late 1990s and early 2000s in the wake of misleading research published about the MMR vaccine by discredited doctor Andrew Wakefield. Between July and September 2018, 65% of measles cases occurred in people over the age of 15.
Health officials in the US, however, have attributed the measles outbreak itself to a powerful anti-vax movement.
The second key distinction is that the UK does not, yet, have an anti-vax movement that is thriving on the same scale as in the US. A BuzzFeed News analysis of the UK's biggest anti-vax network reveals sluggish growth, meagre share rates, and a community plagued by infighting.
Content posted on the Facebook group Arnica, which promotes "natural immunity" in the UK, varies from links to fake news to memes to abusive material. BuzzFeed News has chosen not to include the disinformation in this article in order to prevent it spreading further.
Although it has around 36,700 members, Arnica's main group grew by less than 11% over the past 12 months, gaining just 3,500 members. Just one post about vaccines since June 2018 was shared over 1,000 times, while only around 30 posts reached over 100 shares.
New Facebook groups were created for members in Sheffield, Staffordshire, Suffolk, Oxford, Forres, central London, and the west London district Woodford Green in 2018 — but none has more than 70 members.

Members who post on the page appear to be predominantly female — and among them are mothers in their twenties and thirties who have stumbled across the page in what appear to be genuine efforts to seek medical advice.

Samantha Vanderslott, a researcher at the Oxford Vaccine Group, calls these "hesitant" parents — those who are neither "pro-" nor "anti-" vaccinations but somewhere in between.
One of them is a 29-year-old mother of two from Bedfordshire who turned to Arnica in March while weighing up whether to vaccinate her children. She asked members to "prove that [vaccinations] are bad", adding, "I'm going to get some hate".

Her post was met with a flood of comments, some of which were aggressive.
"I noticed people would get quite abusive when trying to promote anti-vax in other groups, which is why I said 'be gentle'. Most comments were quite nice but I just ignored the ruder ones," she told BuzzFeed News.

"I looked through quite a few of the links but none actually convinced me to not vaccinate," she added. "I am still very much pro-vaccinations and even more so after reading the links they gave."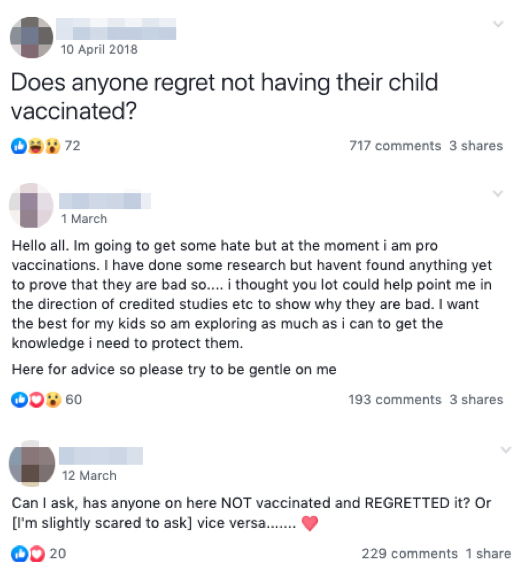 She is not the only mother who has been met with hostility and aggression by other members. Some people added caveats to their questions with lines such as "scared to ask".

One woman who asked whether parents on the group had considered single measles vaccines for their children, as opposed to the recommended MMR vaccine, was met with comments such as: "Is this a real question? Sorry but if you'll bend over that quickly for the government then there's no hope for any of us is there."

Another wrote: "Nope. I don't fear measles."
Public Health England estimates that the measles vaccination has prevented 20 million cases and 4,500 deaths in the UK since it was introduced in 1968.
Many mothers confessed on Arnica that they felt victimised by more militant members. The abuse reached such a stage that one parent left the group altogether in February after asking for advice. Her departure prompted a moderator to step in to condemn the "hostile" responses, which, in turn, led other members to denounce the abuse that they had faced on the group.

One woman wrote she will "never forget how cruel some of the comments were" on one of her posts, while another said she found responses "judgmental".
"Unfortunately I find the tone of quite a few 'know it alls' on here quite hostile," another member commented. "[It] shocks me that in a group where surely we have a common interest there are those that attack or feel the need to make others feel small."
"I'll never forget how cruel some of the comments were."
Vanderslott has argued that the importance of "anti-vaxxers" on vaccination rates is "exaggerated". She told BuzzFeed News there are a range of reasons, other than anti-vax messages, that might help to explain the fall in vaccination rates in the UK, including problems with access.

"In London, for example, with people moving around, it's quite hard to keep track of who's getting vaccinations, who needs vaccinations, and which families need support," she said. "It could be related to deprivation pockets as well."
After all, the overwhelming majority of people in the UK do vaccinate their children. Some of the material that members post on Arnica is aggressive towards that majority, crafting an image of those who choose not to vaccinate as somehow oppressed because of their defiance. One woman posted an anecdote in which a parent, who had unvaccinated children, takes revenge on a woman for her remarks about it by spreading a rumour that she had a sexually transmitted infection.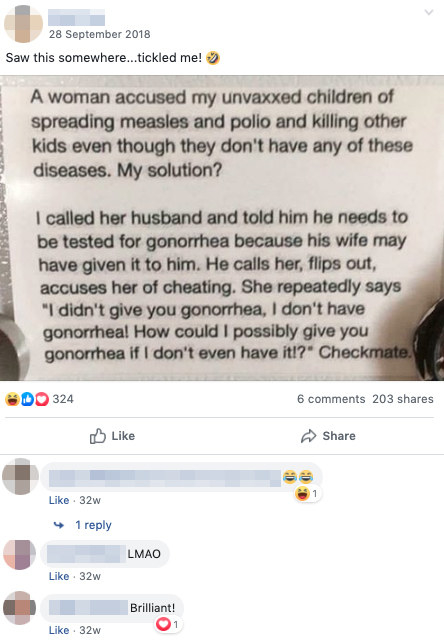 Among the offensive posts is a picture of Sloth, a character with a severely disfigured face from the 1985 cult hit The Goonies. "2035 'Everyone in my family is vaccinated and we are fine!'" read the caption.

"Love this!!!" one member commented. "Bit more inbred," wrote another, adding a monkey emoji.
Others weren't so sure. "I don't actually think this is ok," one woman commented on the picture. Another wrote: "I'm a non vaxxer but post[s] like this make you just as bad as the pro vaxxers doing stuff like this."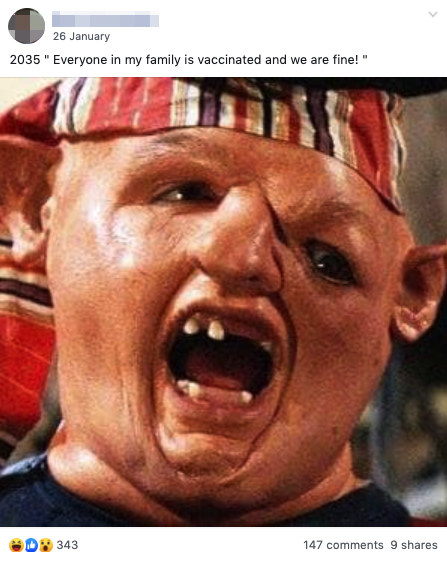 The picture was posted by one of Arnica's most active members. But the woman who shared it doesn't live in Britain. In fact, she posted it from nearly 3,000 miles away in Michigan, where she works part time as a "holistic health practitioner and vaccine safety truth advocate".

She told BuzzFeed News that she joined Arnica after reading about the case of Alfie Evans, the infant from Merseyside who had a rare degenerative neurological condition, and whose life support was removed following a legal dispute between his parents and doctors over his care.

US conservatives jumped on the case in support of Alfie's parents, who had wanted him to be treated in the Vatican. The case was soon seized on by hard-right figures and spread through Facebook to push two of their biggest talking points: the "right to life" and the "horrors" of socialised medicine. It ultimately became taken up by the US anti-vax movement too.
The woman from Michigan told BuzzFeed News that interacting with British members about Alfie's case led her to share, more broadly, "what [she has] researched" on the group.
Vanderslott told BuzzFeed News that, while vaccine injuries do exist, adverse reactions are extremely rare. Yet often parents cite vaccine injuries "if [they're] looking for something to blame that isn't very easily explainable, especially autoimmune diseases".

"You might even have had your child get ill around the same time [as the vaccinations]," she said. "It's unfortunate that it's something that's been
blamed for illnesses."
Social media companies have been grappling to tackle the spread of vaccine disinformation in recent months. Twitter announced a new tool last month that directs users in the UK to the NHS website when they search for information about vaccines.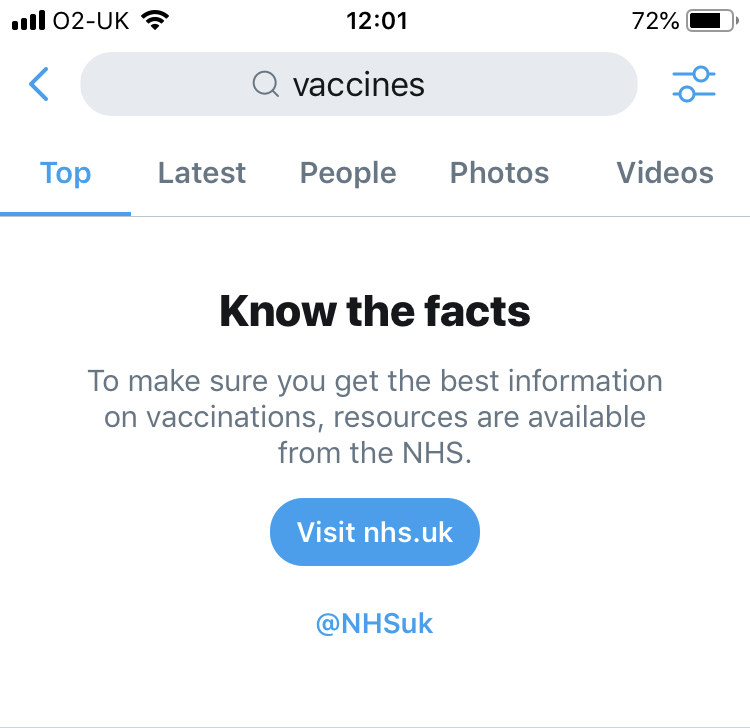 In April, Facebook said it would bar anti-vax groups and pages from advertising and ad-targeting topics like "vaccine controversy."

A Facebook spokesperson told BuzzFeed News that the company "[continues] to work to tackle health disinformation on our platforms".

"We are concerned about the spread of vaccine disinformation, which is why we take action to limit its distribution and counter it with educational information. Where we do identify it, we reduce its ranking on Facebook News Feed and Instagram Search, and if it is an advert we will reject it," the spokesperson said.
Instagram, which is owned by Facebook, has blocked hashtags that contain myths, such as #vaccineskill, as well as those that lead users towards disinformation on the hashtag.
However, related hashags, such as #vaccinesharm, still appear and lead users to disinformation. The company is developing a feature that will show a pop-up warning when a user searches certain anti-vax terms, and is working to remove vaccine hoaxes from the Search, Explore, and hashtag pages.
The moderators of Arnica did not respond to initial requests for comment.

After this article was published, a moderator contacted BuzzFeed News to say that social media has "little or no impact" on vaccine uptake, citing lack of availability as a principal explanation for parents not vaccinating.
She claimed that "offensive" posts, such as the picture of Sloth, were "extremely rare" and that the group relied on members to report unsuitable posts.

"I had made a request for the poster to delete the photo and put in the comments instead which is more discrete. I regret not following this request up because we do not support these images and opinions," she said.
"Every month we have between 50,000 and 100,000 posts and so we can't see every post... We try our best to remain as respectful and as kind as we can but of course some unkind comments get through."