Former UN Secretary General Kofi Annan Has Died Aged 80
The Nobel Peace Prize laureate "passed away peacefully" following a "short illness," the Kofi Annan Foundation said.
by
,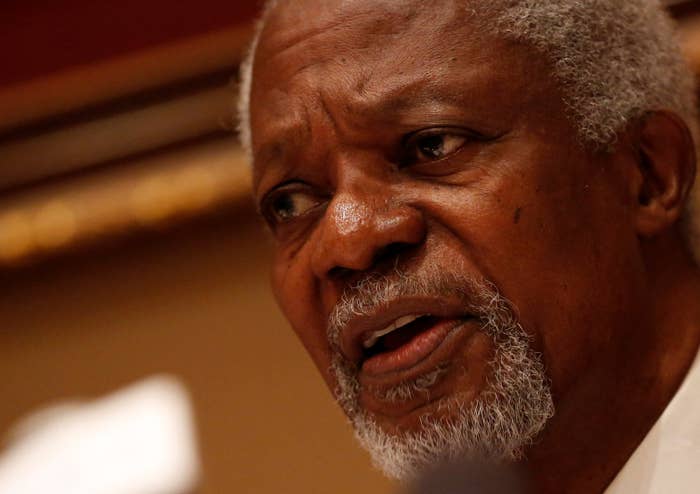 Kofi Annan, former United Nations secretary general, has died aged 80, his foundation said on Saturday.

The Ghanaian Nobel Peace Prize laureate, one of the world's most revered diplomats, "passed away peacefully" following a "short illness," a statement from his family and the Kofi Annan Foundation read.

Annan was born in 1938, in Kumasi, in the Gold Coast, 19 years before the colony gained independence from Britain and became Ghana. He earned degrees in international relations from Geneva's Graduate Institute, and later in management from MIT.

He had been working for the UN for more than three decades when he became the first black African secretary general in 1997, a post he held until his retirement in 2006.

One of his most notable achievements during that time was his "Call to Action" to address the HIV and AIDS pandemic in 2001. The Global AIDS and Health Fund was set up the following year, dedicated to financing prevention and treatment programs for AIDS, tuberculosis, and malaria.

He was jointly awarded the Nobel Peace Prize with the UN that year in recognition of his work "for a better organized and more peaceful world."

"Peace must be sought, above all, because it is a condition for every member of the human family to live a life of dignity and security," he said in his acceptance speech.
He made headlines in 2004 for his vocal opposition to the 2003 invasion of Iraq, which he said was illegal.
"I have indicated it was not in conformity with the UN charter. From our point of view and from the charter point of view it was illegal," he told the BBC.

Annan continued to work in international development after leaving the UN, setting up the Kofi Annan Foundation, which "mobilises political will to overcome threats to peace, development and human rights".

He was also chair of the Elders, a group of public figures created by former South African president Nelson Mandela that worked "together for peace and human rights."

In 2012 he was made the UN-Arab League's envoy to Syria, and created a six-point plan to end the civil war. He later resigned, citing the intransigence of the Assad regime and the rebels, and internal obstacles in the UN Security Council.

Four years later, he led a UN commission investigating the mass exodus of the Rohingya population from Myanmar.
He died in a hospital in Bern, Switzerland, according to Reuters. He is survived by his wife, Nane, a Swedish lawyer for the UN, his two children from his previous marriage to Titi Alakija, Ama and Kojo, and Nane's daughter Nina. They were by his side during his last few days.
As the news of his death spreads around the world, tributes have poured in to remember the late diplomat whose life and legacy is one of immeasurable impact.
In a statement, the current UN secretary general António Guterres paid tribute to Annan, calling him "a good friend and mentor".
"Kofi Annan was a guiding force for good. It is with profound sadness that I learned of his passing. In many ways, Kofi Annan was the United Nations. He rose through the ranks to lead the organization into the new millennium with matchless dignity and determination.
"Like so many, I was proud to call Kofi Annan a good friend and mentor. I was deeply honoured by his trust in selecting me to serve as UN High Commissioner for Refugees under his leadership. He remained someone I could always turn to for counsel and wisdom — and I know I was not alone. He provided people everywhere with a space for dialogue, a place for problem-solving and a path to a better world. In these turbulent and trying times, he never stopped working to give life to the values of the United Nations Charter. His legacy will remain a true inspiration for all of us."

In a statement, Barack Obama said: "Kofi Annan was a diplomat and humanitarian who embodied the mission of the United Nations like few others. His integrity, persistence, optimism, and sense of our common humanity always informed his outreach to the community of nations.
"Long after he had broken barriers, Kofi never stopped his pursuit of a better world, and made time to motivate and inspire the next generation of leaders. Michelle and I offer our condolences to his family and many loved ones."
British prime minister Theresa May hailed Annan as the "reformer of the UN".

In a statement, former British prime minister Tony Blair said: I'm shocked and distressed to hear the news about Kofi. He was a good friend whom I saw only weeks ago. Kofi Annan was a great diplomat, a true statesman and a wonderful colleague who was widely respected and will be greatly missed. My deepest sympathy to Nane and his family."
NATO secretary general Jens Stoltenberg said with Annan's passing, "The UN and the world have lost one of their giants".

The president of Ghana, Nana Akufo-Addo, paid tribute on Twitter to the celebrated Ghanaian and announced that the nation's flag will fly at half-mast across the country and in all of Ghana's diplomatic missions across the world, from Monday, Aug. 20, for one week.