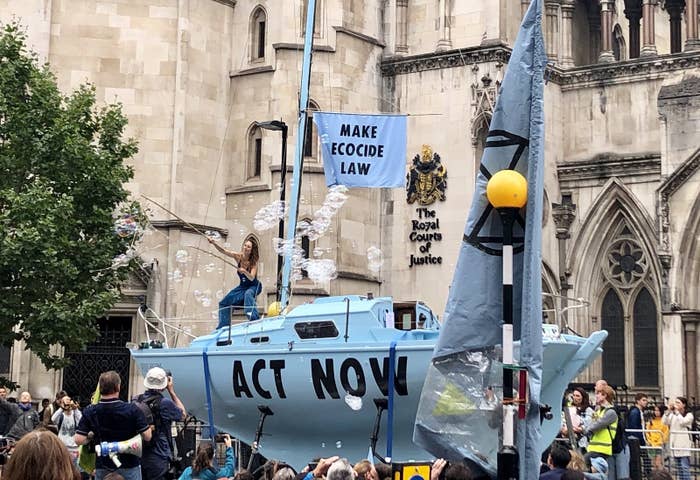 LONDON — Climate change protesters gathered outside the Royal Courts of Justice in London Monday to call for the destruction of the environment to be made a crime in UK law.
Several hundred people from the activist group Extinction Rebellion raised placards and cheered as speakers took to the deck of a blue boat installed outside the entrance to demand radical action to protect the environment.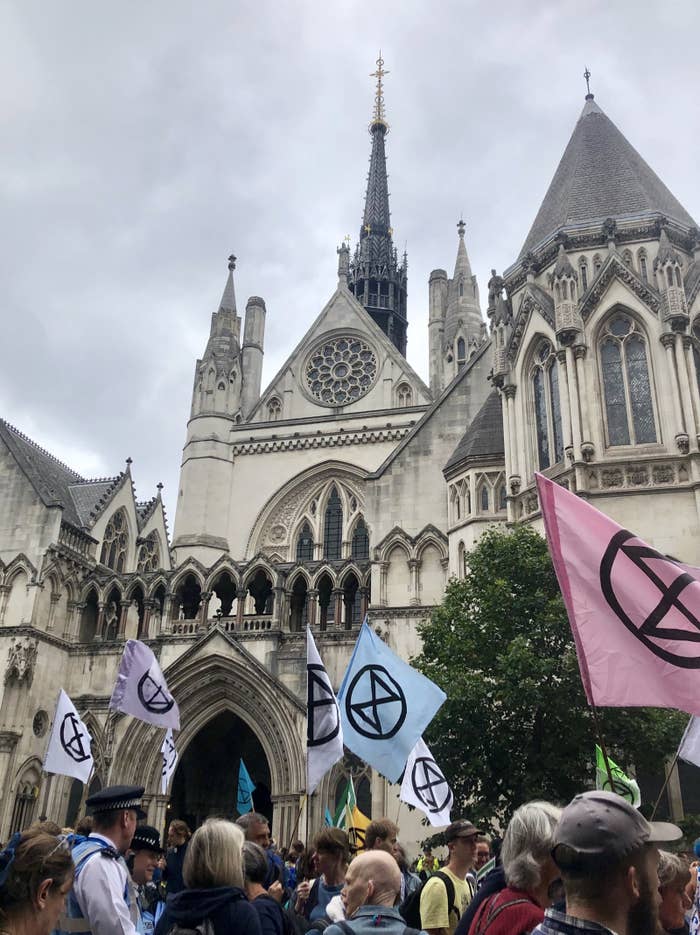 It was the first of a string of demonstrations organised by Extinction Rebellion taking place across the UK this week, with others planned in Leeds, Bristol, Cardiff, and Glasgow.
The demonstrations, dubbed the "Summer Uprising" or "Project Mushroom" by activists, come after protests in April brought parts of London to a standstill for more than a week. Extinction Rebellion's stunts, which included installing a pink boat in the middle of Oxford Circus, have resulted in more than 1,000 arrests.
Since then, the group has set up events in the US and more than 50 other countries.
The blue boat outside the Royal Courts of Justice, inscribed with the words "Act Now", was named after late activist and lawyer Polly Higgins, who campaigned for "ecocide" — the destruction of the natural environment — to be made illegal.

Police officers stood by as activists sang in unison, watched interpretive dance, and even partook in silent meditation.

At one point, a man among the protesters interrupted a speech by Jojo Mehta, director and coordinator of the "Stop Ecocide" campaign, lambasting the group for using tactics that cause inconvenience for others.
Mehta told BuzzFeed News: "When the status quo and the system[s] we live in are so toxic that they are literally destroying the planet day by day with business as usual, then disruption of people's live is entirely appropriate, and indeed the only way to create change."
Sisters Elle, 19, and Christa, 16, had travelled to London from Buckingham to protest, motivated by watching David Attenborough's recent docuseries Our Planet on Netflix.
"We wanted to for a while but there wasn't really a way for us to get here," Elle told BuzzFeed News.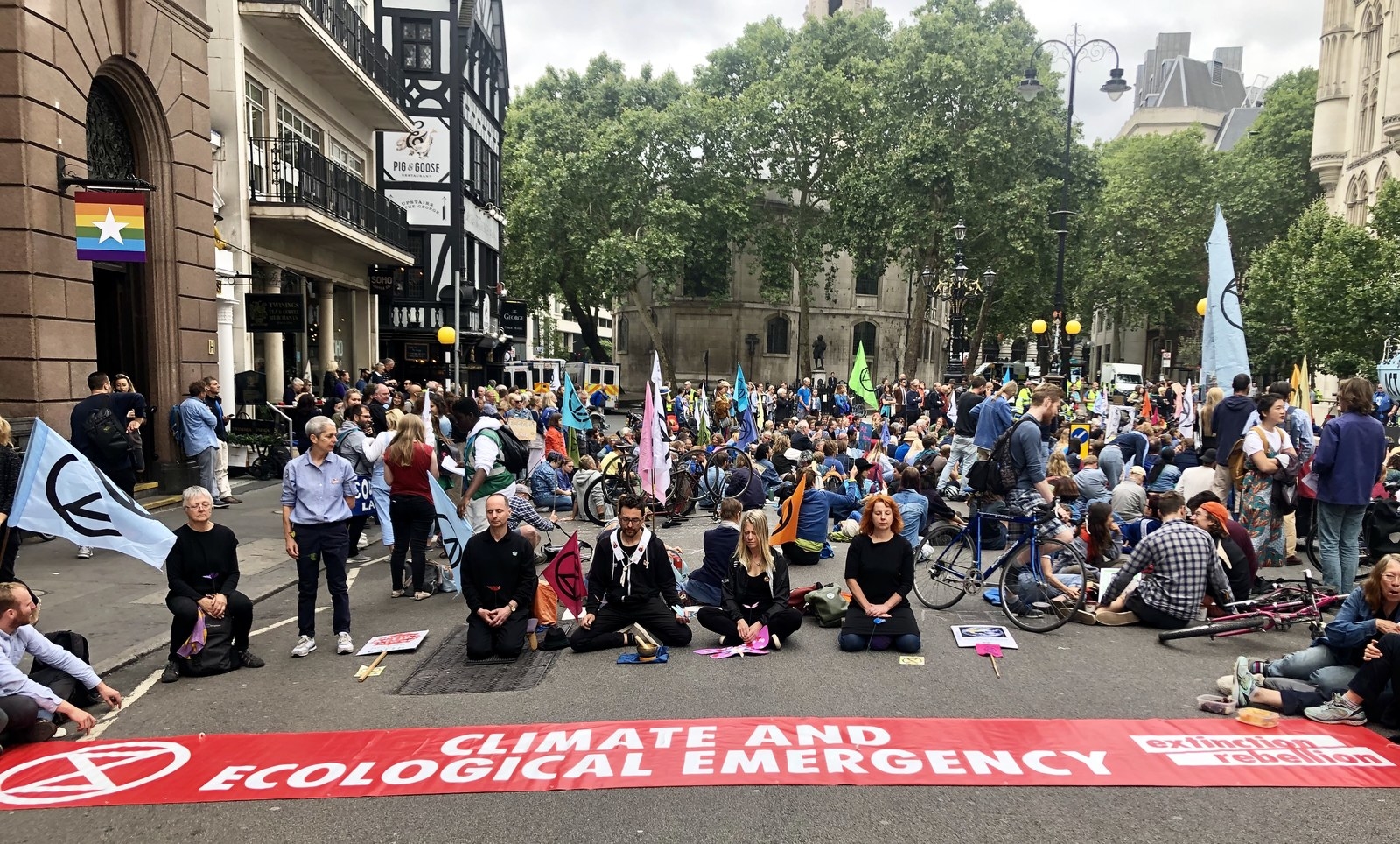 "It doesn't make sense to not support it," Christa said, adding that Attenborough has inspired a lot of people to demand change. "He's quite an icon for the movement."

Nearby, Rachel, 20, said she wants the government to make single-use plastics illegal, and have a greater focus on renewable energies. She gestured to chewing gum on the ground to illustrate the extent of products that are made from plastic.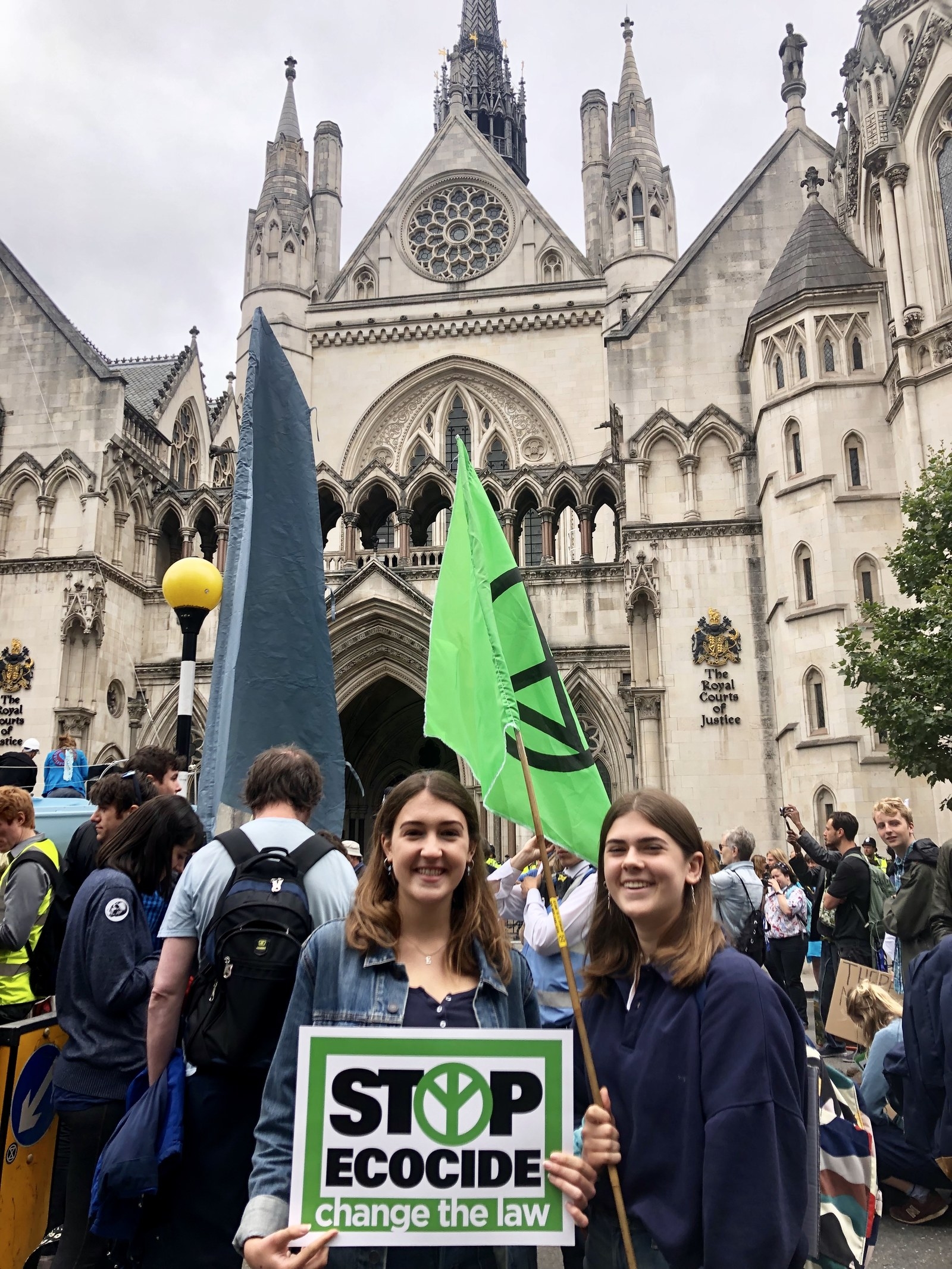 "It's frustrating when you're doing everything you can, but that's not enough for large-scale change," she said.
Her friend Molly, 21, said the government is "feeling pressure" to act. A few weeks after Extinction Rebellion's protest in April, the House of Commons adopted a climate emergency resolution that was mostly symbolic, but still set a precedent to demand more urgent action.

Extinction Rebellion has been billed as a youth movement, but protesters outside the Royal Courts of Justice ranged from teenagers to young parents with toddlers in tow to pensioners. "I think a lot of older people are really concerned about their children, their grandchildren," Eleanor, 17, told BuzzFeed News. "[The movement is] for everyone."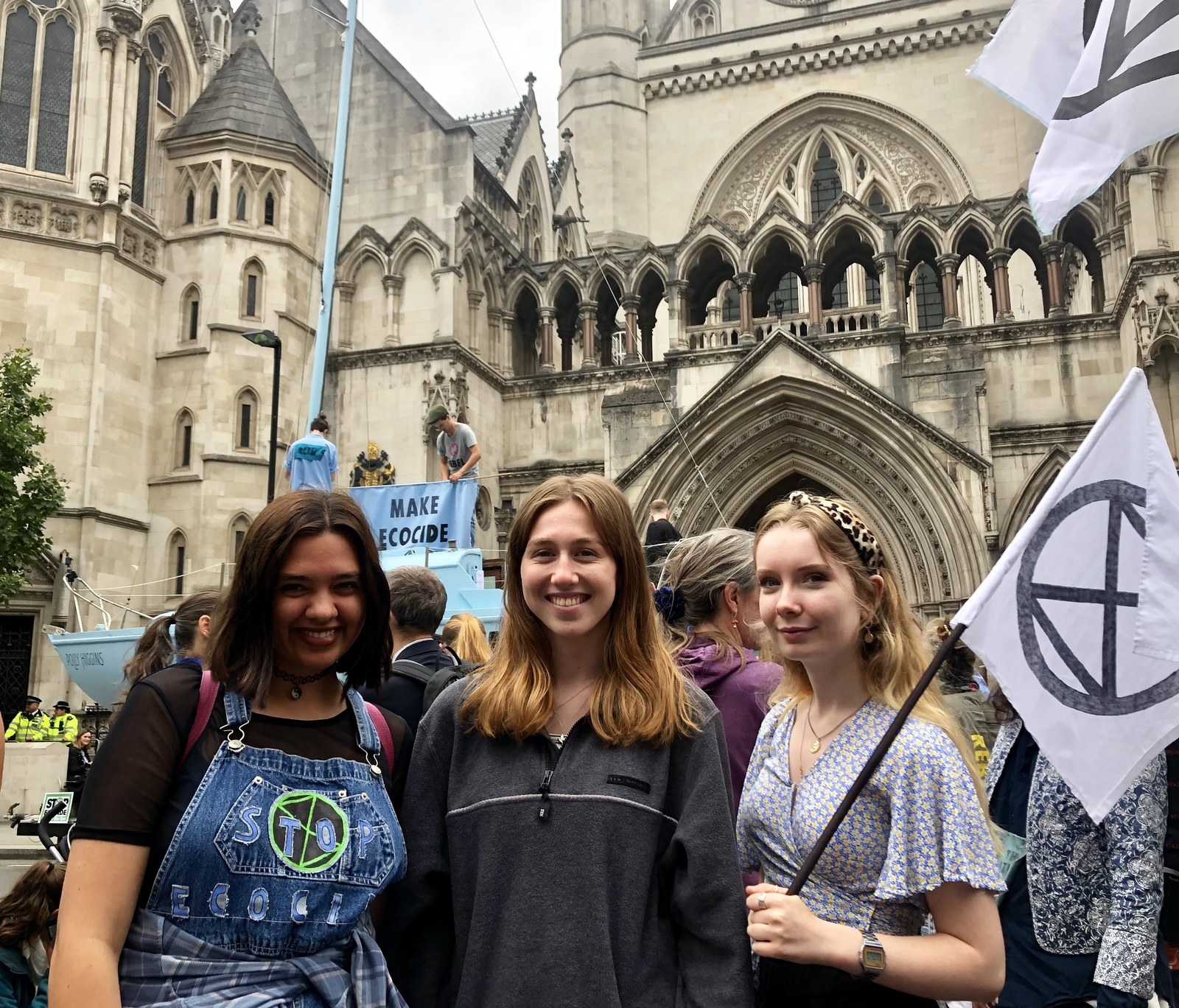 Ffion Thomas, 47, travelled as part of a group from Ashdown Forest in Sussex, and was waiting for more people to arrive when she spoke to BuzzFeed News.

"Getting up to London is not easy if you've got kids to sort out early in the morning," she said. "It's difficult. People are making a sacrifice coming up here. It's a nice day. People would rather be in their gardens. A lot of people have taken a day off work or a week off work to be here."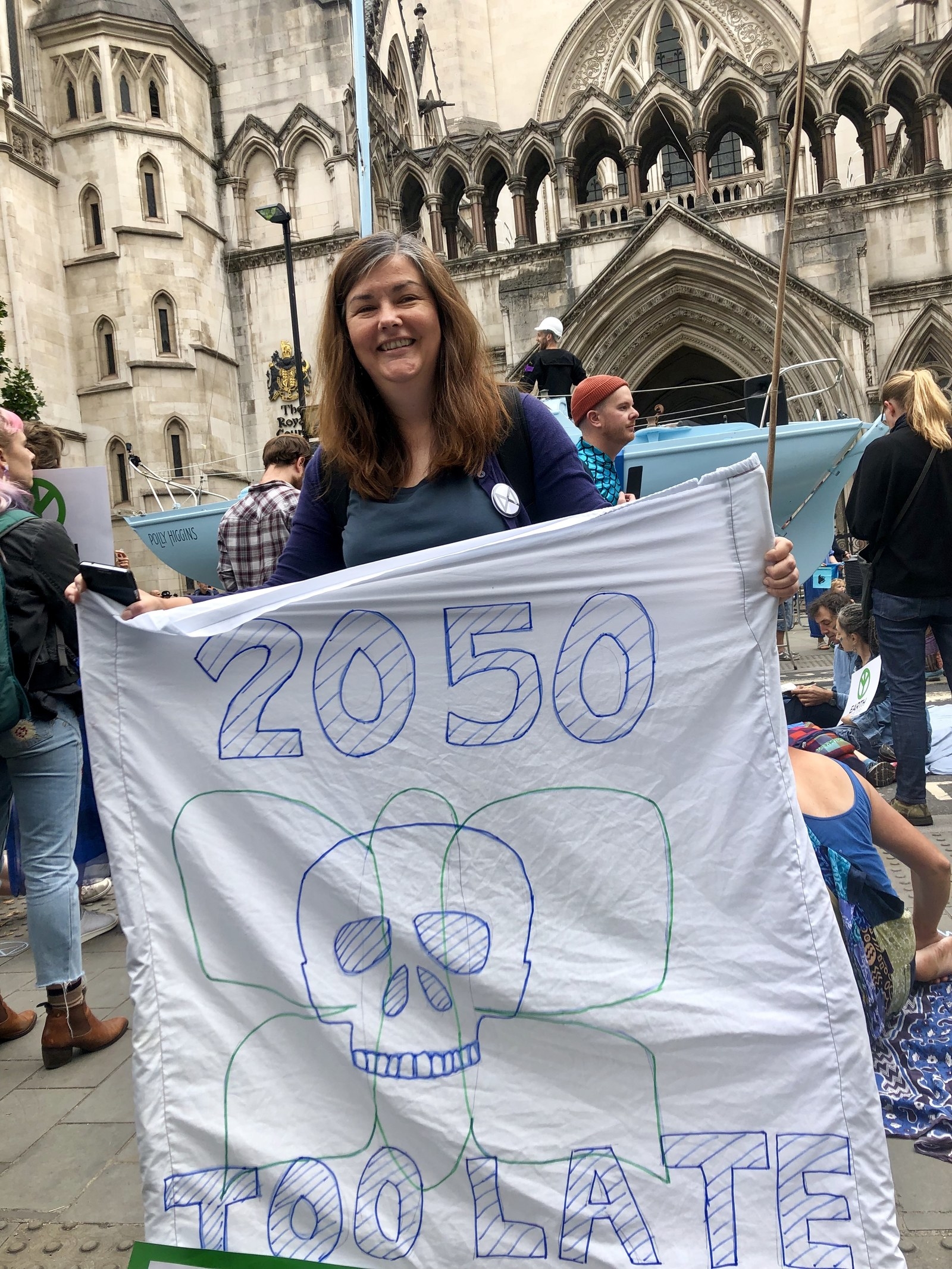 She began studying sustainability out of concern for the environment.
"Ecocide is where nature and the planet is being wiped out, and we want to make it a crime," she said. "I think it's as bad as killing people. We're making our planet uninhabitable."

Critics pointed out on Twitter that members of Parliament, not the Royal Courts of Justice, have the power to introduce new laws.
However, Jules, 18, who spoke to BuzzFeed News with friends Poppy, Zoe, Fahad, and Israel, said the choice of location was symbolic, and in memory of Higgins, who died in April.
Poppy, 24, added: "It is symbolic, but also the judges in this country have a lot of power." She pointed out that many of their protests are outside Parliament, including one scheduled for Friday.
Responding to criticism of the location, a spokesperson for Extinction Rebellion referred to the arrests in April.
"The Met, along with the CPS, should drop all prosecutions and instead our police should concentrate on crime, because pursuing these cases – peaceful people protecting the planet – through the courts will be a drain on the criminal justice system. It is a colossal waste of their time and resources," they said.
"Ecocide – the destruction of the natural world – should be made the basis of [a] law; a law that would stop mass damage and destruction of the natural world. So, that's why we are at the RCJ."

Extinction Rebellion protests also blocked traffic around key locations in other British cities on Monday, including Trongate in Glasgow, the National Museum in Cardiff, Bristol Bridge, and Leeds City Square.
The spokesperson said that disruption was necessary because "we face a direct existential threat".
"We are really sorry if some journeys are interrupted but the government's inaction leaves us no choice. In short, future disruption will be much, much worse, right across the board if we don't do something now," they said.
Protests are planned for the rest of the week.