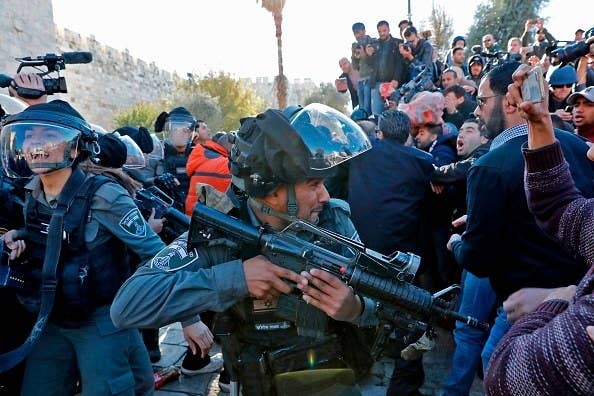 Two members of Hamas' armed wing were killed Saturday when an Israeli airstrike hit military facilities in the Gaza strip, bringing the total death toll to four in violence sparked by President Donald Trump's decision to recognize Jerusalem as Israel's capital.
According to the Gaza Health Ministry, another 15 people were injured in the airstrike, which was launched in retaliation after three rockets were fired at Israel from the Gaza strip on Friday, hitting the town of Sderot.
The violence follows the deaths of two protesters Friday, who were killed by Israeli gunfire near the border fence after Palestinians declared a "day of rage" over the US announcement.

Trump's declaration sparked unrest across the world, with the unrest turning violent in the Gaza Strip and the West Bank, where protesters reportedly hurled rocks at Israeli soldiers who responded with tear gas. The Associated Press, citing paramedics from Red Crescent and Palestinian health officials, reported that 13 people suffered injuries from live fire and 47 from rubber bullets in the two regions, and dozens more suffered respiratory problems after inhaling tear gas.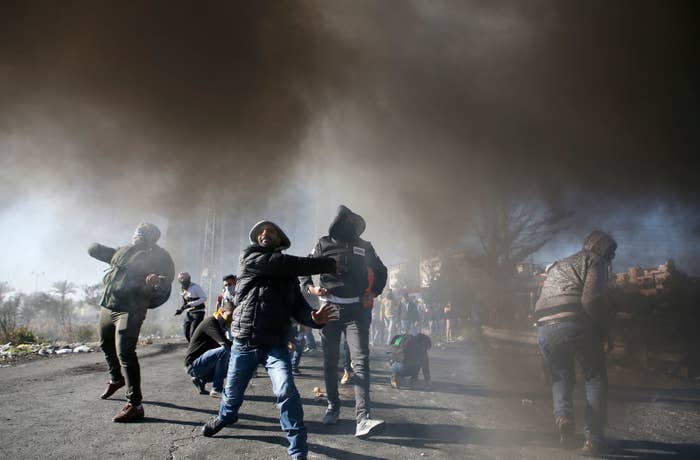 On Sunday, Israeli police said that a security guard had been stabbed near Jerusalem's central bus station. The guard was seriously wounded and his attacker arrested, police spokesman Micky Rosenfeld told AP.
Teenagers burned tires in the streets of Gaza, a self-governing Palestinian territory, and hundreds marched toward the border with Israel as loudspeakers from mosques called for mass protests over the Trump administration's decision on the status of Jerusalem.

In Jerusalem itself, worshippers at the al-Aqsa mosque marched toward the gates of the Old City Friday, chanting, "Jerusalem is ours, Jerusalem is our capital," and "We don't need empty words, we need stones and Kalashnikovs." Protesters in Bethlehem, where Palestinians had already turned off Christmas lights this week, also reportedly threw rocks at Israeli soldiers.
Across the Muslim world, protesters responded to the Trump administration's decision by taking to the streets. In Iran, state television reported that hundreds of demonstrators holding Palestinian flags chanted "Death to America" and "Death to Israel." Signs reading "Trump is the sponsor of terrorism" could also be seen on the streets of Baghdad.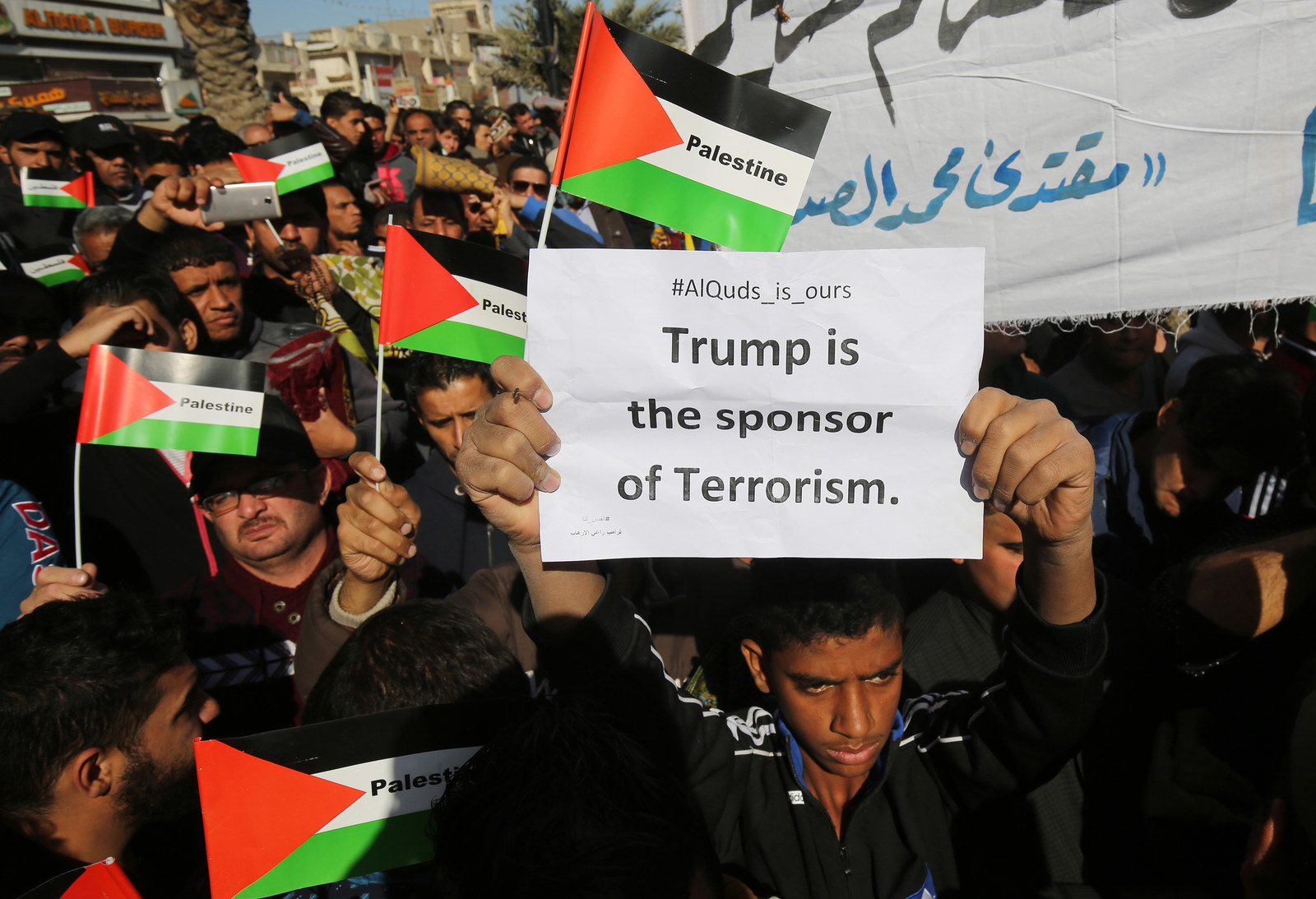 At a rally in Peshawar, Pakistan, protesters burned effigies of Trump, and protesters in the Indian-controlled region of Kashmir set US and Israeli flags alight.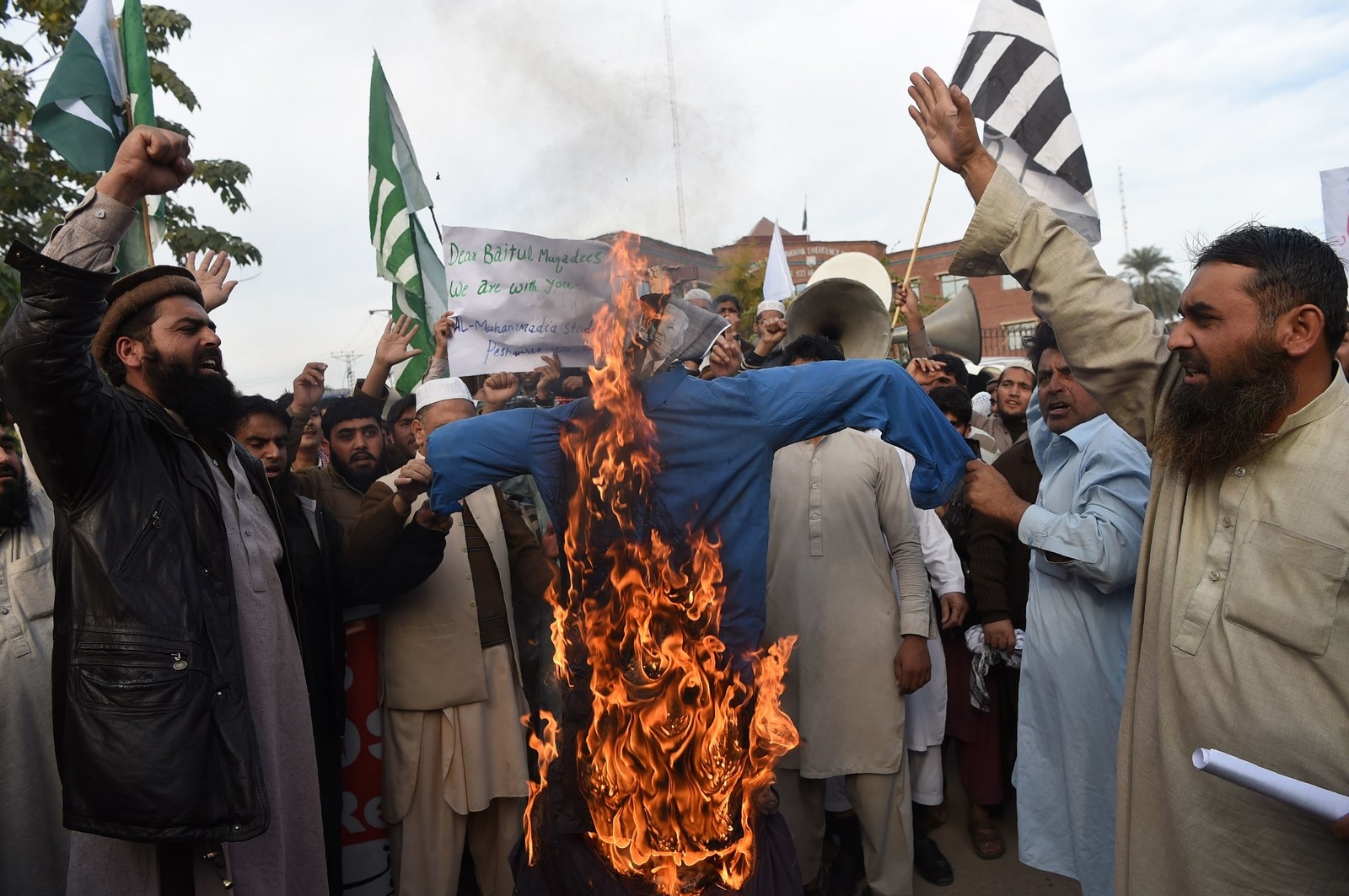 In Beirut, more than 5,000 people took to the streets, marching towards a cemetery where hundreds of Palestinians killed during Israel's 1982 invasion of Lebanon are buried.

In Cairo, hundreds of protesters chanted "Down with Israel," according to state-run television. A spokesperson for Egypt's Coptic Orthodox church said Saturday that it will not receive Vice President Mike Pence during an upcoming visit to the region. In a statement, the church called the US decision to recognize Jerusalem as the capital of Israel ""inappropriate and without consideration for the feelings of millions of people."
More than 3,000 people also took to the streets in Istanbul and other cities across Turkey to protest Trump's decision, reprising demonstrations after clashes Thursday that left about 100 people injured.

In a speech Sunday, Turkish President Recep Tayyip Erdogan called Israel "a terror state." "We won't leave Jerusalem to the mercy of a child-murdering country," Erdogan said.
And in the Jordanian capital of Amman, marchers shouted "Jerusalem is Arab."
Protests also took place in major European cities, where some demonstrators showed up in front of local US embassies to protest the Trump administration's decision to move the US embassy in Israel to Jerusalem.

In Italy hundreds of people, including Palestinians and supporters, protested in front of the US embassy in Rome Saturday, for a demonstration that also drew several Americans, according to the Associated Press. The outlet reported that protesters shouted anti-Israel slogans and waved Palestinian flags. One sign read, "Jerusalem is the eternal capital of the State of Palestine."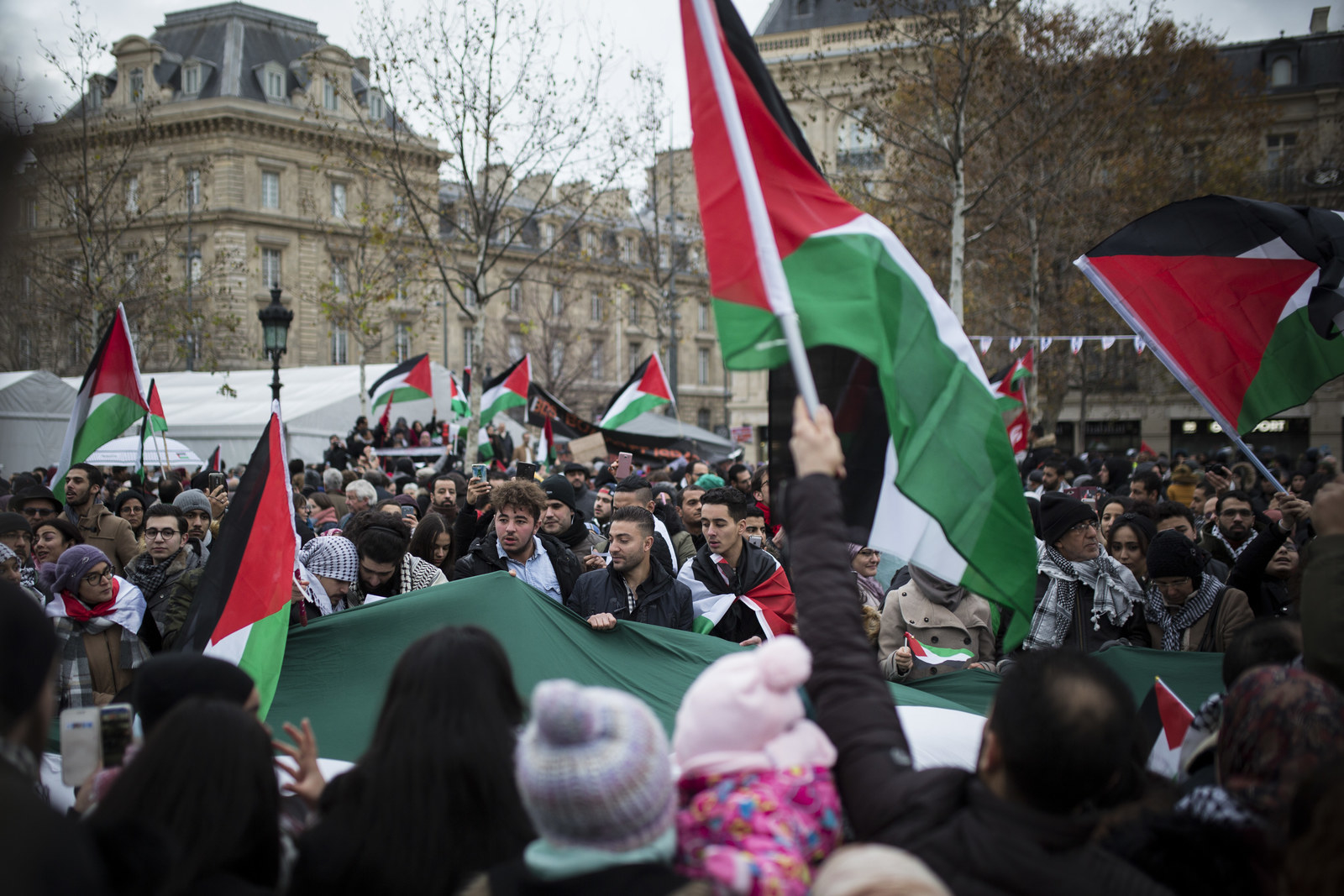 Hundreds of protesters also rallied at the Place de la Republique in Paris Saturday, decrying an upcoming meeting between Israeli Prime Minister Benjamin Netanyahu and French President Emmanuel Macron. According to the AP, the protests grew tense at one moment when pro-Israel demonstrators also showed up in the square, prompting police to separate the two groups.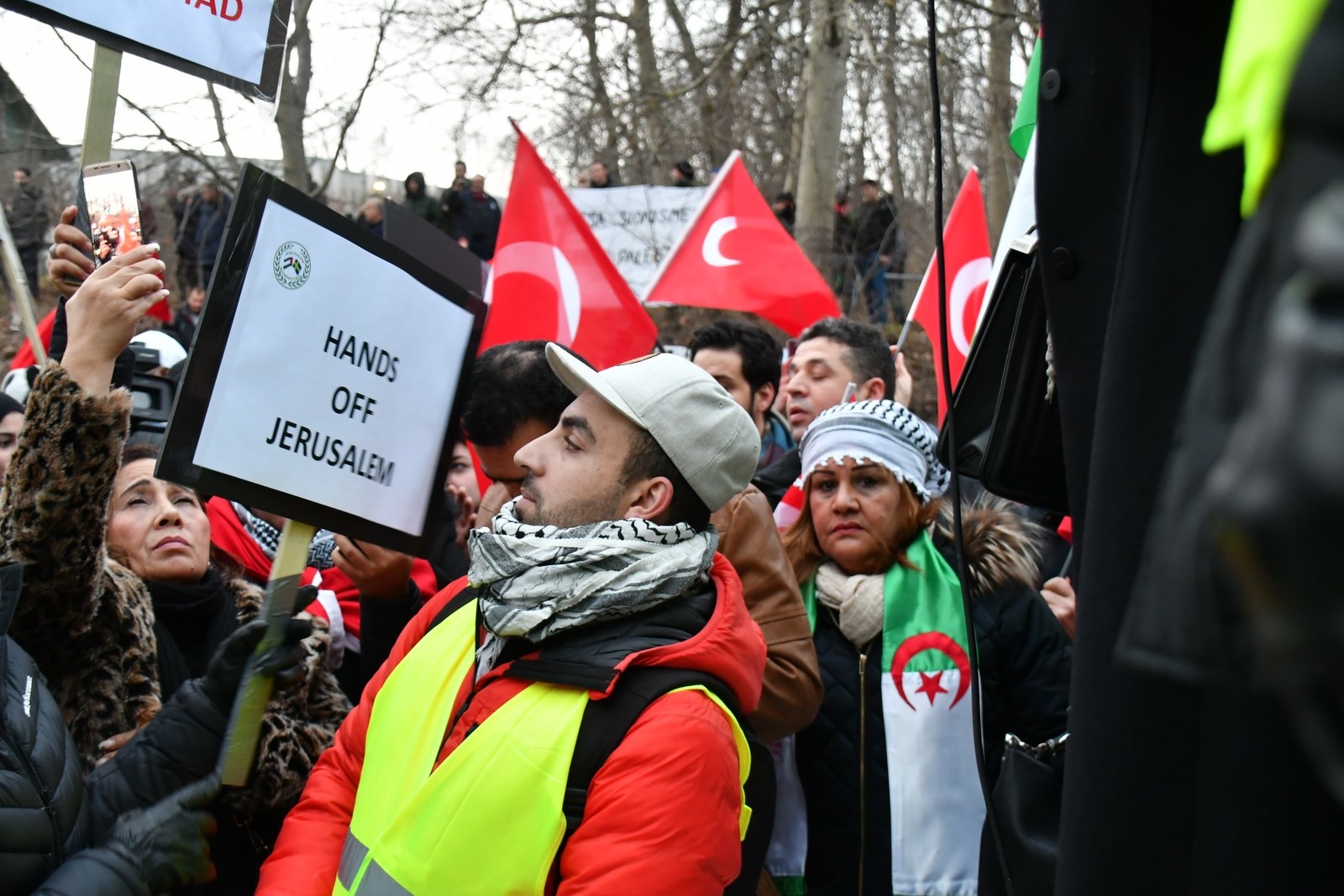 In Sweden, crowds marched on the US Embassy in Stockholm Saturday. The demonstration followed smaller protest in the southern Swedish city of Malmo Friday night, in which some of the demonstrators were heard yelling anti-Semitic slogans, according to Swedish media reports.
Later on Saturday, police responded to reports of a molotov cocktail attack on a synagogue in Gothenburg. Local media reported that fires were started outside the building but were quickly extinguished by the rain. There were no reports of injuries and three people have been arrested over the attack.
Though police have released no positive motive for the incident, the chairman of the Jewish Assembly in Gothenburg suggested to reporters that tensions over the US decision to recognize Jerusalem as Israel's capital may lead to attacks on Jewish communities in Sweden.
Amid the outbreaks of violence, the White House urged protesters and parties involved to "act in a matter conducive to peace." Speaking to reporters on board Air Force One Friday, White House press secretary Raj Shah said that "the president has called for calm and moderation," and is "hoping that the voices of tolerance prevail over purveyors of hate."
Trump, he added, was "fully aware of potential ramifications" of his decision to recognize Jerusalem as Israel's capital, but believes it was the "right decision."
This is a developing story. Check back for updates and follow BuzzFeed News on Twitter.