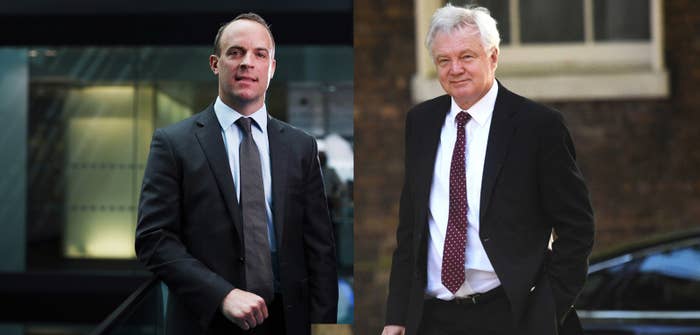 Eurosceptic MP Dominic Raab has been appointed as Brexit secretary, following David Davis's dramatic resignation from the post on Sunday night.
In a sign that the Brexiteers in the Conservative party are deeply divided, the former housing minister accepted the post from Theresa May on Monday morning – as Davis warned the UK was giving away "too much, too easily" to the European Union.
Raab had campaigned to leave the EU and been touted as a contender if the party decided to replace May with a leader who would take a harder line on Brexit.
A former City lawyer, Raab has long been seen as destined for a big ministerial job and party insiders were surprised he wasn't given a promotion in January's reshuffle. He was moved to the housing brief from justice and missed out on a position in cabinet.

In what was seen as a veiled threat by Downing Street to the Brexiteers in cabinet, Raab was floated last week as one of the junior ministers who could be promoted if one of the Eurosceptics resigned in protest.

Davis said on Monday he could not be "front and centre" delivering a Brexit policy that he did not believe in – but insisted he wanted May to remain prime minister.
His late-night resignation came two days after Number 10 proudly declared that the whole cabinet had rallied behind the PM's Brexit plan at a special Chequers summit.
May is due to address the House of Commons on the Chequers deal on Monday afternoon, where she is likely to encounter deep frustration from her own Brexiteer MPs over the apparent "softer" direction of travel.
She will head straight from there to a private meeting of the 1922 committee of backbench Tories, where views are likely to be aired more vociferously.
Labour's shadow Brexit secretary, Keir Starmer, said: "Dominic Raab's appointment to the Brexit department changes nothing. The deep division at the heart of the Conservative party has broken out in public and plunged this government into crisis."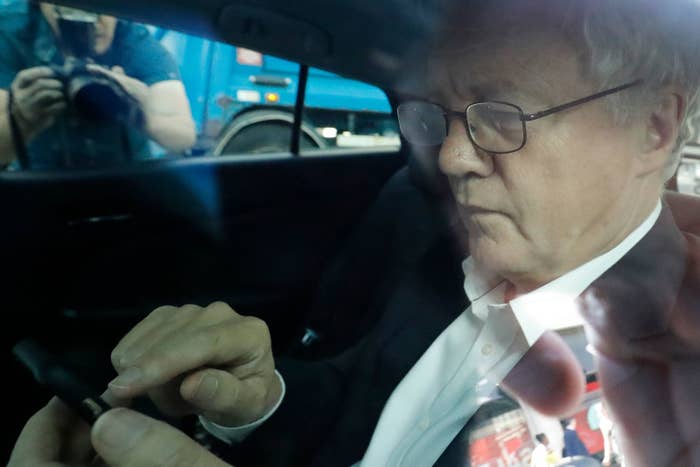 Meanwhile, Number 10 has planned a number of briefings on the UK's new negotiating position for not only Conservative MPs, but those from Labour, the Liberal Democrats, and the SNP as well.
That has infuriated some Tory MPs, according to Westminster insiders. The PM's spokesperson refused to comment on why the briefings had been widened to opposition MPs.
Brexit minister Steve Baker followed Davis's lead by also resigning, but Davis dismissed speculation that he would trigger a mass Cabinet walkout.
All eyes in Westminster have turned to foreign secretary Boris Johnson, an ardent Brexiteer who told the Chequers meeting that defending the PM's Brexit plan was like "polishing a turd".
He has yet to say anything publicly but has his own press conference later on Monday at the Western Balkans summit in London.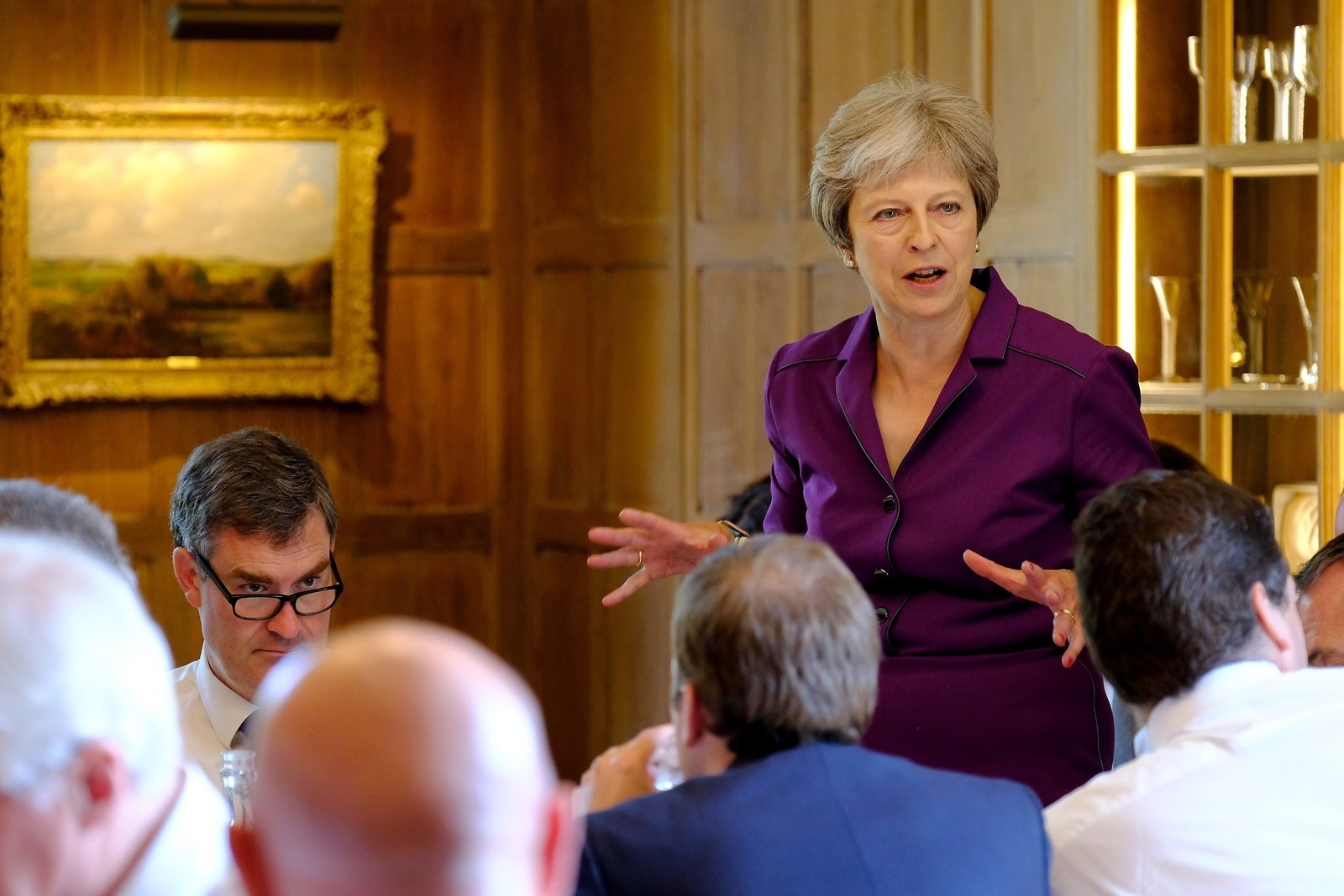 Davis told BBC Radio 4's Today programme: "In my view, this policy has got a number of weaknesses
"I would be front and centre in delivering this policy, explaining it to the House, persuading the House it is right, and then going out and delivering it with the EU.
"Frankly, just as it was known what the policy was, it was also known I had concerns about it. It would not have been a plausible thing to do and I wouldn't have done a good job at it."
He said his main fear was that Brussels would demand even more concessions from the UK. "They'll take what we offer already and then demand some more," he said.
"It seems to me that we're giving too much away, too easily."
And Davis denied that he had weakened the PM and warned against a leadership challenge.
"It is one day, she has got to have a Brexit secretary who will deliver on her strategy," he said. "That is not weakening, that is actually enhancing the effectiveness of the strategy."
He added: "I like Theresa May, I think she is a good PM. We have a difference over this strategy."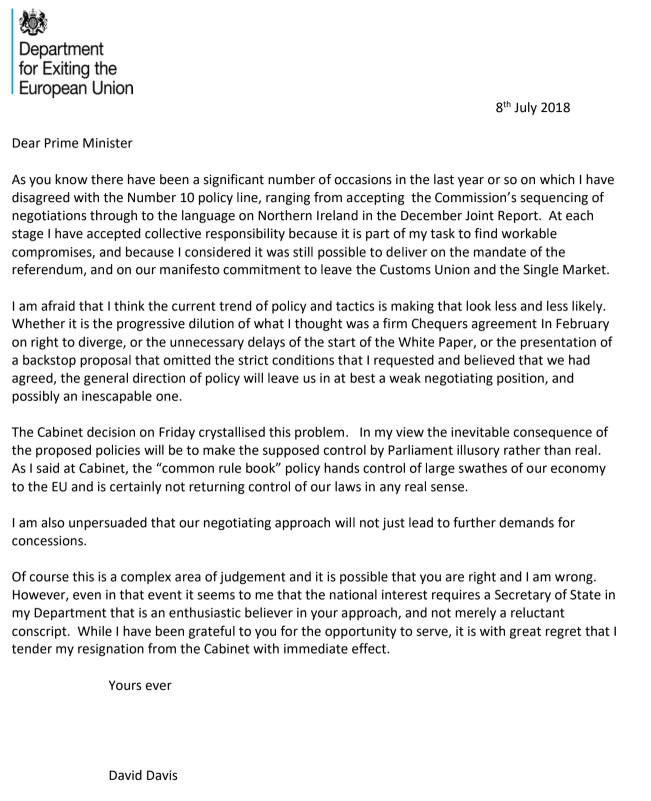 On the BBC's Daily Politics show on Monday, Baker also played down talk of a leadership challenge to May. He said: "It's time for everyone to simmer down and work out what they believe in and offer constructive solutions."
He added: "There's absolutely no point going back and visiting the leadership contest which was. It's a sort of childish naivety to think that with the clock running towards exit day that there is any practical possibility, even if someone didn't support her as prime minister, of thinking that there is a constructive way forward down that path. There is not.
"What we need is a change of policy, and not to be challenging the leader."
The resignations come at a crucial time in Brexit negotiations, with just a few months before the UK is due to leave the EU in March 2019.
Jacob Rees-Mogg, the Tory MP who leads the European Research Group of Brexiteer MPs, said he hoped the move would send May back to the drawing board.
"These proposals will have to come to the House of Commons in legislation and the question is, will they command support from Conservative MPs?" he told BBC Radio 5 Live.
"And I think without David Davis there, without his imprimatur, it will be very difficult for them to get the support of Conservative MPs, and therefore the prime minister would be well advised to reconsider them."
Tory MP Bernard Jenkin told Today: "If the prime minister thinks she has consent and support from every member of her cabinet she is deluding herself, as we have just seen."