In 1977, award-winning photojournalist Michael Gaffney was working on a New Jersey paper when he heard Elvis Presley had died.
Disappointed that he never got an opportunity to photograph the King, Gaffney made it his mission to photograph another legend of the time who was nearing the end of his career: the heavyweight champion of the world, Muhammad Ali.

Road work at the Muhammad Ali boxing camp in Deer Lake, Pennsylvania, 1977. Ali had the names of boxing greats painted on the boulders he ran past: Rocky Marciano, Jack Dempsey, Jack Johnson, Joe Louis, and Joe Frazier.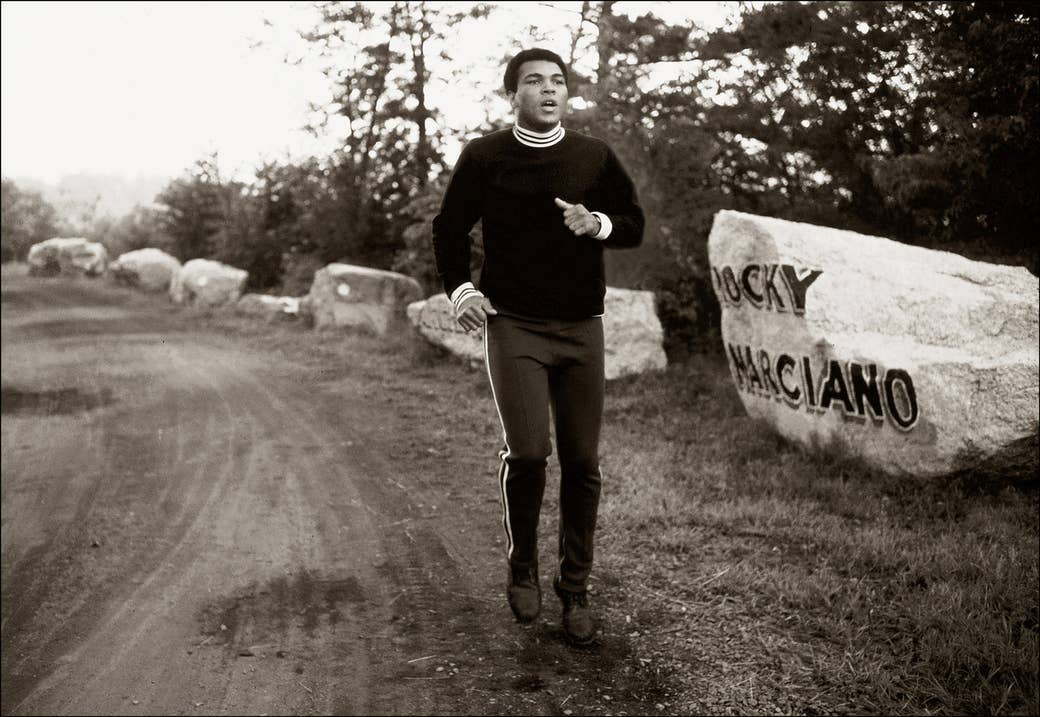 Gaffney told BuzzFeed: "Muhammad Ali was in training for the Earnie Shavers fight in Deer Lake, Pennsylvania, a three-hour car ride away. I was on a two-week vacation and had always wanted to photograph the Champ so I called my photo agency and asked them if they were interested."
Press conference hours before the Earnie Shavers fight, Madison Square Garden, 1977.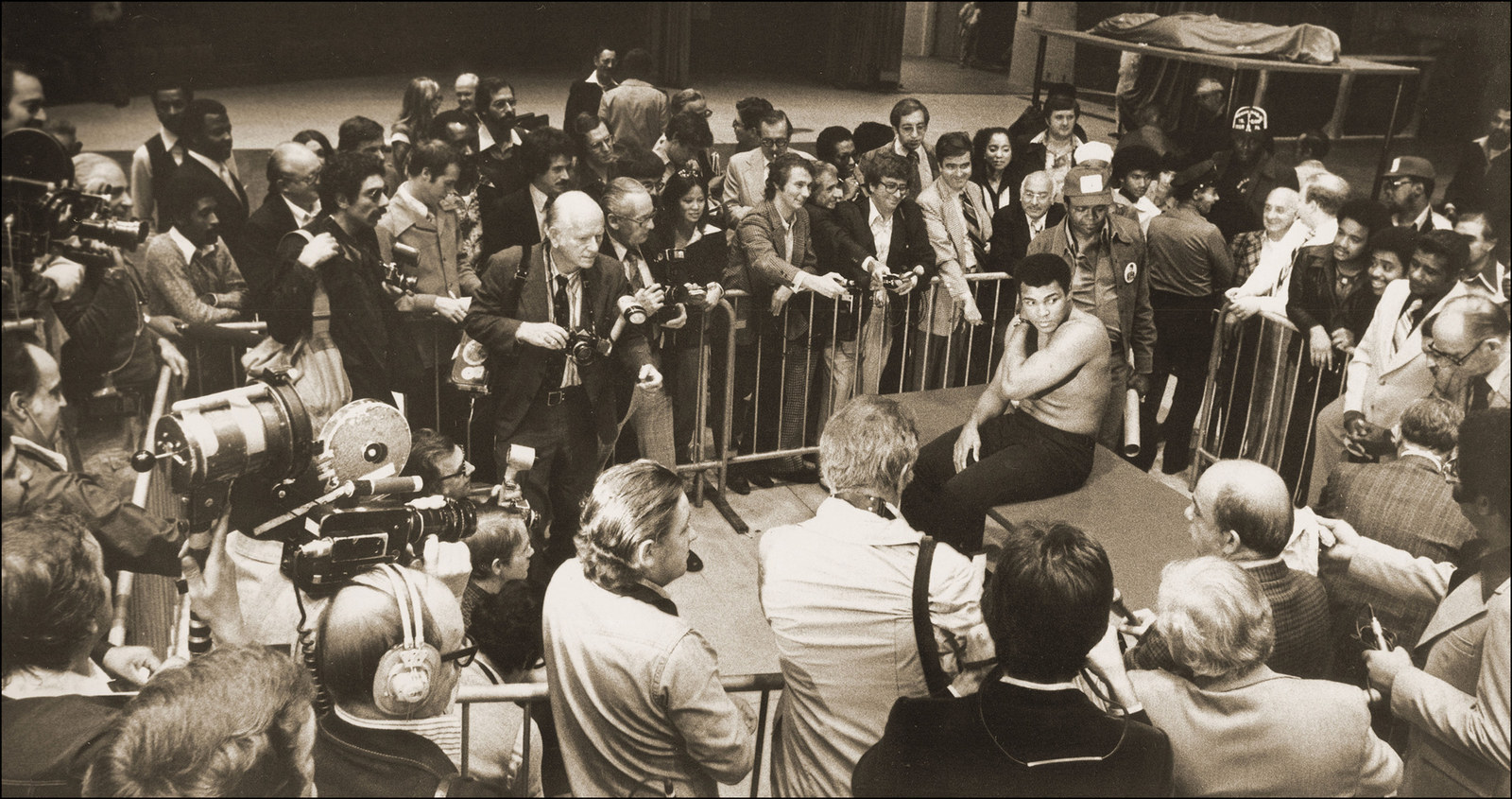 "When I walked in to meet Muhammad at his boxing camp, he was sitting on a couch in his robe in the training room and asked me where I was from. I told him Gamma-Liaison, an international photo agency, and showed him my credentials. His eyes lit up and he said, 'Good, take whatever you want.'"
Sylvester Stallone, who was inspired to write Rocky after seeing the Muhammad Ali/Chuck Wepner fight in 1975, meets Ali in the locker room to wish him luck before the fight.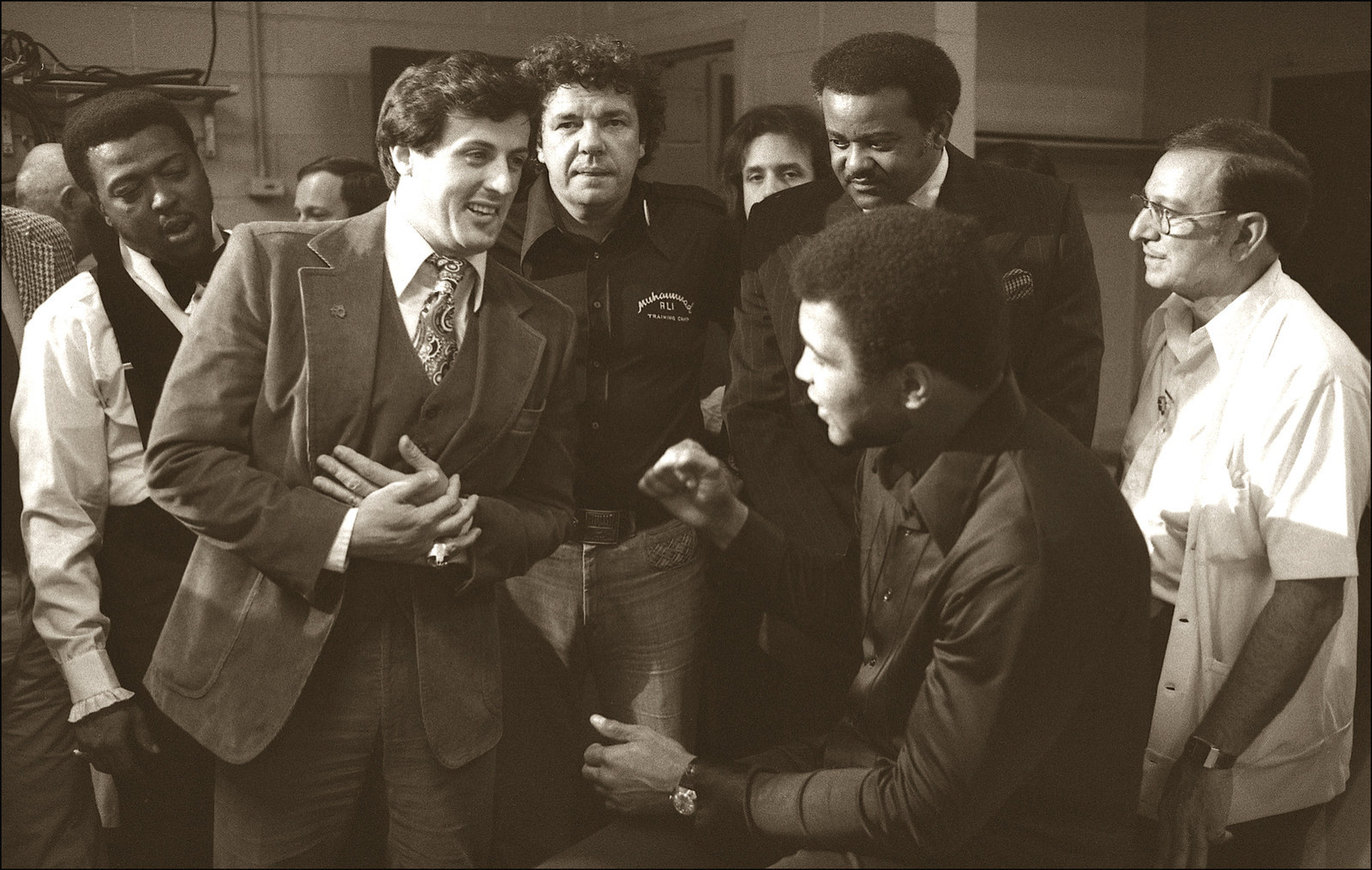 "I lived in the camp for 10 days, shooting everything, and developed a working friendship with the Champ."
In the hours before his fight with Earnie Shavers fight, Ali worked alone on his hand and foot speed. He's pictured here in an empty Madison Square Garden.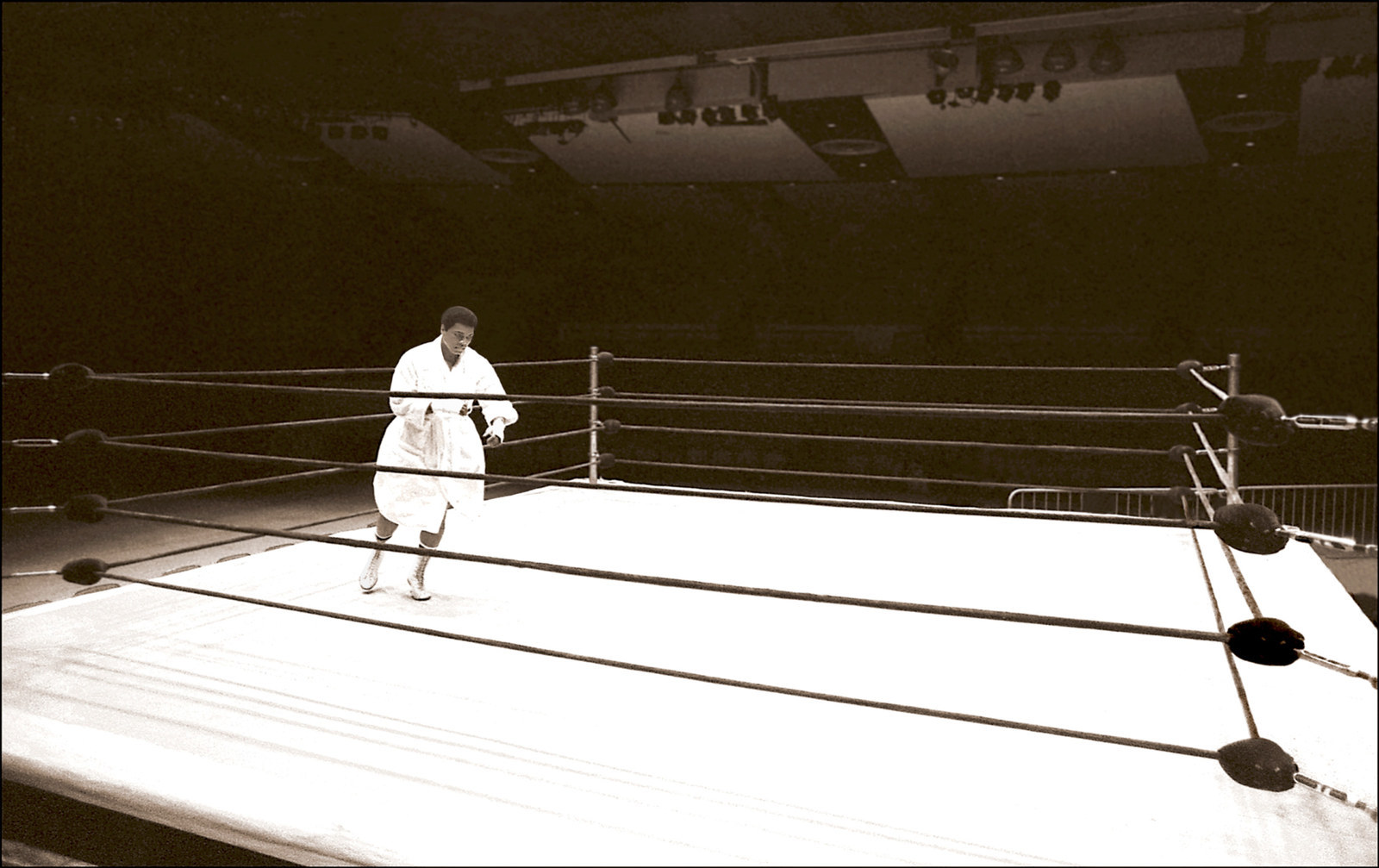 At one point Ali challenged Gaffney to a sprint. "I was young and in shape and had running shoes on. He blew me away with his speed and probably could have played football with his size. He was a terrific athlete, perfectly proportioned with lightning-fast hand-eye coordination."
Madison Square Garden, NYC.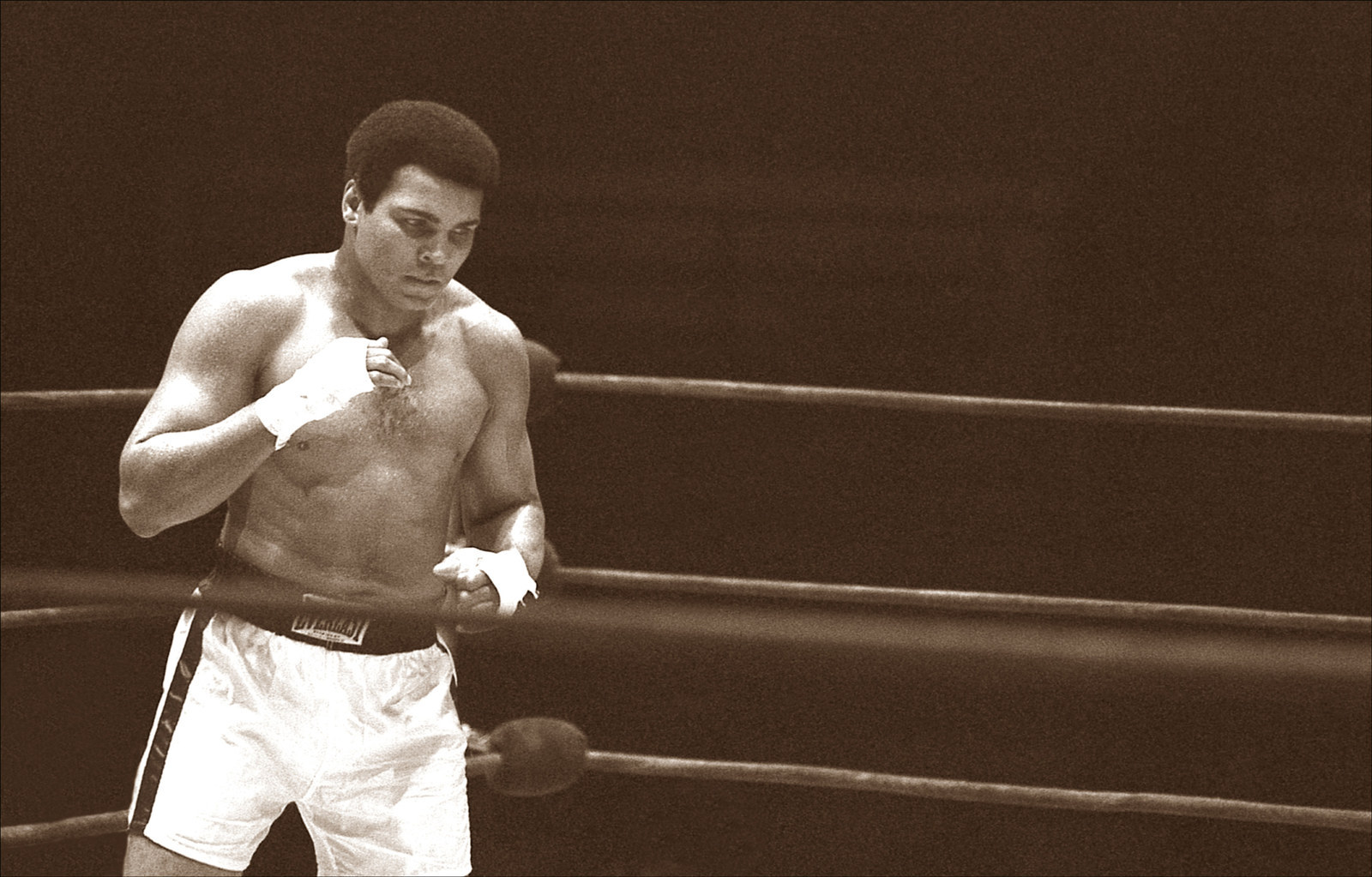 "When I went into his office to tell him I was leaving the next day, he said, 'Mike, you can't leave, I need you to be my personal photographer.'"
Minutes before the fight, Angelo Dundee tapes Ali's hands in the locker room.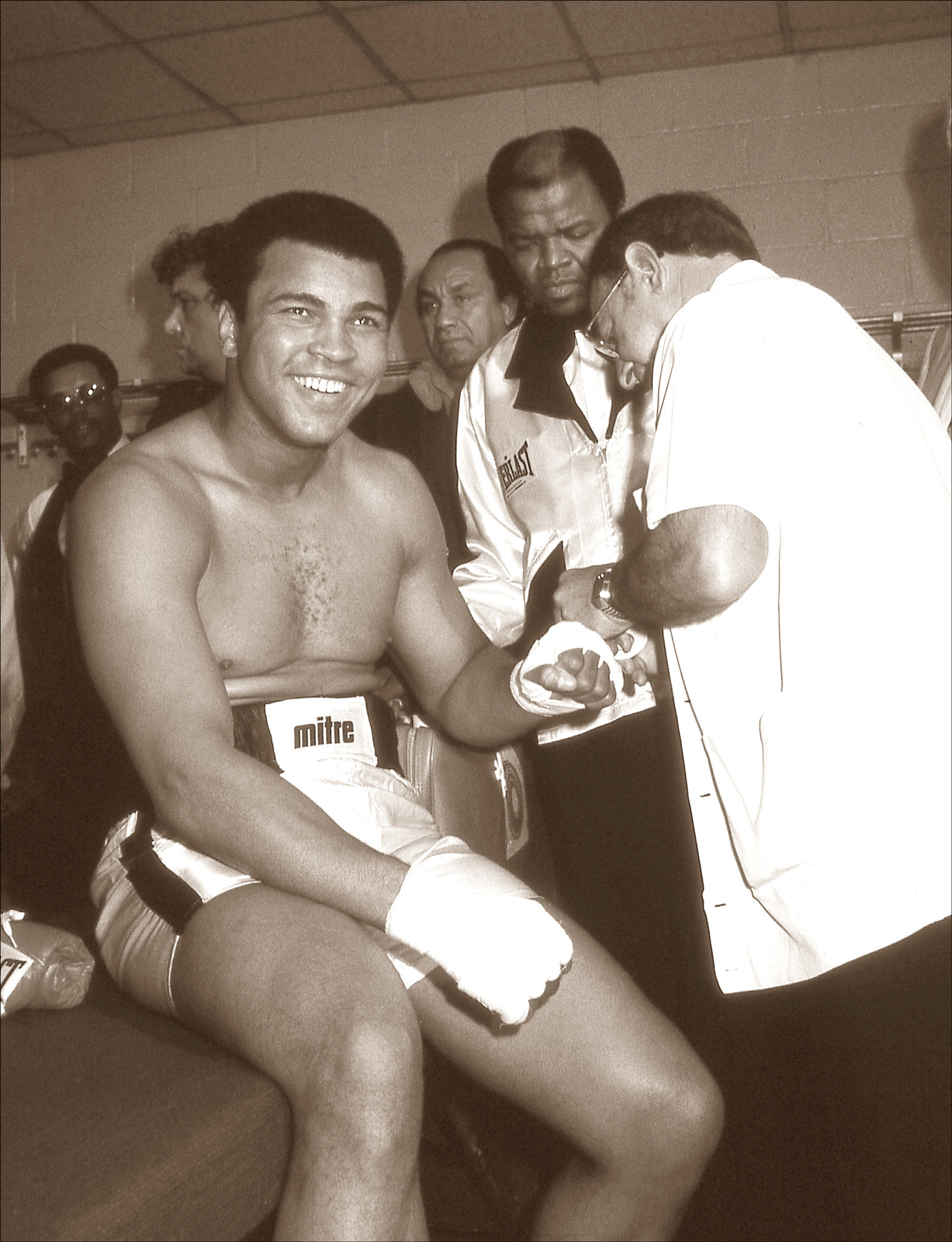 Gaffney had his job as chief photographer on a newspaper to get back to, and Ali already had a personal photographer in his friend of many years, Howard Bingham. But Bingham was running for Congress in Los Angeles and leaving the training camp behind.
Ali and Earnie Shavers, Madison Square Garden, NYC, 1977. Ali won after 15 rounds.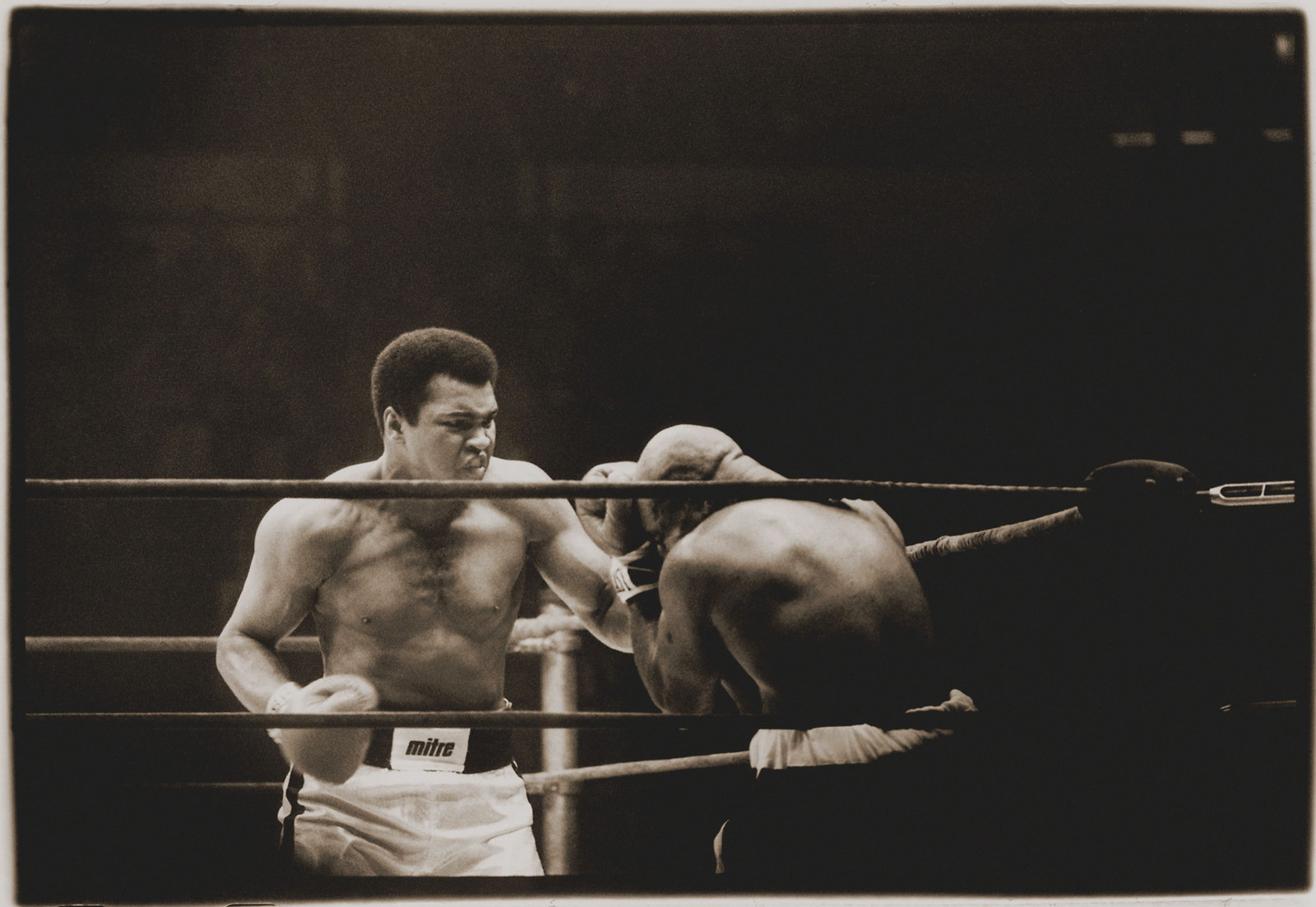 "Ali said in his best Marlon Brando Godfather voice, 'I'll make you an offer you can't refuse.' I laughed and said, 'I've got to talk with my wife.'"
Fifth Street Gym, Miami Beach, 1977. This was where Ali began his boxing career after winning gold at the Olympics in 1960. It was gritty, basic, and home to boxing manager Angelo Dundee and boxing great Sugar Ray Leonard.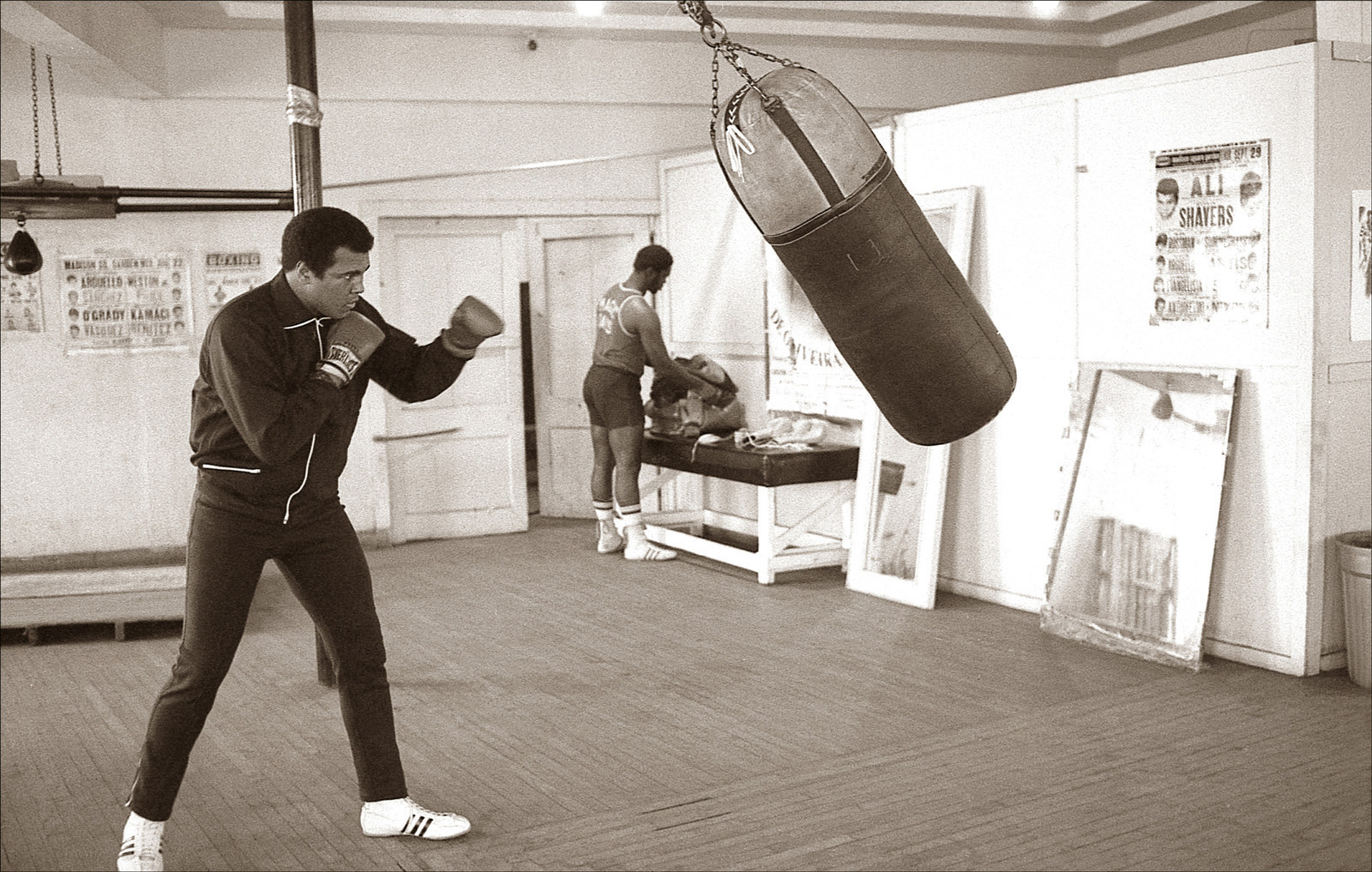 Gaffney became Ali's personal photographer for a whole year. He covered three fights and took 8,000 photographs.
Ali trained his legs by running on the sand in heavy combat boots so his boxing shoes would feel lighter in the ring. Miami Beach, 1977.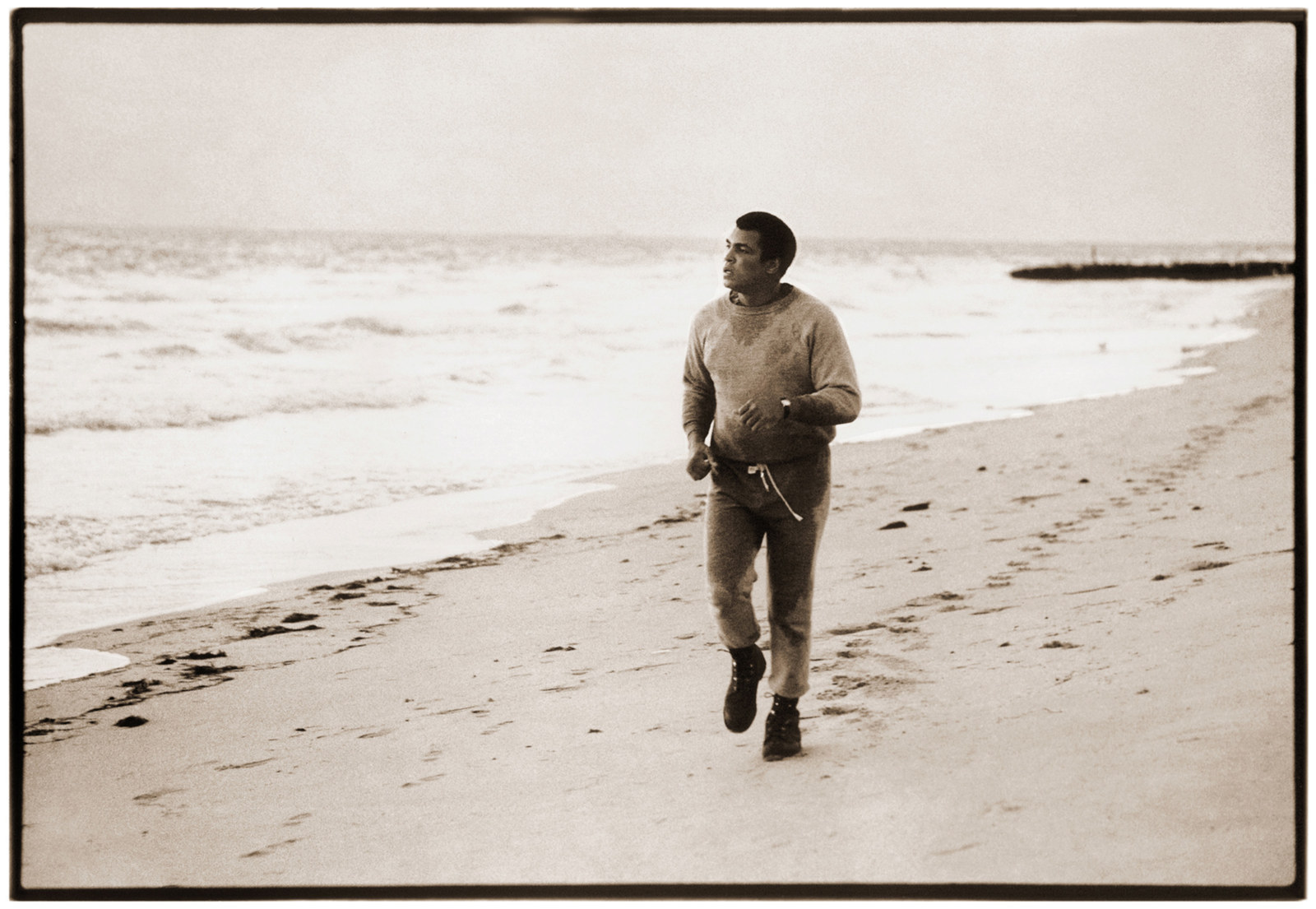 "I carried around a small cassette recorder that I used to interview the Champ and record limo rides, spontaneous moments, wild press conferences, and his lectures."
Ali and his family in the RV heading from Deer Lake to Washington, DC, for a special White House visit to see US president Jimmy Carter, 1977.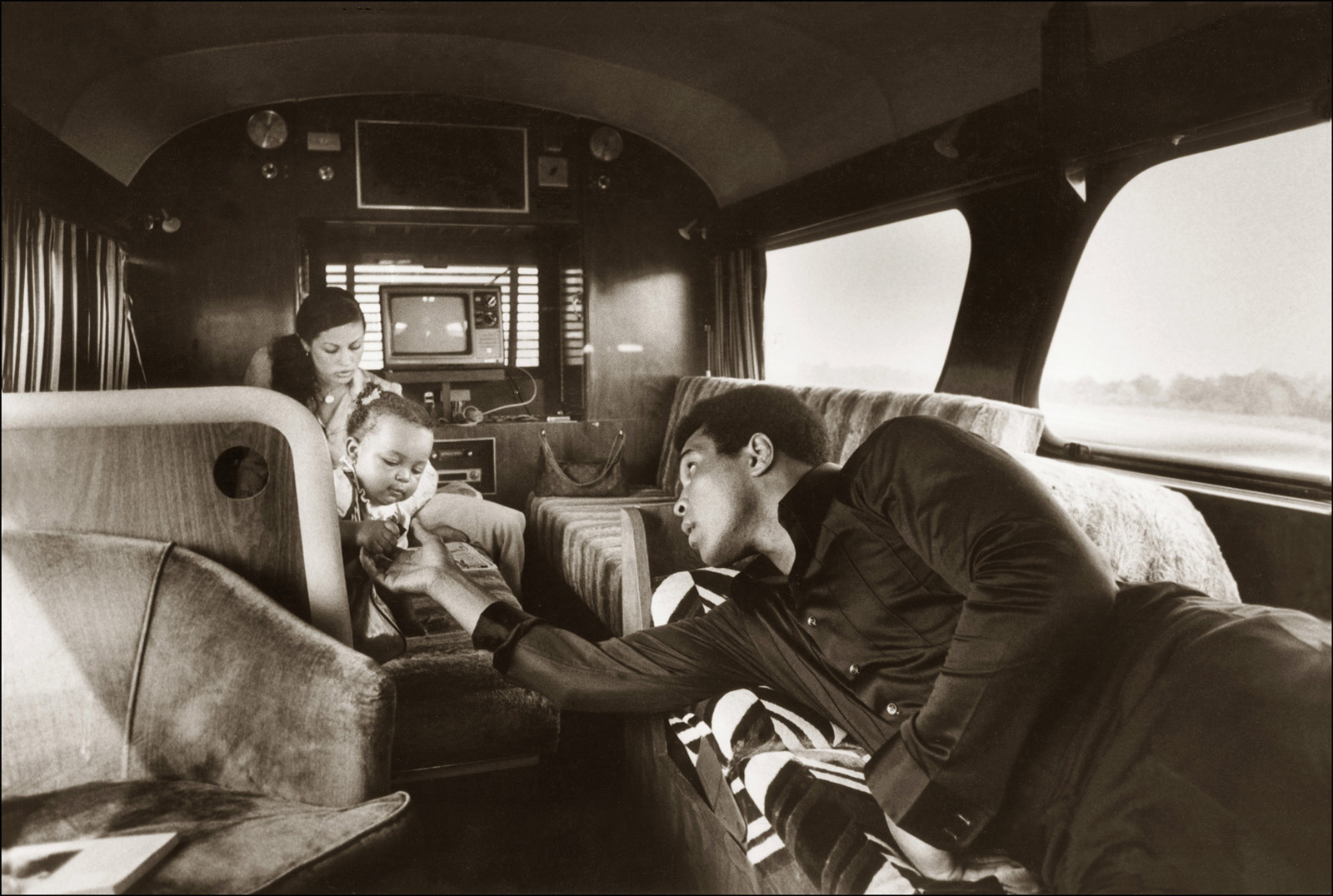 "I knew I had a responsibility and wanted to respect the opportunity Champ had given me – to honestly and accurately document, for the sake of history, one of the most extraordinary people of our lifetime."
Ali on the streets of Detroit, Michigan, 1977, having stopped the limo so he could meet some fans.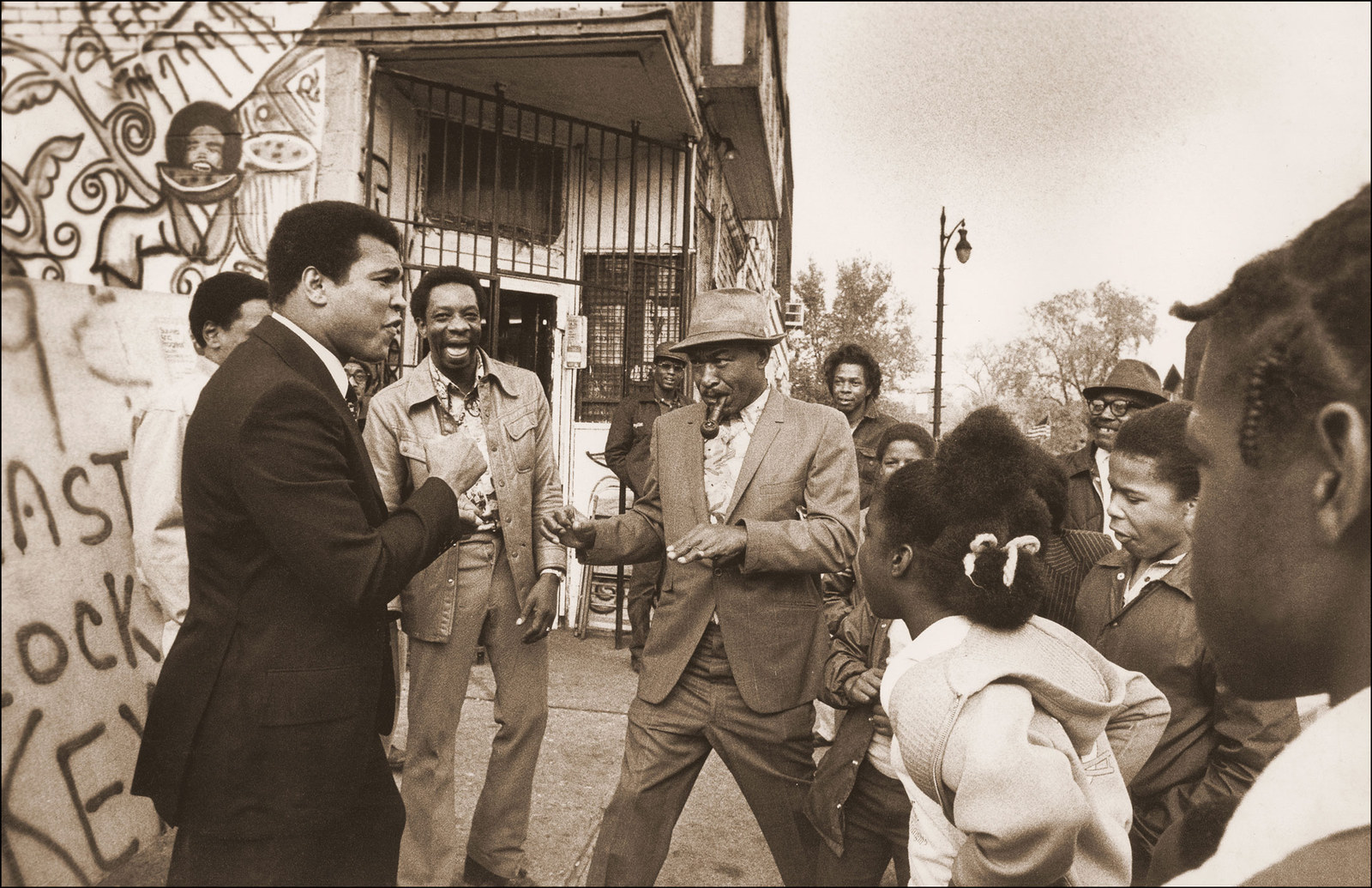 "It always amazed me how he connected to all people everywhere he went, he hugged, took pictures, signed autographs, kissed babies – he did it all with a human touch that was moving to see. Everybody loved him because he loved them back."
Mirror-boxing at Deer Lake, 1978.
At the end of the year, Gaffney looked back at what he had.
The most famous boxing corner in history, Wali "Blood" Muhammad and Drew "Bundini" Brown, at work on the Champ late in his first fight against Spinks in 1978. The 24-year-old Spinks had fought only seven fights in his career when he beat Ali.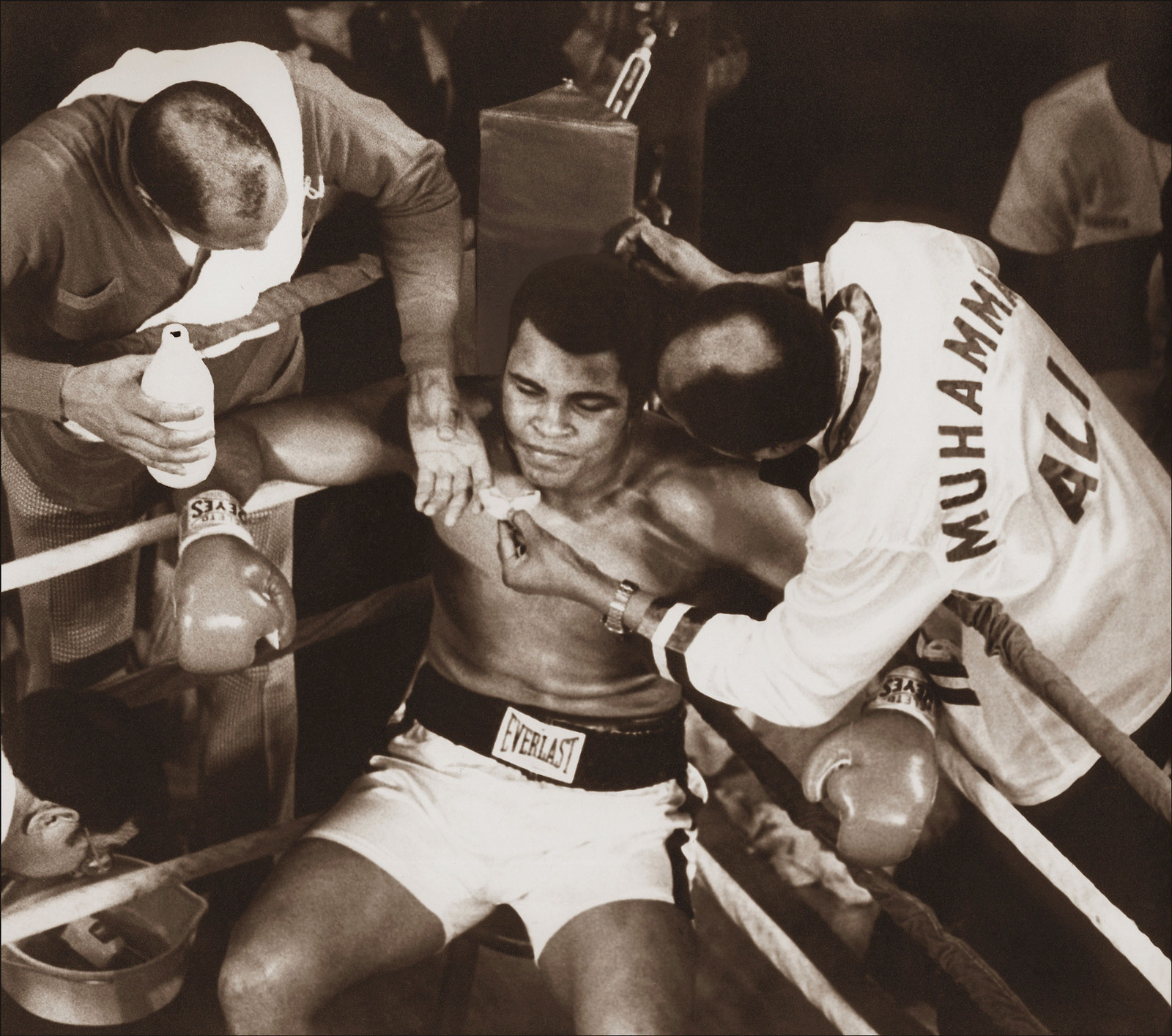 "I had never written anything more than an extended caption but felt mission-driven to bring together all the photographs and the story that became The Champ: My Year With Muhammad Ali."

Muhammad Ali at the Fifth Street Gym, Miami Beach, Florida, shortly after his loss of the world heavyweight championship to Leon Spinks, in 1978, at the age of 36. Seven months later, he won it back.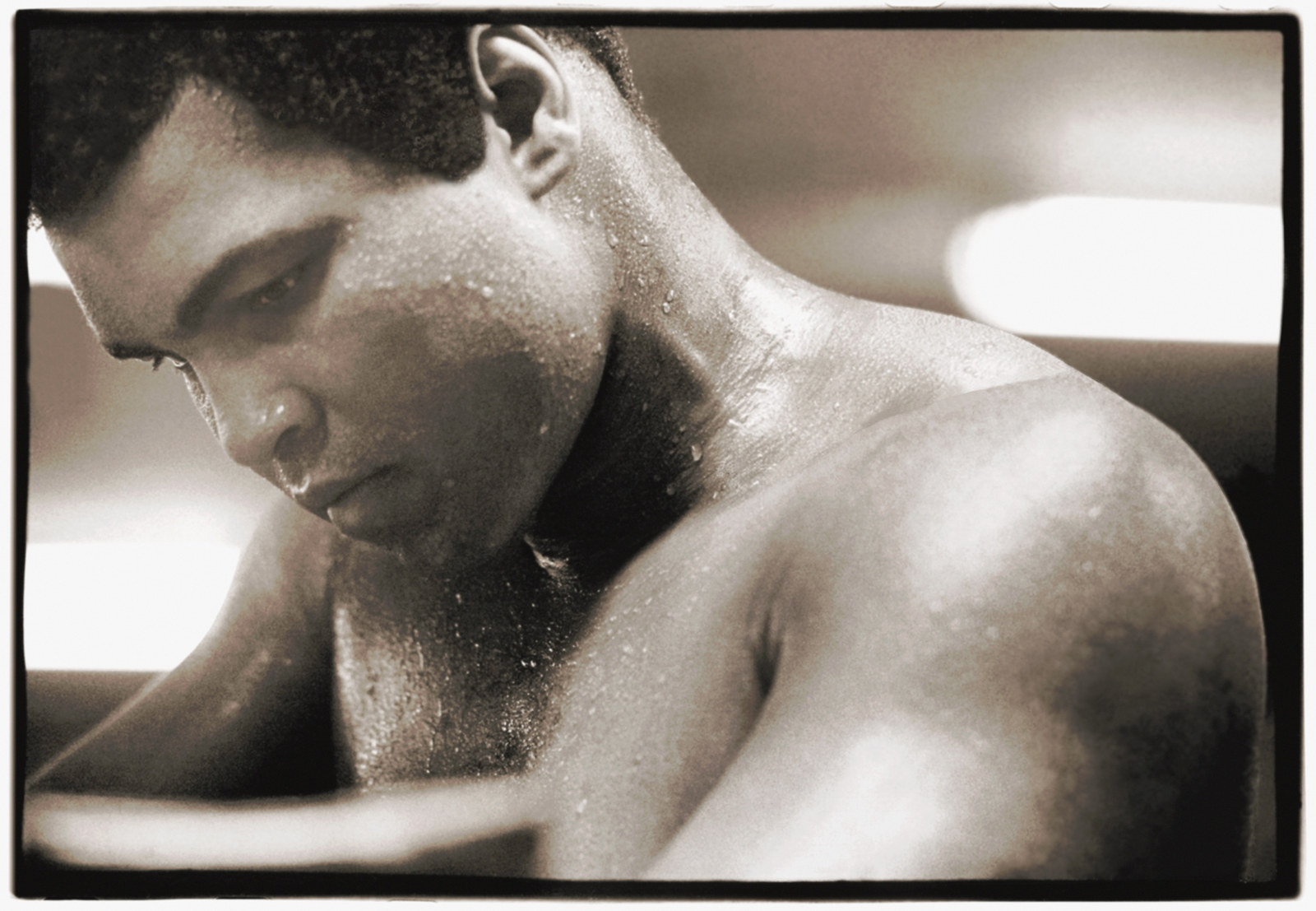 "It was all there – a perfect trilogy in a year in the life of Muhammad Ali: a tough win against Earnie Shavers, a shocking loss to Leon Spinks, and a glorious, redemptive comeback victory."

Ali beat Spinks to win the heavyweight world championship for an unprecedented third time. His bodyguard, Pat Patterson, shot his hand into the air in the press scrum: three. Ali's record stands unbeaten. It was the last win of his professional career.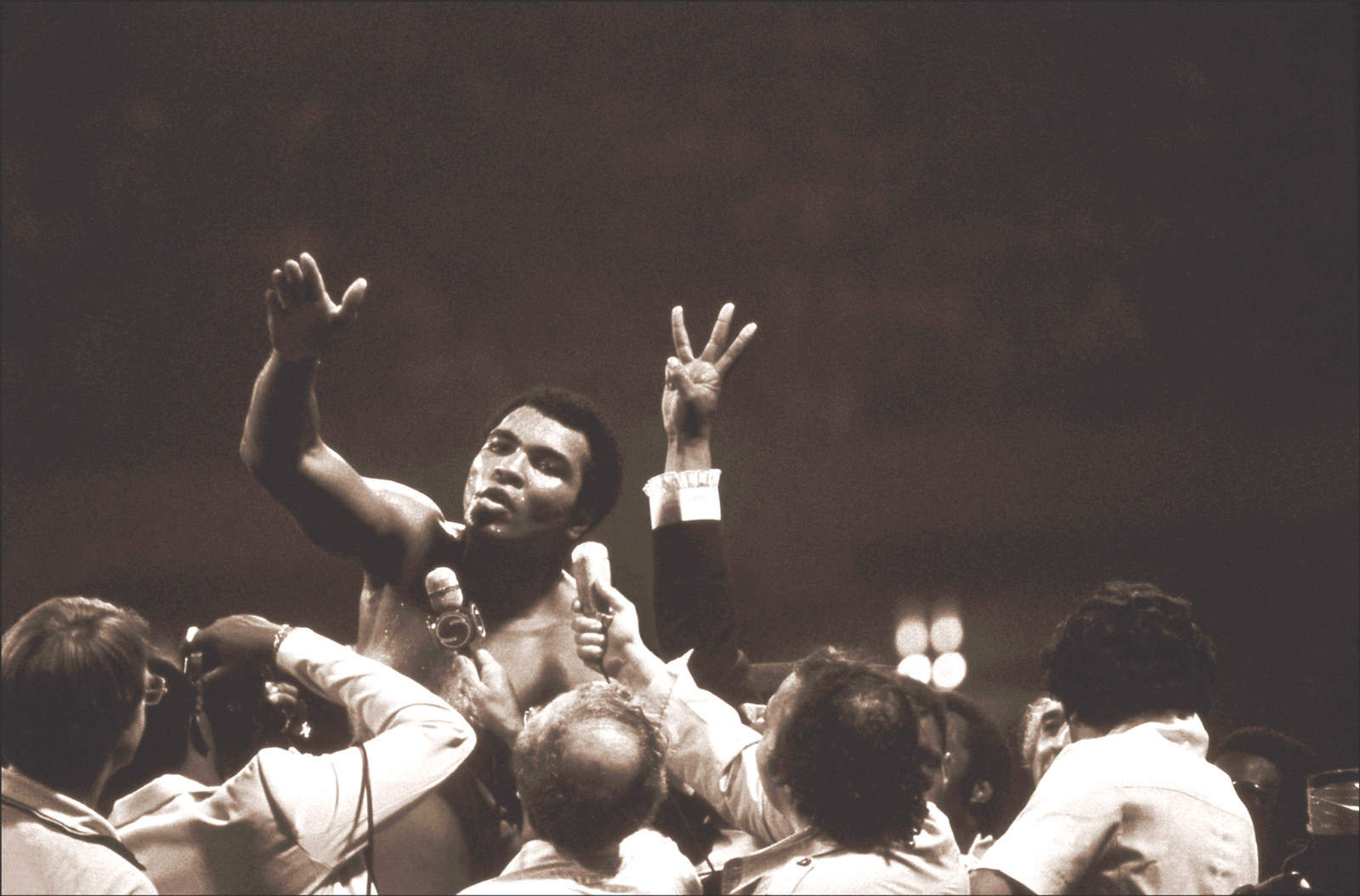 Michael Gaffney's exhibition The Champ: My Year with Muhammad Ali is on at Proud Camden, 17 March – 15 May 2016.