Chris Eubank Jr is out to prove he has more than just a name. After years of blood and sweat, it's a fight he's starting to win.
The yellow shorts still have Gary O'Sullivan's blood on them.
It's mid-January, exactly a month since 26-year-old Chris Eubank Jr defeated the Irish boxer in the final for the WBA middleweight title. O'Sullivan's corner pulled their fighter out of the ring after the seventh round.
Jr didn't bleed that night.
In their high-speed back-and-forth, the Sky Sports commentators said that Eubank Jr had "that thing that his father had – you just can't ignore him". "There's substance behind the hype," they said, "just as it was with his father, of course." "Shipped off to Vegas at 16," says another. "His father said, 'If you wanna do this — go and prove it.'"
His father, his father, his father.
As the victorious Eubank Jr posed in the middle of the ring – flexing his sweaty biceps, holding his gloves aloft, staring down the cameras with a snarl – his father ducked through the ropes. He planted his feet wide and spread the union jack behind his son as the flashes popped below, hiding himself. In the papers the next day, at the top corners of every photograph, you could just make out the fingers of the old boxer curled around the top.
Today, Jr is shirtless and holding the yellow shorts up under the fluorescent lights of the gym, inspecting the damage. The dots of blood are fractionally smaller than the decorative red beads they surround in a radial spray. There's a nickname on the back, also embroidered in red: "Next Gen".
Jr's trainer, Ronnie Davies, rubs him down in baby oil for a photo – glistening now, he looks like a textbook diagram of where muscles should go. Davies is almost 70, bald and thickset. After a lifetime of punches his hands, craggy and swollen, won't hold the pads any more. He's gentle and methodical as he laces up Jr's red gloves; a dad fixing his kid's shoes at the school gate.
Red on yellow, over and over. They're the same colours Jr's father wore to defeat Michael Watson in their first controversial fight, in 1991. He wore them again two years later in his super-hyped grudge match against Nigel Benn that ended in a draw watched by more than 16 million people on national TV. In Creed, Adonis wore red, white, and blue – the same ones his father, Apollo, collapsed on the mat and died in. But not everything is Hollywood-significant: Eubank Sr wore many colours over a boxing career that won him 45 bouts out of 52.
He is legendary, and he is alive.
In the UK, Eubank Sr is more than a sportsman. He's an eccentric in winkle pickers with an affected, lisped upper-class English accent, a bankable caricature of himself. He's a retired pro boxer, not an untouchable god like Apollo Creed. He is real and human and makes mistakes on the scale of both bankruptcy and bad shirts. His legacy casts a big shadow, but it still moves.
I'm in Hove to watch Jr train and to do what every jerk does: to ask him about his father, and what it's like having everyone ask about his father.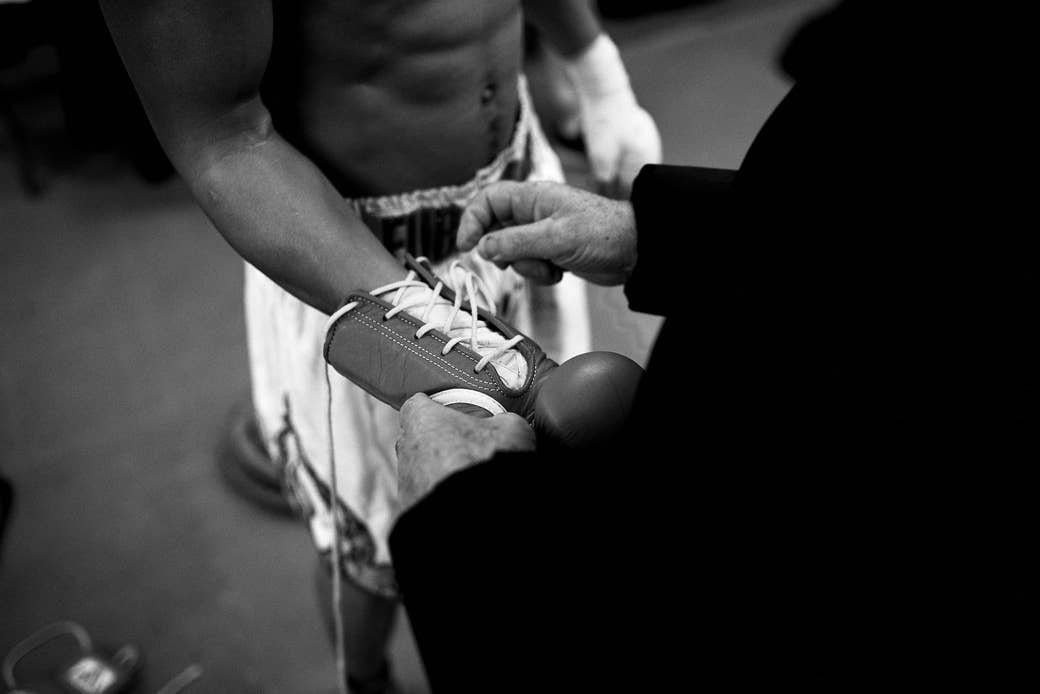 It's the day after the premiere of Creed in the London. Jr sits beside me and dabs Second Skin from a glass dropper on to a circle of pink broken flesh on his left knuckle. Last night, Warner Bros PRs made him punch a bag as many times as he could in 60 seconds – impromptu, without wraps, in the middle of Leicester Square.
He blows on his knuckle to dry it.
Jr finishes wrapping his hands in tape and foam and puts "Jumpman" by Drake on the stereo. Constantly audible over the bass is the steady toc-toc-toc of someone jumping an old rope in the corner.
Inspirational quotes crawl along the brick walls in red and black spray paint: "Champions are made from something they have deep inside them — a desire, a dream," and "It's not about how hard you hit, it's about how hard you can get hit and keep moving forward." The first is Muhammad Ali. The second, Rocky Balboa. He's as real as anything in the room.
Other fighters stay to watch Jr train. They've grown up together in this gym. Tom Welch, a 20-year-old amateur boxer (and son of former pro heavyweight Scott "The Brighton Rock" Welch) assumes control of Jr's phone, filming him shadowbox for Snapchat.
The gym sits beneath King Alfred Leisure Centre, a 1930s relic that "no longer meets modern expectations and service requirements" according to city planners. Across a narrow street is the sea – when it swells and invades this basement, the boxers just step over it. Go left down the pebble beach and you'll reach the point where the burned-out skeleton that was West Pier once touched land. Today on the edge of England it's freezing, and the heater in the gym has died.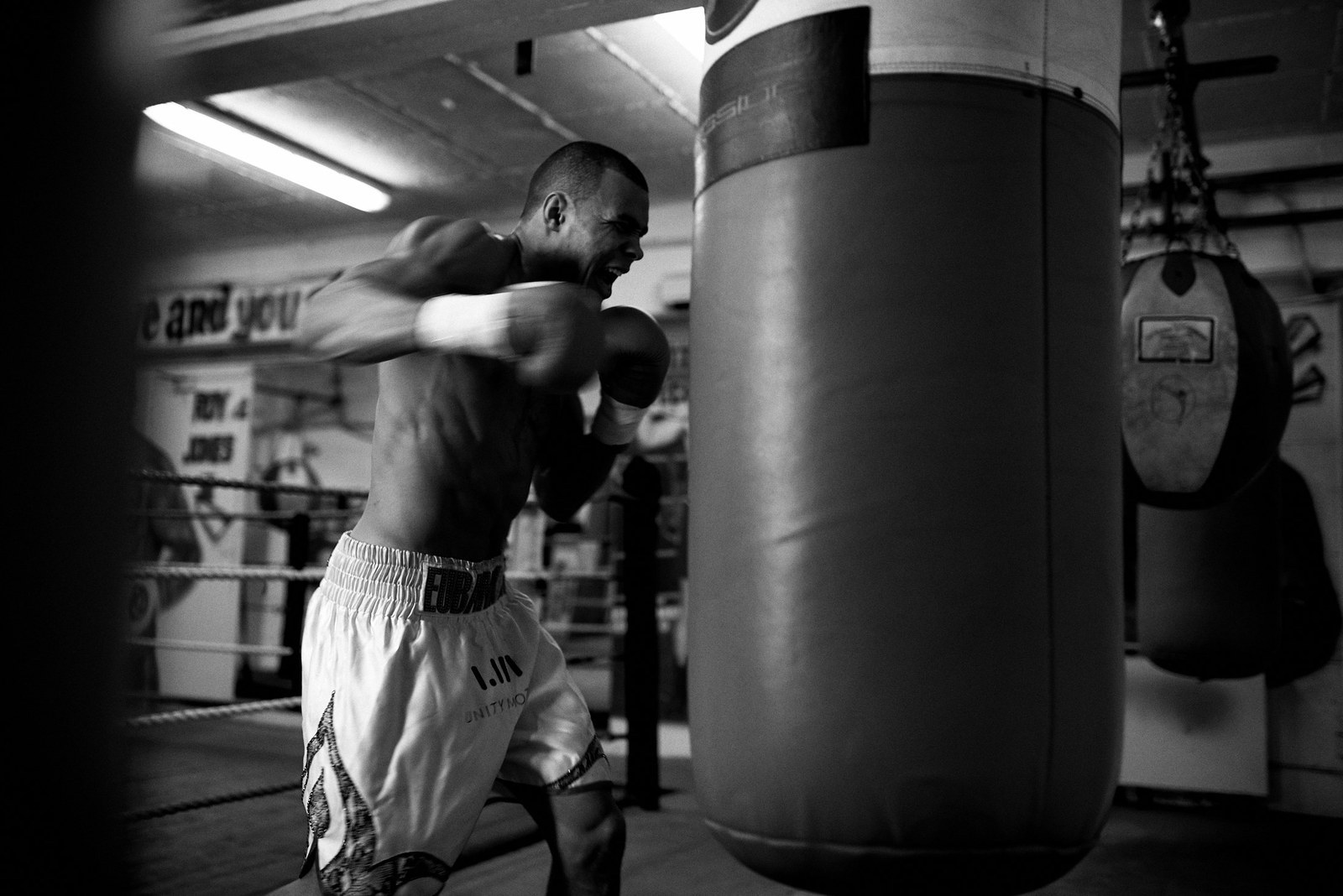 There's a primal, desperate romance in boxing. It's why training montages are the beating heart of a Rocky movie, why watching Stallone sneer through sit-ups and sweaty drills will give the true believer a lump in their throat and a buzz in their veins.

In the gym, in the flesh, you see human bodies being trained and conditioned for the sole purpose of being ruined. When a boxer steps through those ropes, they know they will leave that ring somewhere on the scale of bruised to dead. That's what they signed up for. In gyms like this, they learn how not to die.
This is the week David Bowie died, and it's hard to have a conversation without talking about what we leave behind. Our bodies are weak: Why build them up just to smash them down? In the words of Rocky, standing in a restaurant named after his dead wife, looking at a framed photo of his dead friend – why choose a fighter's life when you don't have to?
I never get a straight answer. We're sitting in the middle of the ring and every four minutes or so the interval timer screams five short beeps. Welch passes by with an iPhone recording video. I ask Jr if it bothers him having people watching him work. "Don't look at them," he says, looking at me, seeing that it bothers me. "Get in the zone."
When Jr talks about "the zone" he means the place where emotions don't exist. Fights are business, they are strategy, they are in the mind. Boxing is the art of mental exclusion.
Jr says he feels no nerves when he's walking up to the ring. For the O'Sullivan fight, he emerged between the two lit screens, draped in a union jack, "Still D.R.E." blasting from the speakers, and stood stock still while his dad swayed to the beat behind him. Everything around him is white noise.
What is going on in his mind at that moment, if not fear? "I'm ready to cause mayhem — calmly," he says. "But you're getting ready to do the least calm thing you can possibly imagine."
Viewers see the fights, not the slump in the dressing room, nor the quiet drive home. Jr remembers his dad arriving home with huge black eyes, with bumps all over his head. The son of a boxer is more equipped to deal with the reality of it than another kid coming at it cold. Even so, Jr's father didn't want him in the ring. For years he said no, do something else.
"I don't know whether he thought I didn't have that toughness in me to be able to do that, or just if he didn't want me to go through it," he says.
Eubank Sr's last fight was in July 1998 when Jr was 8 years old, and he never saw any of the fights live. He and his siblings (a younger sister and two brothers) were kept away from the ring, and weren't allowed to watch them on TV either. At a friend's sleepover he watched a VHS tape that had his dad's face on the cover. "And there he was, boxing. I thought, this was why every time we go out people are running up to him and taking pictures and screaming and signing autographs. This is what he's been doing."
Jr had no idea.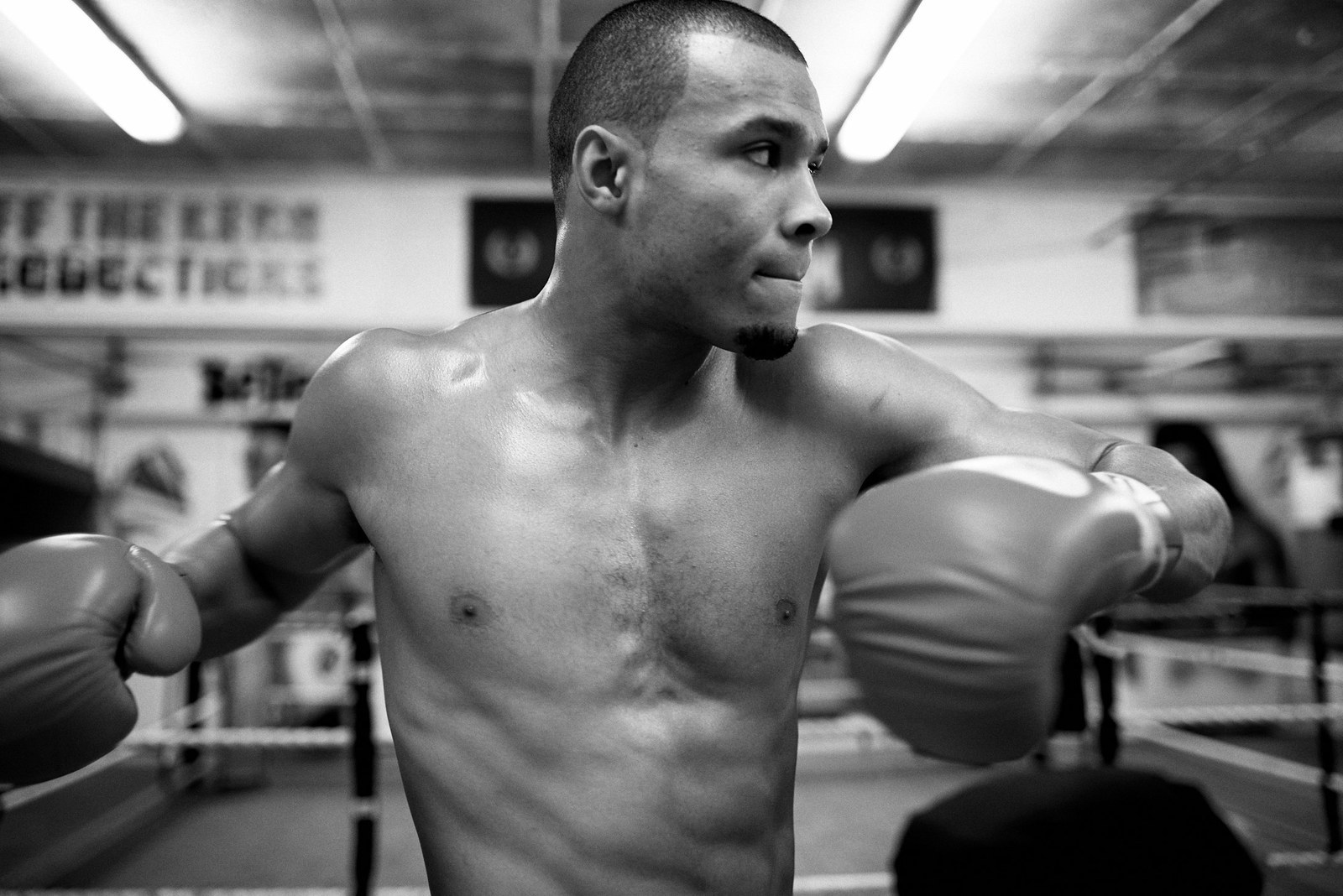 A fighter's origin story makes and shapes them – and above all, it endures – and everyone knows the silver spoon tale won't win any easy points. But Eubank Jr says the name is anything but a burden. He uses it to push himself further, training and fighting more intensely than he otherwise would.
From the age of 16, he spent four years in Las Vegas training under the radar with Mike "The Bodysnatcher" McCallum, and later Floyd Mayweather Jr and his father – former pro boxer "Big" Floyd Mayweather Sr, who stood in his son's corner for the Fight of the Century, wearing his TMT cap.
Watch Jr fight now and it's clearly a different style to his father's: He's faster, he's cleaner, he's more textbook than pure instinct. Davies says he's more Sugar Ray Robinson than Eubank Sr.
When he started his professional career four and a half years ago, not many people knew or cared that he'd put the time in.
"Even after winning 21 fights, I still have people say, 'You're only where you are because of the things that he did, and if it wasn't for him you never would have made it.'"
He's rolling his eyes: as if it's that easy. "It doesn't matter what your name is — if you don't have any talent, then you can be Muhammad A-Bruce-Lee and you're not going to be able to win fights, which I have. You're not going to be able to win titles, which I have. And you're not going to be able to inspire the public and get people talking about you, or make headlines, which are things that I have done already."
Jr doesn't believe the cliche that there's no such thing as bad publicity, but he says in this case it's true. The people who want to see him fail are vocal about it, and build his profile. Right now, Eubank Jr has 140,000 followers on Instagram and 186,000 followers on Twitter, where he follows just one account: his father's.
White noise.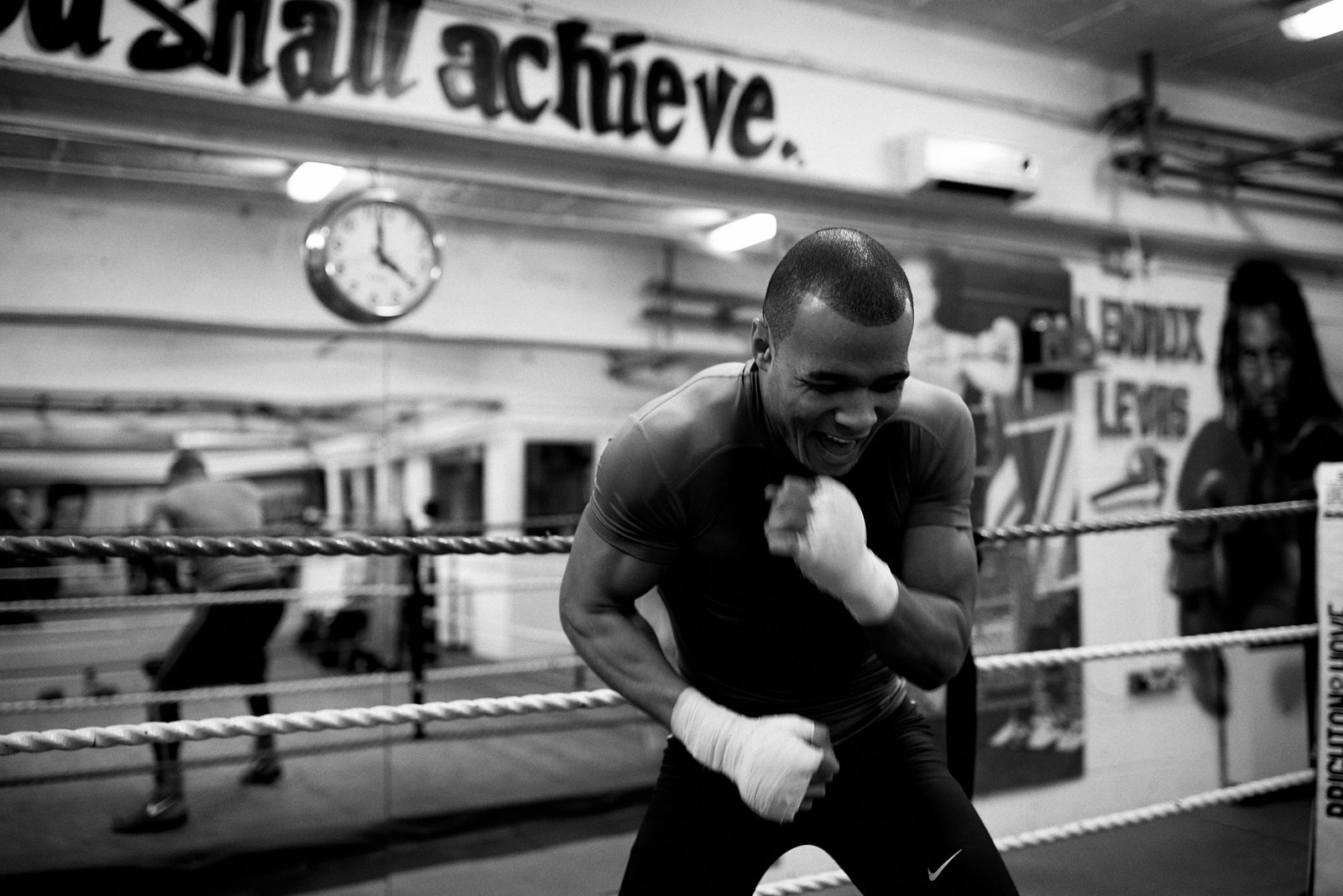 In September 1991, 14 million viewers watched Eubank Sr face Michael Watson again, defending his WBO super-middleweight title. In the last 20 seconds of the 11th round, Eubank swung a surprise right uppercut to Watson's chin. It connected with such force that Watson's feet left the mat and he fell backwards, straight and limp, on a course no one could stop. He landed neck-first on the unusually slack ropes. Watson got to his feet, but something was wrong. When the referee stopped the fight minutes later, Watson collapsed in his corner.

While Watson lay in the ring, his brain starved of oxygen, the two oblivious commentators began discussing his legacy – wondering if Michael Watson would be remembered as a "nearly man". When he awoke from his coma 40 days later, his muscles had withered and he couldn't hear, nor speak, nor move.
Boxing is safer now because of what happened – new rules and regulations were introduced: It's a requirement to have an anaesthetist and two teams of trauma paramedics at the ringside, among other things. Fighters have died since Watson, but others who probably would have died have lived.
For years afterward, Eubank Sr struggled to finish a fight. If your fist started the fall that nearly ended a man, wouldn't you be afraid to swing it? Does it get to Jr? He pauses and looks at the floor.
"It might sound a bit cold, but I don't really have that," he says. "If I see an opportunity, I'm gonna take the guy out. And I'm not going to feel any way about it. It's nothing personal. It's me or you. And it's definitely not going to be me.
"Not in front of all these people."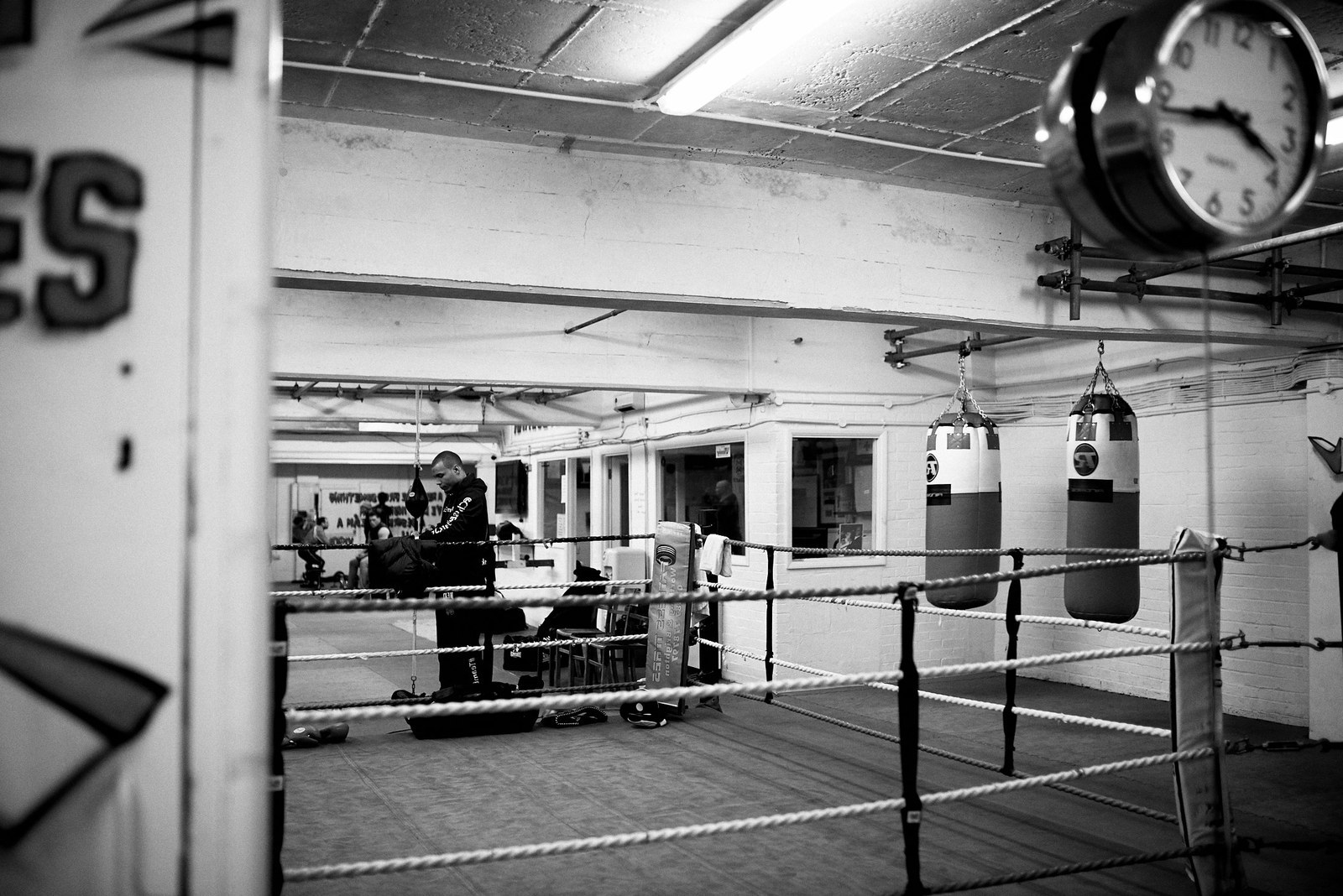 In March Jr will fight Nick Blackwell for the British title. Even when he doesn't have a fight coming up, Jr trains like he does – a perpetually loaded gun. Strength and conditioning training is at midday, boxing in the afternoon.
He runs at dawn. Just like in Creed, like in Rocky II, like Ali in Zaire for real, the neighbourhood kids follow behind on foot and bike. Sometimes they try and talk to him, but Eubank can't hear them over his headphones. He sprints on a track, he runs through the valleys and hills of the South Downs, through the cows and sheep, and he runs on the stones by the sea because it's good for the legs.
Brighton is in his blood, like Philadelphia is in Rocky's.
In the whole time I talked to Eubank Jr, the only thing that seemed to intimidate him was the unpredictable nature of the cows. Not his dad's legacy, not his opponents, not the risk of injury in front of millions: just sleepy cows on a hillside in Sussex.
It's 5pm and Eubank Jr is getting tired. He's stifling yawns with a taped fist.