"After you're the champion, first you lose your legs, then you lose your reflexes, and then you lose your friends."
– Willie Pep, No. 1 featherweight of all time.
When Ronda Rousey lost her undefeated record to Holly Holm she contemplated suicide while slumped in the corner of her hospital room.

"I was like, 'What am I any more if I'm not this?" she told Ellen DeGeneres three months later. "I was literally sitting there and thinking about killing myself and that exact second I'm like, 'I'm nothing', 'What do I do any more?', and 'No one gives a shit about me any more without this.'"
The darkness of defeat is not so much about what happened as it is about the inability to imagine what comes next. If your loss was so devastating that you can't see yourself ever winning again, what then? If the fog is so thick that you can't see through it, you can choke on it.

The darkness of defeat is not so much about what happened as it is about the inability to imagine what comes next.
After 25-year-old George Foreman lost to Muhammad Ali, 32, in Zaire, he sat punch-drunk in his dressing room and delivered the speech of a winner to gathered journalists, thinking he'd won. It was what he was used to – he was undefeated. No one in the room – not the journalists, nor his corner – had the heart to tell him he was no longer the heavyweight champion of the world.
Five wins and three years later, Foreman was knocked down by Jimmy Young. The defeat led him to abandon the sport for 10 years, and the press asked him what it felt like to lose.
He said:
"It's like being in a deep dark nothing, like out at sea, with nothing over your head or under your feet, just nothing, nothing but nothing. A horrible smell came with it, a smell I hadn't forgotten, a smell of sorrow. You multiply every sad thought you ever had it wouldn't come close to this and then I looked around and I was dead."
Today on Twitter he still answers questions about what it feels like to be the loser. "The weekend," he wrote, "brings back the ghosts of defeat."
Norman Mailer wrote that no physical activity is so vain as boxing. "A man gets into the ring to attract admiration. In no sport, therefore, can you be more humiliated." No sport treats the word "undefeated" the same way fighting does. With it comes an identity: It goes before your name, it goes on the front of your autobiography – until it doesn't. Two weeks after the undefeated Joe Frazier lost to Foreman in 1973, he went on The Dick Cavett Show, where the host asked if he was embarrassed to leave the house.
If your whole sense of self is tied up in winning, how much of you unravels when you lose?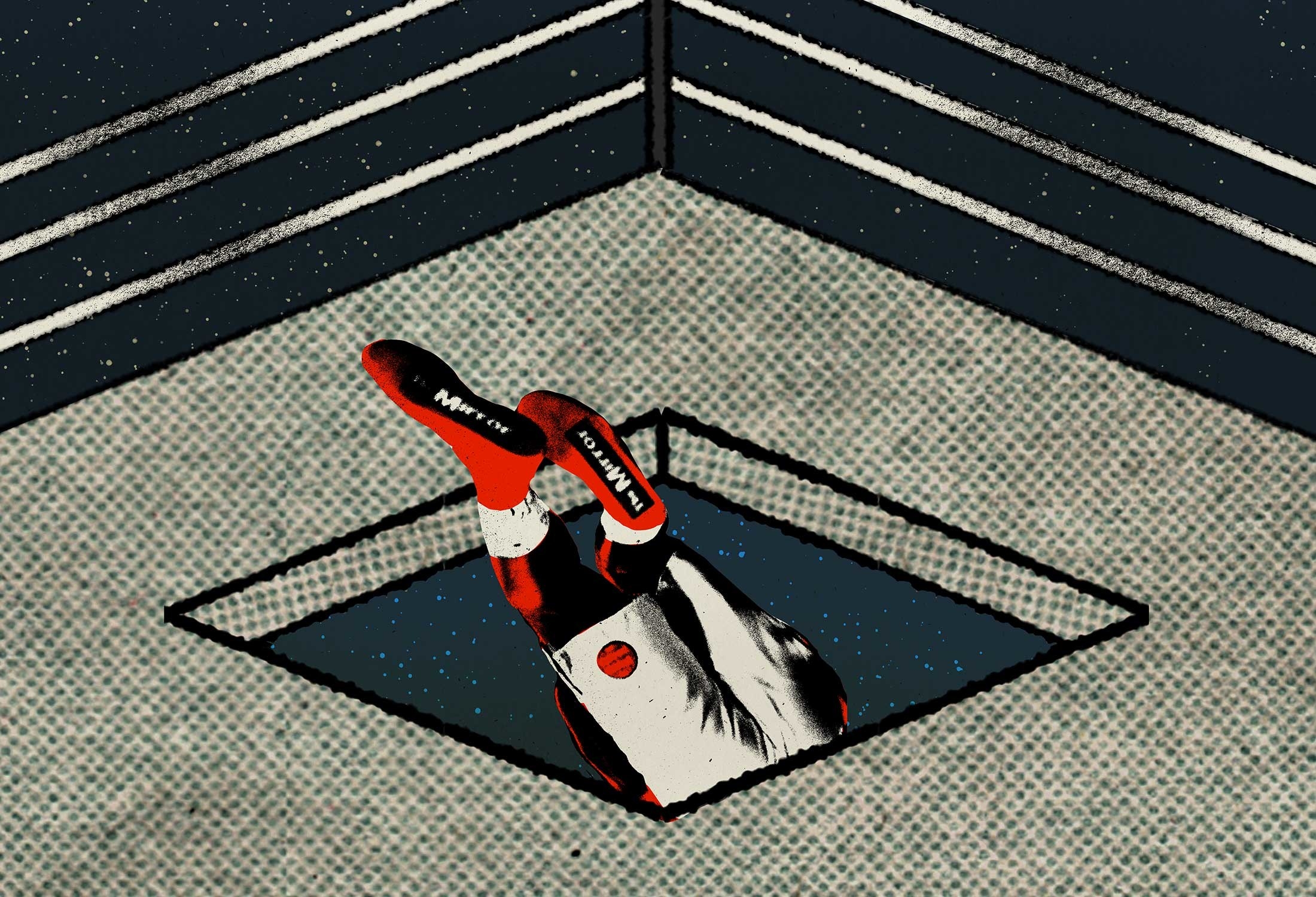 Google British boxer Julius Francis and there's not much there. He's a sidenote to YouTube videos of more famous opponents. There's a Croydon Advertiser article about a sighting in a shopping centre suggesting the former champion might be a security guard now, but the ex-fighter didn't return the reporter's calls. And there is a photo, Francis smiling on the contact page of a boxing gym outside of Oxford. To train with him, you email someone else.

When I find him, the first question he asks is why I would want to talk to him – he says he's not anybody any more. "There's nothing to tell now," he says. "Not really."
BoxRec.com puts him at 6'2", but Francis seems bigger. His handshake is one of a person who saves their strength and violence for a place where there are rules and honour codes, the boxing ring. Every time he smiles, gold molars glint at the corners of his mouth.

We meet in the barbershop in Woolwich where he spends his days off from his job as a nightclub bouncer. The owner of the shop used to have framed photos of star fighters on the walls, Francis included, but it was redecorated recently. Now there are black and white Ikea-style canvases of miscellaneous London, the London tourists think we live in: Big Ben and red buses and phone boxes. In real life, police sirens wail past.
Francis is 51, and has been coming here for 20 years: It's where he would go to get a shave before a fight – a ritual. "When you're training you don't have time to be prettying-up yourself," he says, running a huge hand over his shaved head. He would train at Aldershot in Hampshire, at the army barracks, away from his family and friends and distractions.
Francis has spent the last few years mentoring young kids, getting them off the streets and into a boxing gym. The same thing happened to him at 18, and the old cliche from boxing films rings true: He says if he hadn't found boxing, he would probably be in prison or dead. In one incident he was stabbed seven times – the blade missed his heart by a centimetre. The attack made him box harder so that no one could physically overpower him again.
In his years of sparring, of 48 pro fights and countless unlicensed ones, the only time he was knocked out clean was when Greenwich police beat the shit out of him as a teenager.
He was a personal trainer for people who worked in the City, but after the financial crash of 2008 the demand for personal trainers came tumbling down too. So he fell back on the thing he always falls back on: standing by a local nightclub door, looking like someone who once went two rounds in the ring with Mike Tyson.

After his loss of the heavyweight championship of the world to Swedish boxer Ingemar Johansson in 1959, Floyd Patterson would bring sunglasses and a fake beard to his fights so he could sneak out in disguise if he was defeated again. He regained the title in a rematch, only to lose it to the younger Sonny Liston, who knocked him out in the first round, then repeated the knockout a year later.

The sunglasses and beard came to all the fights in a small attache case.
In 1964, Gay Talese profiled Patterson in Esquire in a piece he called "The Loser". Patterson was 29 and the weight of losing was such a crushing psychological force on his spirit that he was living beneath the mountains in his training camp, away from his family.
He was telling anyone who asked that he was not Floyd Patterson.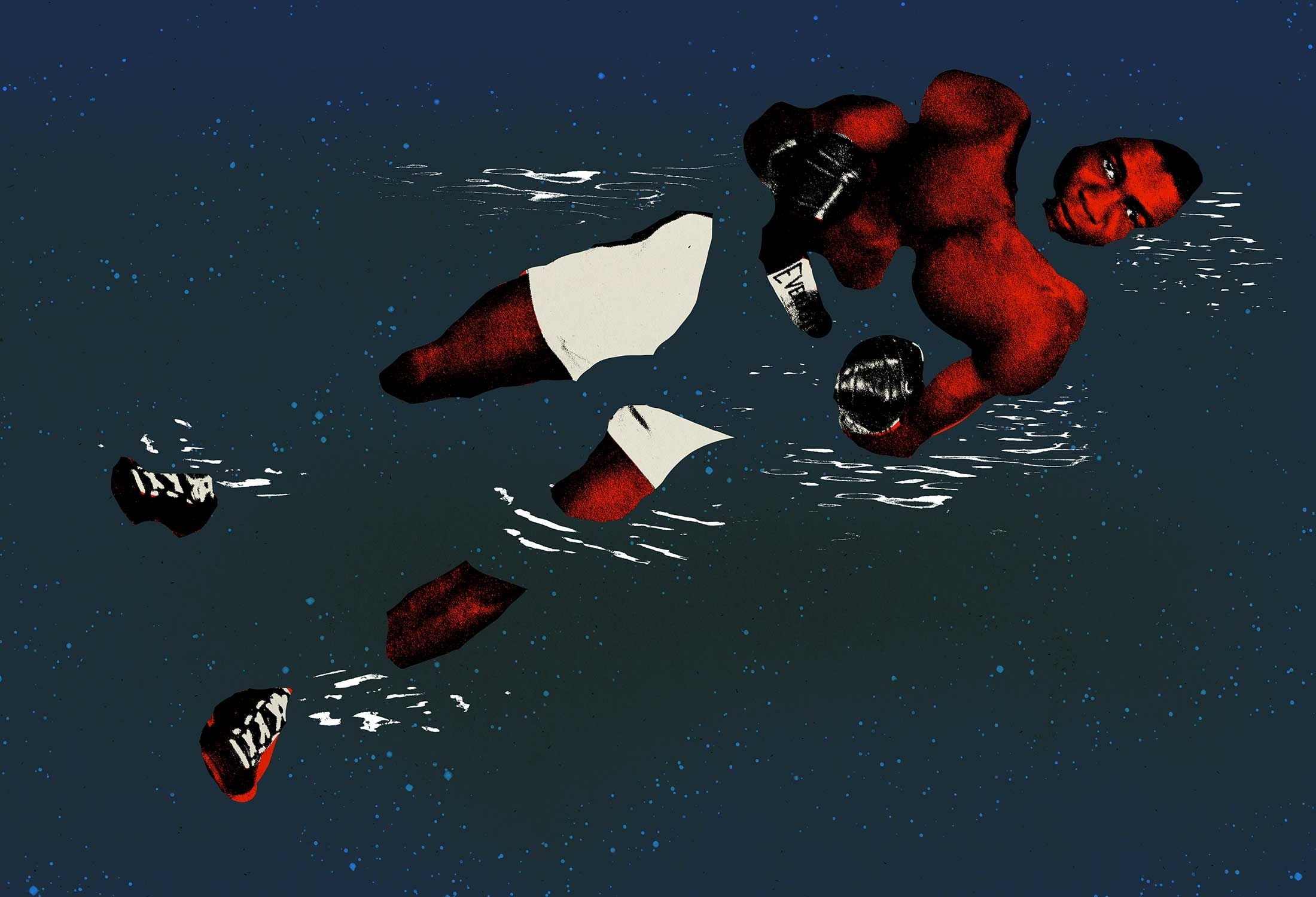 Francis fell to the mat five times in his fight with Tyson 16 years ago in Manchester. Each time he bent double and landed on his hands and knees, the soles of his shoes were captured in photographs. The photos are now iconic, not because of the fight or the guy wearing them, but because each time he fell, the soles flashed a logo for The Daily Mirror. His own corner was so confident he would lose that they sold the bottoms of his shoes as ad space.

His own corner was so confident he would lose that they sold the bottoms of his shoes as ad space.
Francis says he knew about the ad space on his shoes: It was his manager's idea. You can argue that it could have had a positive effect on the fighter – some sort of impetus to stay on his feet – but when asked about it, he shrugs it off. The politics of fighting was never in his mind. He had his head down training. It was nothing new.

"Everybody expected me to lose. I'd gone through my last three fights beating the top three fighters in the country, who I was expected to lose against, and won. I went into this fight thinking, It's Mike Tyson, but if I hit him properly, he's going to go over."
The only person who believed Julius Francis could best Mike Tyson was Julius Francis.
The fight lasted two rounds. Francis fell five times, and got up four.

George Foreman said the first and last thing Sonny Liston's wife, Geraldine, ever said to him as a young boxer was: "George, it ain't going to be all victories. You gotta deal with losing. He can't."

In 1970, Liston was found decomposing in his bedroom – dead from either a heroin overdose or a mob murder depending on which version of the story you believe – six years after losing the heavyweight title he took from Floyd Patterson.
The police pieced his date of death together from the milk bottles and newspapers piled by the front door.
Liston's epitaph said nothing about his career, its highs, or lows – there was no mention of the heavyweight title he held for two years, nor the fact that he was the first man to win it with a first-round knockout. All it said was his name, the years he existed, and these two words in inverted commas:
"A man."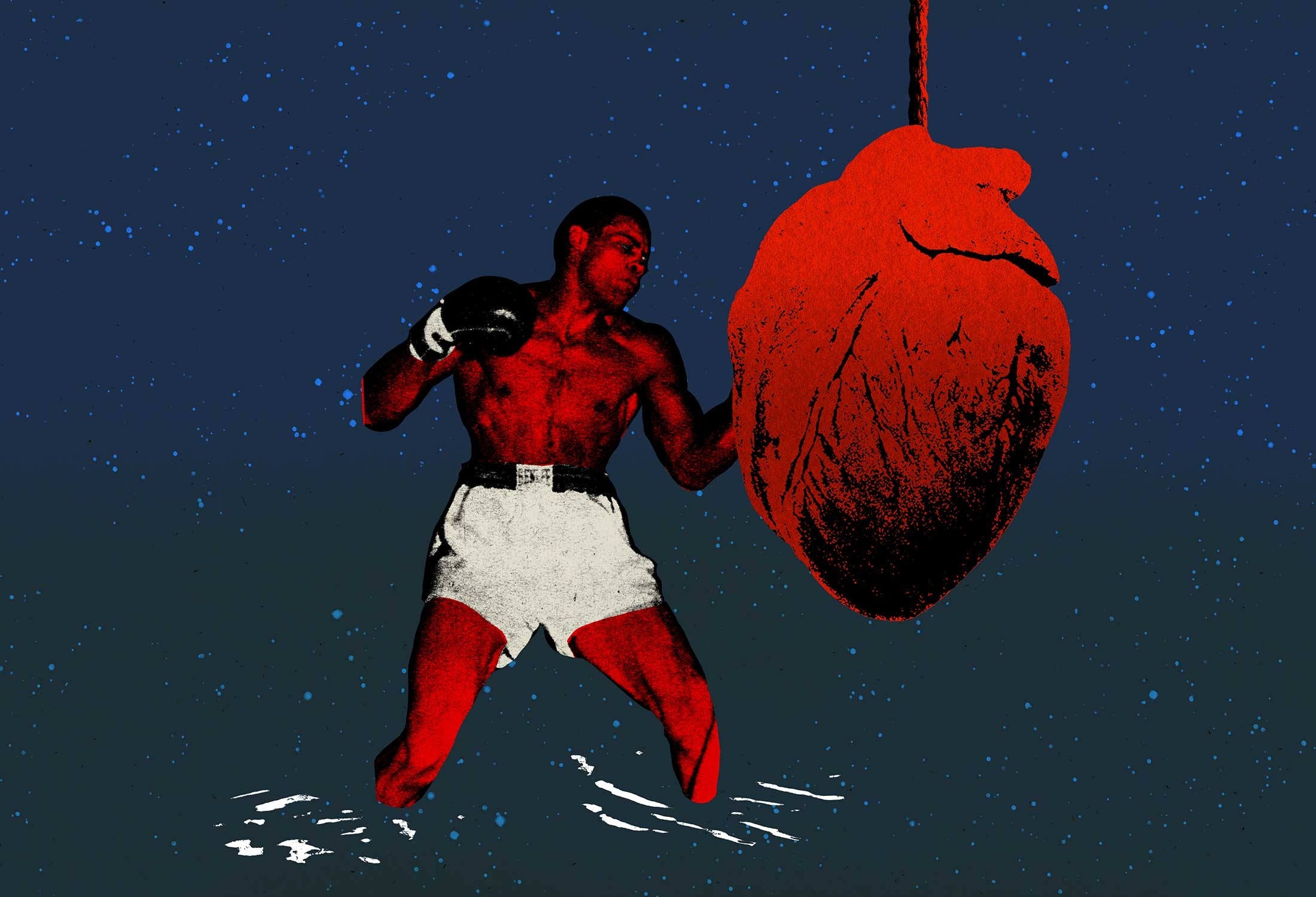 The thing that hooked Francis on boxing was that he lost.

The first punch he ever swung in a boxing gym was at a sparring partner, and he missed. "I couldn't hit this guy that was in front of me," he says. "He could hold his hands up properly, and hit me at will – and I couldn't touch him."
After he fought Tyson, Francis had 19 more fights before he retired. The final 14 were a series of straight, unbroken losses. He says by the final three he'd fallen out of love with the sport and just needed the money. Evander Holyfield, who famously lost a piece of his ear to Tyson, fought on through to his fifties for the same reason, and Roy Jones Jr did the same as Francis: fighting in the far reaches of Europe for any cash he could get. Sometimes Francis would take a fight at 24 hours' notice: He would fight anyone, anywhere.

The thing that hooked Francis on boxing was that he lost.
From his perch on the sofa at the back of the barbershop, next to the cassette player and the box of poker chips, beside the battered curl bar and the dumbbells, Francis advises mothers with their manicures on how best to stop their tiny sons from crying. While their soft hair is shaved and tidied, their cheeks covered in tears, their mums hold them on their laps and tell them it's going to be fine.
Julius Francis had enough faith in himself – enough to cover the fact that no one else did – to keep going. A stronger heart than Sonny Liston, a determination that surpassed Patterson's towering sense of shame. For a guy who ended his career with more losses on his record than wins, he seems content. He scratches his back on the doorjamb like Baloo the Bear.
I ask what keeps a man going through 14 defeats.
He looks at me like I've asked an absurd question.
"Just wanting to fucking win."