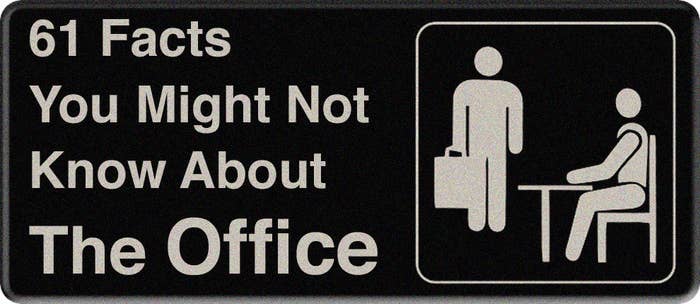 1. John Krasinski shot the footage of Scranton for the opening credits after he found out he was cast as Jim. He visited Scranton for research and interviewed employees at actual paper companies.
2. The theme song plays during the end credits only after Season 4 begins. All previous seasons have no music during the end credits.
3. Steve Carell had seriously active sweat glands, so the temperature on set had to be kept at a cold 64°F, until they eventually invested in space heaters.
4. Many of the cast's characteristics were intentionally incorporated into the character's personalities throughout the series.
5. Apparently Creed Bratton is the actor most similar to his character, Creed Bratton.
6. In "Money", when Jim is consoling a crying Dwight on the staircase, the moment where Dwight reaches out to Jim before realising he's gone was not scripted but was coordinated by the director.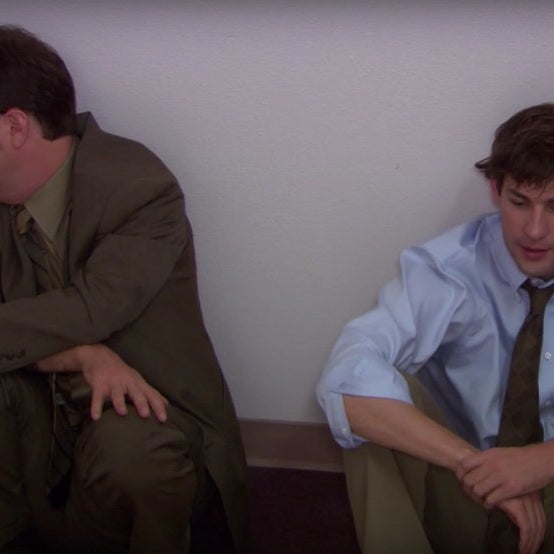 7. Phyllis Smith was originally a casting associate for the show but the producers liked her so much they created the role of Phyllis Vance for her.
8. Smith is 11 years older than Steve Carell, despite many references indicating their characters are supposed to be the same age.
9. Carell is married to actor Nancy Ellen Carell, who played Carol Stills in several episodes of the show.
10. Jim and Pam's first kiss was John Krasinski's first ever onscreen kiss, about which he may have lied to Jenna Fischer when she asked if he'd ever done it before.
11. The crew built a replica of a rest stop for Jim and Pam's proposal scene. The shot ended up costing $250,000, which the producer described as "the most expensive and elaborate shot we've ever done, but it's also sort of the highlight of five years of storytelling"
12. Pam's lactation consultant after she gives birth in "The Delivery" is actually Fischer's real-life husband, Lee Kirk.
13. Seth Rogen auditioned and was considered for the role of Dwight.
14. Adam Scott and John Cho auditioned for the role of Jim.
15. Roy and Pam were meant to be played by Craig Robinson (Darryl) and Erica Vittina Phillips (Darryl's ex wife) – Jim and Pam were going to be in an interracial relationship.
16. When the casting directors asked John Krasinski to read for Dwight, he insisted he be considered for the part of Jim instead. They initially refused this, until they found a suitable person to play Dwight.
17. When a man in the audition waiting room asked Krasinski if he was nervous he almost messed up his chances by saying, "I love the British show so much and Americans have a tendency to just really screw these opportunities up. I don't know how I'll live with myself if they ruin it for me." The man he was speaking to then revealed himself to be the executive producer.
18. Krasinski, Mindy Kaling, and Ellie Kemper were all previously interns at Late Night With Conan O'Brien.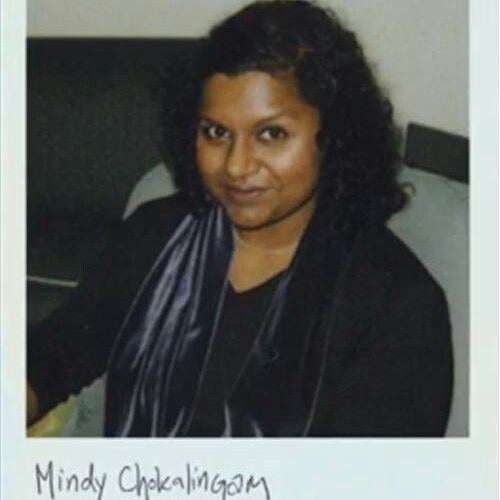 19. Oscar Nunez, who plays Oscar Martinez, didn't think the show would be a success, so kept his jobs as a server and a babysitter when he first got the role.
20. During the filming of "Beach Games", Rainn Wilson accidentally kicked sand into Leslie David Baker's eye, for which he was rushed to hospital and had to be treated for a scratched cornea and have his eyeball cleaned out.
21. Steve Carell, John Krasinski, Jenna Fischer, and Wilson all went for lunch after they were initially cast and discussed their prediction that this show had the possibility to go on for eight years.
22. At this early lunch Carell said, "Of all the roles I'll end up doing and all the films I may shoot, I believe that Michael Scott may be the role I'll always be most known for."
23. After Michael fell into a Koi Pond at a sales call, many of the employees changed the screensavers on their computers to fish tanks.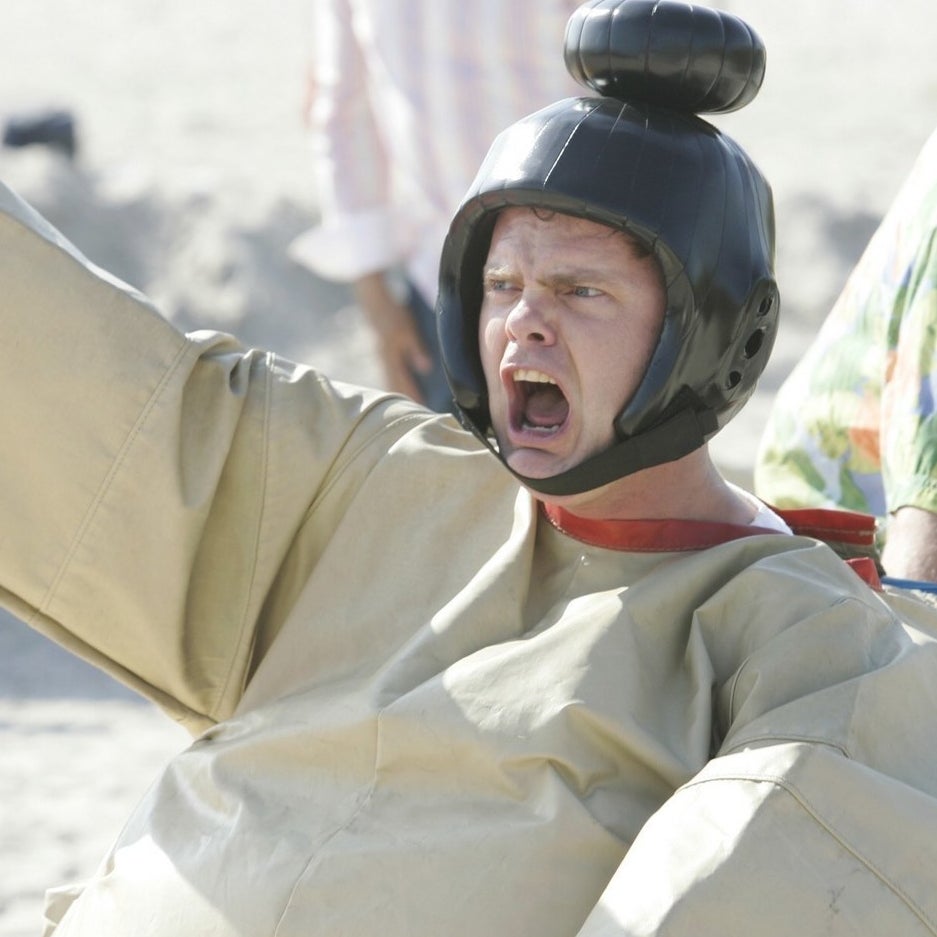 24. Jenna Fischer and Angela Kinsey are best friends in real life and Fischer is godmother to Kinsey's child.
25. Rashida Jones thought she was going to be fired her first day on set for laughing at Steve Carell's improvising.
26. Jack Coleman, who plays the state senator in later seasons, was a main character in Heroes. Dwight mentions Heroes multiple times throughout the series.
27. Pam's painting is replaced with a motivational poster for a few episodes in Season 6, but reappears later in the same season.
28. In "Gay Witch Hunt", the script only intended for Michael to hug Oscar, so when Carell improvised the kiss, the cast's reactions were completely authentic.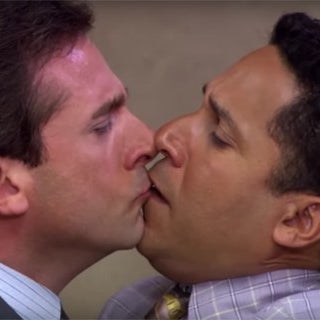 29. Brian Baumgartner (Kevin) and Ed Helms (Andy) attended the same high school.
30. B.J. Novak and John Krasinski also attended the same high school, and played little league together.
31. Novak was the first person to be cast. He was also hired as a writer, starting the tradition of writer-performers wherein many of the writers would star in the show and many of the actors would contribute to writing.
32. When the Stamford branch and Scranton branch merged, the idea was to eventually alienate, fire, or cause all of the Stamford character's to quit, but Ed Helms was so funny they decided to convert him into a series regular.
33. Krasinski and Rainn Wilson would give each other tips during Jim and Dwight's quarrel scenes, and many of their best improv lines and directives came from the other.
34. Production once had to be shut down when Krasinski and Wilson couldn't stop laughing at the birthday party scene in "Lecture Circuit" when Dwight hangs grey and brown balloons and a banner that says "it is your birthday".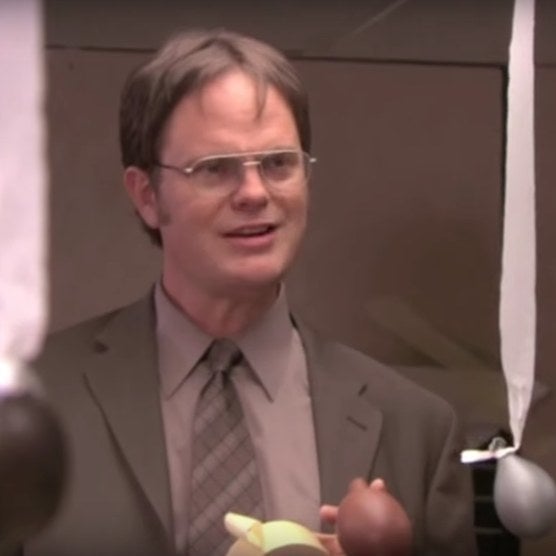 35. Jenna Fischer never revealed what Steve Carell whispered to her during Pam and Michael's airport farewell, but the sentiments they shared were real, as Fischer was told just to "say goodbye to Steve".
36. During the first season of the show, the actors were told to bring in paperwork to keep busy when they were doing background work, as they didn't have real computers.
37. They were later given real computers with internet as many of the cast would have days where they would do no acting whatsoever but read the news, play online chess, and text-chat with each other in the background.
38. Oscar Nunez had the only computer with a working speaker and would mostly use it to play videos of people falling over and bumping into things.
39. Rainn Wilson made a deal with the assistant director that if the cameras ever caught anything he was reading onscreen, he would donate $100 to Meals on Wheels.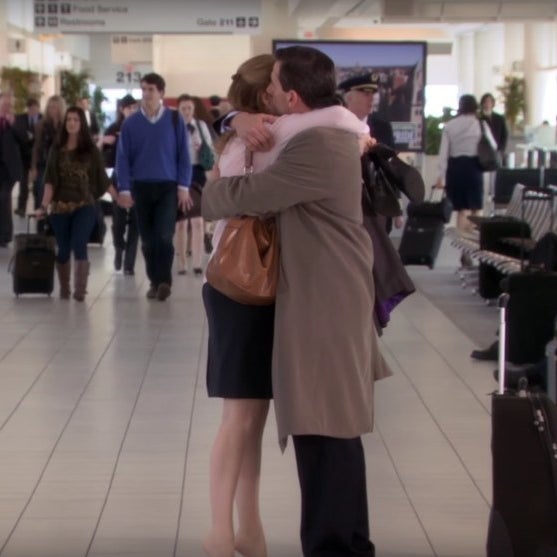 40. Steve Carell didn't watch the UK version of The Office beforehand, wishing to avoid having the inclination to simply imitate Ricky Gervais' version of the character.
41. Amy Adams was a relatively unknown actor when she played "purse girl" in "Hot Girl" – no one could've guessed how big she'd become in the coming years.
42. In "Launch Party" John Krasinski accidentally signed his own name on to Meredith's cast instead of Jim's.
43. Krasinski had to cut his hair for the film Leatherheads, so he was forced to wear a wig for the last six episodes of Season 3 of The Office.
44. Angela Kinsey was pregnant throughout the duration of Season 4, and can often be seen hiding her stomach behind bags, printers, and carefully placed boxes.
45. During Season 8, Jenna Fischer was actually pregnant. Pam's pregnancy was already planned for the season but it wasn't intended that Fischer's actual pregnancy would coincide.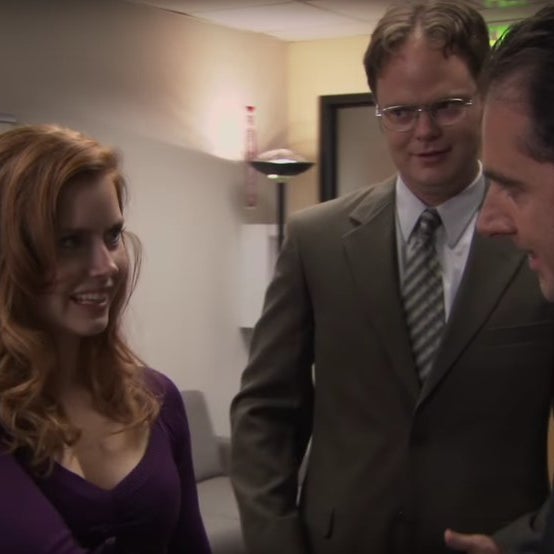 46. The cast and crew always wrote and shot more footage than they needed to. Many of the episodes could have been hour long.
47. Jenna Fischer kept the engagement ring that Jim gave to Pam, and is still seen wearing it on TV.
48. Amy Poehler was originally set to play the role of Jan Levinson, but was kept in mind to later star in Parks and Recreation, which was initially going to be a spin-off of The Office.
49. Rainn Wilson wrote a blog for Dwight.
50. Amy Ryan's appearance on the show as Holly was originally motivated by the cast's intense love of The Wire.
51. Paul Lieberstein, who wrote for the show and played Toby, actually has an incredibly shy personality and disliked being onscreen, despite the cast and crew singing his praises as an actor, which is why Toby has no or few lines in any episode that Paul wrote or directed. He once said it was Mindy Kaling who was actually "King of Toby".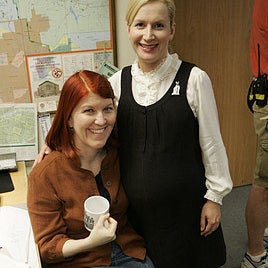 52. Rainn Wilson begged for Katee Sackhoff from Battlestar Galactica to be cast as Dwight's ex-girlfriend.
53. Spinoffs were planned for both Andy and Dwight to get their own shows but eventually fell through.
54. John Krasinski and Brian Baumgartner would spend almost every lunch together in Baumgartner's trailer playing John Madden Football.
55. The showrunners didn't tell network executives that Steve Carell would be in the finale. They kept it secret until the episode aired and gave Michael's lines to Creed in the table read.
56. Charles Miner mentions in Season 5 that he previously worked at Saticoy Steel. This is a reference to the actual filming location of the show in Los Angeles, which is in Saticoy Street.
57. Brian Baumgartner, John Krasinski, Rainn Wilson, and various crew members had a fantasy football league that lasted six of the nine seasons. Wilson won just once.
58. Timothy Olyphant's recurring character Danny Cordray is named after Randy Cordray, one of the show's producers.
59. Mindy Kaling used to make up lies about their coworkers to mess with B.J. Novak. She once convinced him that showrunner Greg Daniels used to date one of the show's actresses when they were in college, making Novak afraid to give proper criticisms during edits in fear of insulting Daniels' ex.
60. The document being highlighted in the opening credits scene is a copy of the Los Angeles Municipal Code, Section 12.22.
61. The original name for the show was The American Workplace. The documentary version of the show that comes out in the final is season is named The Office: An American Workplace as an homage.