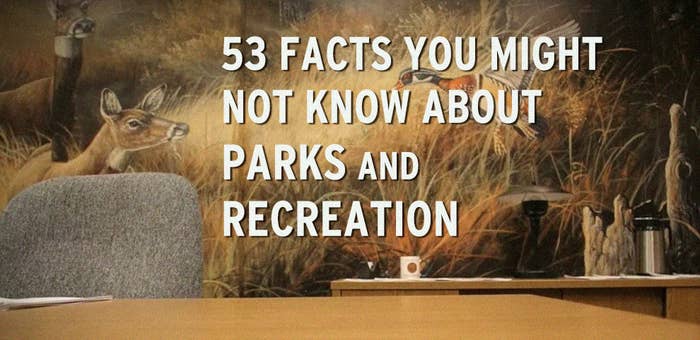 1. Amy Poehler and Nick Offerman shot a makeout scene for the gag reel of every season, but it was never included because it was "super disgusting to watch".
2. Multiple versions of the scene where Leslie meets VP Joe Biden in "Leslie vs April" were shot just in case Obama and Biden had lost the 2012 election.
3. The day the Joe Biden scene was shot the cast discovered they had not won the Emmy for Best Comedy. Instead of being upset, writer and creator Mike Schur announced that he was going to go and write the scene where Ben proposes to Leslie.
4. Three different endings were shot for the Season 4 council elections, with possibilities for Leslie losing, winning, or drawing with Bobby Newport. This allowed the producers more time to make big creative decisions and avoid spoilers.
5. In 2011, Poehler said her dream would be to have Bill Murray on the show as the mayor the characters always talk about but never see. In 2015, Bill Murray guest-starred as Pawnee's mayor.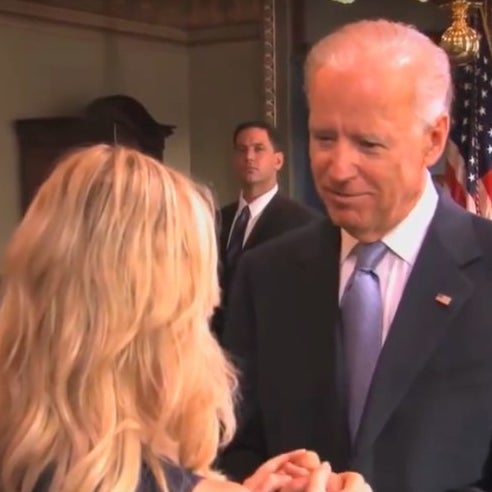 6. The show was originally going to be a spinoff of The Office, but this idea was dismissed pretty early on.
7. It was going to be titled Public Service but that was changed to Parks and Recreation because they "didn't want to make fun of public service".
8. The first season received negative reviews and was almost cancelled after being unfavourably compared to The Office.
9. Pawnee: The Greatest Town in America, a book written by Leslie Knope and featured in Joan Callamezzo's book club, is actually a real published book and contains blurbs and reviews from characters, such as: "Literally the greatest endeavor of human creativity in the history of mankind. – Chris Traeger".
10. Most of the characters weren't really set in stone when auditioning – they were basically auditioning actors and then developing characters around them.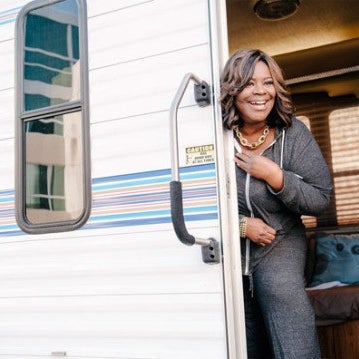 11. Amy Poehler and Rashida Jones were the first to be cast. Aziz Ansari was cast next. They actually didn't even have a clear concept for the show at the time, but Ansari signed on immediately.
12. Poehler said Chris Pratt had the best audition she'd ever seen.
13. Pratt was first considered for the role of Andy because Schur's wife worked with him on The O.C.
14. Pratt was originally supposed to just guest-star as Ann's lazy boyfriend for six episodes, but was so great in the role he ended up becoming a series regular.
15. Obviously April and Andy's relationship wasn't initially planned, but their chemistry first became evident when Aubrey Plaza decided April would "get" Andy's band. Plaza's response when asked if she saw the relationship coming was: "I saw it in a fiery nightmare."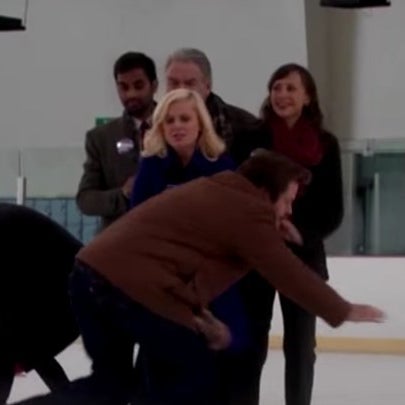 16. Nick Offerman was originally up for a different role in the show, Rashida Jones' love interest Josh, who ended up turning into Mark Brendanawicz. He got turned down because he wasn't "handsome" enough.
17. Adam Scott also auditioned to play Jones' love interest prior to Season 1, but didn't get the role. He then got a second chance when the Ben part came around in Season 3.
18. Jim O'Heir originally auditioned for the part of Ron Swanson, but although Offerman was given the role, the producers liked O'Heir so much they brought him in for Jerry.
19. Adam Scott was such a convincing actor that after Leslie and Ben's fight scenes Amy Poehler would often ask him, "Are you mad at me?", to which he'd respond, "No, dummy, I'm acting."
20. At the end of the series, Offerman wanted to keep the poster of the brunette woman holding breakfast food in Ron's office, while Poehler said she was taking the Pawnee seal behind Leslie's desk, as a symbol for the show.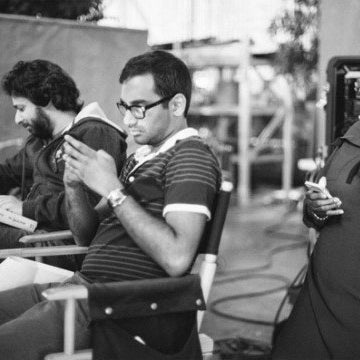 21. The horse who played L'il Sebastian was almost constantly erect, making him very difficult to work with, which is why they ended up blurring his penis out.
22. The cast loved Jim O'Heir so the only way they could live with being mean to his character, Jerry, was to give him the perfect family and home life. This is also why they have a doctor claim he has the largest penis he's ever seen.
23. Aubrey Plaza drew inspiration for April from her real-life younger sister Natalie, who has the same name as April's fictional younger sister.
24. Nick Offerman is a skilled saxophone player. The writers didn't know this when they wrote the story about his alter ego, Duke Silver.
25. Offerman and Rob Lowe starred together in an episode of The West Wing in 1999 and there were many homages to The West Wing throughout the show, which the creators once described as "if The West Wing were a comedy".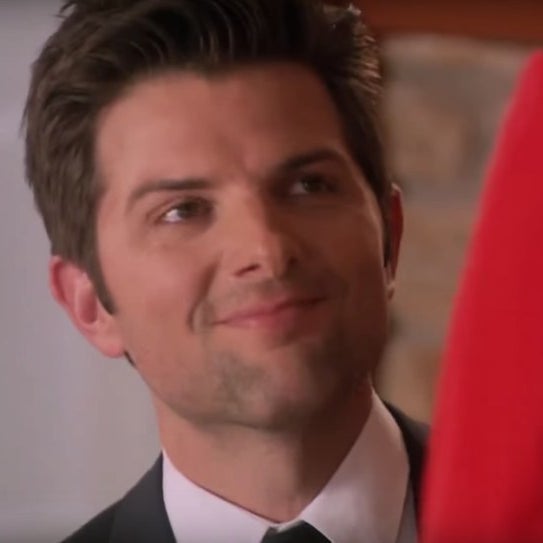 26. The role of April was written specifically for Aubrey Plaza after one of the casting directors called Schur saying, "I just met the weirdest girl I've ever met in my life. You have to meet her and put her on your show."
27. At one point, Ben Schwartz was considered to play Leslie's love interest but they thought he was "too young". Schur and writer Katie Dippold loved him though and told him they'd find a way to get him in this world, so he was then brought on the show as Jean-Ralphio Saperstein.
28. Amy Poehler wrote Jean-Ralphio's infamous raps that don't quite rhyme in "The Fight".
29. In "The Debate" when Dwyer re-enacts the movie Road House for their guests, the script just said "Pratt talks about 'Road House.'" Smashing the TV was also not scripted.
30. The map of Pawnee is a flipped version of the map of Muncie, Indiana.
31. Rashida Jones and Poehler share an obsession with miniature fake food such as tiny crocheted cupcakes and little carved pieces of sushi.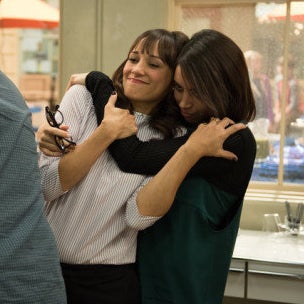 32. Because of the unique filming style of a documentary setup, most scenes were covered 15-20 times.
33. The crew often made time for improvised lines and fun runs after the last take of scenes. According to the cast, these scenes were usually longer and less funny than what was scripted, but it made the actors feel funny.
34. One of the most widely quoted improvised lines is in "Flu Season" when Leslie is sick and Andy says, "Leslie, I typed your symptoms into the thing up here and it says you could have network connectivity problems."
35. A lot of Mouse Rat's alternate band names were also improvised. "Handrail Suicide."
36. NBC accidentally spoiled April and Andy's wedding by running an ad telling viewers to check out April and Andy's wedding registry online after "Ron & Tammy: Part 2" instead of after "Andy and April's Fancy Party" as it was intended. They fixed this with a white lie claiming it was a slip-up between the two couples by an oblivious employee, until the episode aired two months later.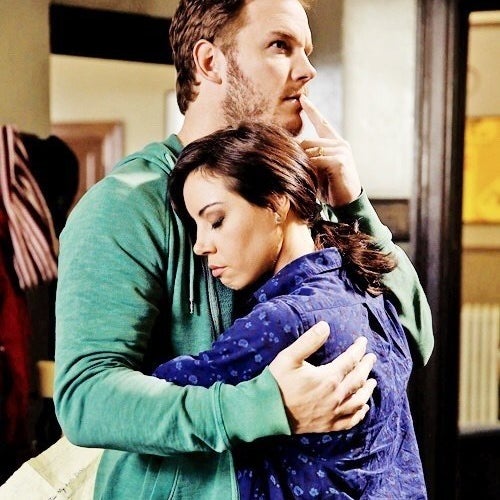 37. Octavia Spencer auditioned for the role of Donna, before Retta was cast.
38. Retta is a trained opera singer and her aunt is the president of Liberia.
39. Matt Walsh auditioned for the role of Ron Swanson, before later being cast in the HBO series Veep.
40. Ellie Kemper auditioned for the role of Tom Haverford's wife before being cast as Erin the receptionist in The Office.
41. The creators attended local council meetings that inspired the city council meetings in the show.
42. Makeup artists and hairstylists were told not to immediately rush on to set to fix minor problems and the crew were told to light the scenes as quickly as they could and not to worry about perfect shadow removal. This was to achieve a more authentic look and maximise the amount of time actors were in front of the camera, trading "Hollywood magic for maximal comedy".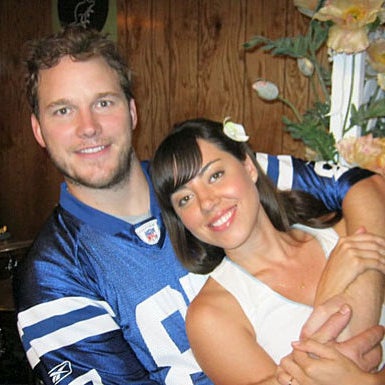 43. Aziz Ansari actually went to business school.
44. Amy Poehler's kids love Ansari and gave him the nickname "Turkey Sandwich" because they saw him eating one once.
45. Ansari got stuck under a shelf in his trailer during the filming of Season 1, and emailed Poehler on his phone to come for help. She did help, but first took a photo of him and emailed it to the whole crew.
46. Both Plaza and Ansari attended Poehler's improv theatre and training centre, Upright Citizens Brigade.
47. Aubrey Plaza worked as a NBC page and used to make facts up when she led studio tours. She was also an intern at Saturday Night Live, where she smoked cigarettes with the set painters.
48. There's a real Pawnee Goddesses hoodie, and Poehler owns one.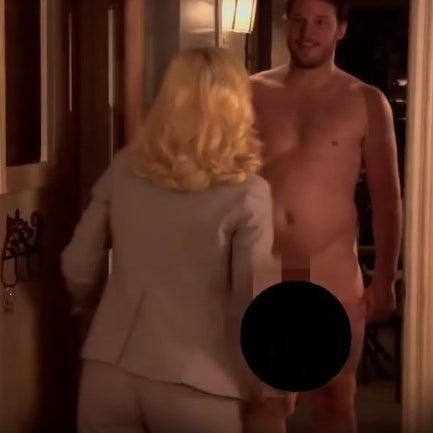 49. Amy Poehler actually suggested the time jump for Season 7 because she really didn't want to work with infants after just having raised her own.
50. In "Kaboom" when Leslie opens the door to a naked Andy, Chris Pratt was actually fully nude. Pratt decided to take his skin-coloured briefs off when he wasn't quite eliciting the response that he wanted – so Poehler's shock reaction is 100% genuine, and it actually got him in a little trouble.
51. The show accurately predicted the Chicago Cubs' 2016 World Series win. In a Season 7 episode that was filmed in 2014, Tom's future wife Lucy makes a comment about how people in Chicago are friendlier since the Cubs won the series.
52. Nick Offerman actually owns a woodshop where several scenes were filmed; he had to hire a manager to keep it afloat when he was cast in Parks and Recreation.
53. Offerman made the entire cast Pawnee baseball bats when the show was wrapping up.