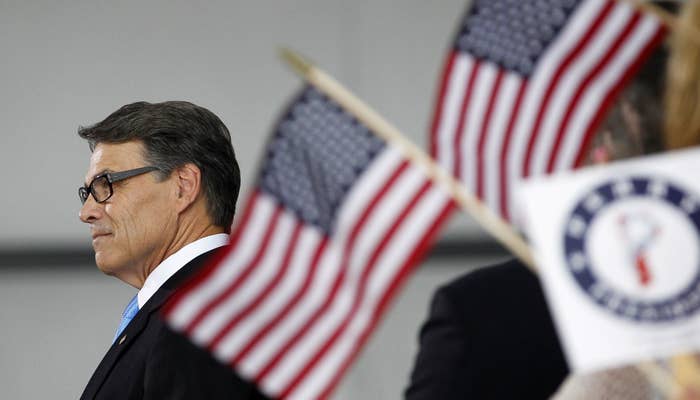 In the opening weekend of Rick Perry's 2016 presidential campaign, the former Texas governor left his famous cowboy boots -- often the fashion choice of brash Texans -- at home. Perhaps the former Texas governor thought wearing them would have been redundant. After all, he has already labeled himself an outlaw wrangling what he calls a partisan hunt.
Before Perry formally launched his White House bid Thursday, no other major-party candidate had entered any presidential race while under indictment. A grand jury, supervised by a Republican judge, charged him last August on two felony counts of coercing a public servant and abusing his gubernatorial power. If convicted, he faces five to 99 years in prison.
The felonies in question date back to April 2013, when Travis County District Attorney Rosemary Lehmberg, a Democrat in what many consider the state's liberal haven, was arrested for drunk driving. A video of her booking shows her with smeared mascara, unable to walk a straight line, acting belligerent toward jail officers and kicking the door of her holding cell. She pleaded guilty, and Perry asked her to resign her roles as district attorney and the head of a statewide public anti-corruption force. (Her resignation would have allowed Perry the power to appoint a Republican district attorney.) She refused to step down, and he vetoed $7.5 million over two years from her unit. A liberal watchdog group, Texans for Public Justice, filed a complaint against Perry, leading to the indictment.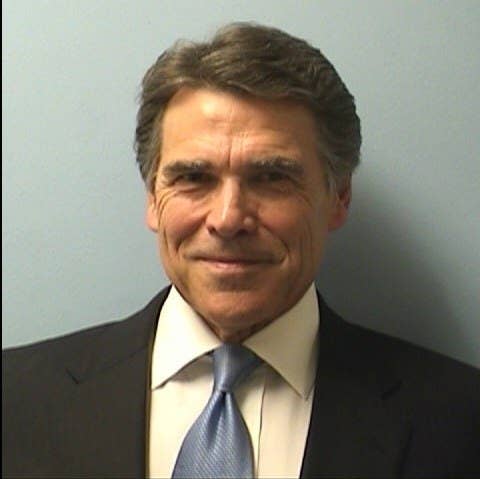 Perry embraced the legal storm that followed. Getting booked on corruption charges last month, he paraded into the courthouse, telling the crowd outside, "We don't settle political differences with indictments in this country. It is outrageous that some would use partisan political theatrics to rip away at the very fabric of our state's constitution." (Mo Elleithee, communications director for the Democratic National Committee, refutes Perry's accusation of partisanship. "This isn't a partisan witch hunt," he said in August, following the indictment. "It's our legal process.") Perry entered the building and took his mug shot wearing a grin, later sending it to the presses. Then he went out for an ice cream cone and tweeted about his day. So much for the stereotype, in which embattled politicians and their lawyers devise plans to muffle scandals, all while begging donors not to desert them.
The former governor still sees little danger in the charges against him. Standing Thursday on a tarmac in Addison, Air Force dignitaries surrounding him, Perry spoke of the future. "There is nothing wrong in America today that a change in leadership will not make happen," he told the crowd of thousands. "We are just a few good decisions away from unleashing economic growth and reviving the American dream," he added.
In the spotlight of Perry's campaign is one particular decision. The former governor has repeated that, if given the chance, he would halt funding to Lehmberg's unit all over again. In his narrative, she is the disorderly Democrat who abused her public office, and he is the principled Republican who, with one move, cut spending and wrongdoing. The indictment is, to the conservative, a chance to recapture his base: those who feel victimized by government, either because of taxes or regulations.
Perry is looking for an advantage, especially after a gaffe-ridden campaign in 2012. After entering that race with money and wide support, he fell to the bottom of a crowded race. Speaking to supporters, he would slur his words, prompting questions about his sobriety. At a Michigan debate in October 2011, Perry spent 53 seconds trying to recall the name of the third federal agency he would close if elected president.
"I can't. The third one, I can't," he told debate moderator John Harwood of CNBC. "Sorry. Oops."
Perry later revealed he was taking pain medications for his back during the campaign, leaving him drowsy and withdrawn.
This time, Perry says, the back pain has subsided, and his energy has returned. As he took the stage Thursday, he propelled his arms. A loudspeaker boomed nearby, playing a country-rap song about gun rights and protecting the border. Supporters holding "Perry for President" posters chanted "Run, Rick, run."
"This will be a 'show me, don't tell me' election, where voters look past the rhetoric to the real record," Mr. Perry said. "I have been tested. I have led the most successful state in America."
His executive experience has been that of a textbook conservative. As governor of Texas, he lowered taxes and eased regulations, bringing the state's rate of job growth far above the national average; he fought the Environmental Protection Agency, saying their clean-air rules punished farmers; he rejected federal funds to expand the state's Medicaid program; he deployed 1,000 troops from the Texas National Guard to the Mexican border, set on chasing away undocumented immigrants. He was equally a proven fundraiser, collecting $150 million in political donations since 1998, and candidate, undefeated in nine elections.
But this is a national race, and political analysts note the major difference between Texas and most of the other 49 states. "Everyone is more conservative in Texas," said Mark P. Jones, a political science fellow at Rice University, noting that the state's self-identified liberals may stand for universal tax breaks and against gun control and abortion choice. "Liberal Democrats, moderate Democrats, centrist Republicans and movement conservative Republicans all tend to be more conservative." Voters across America, generally more moderate than Texans, may be less forgiving toward Perry, even wondering if he would have treated a Republican district attorney the same way.
Discounting his indictment, Perry faces another hurdle he did not encounter four years ago; three other presidential candidates have roots in Texas as well. Sen. Ted Cruz represents the Lone Star State; Kentucky Sen. Rand Paul, son of former Texas Rep. Ron Paul, was raised in the state; and former Florida Gov. Jeb Bush has a father and brother who, before becoming president, served Texas as a congressman and governor, respectively. Such connections leave Perry with less donors than he had in 2012. Both San Antonio entrepreneur Red McCombs, who gave $2,500 to Perry's campaign four years ago, and former Texas Rangers owner Tom Hicks have hosted events for Cruz this time around. Trevor Rees-Jones, a Dallas energy executive who gave $100,000 to a pro-Perry committee in 2011, now supports Bush.
Contrary to Perry's argument, many former backers cite the governor's indictment as reason to endorse other candidates instead. "He has this sword hanging over his head," Ross McKnight, a businessman in Throckmorton who donated $100,000 to a pro-Perry fund in 2011, told the Wall Street Journal last month. "We need to nominate someone who is electable, and Rick is not electable until he gets rid of the indictment."
Perry is off to prove his 2016 vie for the presidency can raise funds to rival his 2012 chest, worth roughly $20 million. For this, his second presidential campaign, he has recruited 86 donors to back his committee, RickPAC.
Perry's schedule is similarly ambitious, with planned visits to Iowa, New Hampshire and South Carolina. But no matter how hard Perry tries to boost his campaign with town halls and rallies, a chance remains that he will have to pause it all for a trip to an Austin courthouse. His lawyers filed a motion on May 13 to dismiss the indictment, which is still pending before the Austin court of appeals.
Each day that Perry remains a candidate under indictment, he faces deepening burdens. The New York Times reported last August that his legal fees total $1 million. That bill will likely grow if and when the case goes to trial. Possibilities remain that attorneys and whistleblowers will dig through the governor's private conversations and documents, furthering the scrutiny, as is often the case in political scandals.
Through these potential risks -- and despite ranking 10th in a Republican field of 16, according to Real Clear Politics -- his hope remains; for that, Perry references growing up on a west Texas farm. "There is no person on Earth more optimistic than a dry-land cotton farmer," he said during his presidential announcement Thursday. "We always know that a good rain is just around the corner, no matter how long you've been waiting."
For the Republican presidential nomination, Perry has been waiting a while. But so did Ronald Reagan, John McCain and Mitt Romney, each of whom tried multiple times before winning the spot. The governor from Texas sees himself similarly. And even if he doesn't become the top Republican for the 2016 race, the indictment will always signify his principles. Surely he finds solace in that.
This post was created by a member of BuzzFeed Community, where anyone can post awesome lists and creations.
Learn more
or
post your buzz!