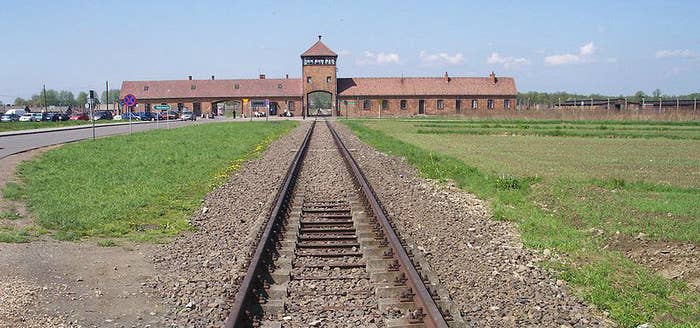 Professor Mohammed Dajani and his 27 Palestinian college students, from Al-Quds University in Jerusalem, visited Auschwitz-Birkenau concentration camp in Poland last month. They toured the facility's remains, including overhead signs and wired fences, and heard first-hand accounts of Jews imprisoned for what Nazis deemed treasonous behavior.
Ever since the Palestinian students returned home, many of their friends, family and neighbors have been calling them traitors.
The Holocaust remains a taboo subject in Palestinian classrooms. While most residents don't deny the genocide that ultimately killed six million Jews, they often think Israelis use it to justify the Nakba – Arabic for "catastrophe" – which displaced over 700,000 Palestinians in 1948 and remains comparably taboo in many Israeli schools.
Dajani's trip was part of the "Hearts of Flesh – Not Stone" program, funded by the German Research Foundation in an effort to build empathy between students in Palestine and Israel. While Al-Quds students visited Auschwitz, Israeli students from Ben Gurion University trekked to Bethlehem's Dheishe refugee camp, where they heard personal accounts of the Nakba. Doctoral students from Friedrich-Schiller University in Jena, Germany studied the trips, curious whether more knowledge of the conflicts would leave the travelers more sensitive to the other side.
"We want to study how empathy with the other could help in the process of reconciliation," Dajani told Haaretz. "I believe it is very important to break this wall of bigotry, ignorance and racism that has separated us from crossing over to this new realm."
Both trips seemed to shape the outlook of participants. Those who felt comfortable discussing their visits expressed more understanding for the conflicts.
"You feel the humanity," a Palestinian student who visited Auschwitz-Birkenau told The Washington Post, on condition of anonymity. "You feel the sympathy of so many people killed in this place because of their race or religion."
The trips have received much controversy, largely from nationalists who believe the collaboration indicates support for the contrasting side. Many Palestinians, in particular, believe Dajani sympathizes with Israelis. The professor and his supporters counter that they would rather educate than push political agendas.
Part of that education involves teaching the Holocaust and the Nakba as incomparable conflicts, according to Robert Satloff, executive director at the Washington Institute for Near East Policy. "There exists plenty of Holocaust equivalency, the idea that one tragedy is equal to that of the other side," said Satloff, who co-wrote a New York Times op-ed, entitled "Why Palestinians Should Learn About the Holocaust," with Dajani in 2011. "We must get rid of this relativism."
Administrators at Al-Quds University condemn Dajani for traveling without the institution's permission and for circumventing Palestine's academic boycott of Israel.
"The university lecturer and the students involved acted in their personal capacity and were not representatives of the university," Al-Quds wrote in a statement.
The trip reiterates how moderate Dajani, a former Fatah guerrilla once banned from Israel for 25 years, has become. Though he still considers himself a Palestinian nationalist, he supports splitting Israel and Palestine into two neighboring states, and he is among the few Palestinian professors to oppose a boycott of Israeli universities.
In 2007, he founded the organization Wasatia – named after the Arabic word for "moderation" – which aims to educate and spread reconciliation across the Middle East. Even his wardrobe seems calm these days; he often wears glasses and a tweed blazer.
"Mohammed Dajani is one of the most courageous people I know," added Satloff. "He is, in every sense of the term, radically moderate. We need more people to think like him."
Dajani's views shifted some two decades ago, after he saw Israeli doctors and soldiers comfort his ailing parents. In 1993, the Israeli government awarded his father, then battling cancer, a permit to revisit his former home, which Israel now occupies. Israelis gave his mother similar accommodations in following years.
Today, Dajani wants more Palestinian students to visit Auschwitz, so they can face the products of radicalism. He would similarly like Israeli students to study the Nakba. His supporters agree.
"Israel should take the Nakba seriously, with respect and sympathy, just as Palestinians should treat the topic of the Holocaust," said Khalil Shikaki, director at the Palestinian Center for Policy and Survey Research. "Israeli students should be allowed to visit refugee camps and hear refugees and discover for themselves what it means to have lived and continue to live the Nakba."
As the impact of those conflicts lingers in the region's psyche and geography, Dajani is continuing work on a textbook aimed at teaching Arabic-speaking students about the Holocaust, an account he believes will be the first to tell the conflict objectively to Palestinians.
"My duty as a teacher is to teach, to have my students explore the unexplored," Dajani posted on Facebook earlier this month. "I will not remain a bystander even if the victims of the suffering I show empathy for are my occupiers. And this is my final statement on this issue."
This post was created by a member of BuzzFeed Community, where anyone can post awesome lists and creations.
Learn more
or
post your buzz!