I Tried Melerio Copper Compression Socks And They Changed My Life
Not to be dramatic but I would 100% wear an entire outfit made of this magical sock fabric if it existed.
We hope you love the products we recommend! All of them were independently selected by our editors. Just so you know, BuzzFeed may collect a share of sales or other compensation from the links on this page if you decide to shop from them. Oh, and FYI — prices are accurate and items in stock as of time of publication.
Hi, my name is Harper and I'm here to tell you about some socks that recently changed my life.
I'm talking about Melerio copper-infused compression socks. I tried them on a whim when I was really sick over the summer, and boy am I glad I did.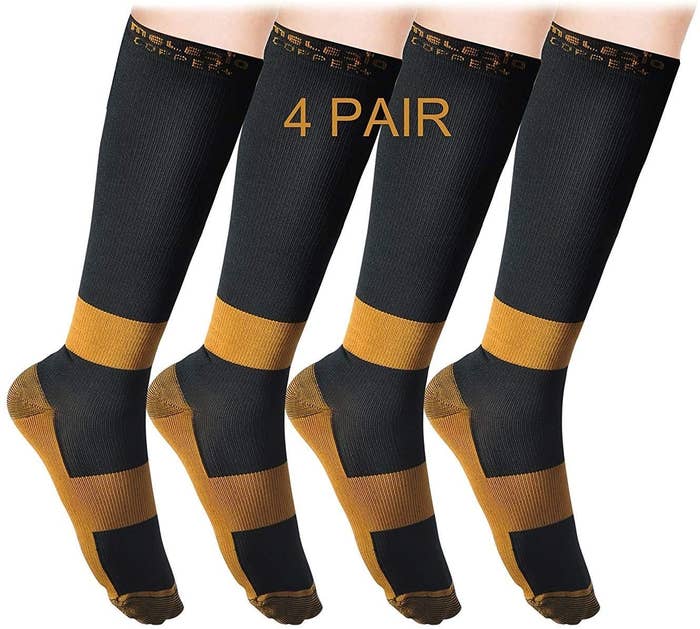 As soon as I put these babies on, I could immediately feel their power. They definitely compress — they are pretty tight and can take a sec to get on, but I promise it's worth it!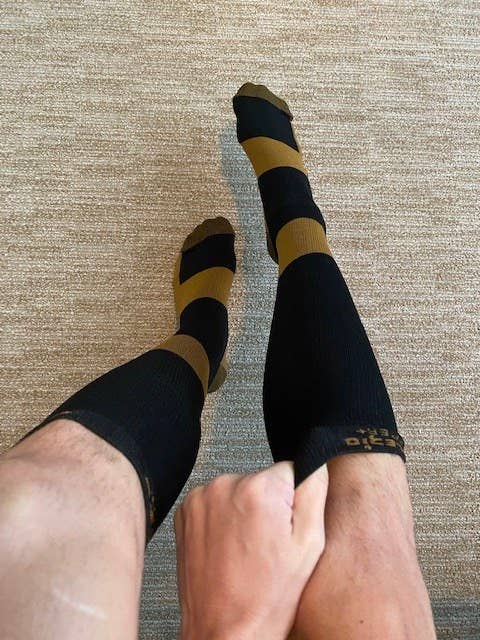 It's worth noting I wore these socks while I was living in the desert, and they lasted through the extreme heat (109+ temps), and the many skate sessions, hikes, and washes I put them through.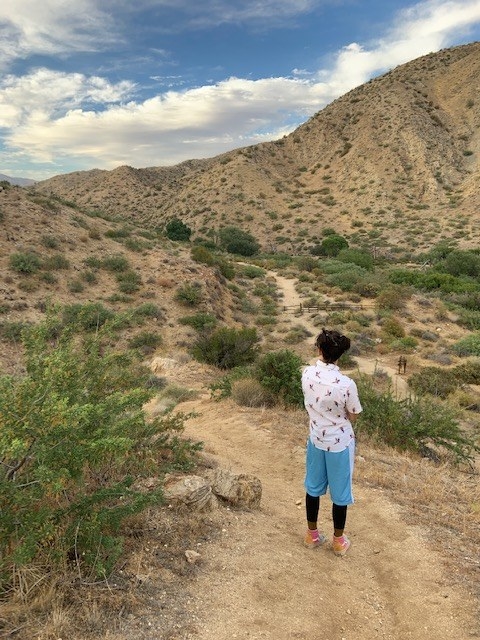 It was, and still is empowering to start my day with one positive thing I could do for my body to get a little relief — slap on a fresh pair of these socks!
And you don't have to just take my word for it — here's what other people are saying about these socks:
"I have noticed my normal socks causing indentations on my lower leg, probably due to edema and my feet would be swollen at the end of the day. I ordered my first pair of these in early July. The first time I wore them, I noticed that in addition to feeling great, there were no indentations on my leg or swollen feet at the end of the day. They worked so well for me that we ordered several pairs for my son-in-law who is a critical care nurse and on his feet during his 12-hour shifts, and I just ordered four more pair for myself so I can wear them every day." —Darrell J.
"These socks are amazing. I put a pair on within an hour of them showing up yesterday. This evening I was out cutting firewood wearing theses socks and a thin pair of shoes. I live in Michigan and it has started to get cold. It was 22 degrees F and I stepped in a 6-inch deep puddle of water with a thin cover of ice on it. Water ran into my shoe and through my sock. I'm diabetic and expected to have to go to the house immediately to change my socks and shoes. To my amazement, my foot didn't get cold. I worked for another two hours with a wet foot. I gave my wife two pairs, she has restless leg syndrome and after several hours said 'The pain is gone.' I'll be buying more packs of these excellent socks." —Pathfinder306
I highly recommend these copper compression socks to anyone who may be curious about them. They are not the cheapest, but they are SO worth it.
I've since bought another pack for myself and a pack for my partner, ofc.
Get a four-pack from Amazon for $17.99 (available in two sizes).