Skynet Healthcare Tech Increases Safety for Seniors
Skynet healthcare technologies is a company working to integrate the most advanced tech into senior living communities. Safety and security are crucial issues for these facilities. Protecting the elderly people who live within them can be challenging, as seniors have special needs. Technology offers a new way for community operators to manage residents with increased quality of care. Here, we will examine how Skynet increases safety in senior care communities through the use of technology.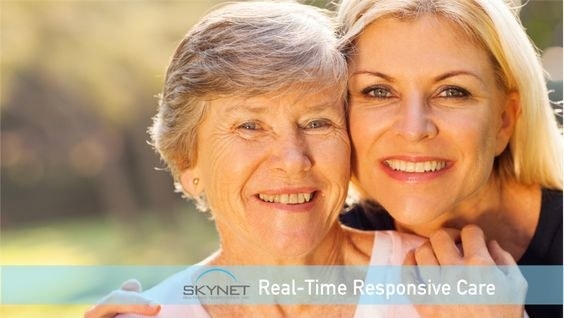 Fall Detection
Seniors are prone to falling, and this can be a very dangerous situation. According to research, people with neurological disorders are at higher risk for falls. So, memory care facilities are especially concerned with incidents of falling. Not only does the Skynet system alert staff that a resident has fallen, but staff members can also immediately locate the resident within the community. This allows for quicker response times. One study found that quicker response times resulted in fewer injuries.
RTLS
Skynet's real-time location system allows caregivers and family members to locate a resident in real time. Additionally, residents are easily tracked with a small wearable device.
Some benefits of RTLS:
Elopement prevention- By monitoring residents, community operators can prevent elopement which is a serious problem, particularly in memory care communities .
Medication- Because staff members are able to immediately locate a resident, medications are given on schedule. This is important because missed or late doses can result in serious complications.
Quick Location- Family members and caregivers can immediately locate a resident.
Meals- Caregivers can ensure that residents make it to mealtime and other scheduled events.
Staff monitoring- Not only does the Skynet RTLS system monitor residents, it also observes staff members. This allows community operators to identify employees who may not be working at full capacity. Staff members can be tracked throughout the community at any time which helps the community run more smoothly and efficiently.
Emergency- If there is an emergency, the closest staff member is alerted, allowing for the quickest possible response.
Emergency call system
The small wearable devices include an emergency button. By simply pressing this button, staff members are alerted to an emergency and can immediately respond. There are also pull cords located in the residents' rooms. Staff are alerted via mobile devices and communication panels. Caregivers can quickly respond to and clear alerts.
Safety is an increasingly essential issue for senior care communities. As the number of elderly people grows, these facilities are seeking new ways to manage residents. Technological advancements such as Skynet Healthcare's RTLS are making senior care communities safer and more efficient.
Meeting the Demand for Technology in Senior Living Communities
People are enjoying longer fuller lives nowadays,and aging adults are seeking housing to fit their lifestyles. Senior living communities appeal to potential residents by offering various amenities and services. Today's senior citizens are quite tech savvy. The Pew Research Center reports that 60% of seniors regularly use the Internet and 77% own cell phones. Retirees expect to find up-to-date technology in their housing options. Meeting these high-tech demands can be challenging for some communities. Housing developers understand this need and integrate technology into building plans. However, existing communities are faced with the challenge of upgrading. So, let's examine which technologies seniors are seeking and how communities can meet these demands.
Wi-Fi
Internet access is a top priority for seniors who are evaluating their housing options. The web allows them to stay in touch with friends and family, shop, learn, and play. Community operators meet these requirements in a number of ways. Some have created dedicated computer rooms or Internet cafés within the community. This is a wonderful way for residents to gather and socialize while using the Internet. It also provides a space to offer tech programs that teach residents how to use computers, mobile devices, and the Internet. Some communities implement Wi-Fi access throughout the entire facility. It can become expensive for existing communities to upgrade and update their systems. However, with connectivity being in such high demand, Wi-Fi access has become a necessity in order to offer relevant services to potential residents. Other communities opt to let residents obtain and pay for their own wi-fi via the local internet provider.
Efficiency and Effectiveness
While technology provides lots of fun and leisure, it also allows communities to function more efficiently and effectively. High-tech devices are used for many areas of senior care to improve services and in turn, improve the lives of residents. For example, skilled nursing facilities use motion sensors to detect nighttime movement and help them determine if a resident needs assistance during the night. Assisted-living communities use a variety of tech to record workflow and response times. Memory care operators use real time tracking location systems (RTLS) to keep residents safe by tracking their location within the community. Technology is also important for daily business operations, such as payments, billing, purchasing, marketing, medical records and more.
Making it Happen
Community operators know the importance of using current technology. However, in some cases may be cost prohibitive. Some communities use financing options to afford the necessary upgrades . While the upfront cost may be substantial, community leaders understand the need for forward thinking tech solutions. Current and future residents expect cutting-edge technology and community operators must rise to the challenge.
There is no single, "cookie-cutter" solution. Every community is unique and has its own needs. It's important to evaluate all the innovations and determine which ones will be most beneficial to the residents while remaining cost effective.
This post was created by a member of BuzzFeed Community, where anyone can post awesome lists and creations.
Learn more
or
post your buzz!