Bloody Death Day Cake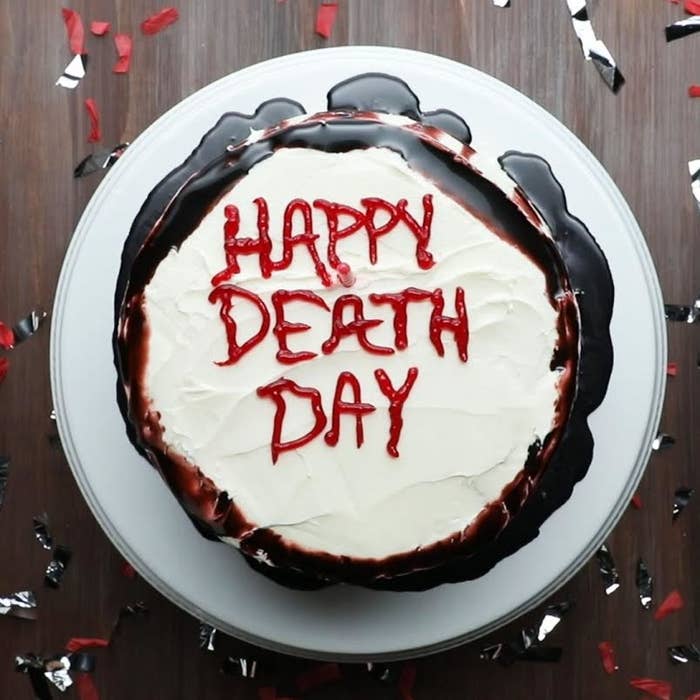 INGREDIENTS
Servings: 12-14
2 boxes red velvet cake mix, prepared to box directions
5 cans buttercream icing
Icing Gel
⅓ cup sugar
1 tablespoon cornstarch
¼ cup lemon juice
¼ cup water
Edible Blood
2 cups powdered sugar
1 tablespoon cocoa powder
½ cup water
2 teaspoons red food dye
1 teaspoon green food dye
PREPARATION
1. Preheat oven to 350°F/180°C.
2. Prepare cake mix to box directions, and bake four small rounds for 30-35 minutes.
3. Take ⅓ cup of sugar and 1 tablespoon of cornstarch and whisk in a small saucepan.
4. Gradually add ¼ cup lemon juice and ¼ cup of water.
5. Stir over medium heat until mixture boils and thickens.
6. Pour into bowl and mix in red food dye.
7. Place in squirt bottle to cool in the fridge.
8. In a small bowl whisk 2 cups of powdered sugar and ½ cup of water.
9. Once mixed add 1 tablespoon of cocoa powder and 1 teaspoon of red food dye and green food dye.
10. Once mixed place in a squeeze bottle and cool in the fridge.
11. Once cakes have baked and cooled shave off the top to even out each layer.
12. Spread icing in between each layer and stack.
13. Once finished spread icing on the cake.
14. Decorate the cake with gel icing and edible blood.
15. Enjoy your bloody Death Day cake!