Giant Spaghetti-Stuffed Meatball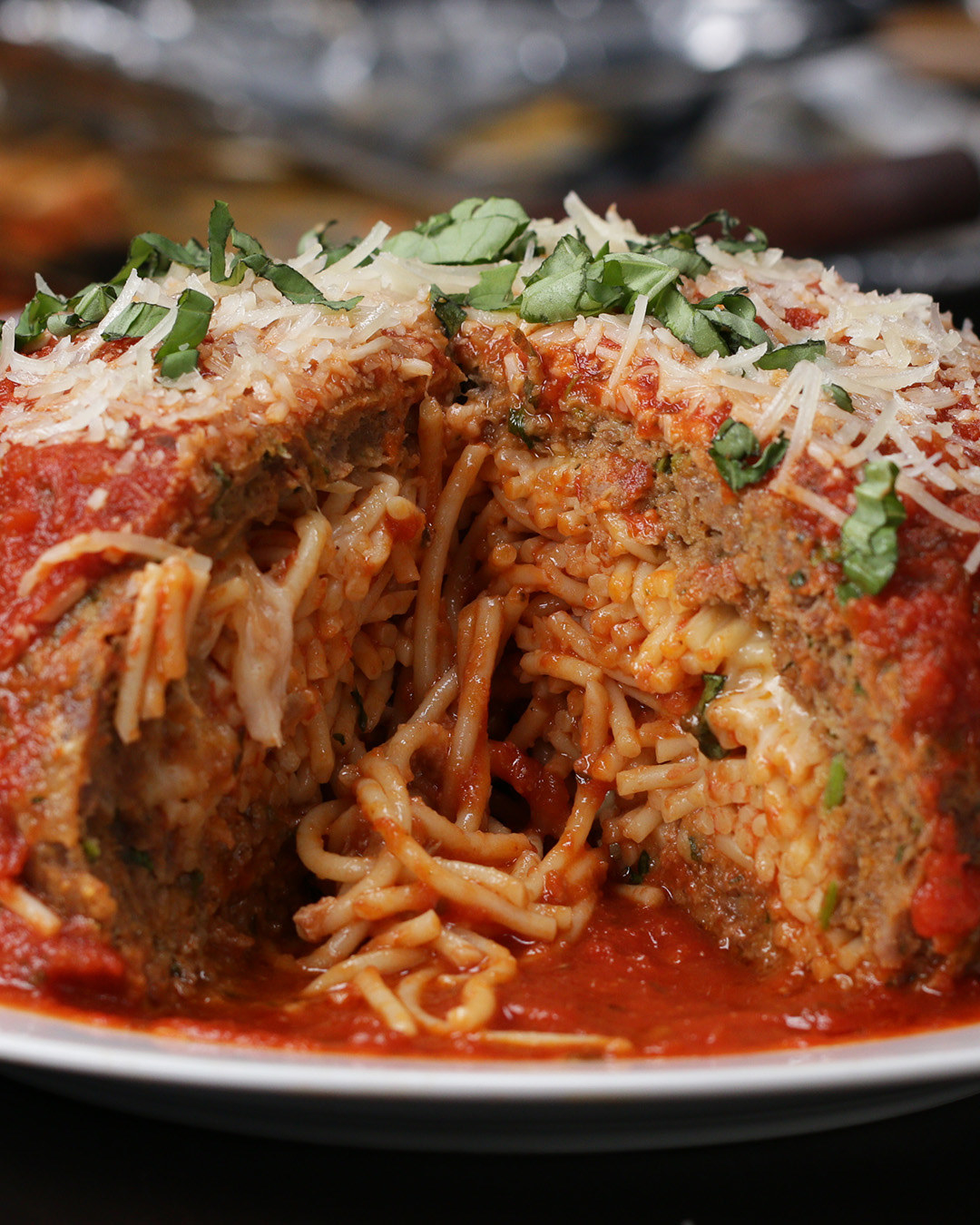 INGREDIENTS
Servings: 6
1 pound hot Italian sausage
1 pound ground beef
1 cup seasoned bread crumbs
⅓ cup parsley, chopped
2 teaspoons salt
1 teaspoon black pepper
1 teaspoon garlic powder
1 teaspoon onion powder
⅓ cup shredded Parmesan
2 eggs
½ cup milk
½ cup shredded mozzarella
⅓ pound spaghetti, cooked al dente, with sauce
marinara, to serve
Parmesan, to serve
basil, to serve
PREPARATION
1. Preheat oven to 375°F (180°C).
2. In a bowl, add the Italian sausage, ground beef, bread crumbs, parsley, salt, pepper, garlic powder, onion powder, Parmesan, eggs, and milk, and mix until combined well.
3. Line a large glass bowl with plastic wrap, and spray thoroughly with cooking spray.
4. Spread the meat mixture along the bottom and sides of the bowl, a ½-inch thick.
5. Sprinkle mozzarella on the base of the meat mixture, then top the spaghetti with sauce.
6. Using the plastic wrap, form the meat into a large ball, ensuring there are no holes or cracks.
7. Place ball on a foil-lined baking sheet and bake for 40 minutes.
8. Top with marinara, Parmesan, and basil.
9. Enjoy!
Looks like there are no comments yet.
Be the first to comment!