Everyone knows that a well-balanced breakfast includes a healthy dose of powdered sugar.
Not to mention a perfect ~plop~ of whipped cream.
Berries and Cream French Toast Bake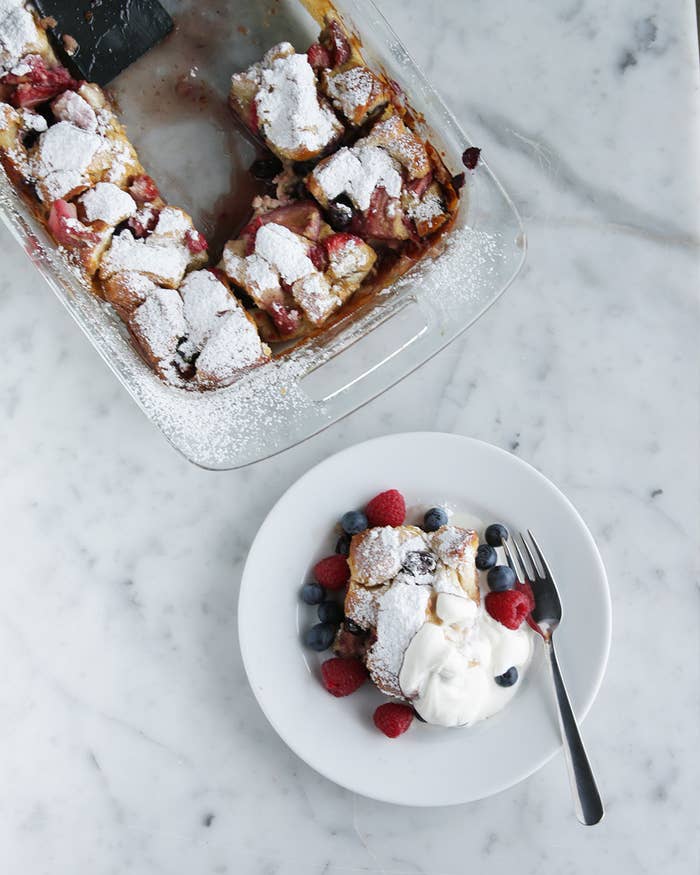 INGREDIENTS
Servings: 12 slices
For the bake:
1 tube refrigerated biscuits (8 total)
6 eggs
1 cup milk
1 Tbsp. cinnamon
1 tsp nutmeg
8 oz cream cheese, softened
2 Tbsp. powdered sugar
1 cup fresh berries
1 cup maple syrup

For garnish:
Powdered sugar
Whipped cream
Fresh berries
PREPARATION
1. Preheat oven to 350°F/180°C.
2. Cut each biscuit into 8 pieces. Set aside.
3. In a bowl, beat the eggs, milk, cinnamon, and nutmeg until combined. Set aside.
4. In another bowl, mix the cream cheese and powdered sugar until smooth.
5. Slowly whisk the egg mixture into the cream cheese mixture until combined.
6. Add the biscuits and berries, and mix thoroughly.
7. Pour mixture into a greased 9x13 glass baking dish.
8. Drizzle maple syrup over the entire mixture.
9. Bake for 35–45 minutes, until biscuits are golden brown.
10. Let cool, then sprinkle on powdered sugar. Serve with whipped cream and fresh berries.
11. Enjoy!
Want BuzzFeed Tasty right in your inbox? Sign up for our newsletter!