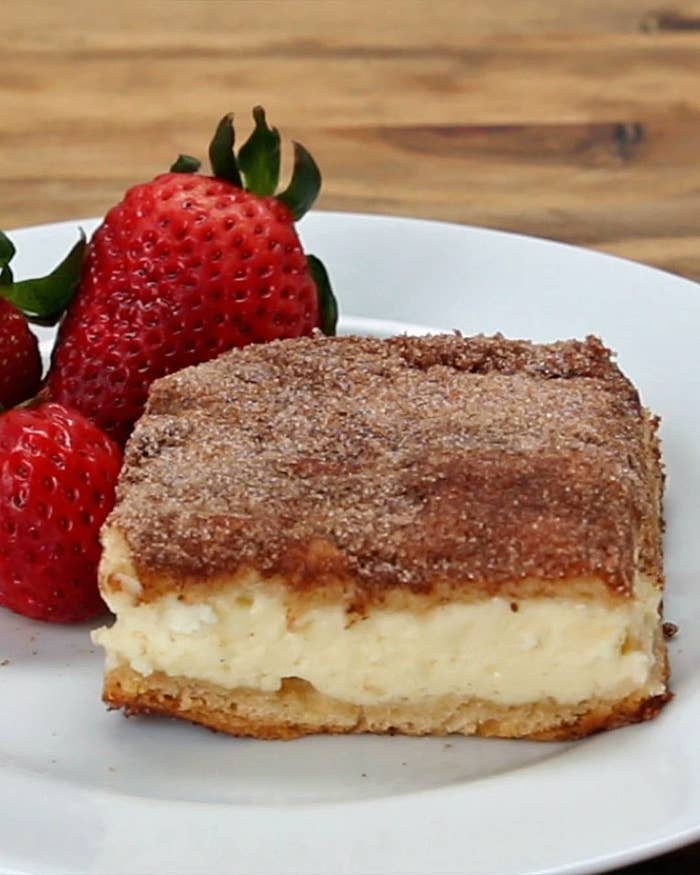 Here's what you will need:
Yields: 12 bars
* 2 tubes crescent dough
* 16 oz cream cheese
* 1 egg
* 1 cup sugar, divided
* 1 tsp vanilla
* 2 Tbsp. cinnamon
Directions:
Preheat oven to 350°F/180°C.
In a bowl, beat cream cheese until smooth. Then, add 1/2 cup sugar, egg, and vanilla, and beat until smooth.
Roll out crescent dough and pinch the seams together.
Next, in a small bowl, mix the remaining 1/2 cup sugar with the cinnamon. In a greased 9x13 baking dish, sprinkle half of the cinnamon sugar. Lay down one crescent dough rectangle. Spread on cream cheese filling. Top with the other crescent dough rectangle, and sprinkle on the remaining cinnamon sugar.
Bake 30 minutes. Cool completely, then cut into 12 squares, and enjoy!
Inspired by: Joyful Momma's Kitchen.
Want BuzzFeed Tasty right in your inbox? Sign up for our newsletter!