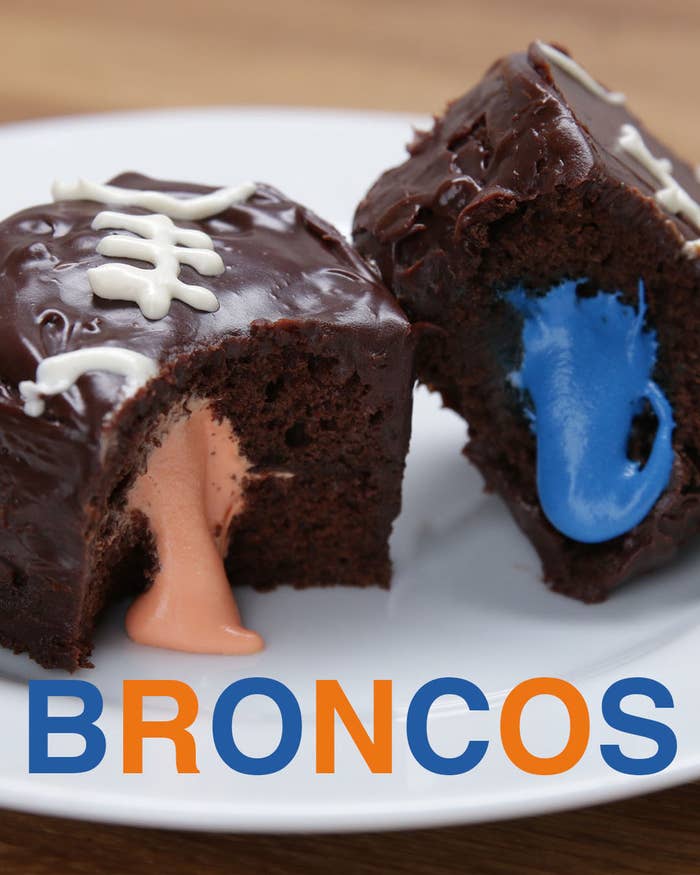 Here's what you will need:r
Yield: 12 cupcakes
For the cake:
* 1 stick butter
* 1 cup sugar
* 4 eggs
* 1 1/2 cups flour
* 1/2 cup cocoa powder
* 1 tsp baking soda
* 1 cup buttermilk
For the filling:
* 7 oz marshmallow fluff
* 1 stick butter
* 1/2 cup powdered sugar
* 1 tsp vanilla
* Food coloring of your favorite team!
For the frosting:
* 1 cup heavy cream
* 4 Tbsp. sugar
* 6 oz chocolate chips
* 1 Tbsp. butter
Directions:
Preheat oven to 350°F/180°C
Cream the butter and sugar until fluffy. Beat in 4 eggs, one at a time. In a separate bowl, mix the flour, cocoa powder, and baking soda. Alternate mixing half of the dry ingredients and buttermilk into the egg mixture. Line the bottom of a 9x13 glass dish with parchment paper, and grease. Pour in batter, and bake for 22-25 minutes. Cool completely, and with a 2-3 inch cookie cutter or biscuit cutter, cut 12 circles into the cake.
For the filling, mix the marshmallow fluff, butter, powdered sugar, and vanilla. Set a little aside, and color the rest.
For the frosting, bring the cream and sugar to a boil, and pour over the chocolate chips and butter. Stir until there are no longer lumps.
Cut each cake in half horizontally, and scoop out a little cake out of each side. Fill, and stack the cake with the scooped sides in the middle. Spread the frosting over the top and sides of each cake. Let dry, flip, and cover the bottom with frosting. Pipe a football design on the top of the cake with the filling you set aside. Enjoy!