Easy Chicken Fajita Bowls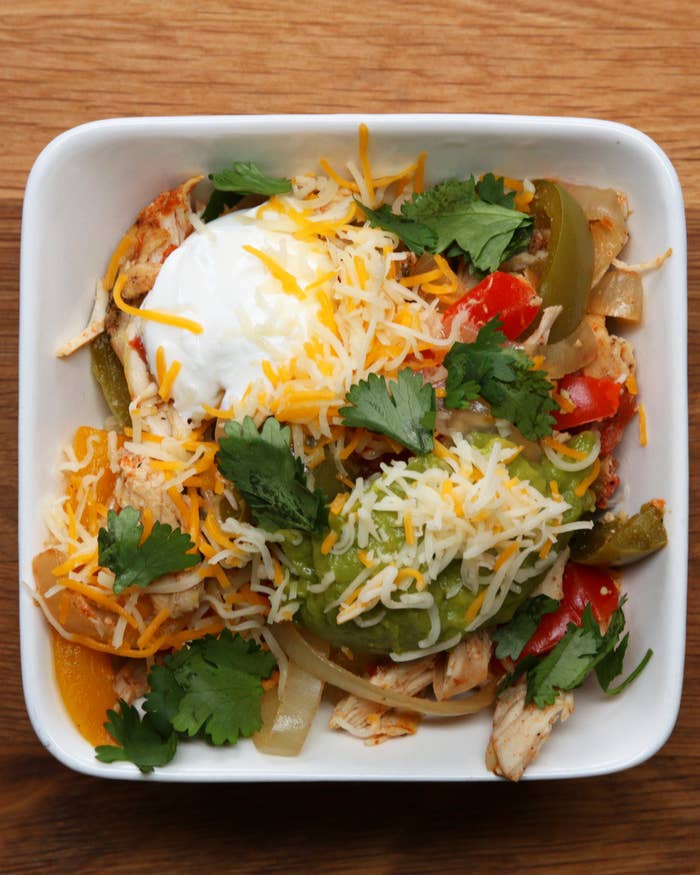 INGREDIENTS
Servings: 8
1 red bell pepper, sliced
1 yellow bell pepper, sliced
1 green bell pepper, sliced
1 yellow onion, sliced
2 pounds chicken breasts, sliced in half
2 tablespoons taco seasoning
Salt, to taste
Pepper, to taste
4 cloves garlic, minced
1 lime, juiced
1 can diced tomatoes, drained
Cooked brown rice
Garnish
Sour cream
Guacamole
Cilantro
PREPARATION
1. In a slow cooker, place half of the bell peppers and onion.
2. Lay on the chicken, and coat both sides with taco seasoning, salt, and pepper.
3. Sprinkle on garlic, half of the lime juice, and diced tomatoes. Cover with remaining peppers, onion, and lime juice.
4. Cover and cook on high for 3 hours.
5. Remove chicken from the slow cooker, shred, and return to slow cooker.
6. Cover until heated through.
7. Serve over brown rice with sour cream, guacamole, and cilantro.
8. Enjoy!
Want BuzzFeed Tasty right in your inbox? Sign up for our newsletter!
If you can't see the signup box above, just go here to sign up for the BuzzFeed Tasty newsletter!