Double-Decker Potato Taco From Trois Familia (Made with Lucky Peach)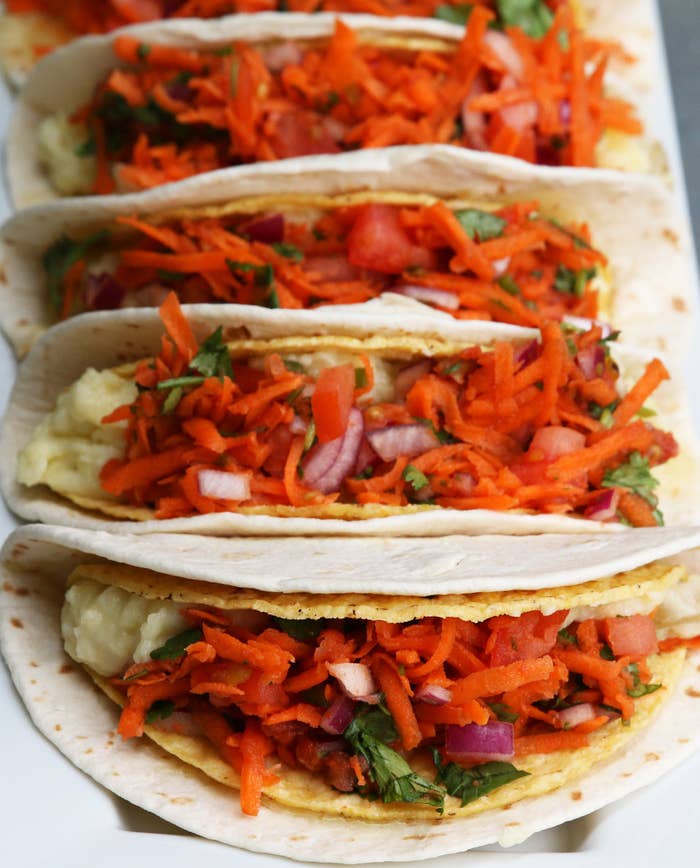 Yields about 16 tacos
INGREDIENTS
2 pounds fingerling or small Yukon Gold Potatoes, cooked with skin on
¾ cup (1½ sticks) butter, melted
8 cloves garlic, finely chopped
1 cup heavy cream, warmed
Salt
White pepper
16 6-inch flour tortillas
Shredded pepper jack cheese
16 fried corn taco shells
Lime juice
Carrot Pico de Gallo (recipe below)
PREPARATION
Cover the potatoes with cold water and simmer until tender, about 20–25 minutes.
Warm the chopped garlic in the butter over low heat until softened but not browned, about 10 minutes. Add the cream and bring to a boil.
Coarsely mash the potato mixture and fold in the warm garlic mixture while the potatoes are still warm.
Season to taste with salt and white pepper. Keep warm.
Make the double-decker taco shell: on a griddle over low heat, sprinkle a tortilla with about 2 tablespoons shredded pepper jack cheese. Once the cheese melts, place the fried corn taco shell on the cheesy tortilla and press the tortillas together to create the double decker taco.
Mix the warm potatoes with lime juice and place in the double decker taco. Top with 2–3 tablespoons of Carrot Pico de Gallo.
Carrot Pico de Gallo
Yields about 1 quart
INGREDIENTS
4 cups shredded carrots (about 4 large carrots)
½ cup finely diced tomatoes (about 2 medium tomatoes)
½ cup finely diced red onion (about 1 medium red onion)
2 tablespoons minced serrano chili (about 1 medium serrano chili)
½ cup roughly chopped cilantro
1 cup Macho Salsa (recipe below)
PREPARATION
Combine all ingredients in a bowl and season to taste with salt.
Macho Salsa
Yields just over 1 cup
INGREDIENTS
1 large carrot, peeled and shredded
1 habanero pepper, seeded
2 fresno chilies, seeded
6 cloves garlic, peeled
¼ cup cilantro, stems and leaves
1 teaspoon salt, plus more to taste
2 tablespoons grapeseed oil
½ cup distilled vinegar
¼ cup water
PREPARATION
Combine all ingredients and mix in a food processor. Salsa should be slightly chunky.
Want BuzzFeed Tasty right in your inbox? Sign up for our newsletter!